Solution elusive for two vacant Guilderland properties that pose 'possible environmental concerns'
Thursday, August 23, 2018 - 13:09
The Enterprise — Elizabeth Floyd Mair
The earth is beginning to swallow the Rustic Barn at 4852 Western Turnpike, which once housed woodstove-supply company. The building's owner is dead. The property is in tax foreclosure, but the county does not want to take ownership, because of possible contamination that could require taxpayers to fund a costly cleanup.
GUILDERLAND — Two crumbling Guilderland properties in tax foreclosure will not be taken over by the county's land bank because of environmental concerns.
The Rustic Barn and the dilapidated former gas station just east of Crossgates Mall, both on Route 20, the town's major thoroughfare, are in "withdrawn" status with Albany County, because of possible environmental concerns.
Withdrawn status means that the county will not take ownership of a property, said Michael McLaughlin, the county's director of policy and research. Withdrawn status, he added, protects county taxpayers from footing the bill for cleaning up environmental messes caused by private-sector companies.
"Properties in withdrawn status remain privately owned so as to not put the county, and by extension, taxpayers, in chain of title," McLaughlin said.
The owner of one of the two properties is dead and had no children. The Rustic Barn property at 4852 Western Turnpike was found, during inspections by the county, to have empty, rusted metal containers as well as a large sinkhole possibly caused by the collapse of an underground tank, said McLaughlin.
The Enterprise had asked the town's supervisor, Peter Barber, on Tuesday about possible dangers with the sinkhole being an attractive nuisance that, for instance, someone at a beer party on the site might fall into.
"That's the risk you run when you trespass," said Barber.
By Wednesday, the sinkhole had been filled in by town workers.
The tax lien on the other property is approaching the value of the land. A former gas station, it is located at 1611 Western Ave., near Crossgates Mall and across from Hana's Japanese Steakhouse. Pyramid Management, which owns Crossgates Mall, owns all of the empty land surrounding the parcel, according to Jacqueline Coons, the town's chief building and zoning inspector.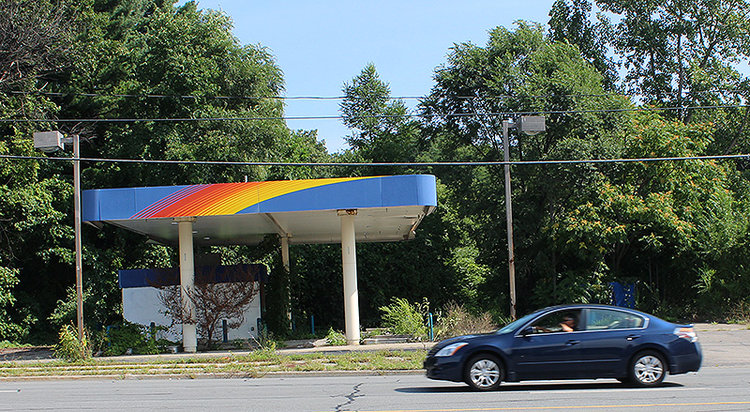 The Enterprise — Michael Koff
Pyramid Management, which owns Crossgates Mall, owns all the land near the mall along Route 20, but not the former gas station at 1611 Western Ave., which is in tax foreclosure, with $150,000 owed on the property valued at $185,000. One of its owners spent years of the last decade in federal prison for federal tax crimes involving that and other local gas stations and was also sentenced to a $6.8 million forfeiture judgment.
---
Rustic Barn
The property at 4852 Western Turnpike owes a total of $39,000 in tax debt to the county, accrued since 2011. The tax liens list the owner as Herbert A. Young of Middleburgh, but Young died in 2013. According to his obituary, his closest surviving relatives are nieces and nephews.
The county does not want to take ownership, because of fears of possible environmental contamination, said Adam Zaranko, executive director of the county land bank.
Guilderland Town Planner Kenneth Kovalchik said, and McLaughlin confirmed, that the county does not want to do any environmental testing of or any remediation of the Rustic Barn, because once it does any digging or tests or cleanup of any kind, the state could view that as taking ownership.
Young owned and operated the Rustic Barn, a woodstove supply company, for many years, according to his obituary, which adds that he was in a nursing home for the last few years of his life.
Kovalchik was asked if the Rustic Barn could be deemed by the town an "attractive nuisance" and torn down, as was the burned-out shell of a house at 7 Ayre Dr. in McKownville after a fire.
He thought this was unlikely. "Because it's kind of isolated and far out, it seems people would have to drive there, and then it looks as if it would be difficult to get into the building," he said.
Former gas station
According to the county tax liens, back taxes have been accruing on the property at 1611 Western Ave. since 2005, with the total amount now standing at $151,000. The liens list the value of the land as $185,000.
This property is also in withdrawn status with the county because of potential environmental concerns, said McLaughlin.
The liens name Mustafa Ozbay and Nuri Ozbay of 1941 Guilderland Ave., Schenectady as owners.
Mustafa Ozbay was sentenced in 2007, in United States District Court by Judge Gary L. Sharpe, to 87 months in federal imprisonment and a forfeiture judgment of about $6.8 million, after pleading guilty, during a trial, to a number of federal tax violations. One other member of the Ozbay family also pleaded guilty during trial, and two others were found guilty by a jury, of the same charges.
The co-owner of 1611 Western Ave., Nuri Ozbay, was not among the co-defendants.
Mustafa Ozbay pleaded guilty, according to a release from the U.S. Department of Justice at the time, to obstructing and impeding the Internal Revenue Service from accurately calculating the taxes due from the Ozbays personally and from their corporations. The family owned several USA Gas stations, including at 1611 Western Ave.
According to the release, Mustafa Ozbay and his co-defendants failed to maintain books and records accurately reflecting corporate revenues and expenses for several corporations; failed to provide their accountant with adequate books and records; failed to keep corporate operations separate; failed to file and filed inadequate tax returns; failed to pay federal taxes for some USA Gas employees; and made cash deposits of less than $10,000, to avoid having the deposits reported to the IRS.
The Enterprise was unsuccessful in efforts to reach Mustafa Ozbay or Nuri Ozbay for comment.
What can be done
There are many things that can be done with the vacant properties, but the important thing is the question of what should be done, said McLaughlin.
He argues that what should be done, for instance in the case of 1611 Western Ave., the site of the abandoned gas station, is that the owners should pay their back taxes and take responsibility for cleaning up environmental problems that they created.
"I don't see a high probability of that happening, but that's the ultimate goal," he said.
While a property is in withdrawn status, the owners could try to sell it as-is, with the tax liens unaddressed. "The problem is," McLaughlin said, "the receiver of the property would then inherit the tax delinquencies."
The owners could pay their back taxes, McLaughlin said. He added, "One nice thing about withdrawn status is it does preserve the former owner's ownership, so they could come in and pay, at which point they would then be responsible for the cleanup, which is exactly what we're trying to do."
It the county cleaned up all of its problematic properties, it would be bankrupt, McLaughlin said.
"We could go in and demolish the building and clean everything up, and then find out, down the road, that there is indeed an empty fuel tank on the property and that it emptied into the ground, and we're liable for a million-dollar cleanup. And a million dollars is an entire point on our tax levy," he said as an example.
Also, new hazards could be discovered, or additional plumes on a property that were not dealt with initially could require more cleanups and more money.
The county is good at collecting taxes, he said, and collects "99 percent of taxes levied, and about 97 percent of delinquent taxes that roll over to us."
It also tries to find "creative solutions to deal with these properties as best we can," McLaughlin said, adding that these sometimes take time.  
McLaughlin gave a couple of examples of positive outcomes, including the Gansevoort/Franklin property in the South End of Albany that had a hot spot; a cleanup was completed in 2016 using mostly environmental cleanup funds with some funds from the county.
He also cited a chrome and lead plating facility on North Pearl Street that became a superfund site and was cleaned up and then sold in a private sale.
Rick Georgeson of the state's Department of Environmental Conservation sent information on the brownfield and superfund programs.
The brownfield program is designed to encourage private-sector entities such as developers by removing barriers to their redevelopment and providing tax incentives.
In the superfund program, the DEC's Division of Environmental Remediation identifies, investigates, and cleans up sites where "consequential amounts of  hazardous waste" may exist, according to a description on the DEC website. The first step is to perform a site characterization, to determine whether hazardous waste is present, and to gauge the threat to public health or the environment.
The state first tries to get responsible parties to pay for the site characterization and any necessary cleanup. When those parties are unable or unwilling, the state can pay, using funds from the 1986 Environmental Quality Bond Act, and can try to recoup costs later.
The land bank is also looking into the possibility of creating a process for taking on environmentally problematic properties in the future, McLaughlin said.
Zaranko confirmed this, writing in an email, "Many communities struggle with addressing 'brownfield properties,' or properties that are believed to be contaminated. These properties are often very difficult to return to productive use because they pose unknown environmental, liability and costs associated with potential cleanups which local governments and developers are hesitant to take on."
Ways that land banks in other areas are addressing these problems include, Zaranko said, "conducting pre-development assessments, helping to secure grants, and marketing opportunities to the development community."
To date, the Albany County Land Bank has been involved mainly with residential buildings and vacant land, along with some commercial and mixed-use properties, but it hopes in the future "to develop a way to help address these properties and help revitalize our communities," Zaranko said of properties thought to be contaminated.
The Albany County Land Bank is in the very early stages of looking into this, Zaranko said.
McLaughlin takes a long view of the county's work with questionable properties.  
"A lot of people view it like, 'You just do these two, and you're done.'" That's not the case at all, he said, comparing the problem to a game of "whack-a-mole," in which, as soon as one is taken care of another pops up.
"We view it as," McLaughlin said, "this is what we do. And we're going to do it constantly. Forever. For eternity. There's always going to be tax delinquencies. There's always going to be questionable properties. And we're going to do it effectively, consistently, and efficiently, the entire time. We're not going to get to the point where all is well, and there's no environmentally problematic properties in the county."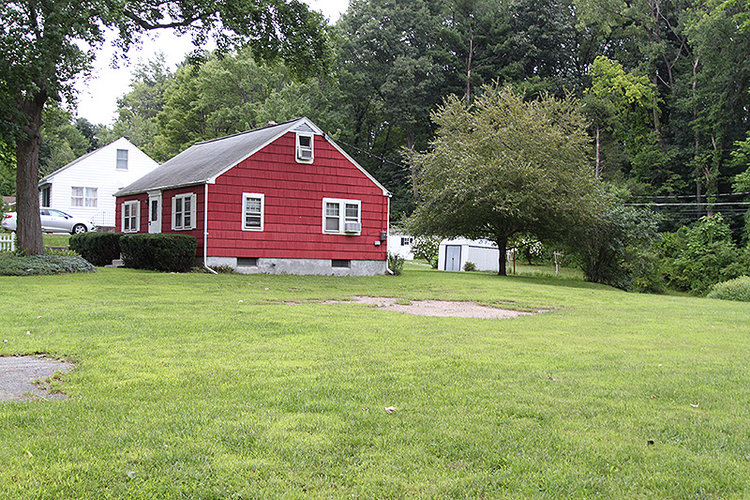 The Enterprise — Elizabeth Floyd Mair
An empty lot is all that remains of the house that once stood at 7 Ayre Drive, which was torn down by the town six months after fire gutted the house. The town, unable to contact any of the grown children of the deceased owner, decided that neighborhood children could be hurt if they entered, and that the burned house could fall and damage the house next door.  
---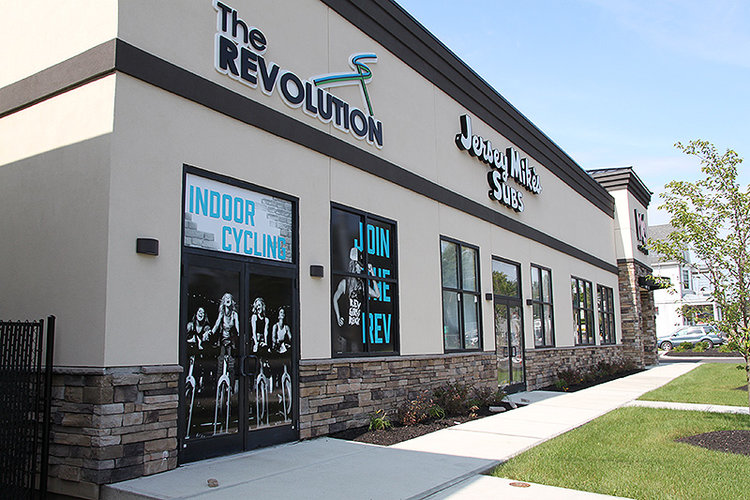 The Enterprise — Elizabeth Floyd Mair
An untended home was torn down and combined with a small adjoining lot to create this neighborhood shopping plaza at 1206-1210 Western Ave., near the city line with Albany.
---
Update on other difficult properties  
Some Guilderland properties that have been cited by residents as eyesores have been addressed in various ways. These include:
— An untended home at 1210 Western Ave.: This property across from the main entrance to the University at Albany was torn down and became part of a neighborhood shopping center on two parcels, 1206 and 1210 Western Ave. The shopping center now houses an indoor cycling business, a sub shop, and a fast-food restaurant.
The developer is Ryan Jankow, who also owns the nearby City Line Bar and Grill;
— 7 Ayre Drive: The town determined the burned-out shell of this property to be an "attractive nuisance" and demolished it in June 2016. The house was gutted in a fire six months earlier, and, after the fire, town officials had had little success in reaching the adult children of the deceased owner to discuss plans to address the damage.
Coons said at the time, of the homeowners, "They won't return my phone calls, or respond to my letters."
Four of the seven people living in the residence at the time of the fire spent weeks in a burn unit in Syracuse.
The town never took over ownership. It simply tore the building down as "an emergent situation," Barber said this week.
Coons said this week that the town couldn't continue to wait, back in 2016, while the structure was "barely standing, and posed a hazard." The structure would not have made it through a winter with a snow load, she said, adding that it was very close to a neighbor's house.
Barber said that the property is still privately owned but that perhaps, "down the road," it could potentially be made into a pocket park.
Asked who is mowing the lawn and doing other routine maintenance, he said he wasn't sure. In some cases, neighbors will help out with maintenance, he said, adding that the town does not mow it.
The empty lot was well manicured as of Tuesday of this week, but efforts to reach neighbors to ask for comment were unsuccessful.
The lot is 9,000 square feet, not too small to build a new house on, Coons said.
No new house has been built, and the property is still listed as belonging to the same deceased owner, she said, adding that she did not know what happened with the foreclosure that may have been in process when the fire occurred. "I don't know if the bank walked away after the fire," she said.
If someone were to come into the town hall with a building permit application for 7 Ayre Drive, she said, the town would require, as a first step, a survey that includes an elevation certification. The question, Coons said, is whether the proposed property is in or out of a floodplain.
Building within the floodplain is possible, but not guaranteed, she said, and needs approval from the zoning board.
A stream right across from the property goes under Ayre Drive, she said and then alongside 7 Ayre Drive. The survey would need to show where the floodplain is — because the land is in a "marginal" area, "really close," she said — and how close to it is any proposed structure.
— Bank at corner of routes 146 and 20: Construction on a Cumberland Farms convenience store with gas pumps is almost complete.
Emco Construction's Eileen Wesley said this week that the new Cumby is slated to open around Sept. 6.
The corner parcel was home for years to a bar called Tommy Polito's. The hand-hewn post-and-beam frame of that building, which dated to the 1700's, was sold and moved to Connecticut.
The remnants of a mid-20th-Century bank building on the adjoining parcel that had been nearly covered over with trees and vines was torn down for the construction. The Cumby lot extends all the way from Route 146 to the town-owned Western Turnpike Golf Course.