Village divided on Stewart's plans to replace Smitty's
Thursday, April 13, 2017 - 13:36
The Enterprise — Melissa Hale-Spencer
Time's up: Georgia Gray, right, who chairs the Voorheesville Planning Commission, waits patiently as New Scotland resident Paul Steinkamp reads some of the 22 pages he compiled on problems with the Stewart's proposal to build near the intersection of route 156 and 85A in Voorheesville.
VOORHEESVILLE — Judging by the applause at Tuesday's hearing on granting a special-use permit for Stewart's Shops to build another gas station and convenience store in town, the crowd of over 100 was about equally divided.
Stewart's Shops has signed a contract to buy Smith's Tavern, a popular eatery on Route 85A in the heart of the village.
Each of Tuesday's 21 speakers — 13 of them opposing the plan, five of them favoring it, and three of them in between — received applause. Most of the concerns focused on increased traffic and flooding. Some residents also expressed loyalty to the family-owned Mobil gas station and convenience store directly next to the proposed Stewart's site and believed Stewart's could put it out of business.
Georgia Gray, who chairs the village's planning commission that held the hearing, said this was the biggest issue she has dealt with in her 10 or 15 years at the helm of the board. "It's because of the iconic nature of Smitty's," she told The Enterprise, referring to Smith's Tavern whose owners — John Mellen and Jon McClelland — want to sell their restaurant to Stewart's and retire.
McClelland sat in the front row of metal folding chairs set up in the elementary-school gym along with Chuck Marshall, who works in real estate development for Stewart's and presented the plan at the start of the hearing.
Voorheesville is in the midst of developing a comprehensive land-use plan, spurred partly by the controversy over Stewart's. "It would have been nice if we had it before making this decision," said Gray after the hearing. The property at 112 Maple Ave. is zoned commercial but a special-use permit is required to allow for gas pumps and gasoline storage.
The commission now has 62 days to decide whether or not to grant the permit. "There is a lot of direction already in the zoning law," Gray said, addressing matter like aesthetics. Then, too, the commission has volumes of engineering reports, most of them posted on the village website.
The next step in the process, Gray said, is Stewart's will respond in writing to comments not yet addressed. "We'll review them and put them on the village website," she said of the commission.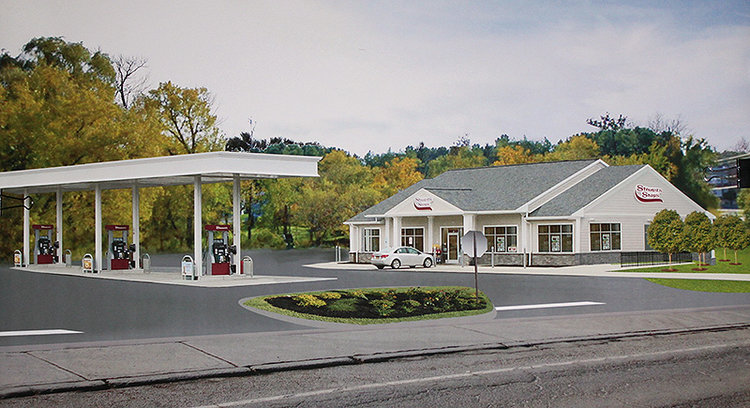 An artist's rendering shows how the new Stewart's convenience store and gas station would look at the site where Smith's Tavern now stands. 
---
The plan
Marshall projected images of the planned Stewart's Shop, a 3,675-square-foot building faced with stone veneer with "three dispensers with six fueling stations" in front.
He said that the village's building inspector and zoning administrator, Glenn Hebert, had determined no variances are required.
Marshall told The Enterprise earlier that he had made an offer to the company that owns the Mobil station, referencing Sunoco L.P. "Nothing's come of it; they're not interested in selling," he said.
Stewart's Shops submitted its application on July 1, 2016 and appeared before the planning commission three times — in September, December, and February — as well as being part of a February workshop on technical aspects.
Marshall showed a sketch of a retaining wall that ranged in height from four to eight feet, running between the back of the proposed building and the Vly Creek. He also displayed a bird's eye view of the project and an artist's rendering of how it is to look.
Richard Reilly, the village attorney, explained that, under the State Environmental Quality Review process, the commission has two choices. It can decide to issue either a negative declaration, meaning there are few environmental concerns and the board can move on to a site-plan review and making a decision on the special-use permit. Or it can decide on a positive declaration, asking Stewart's to provide an environmental impact statement.
— Photo from John Schumacher
Previous flooding at the site where Stewart's wants to build, showing Smith's Tavern at the far left. John Schumacher, who lives at 6 Mountainview St., said the new bridge changed the flow of the Vly Creek. "I've lost 15 feet," he said as the stream washes out his land.Civil public hearing.
---
The hearing
Afterwards, Gray said of the hearing, "It was very civil. People were respectful and heartfelt."
On entering the hall, residents were given a sheet listing 11 "ground rules," labeled "a pledge of conduct." Gray said the list had come from C.T. Male Associates,  engineers hired to evaluate the project. It included statements like, "I will comment on the problem, not the people or their personalities."
Paul Steinkamp got through just a bit of his 22 pages, outlining specifics of traffic problems, before Gray gently interrupted him to say his three minutes were up. She said the commission would read his papers.
Brian Hunt, superintendent of the Voorheesville schools, spoke on behalf of the school board. The elementary school is across the street from Smith's Tavern. The board fears increased flooding in the school, which has flooded before, and is also concerned about increased traffic, causing "potential hazards" for families walking to the school and for buses coming and going to the school, he said.
Mike Fields, who grew up in Voorheesville, had no objections to Stewart's but worries about the floodplain. "Mother Nature is the only one who will calculate what happens," Fields said, stating that the Salem Hills development and the building of St. Matthew's Church on Mountainview Street "filled in the floodplain."
Lea Warden who lives in Quail Run said she already has trouble getting out of her development because of the traffic. She cited a Nov. 29, 2016 traffic study on the village website that said Stewart's would engender 150 trips in the morning and 187 at the end of the day.
"The traffic is already horrendous," said Deb Zeh who supports Stewart's and the McClelland family. She said, too, that any business moving in would have to mitigate flooding. "What business would be OK?" she asked, concluding she had faith in Stewart's and hoped the project would move forward.
Safder Ali, who runs the Mobil station next to Smith's Tavern, described his as a "small family-operated business. He said he monthly sold an average of 80,000 gallons of gasoline and asked, "How would they divide the business?"
Rachel Gilker said her children and she walk in the village and that more traffic as the kids walk to school "scares me to death." She also said that, while she respects the right of someone to sell their business, further scouring of the Vly Creek would lead to loss of habitat for the great blue heron and the vertebrates and invertebrates it feeds on.
John Sheppard of 96 Maple Ave. said he supported the project but expressed concerns about noise, like back-up alarms on trucks sounding at night. He said more sidewalks are needed in the village, stating, "Every time I get my mail, I take my life in my hands." He concluded, "The corner should be developed. It's a nice-looking store."
"Smitty's has history behind it," said Nathan Shearer, a Voorheesville sixth-grader; he said he had learned from his teacher that it used to belong to a World War II veteran. "Getting rid of it will take away from this town being small." He concluded, "I just don't think you should get rid of it."
Steven Schreiber, a 40-year Voorheesville resident, said it was "entirely inappropriate for a small village" to have two similar businesses side by side. He asked, "Is there any evidence two gas stations and convenience stores can be supported?"
He conjectured that "Stewart's business plan is to absorb Mobil's business" which he said would leave vacant buildings, "a commercial slum," decreasing property values. Schreiber said he would not shop at the new Stewart's and if others also boycotted it, that would leave a "white elephant." He suggested Stewart's be required to post a bond to be used for its removal if the business failed.
The assistant manager at the Voorheesville Stewart's in the center of the village, Jennifer Parker, said Stewart's "employs many, many local kids...and supports the community." She gave the example of donated ice cream at a recent danceathon to raise money for a new playground at the elementary school.
"We want to support this community," she said. She also said, with two stations, "gas prices will be more competitive." The village Stewart's no longer has gas pumps.
Kent Pieri said two side-by-side gas stations were not in keeping with the community. He also had concerns about wetlands and flooding and said his "take-away" from last week's visioning session for a village master plan was: "Everyone wanted restaurants and retail." (See related story.)
"They want to take down a community icon," Nathaniel Longale said of Stewart's. He also advised against having a store that sells alcohol and tobacco across from the school.
"I'm sad about it but I've come to terms with it," said Janis Relyea of the sale. She, too, expressed concerns about the difficulties of walking in the village and about the flooding of the Vly Creek. And, she said, "The nice people that own the Mobil will pretty much go out of business."
John Schumacher, who has lived in the village since 1959, said trouble with the floodplain began when the school built its parking lot. Also, he said, the new bridge changed the flow of the Vly Creek. "I've lost 15 feet," he said as the stream washes out his land; it has taken fences and trees, he said, which can clog the stream and cause flooding.
"I'm not against Stewart's," he said. "I like Stewart's. It's just this is not a good spot for it."
Ann Kelly of Locust Drive, said, "We don't need another Stewart's. It's too much…. We should seek out a buyer for Smitty's...We have no restaurant to go to if Smitty's closes."
"I brought my camera along to take pictures of the people who will decide the fate of the village," said Michael Jarus. He said the Vly Creek was Voorheesville's "main asset," and added, "This is kind of a turning point for the village." Jarus concluded, "We need a Stewart's will all the conveniences of modern life...caffeine, nicotine, buttery fat, and lottery tickets — pizza, too."
"I speak sadly," said Ernie Sacco Jr. who talked loudly, without using a microphone. "I support Stewart's. I love Smitty's...Smitty's is done….Jon worked hard for 25 years. He has the right to retire...Big Jon deserves the best amount of money he can get, and Stewart's, I'm sure they've got it."
Katrin Schamberg of 91 Maple Ave., who serves on the master-planning committee, said she worries about  her children's safety as they walk to school.  The sidewalks, she said are already dangerous.
Patty Miller noted that she shares a property line with both the Mobil station and with Smith's Tavern. Nearly 60 now, Miller said, "I've lived at that site since I was 5 years old..I value both of them," she said of McClelland and the Alis. She said she dreaded the Mobil station going out of business as it would affect both her friends and her property value. She also said, she'd like to see McClelland able to retire.
"I've seen way too many accidents from my front porch," said Miller.
"I love Voorheesville," she said. "We need to do the right thing. I don't know what that is."
She concluded, "I'm OK with change...I'm in favor of our community growing...I don't know the answer."
James Linman, McClelland's attorney, spoke last. "Smitty's is going to close. Period," he said. "What is going in there...will not drastically affect village lives."