Democrats choose Napierski and Beedle — a split ticket
Wednesday, June 23, 2021 - 11:24
GUILDERLAND — Guilderland Democrats sent a mixed message Tuesday in the town's first primary — a four-way race for two spots where the key issue was development.
Christine Napierski, one of a pair of challengers to the Democratic Committee's two picks, came in first with 26 percent of the vote. Her running mate, Kevin McDonald, came in last with 21 percent.
Incumbent Paul Pastore — who was backed by the committee — was ousted with 24 percent of the vote while his running mate, Amanda Beedle, came in second, securing the Democratic line for November, with 25 percent of the vote.
Napierski and Beedle, by winning the Democratic line, will have a great advantage in November since enrollment in Guilderland skews Democratic.
Both Beedle and McDonald were making their first run for office.
The two camps gathered on Tuesday night at eateries several miles apart on Guilderland's Route 20. The challengers, with a score of supporters, met at Athos, gathering around a long table where several supporters called out numbers — to cheers or sighs — as results came in.
"It's going to be close," said one.
"We need some alcohol," said another.
Meanwhile, at Orchard Tavern West about 50 people gathered, many of them elected officials. They sat at different tables with most of the crowd standing, some watching the Yankees play on big-screen TVs. In the far corner, town Clerk Lynne Buchanan sat with a laptop, quietly tallying numbers while Supervisor Peter Barber, consulting his phone, stood behind her.
At 9:40, Mickey Cleary, a county legislator, urged people to eat the just-delivered pizza and said results would be announced in 10 minutes.
Jake Crawford, who chairs the Democratic Committee, took the floor to announce the town board will have a new member — Amanda Beedle. She hugged her husband, Jeff, as the crowd applauded and then she walked toward her running mate, Pastore, who stood at the back of the room.
"I'm sad to say Paul Pastore is not going to be on that ticket," said Crawford. The crowd applauded Pastore, a lawyer, for his 16 years on the board as he gave a thumbs-up sign.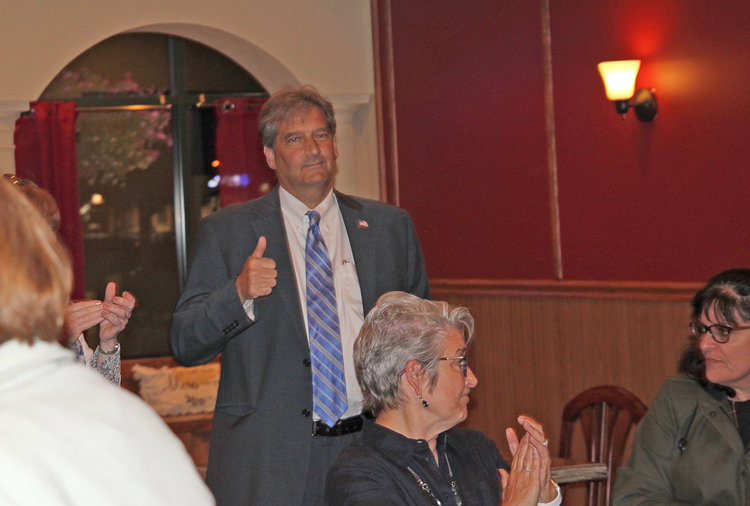 The Enterprise — Melissa Hale-Spencer
The crowd applauded Paul Pastore, center, for his years of service to the town.
---
Beedle, who grew up in Altamont and had worked at Guilderland Town Hall in many capacities, told The Enterprise that she had put her whole heart into her campaign — and lost 20 pounds in the process. She also said she was grateful for the many people who had supported her and was proud of running a positive campaign.
She had voted earlier in the day and had spotted Napierski at the Altamont polling place and turned back to greet her, Beedle said. "We have mutual respect for each other — as women, as mothers," she said.
Beedle also said that, although the election had taken a toll on her family, her sons had learned from it.
Participating in the candidates' forum, held by the League of Women Voters, Beedle said, had been hard for her. So then, she related, when her 15-year-old son had the grades to opt out of taking a Regents exam, "My husband told him, 'Your mom met her challenge. Take an example from your mom.'"
Back at Athos, Napierski said of her running mate, "He is in the position I was two years ago — a total unknown."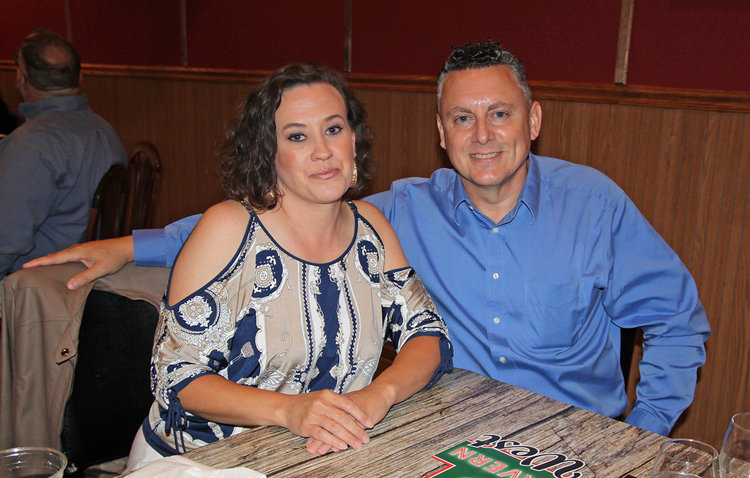 The Enterprise — Melissa Hale-Spencer
Amanda Beedle and her husband, Jeff, wait for election results Tuesday night at Orchard Tavern West.
---
After Napierski had filled a vacancy for town justice, the Democratic Committee chose someone else to back in the next election. Napierski then unsuccessfully challenged the caucus process in court, lost at the caucus by 21 votes, and pushed for a change to a primary system, which the Democratic Committee ultimately adopted last year. She subsequently lost the election for town justice on a small-party line.
The largest turnout, by far, for a Democratic caucus in Guilderland was in July 2018 when Napierski challenged the party's choice for judge; 285 votes were cast. The unofficial tally in Tuesday's primary was 3,650 votes cast; since each Democrat could cast two votes, it's likely about 1,825 participated, more than a fifth of enrolled Guilderland Democrats.
The Enterprise asked McDonald on Tuesday night if he'd run again. "I'm thinking about it," he said. "I'm proud we reached so many residents."
The town is currently in the midst of appealing an Albany County Supreme Court decision that halted Pyramid's plans to build a Costco Wholesale store and a 222-unit apartment complex. Pastore had voted in favor of the appeal. Beedle is on the planning board that approved the projects.
Both Napierski and McDonald oppose the Pyramid projects. McDonald is among the Westmere residents who brought the suit stopping the projects. Napierski, a lawyer, made a point during her campaign of not accepting funds from developers; her campaign was largely self-funded.
In the last town elections, in 2019, Laurel Bohl, a Democrat, defeated the board's sole remaining Republican. Bohl then cast the only dissenting vote on the town board's motion to appeal the decision that halted Pyramid's progress.
Prior to her election, Bohl had headed the Guilderland Citizens (now Coalition) for Responsible Growth, a citizens' watchdog group, and had often been critical of Guilderland's boards as being too lenient toward developers.
Bohl was also the lone dissenter on the all-Democratic board in January in reappointing the long-time chairman of the planning board; she cited "an extremely harsh rebuke" from the judge in the Pyramid case.
Leading up to the primary, Bohl wrote letters to the Enterprise editor in support of Napierski and McDonald as did Steve Wickham of the citizens' coalition. At the same time, town board members Patricia Slavick, who is not seeking re-election, and Rosemary Centi wrote in support of Beedle and Pastore as did Supervisor Barber.
"I want help from partners who will work to build on our successes," wrote Barber, a lawyer, who is arguing Guilderland's appeal of the decision that halted the Pyramid projects.
On Primary Night, Napierski recalled the polling-place greeting from Beedle, which she said she appreciated, and told The Enterprise, "Amanda shares many of our values." Napierski thought that, during the League of Women Voters' forum, Beedle's views sounded similar to hers and McDonald's.
Asked her thoughts on Pastore being ousted, Napierski said, "Paul's been on the board a long time. People are ready for a change."
Napierski then addressed her supporters. "The tide is turning ...," she said. "My name was on the ballot but it's all of our victory."
An onlooker noted that McDonald still had the Working Families Party line for the November election.
"When I was defeated three years ago, it wasn't the end; it was the beginning," said Napierski.
"I will continue with this battle ...," said McDonald. "We'll continue our hard work."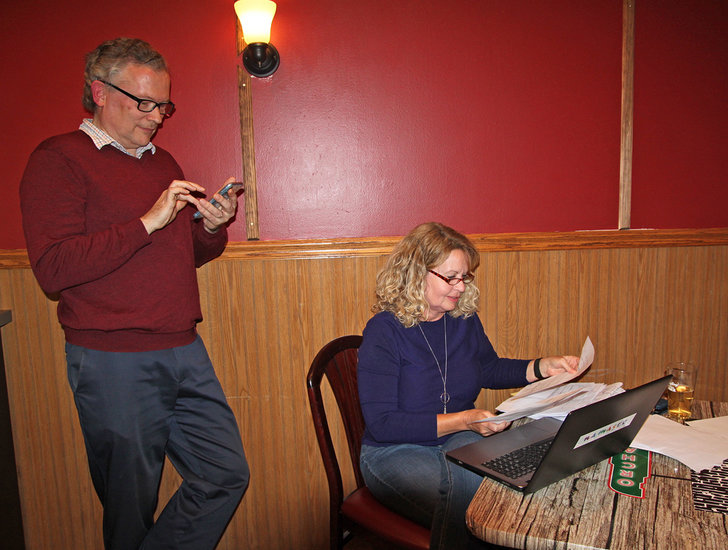 The Enterprise — Melissa Hale-Spencer
Guilderland Supervisor Peter Barber and town Clerk Lynne Buchanan tally votes on Tuesday night.
---
In November, Napierski and Beedle will face off against two Republican candidates: Brian Sheridan, a pediatrician, and Amanda Knasel, the pediatric quality project manager in the same office. The GOP is fielding just those two candidates, each making their first run for office.
Both Republican candidates spoke to The Enterprise earlier this month about the importance of listening to a wide variety of viewpoints in town and striving for unity. Asked about her views on development in town, Knasel said that she'd like to bring in more development and make it an easier process for businesses. "We should be working with businesses to grow," Sheridan said, adding, "I do it with my own business."
Not quite half of Guilderland's roughly 23,000 registered voters are enrolled as Democrats while about a quarter are enrolled as Republicans and more than a quarter are not enrolled or belong to small parties.
According to unofficial primary results from the Albany County Board of Elections, Napierski received 962 votes, Beedle got 917 votes, Pastore garnered 872 votes, and McDonald received 777 votes; there were also 122 write-in votes. The board of elections on Wednesday was unable to answer Enterprise questions on how many absentee ballots had been requested or returned.