County board nixes Pyramid's plan for 222-unit complex
Wednesday, May 15, 2019 - 19:43
ALBANY COUNTY — The Albany County Planning Board on May 13 voted to disapprove without prejudice Pyramid's proposed 222-unit apartment-and-townhouse complex on Rapp Road, next to Crossgates Mall. Pyramid is the owner of Crossgates and of the five-story dual-branded Hilton hotel that opened last fall in front of the mall, on Route 20.
Board Chairman Dominic Rigosu read aloud the staff comments about the project, before the board heard public comments and voted.
Rigosu touched on the idea that the project would prevent the roads around the proposed complex from being able to access the nearby highways via the ring road, which he said was out of keeping with the Transit-Oriented District where the project is located.
He said the apartment project has far too many parking spaces, also out of character with the TOD, which is intended to increase use of public transportation and divert traffic from busy Western Avenue.
And he said that the proposal would harm the historic Rapp Road community. Rapp Road is the site of the Rapp Road historic neighborhood, listed on the national and state historic registers. The neighborhood was settled from the 1930s through the 1960s by African-American families from Shubuta, Mississippi fleeing the Jim Crow South.
Formerly, the neighborhood was much larger, said Beverly Bardequez, one of its leaders, at Monday's meeting; she noted that some of the homes were located where Home Depot and Walmart are now, across Washington Avenue Extension.
Earlier, Pyramid had proposed closing Rapp Road between the apartment complex and Gipp Road, to reduce the amount of through traffic using Rapp Road to travel between Western Avenue and Washington Avenue Extension. Now known as Option 1, this caused concerns with some residents in neighborhoods that rely on using that portion of Rapp Road, resulting in Pyramid floating two other options (detailed in accompanying maps).
Neighbors from many surrounding streets stood to express their opposition to any plan that would make it harder for them to drive directly from their homes to Western Avenue, or that would decrease traffic on Rapp Road while increasing it through other surrounding streets such as Gipp Road.
Wilan Lane resident Margaret Atkinson said that, being located off of Gipp Road, Wilan residents were "surrounded by Guilderland." They are on "the last street in Albany," she said, and are already slow to get services such as snow plows or trash pickup.
She worried that closing Rapp Road between Gipp and Pine — another alternative — would cut off emergency services to places like Wilan Lane and leave its residents "stranded." Some residents said they had discussed this alternative with Pyramid, and board Senior Planner Laura Travison said that it would allow residents of Gipp Road to get to the ring road, although she emphasized that the planning board had not seen that plan.
She also said that this alternative plan would allow the Pine Bush Commission to "go ahead with their exchange as well."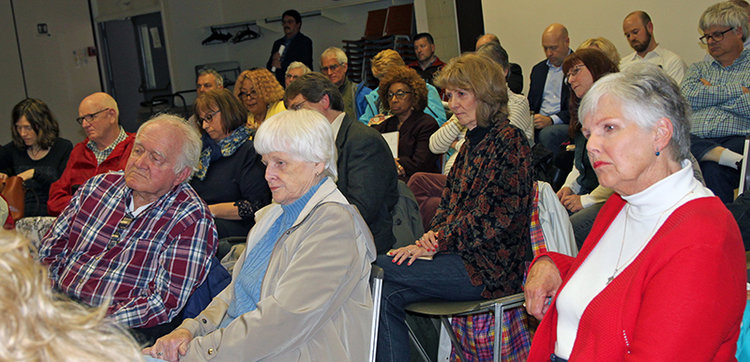 The Enterprise — Elizabeth Floyd Mair 
Residents of Westmere Terrace, Gipp Road, and Paden Circle in Guilderland, as well as of Rapp Road, Pine Lane, and Wilan Lane in Albany are among the crowd of 50 people who attended the May 13 Albany County Planning Board meeting. All of these roads are directly around a 222-unit apartment-and-townhouse complex that Pyramid — which owns Crossgates Mall — is proposing for Rapp Road. The board voted to disapprove the project without prejudice.
---
Pine Bush
Neil Gifford of the Pine Bush Commission said at the meeting that the Pine Bus Commission must work with municipalities and applicants to try to "strike a balance" between development and the commission's goal of expanding the size of the preserve from its current 3,300  acres to about 5,000 acres.
Gifford said he had dealt with many developers and applicants over the years and that Pyramid is the first applicant in his experience that has been "genuinely interested in trying to find balance."
Gifford sent The Enterprise a copy of a letter dated April 18 that he had sent to Travison saying that the commission had had three productive meetings with Pyramid and believed that several new proposals by the company, together with measures that Pyramid had already agreed to as part of municipal approval, would offset "the most significant potentially adverse environmental impacts" of the project that Gifford had outlined in an earlier letter, in January.
Gifford's letter outlines Pyramid's new plans, including voluntarily conveying three parcels totaling 8.4 acres in the city of Albany for addition to the Pine Bush Preserve. Pyramid would also, he said, create an indoor kiosk space in the mall for Albany Pine Bush-related exhibits and materials, create an Albany Pine Bush-related wall mural to update and replace the current Karner blue butterfly display in the mall; and create outdoor signs recognizing the Pine Bush.
Steve Wickham, who is running for Albany County Legislature in the district that includes these areas of Guilderland, said he had called a meeting Saturday night among residents of the streets around the proposed complex, and that he planned to hold another one soon.
He said that there are at least 450 existing households that would be directly impacted by the plan and noted that the plan is to build 222 additional housing units, which would increase the existing number by half again as much.
"The area where it's proposed should be designated forever wild, and this should be built closer to the mall," he said. He noted that the proposed complex includes some commercial space, and said that commercial occupants would want to be closer to the mall.
Wickham sent The Enterprise on Tuesday night a mapped-out version that he made of an alternative proposal that would place the two apartment buildings directly across Rapp Road, in space that is currently at the edge of the mall parking lot.
Wickham put the townhouses near Rapp Road on the currently proposed site. He also extended Gipp Road to the mall road and added arrows to show where roads in the historic district could be made one-way to prevent "at least some of the traffic from going through their area."
Next
Guilderland resident Karen White of Old State Road asked the board what would happen next.
Rigosu said that the town of Guilderland can override its vote with a supermajority — a majority plus one vote — or can accept the board's comments.
Bardequez said she did not want to inconvenience her neighbors, but said, "My only concern is to protect our community," which she said has been in existence for 89 years.
"I want the road closed," she said, emphasizing each word. "It's a shortcut and a thoroughfare."
Speaking to the residents of the other surrounding roads, she said, "If the road is not closed, we are going to have a hornet's nest, because there'll be nothing to control the traffic. And you won't suffer from it, but we will."
Juanita Nabors, who lives in another house in the historic district, told the board again, as she has at past meetings, that she needs to wait for five to 10 cars to go by, bumper to bumper, before she can leave her driveway. She asked for a show of hands of anyone at the meeting who needs to do the same thing. No hands went up.
Bardequez spoke about her grandson. "My little grandson gets off that school bus every day, and I hold my breath until he gets across that road. Every day. He's 9 years old."
George Woodard of the Rapp Road neighborhood said, "We still want the road closed off, no matter where they put it," referring to the apartment complex.
Move Gipp?
After the meeting, James Soos of Pyramid told The Enterprise that the town of Guilderland has asked the city of Albany to consider a proposal that would move the end of Gipp Road to allow full access to the ring road and Western Avenue while still protecting the Rapp Road historic neighborhood.
Guilderland Town Planner Kenneth Kovalchik told The Enterprise on Tuesday that three options have been sent to the city of Albany for comment as part of the State Environmental Quality Review. The city has a deadline of May 17 to provide comments. After that, Kovalchik said, the project will return to the town planning board to continue the site-plan review.
Option 1, suggested at an earlier Albany County Planning Board meeting, is to cut off Rapp Road between Gipp Road and the apartment complex. Residents of Gipp and Pine would be unable to get to Western Avenue directly via the ring road.
Kovalchik sent The Enterprise a copy of options 2 and 3.
Option 2 would dead-end Rapp Road after Pine Lane, remove the end of Gipp Road, rerouting it further south so that it ties into the ring road. In this plan, the current end of Gipp Road would be turned into a multi-use trail to the dead end of Rapp Road.
Kovalchik also sent an aerial view of option 3, which he said Pyramid provided on May 14. This option would leave Gipp Road and Pine Lane as they are, cut off Rapp Road just north of Pine, and turn Rapp Road into a cul-de-sac. Between the Rapp Road cul-de-sac and Pine Lane would be, in this plan, a service road for emergency-vehicle and service-vehicle use only.