Kenneth Crawford
Thursday, April 16, 2020 - 02:36
EAST BERNE —  Kenneth Crawford, an iconic Hilltown farmer, died peacefully on Monday, April 13, 2020, surrounded by his family.
"Ken fought a courageous five-year battle with cancer," his family wrote in a tribute. He was 84.
Born on July 7,1935, he was the son of the late Clyde Crawford and the late Millie McNab.
"Ken was a long-time farmer in the Hilltowns, who enjoyed working and family gatherings," his family wrote. "He accepted everything in life with grace and had an amazing will to live."
"My dad was a guy that not only his family could go to for help but the entire community," recalled his daughter, Jacqueline Repscher. "Often I would walk to the barn with my coffee in the morning to talk. There were always neighbors and family, solving the farm problem of the day.
"I recall one morning my Uncle Ernie saying to me, 'We're just sitting here solving the world's problems, Jack' as they sat on bales of hay, discussing politics. My dad was involved a bit with local politics, noting that he knew he didn't think he would win, but just did it so there would be a choice.
"Growing up, all of us kids always knew where to find my dad if we had an issue we needed advice on. You would first check the barn, then the fields. He had a huge heart for everyone; my siblings and I and all the grandchildren just looked to him as a mentor.
"He was just always there for everyone. His mental strength and stability was amazing. His oncologist would say to him after giving grim news and seeing my dad's acceptance,'I admire your perseverance, Sir.'
"And it was so true; his will to live was unbelievable, and he accepted all of it with grace. He would have four hours of chemo in the afternoon and then I'd pass him on the road later, driving a tractor pulling a load of hay. I'd throw my arms up like: What are you doing? You're supposed to be resting. And he would smile and wave.
"He was a one-man-show dairy farmer for 56 years, never took a day off. And he was able to raise a family of five. We always had what we wanted — even not within reason. He found a way during times when most dairy farmers went out of business because the agricultural economy in the country was so poor.
"At 75, he fell off the silo and broke his back; it was at that time he first stopped milking in order to recover. But he did come back and six months later he and my brother, Ken, went into the business of raising heifers and calves and continued to produce crops, hay, oats, and corn for other farms in the community. I think at one time they had about 66 in the barn of small calves to feed plus heifers.
"My dad's brother Ernie would then come over every morning in these last 10 years or so and they worked together on equipment repair and feeding the cows, since my brother also had a full-time job outside the farm during the week.
"At age 80, my dad came to me and said 'Have I showed you my leg?' One look and I knew he needed imaging as soon as possible; that started our acquaintance with this insidious diagnosis of leiomyosarcoma.
"We learned all about this rare cancer. Sarcoma is a soft-tissue cancer accounting for only 1 percent of all cancers in adults. My dad would joke, 'Did you know I was one in a million?' His diagnosis, although devastating, did not stop him; he just accepted it and had a will to do whatever it was going to take to keep going.
"He had proton beam radiation in Boston for six weeks, then multiple intense surgeries at Memorial Sloan Kettering in Manhattan, as the cancer was deemed inoperable in this area. I'll never forget him telling the surgeon at Sloan, 'I raise heifers.' And the doctor's face said, 'What is a heifer?'
"We knew this was the best shot at survival. The treatment was a success and he was cancer-free for two years, and he did regain his full strength and was working full-time again. The last three years, once the diagnosis returned, involved many scans, different chemos, and multiple radiation visits to control the growth.
"My dad continued to be active and sometimes didn't even tell me when he had a treatment scheduled and just drove himself. He chose to receive treatment locally this time as he was that much older and wanted to stay close to home.
"He continued to work — in the barn, in the fields, right up until sometime this past October. Then he had two bad falls and broke his back again. He was determined to be home and refused rehab so we brought him home, rehabbed him there, and he did walk again and was independent with the walker.
"Us kids then took turns staying with him just to oversee that he didn't fall again. I was amazed at how many visitors from the community he would get on a daily basis. It really brought him joy. He just had this incredible outlook to accept life, good and bad as the way it's supposed to be.
"He was a man with such an easygoing way but was always there to give guidance.
"On Friday, as he got weaker and more short of breath, I asked him if he wanted me to put oxygen on him and he matter-of-factly replied, 'You may have to.' I thought, 'Here he is dying and still helping me with decisions.'
"This all just seems so empty now — the barn, the fields, the whole area. End of an era I guess. 
****
Kenneth Crawford is survived by his five children: Robin Erickson and her husband, Neal, Hans and Dana; Kenneth J. Crawford; Holly Dunston and her husband, Dave, David and Laura, Kristina and Bill, Brittany; Jacqueline Repscher and her husband, Edward, Corbin and Tate; Angel Morris and her husband, Jim, Kendall and Christopher.
He is also survived by his great-grandchildren, Callie and Kendlie; by his sister Charlotte  Jones and her husband, Roy; by her brother, Ernie Crawford and his wife, Peg; by many nieces and nephews; and by Norma Saddlemire's children.
His companion, Norma Saddlemire, died before him, as did his brother Howard Crawford.
Due to COVID-19 regulations, a memorial service is deferred.
The family thanks Dr. Wrzesinski (NYOH), Dr. Denniston (SPH), Dr.Perrotti(SPH), the Community Hospice, Dr. Yoon of Sloan Kettering, and Dr. Delaney of Massachusetts General Hospital for their expert care and collaboration.
Memorial messages may be left at www.altamontenterprise.com/milestones. 
Memorial contributions may be made to Memorial Sloan Kettering Cancer Center.
---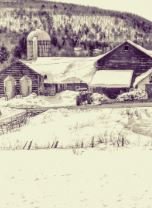 Ken Crawford
July 7, 1935 – April 13, 2020
Just a farmer plain & simple
Gentle, compassionate, always with a smirk of a smile
His wealth not measured in money
But the love of his land
A lifelong commitment of watching spring's new growth
And by fall his barns filled with hay
When yields were down & harvest were rough
The stress & strains didn't weaken his love & faithfulness 
For riding his John Deere with the wind & sun on his face
A worker of the earth till day was done
His love of cows whatever the brand
With his last wish that cattle always graze his land
Your labor is done
All fences have been mended & your tractor put in the barn one final time
For us our life has changed, but
Your legacy lives on of your love of the land,
 A good winter soup & sweets of any kind 
Thank you for your friendship, for a heart so kind,
For the times together when we laughed & we cried 
 For all the memories we all hold so dear
A life well lived; a man who loved his job his whole life