Mell accuser, now an adult, speaks
Thursday, February 7, 2019 - 19:54
GUILDERLAND — What Tod Mell did when he was her fifth-grade teacher, says the victim who accused him in a criminal proceeding, was put his arm around her waist — often — as she stood next to him behind his desk, where his groping would not be visible to other students.
The victim said in sworn testimony that Mell would slide his hand down to the place where her inner thigh met her vagina, and keep it there, rubbing and groping.
In a recent meeting at which her parents were also present, the victim told The Enterprise, "He would put his arm around my whole hips and everything, and waist, and rub over my vagina." She went on to say that Mell would rub her for "the whole time he was talking to me until I would awkwardly walk away."
He did this when they were alone and when other students were present, she said; his hand was always on the outside, never on the inside, of her clothes.
Whenever she went up to his desk, to show him some work or ask him a question, she told The Enterprise, he would always call her around behind the desk to stand beside him.
Almost a decade later, in the spring of her senior year in high school, she told her parents about Mell's treatment of her in fifth grade, when she had been 10 and 11.
The Enterprise is withholding her name.
Kevin Luibrand of Luibrand Law Firm in Latham, representing Mell, said that Mell "categorically denies" the victim's allegations and that Mell pleaded guilty in order to avoid the possible "consequences to his family if this were to continue." He said the consequences could have been "monstrous," including being put on a registry, being unable to get a job, and being unable to see his own children.
The parents of the victim who brought the allegations to Guilderland Police last April said they are aware of four other girls with similar complaints. The victim said they are all, like herself, petite.
Mell had been charged with endangering the welfare of a child, a misdemeanor, after he  engaged "in unlawful physical contact" with a female juvenile at Lynnwood Elementary School eight years earlier, according to the complaint filed in Guilderland Town Court on Oct. 4.
He had struck a plea deal, pleading guilty on Oct. 4, at the same time the arrest was announced, and was sentenced on Jan. 17 to two years' probation. As part of his sentence, he had to surrender his teaching certificate and follow sex-offender conditions.
The victim who brought the charges against him wrote in a victim impact statement, which she says she had hoped would be read in court at his sentencing: "I kept thinking about how it would affect your family, but then I thought of what you could still be doing to girls in a school. I realized that if I waited any longer it's almost my fault for not saying anything."
The victim's story
"I always put it in the back of my mind, because I didn't want to think about it, because it's disgusting, and it's nasty," she said in a meeting this week with The Enterprise and with her parents.
The story came to light after she and a friend whom she had known for years were at the victim's home and started talking about elementary school. The friend was younger and in a different grade, and had had Mell for a teacher later.
They got talking about elementary school, and the friend said to the victim that Mell "used to be really weird," and used to rub her back all the time. He used to try to get her to go to his classroom, the friend said, according to the victim.
Hearing that made her realize she probably wasn't the only one. Her friend said Mell had not touched her intimate parts as he had with the victim, the victim said.
But the victim insists she knows of at least one other girl from that same time period whom he had treated "specially," she said, like herself, and she thought she had once walked in on a moment when he was touching that other girl inappropriately in the classroom, she said.
The conversation with her friend made her begin to feel that, if she kept quiet, she was contributing to Mell's being able to keep on doing the same thing to others, the victim told The Enterprise.
The victim told her father "randomly, during a car ride," she said.
He was just quiet, her father said, recalling that "she very matter-of-factly described the things that happened" and that he "just kept quiet and let her tell me what she wanted to tell me."
When they got home, they told the victim's mother.
"I was stunned. I felt so horrible for my child," the mother said.  
"It took several days to process it," her father said. "It's like getting hit in the gut. Here you thought they had a good experience at Lynnwood." The mother said that James Dillon, who had been the school principal back then, was always talking about anti-bullying programs.
The father said he didn't think that the principal or the other teachers knew. All that people saw, they said, was Mell's creativity and enthusiasm.
"Everybody thinks this man's a god, and he's molesting my child," the mother said.
"I think if anyone ever saw anything, they'd say something," the father said of the other teachers in the school.
She had always thought there was "something off" with Mell, the mother said. She would go in for parent-teacher conferences, she said, and he would never look her in the eye. "Usually you sit down, they look at you, say hello, shake your hand, you talk about things." He kept his eyes down the whole time, she said. "It was like he was avoiding me."
The mother added, "We're parents that are very involved in our kids' lives, and care about them deeply, and want them to be successful and be good people and everything."
Once the victim had told her parents about the incidents in fifth grade, they asked their daughter what she wanted to do, the parents said.
"We didn't ever push her," her father said, but the victim did want to go forward with telling the authorities, and the family hired an attorney. They approached the Albany County District Attorney's Office first, they said, but were told to go to the police, and that the district attorney's office would follow whatever recommendation the police made, after investigating.
The parents said they had had conversations — before the victim was in the fifth grade — with her about the idea that if anyone ever touched her inappropriately, she should tell someone.
The victim told The Enterprise that the police detective who interviewed her had asked: How could you not have known that what he was doing was wrong? Didn't they show you videos in fifth grade about these things?
She recalled telling the investigator that students may have been shown movies in about the fifth grade about changes that would happen to their bodies at puberty. "But they never showed sexual-assault-by-your-teacher videos," she said she had told him.
At first Mell had been "a good teacher and stuff," she told The Enterprise. "He was really nice to everyone," she said. "Especially to me and another girl from another class."
Even when he wasn't sliding his hand down to her crotch, she said, "He always had his, like, hand around my waist. There was never not a time he would, like, have me near him, like that."
Mell never wanted to make her mad, she said, and so never set any limits on her behavior. He would give her the freedom, to do, as she put it, "little annoying things" like sit on her desk.
In the following years, she was surprised and resentful at how strict other teachers were with her.
Mell was eager to please, she said. After she would tell him that she liked something, she said, "He would always say that he loved them too, they were his favorites." She gave the example of M&Ms. "After I told him I loved M&Ms, he had them on his desk all the time in a bowl."
The only time he was strict with her, she said, was whenever the girl from the other class was in the room, she said. When she was there, he always had his arm around her, she said.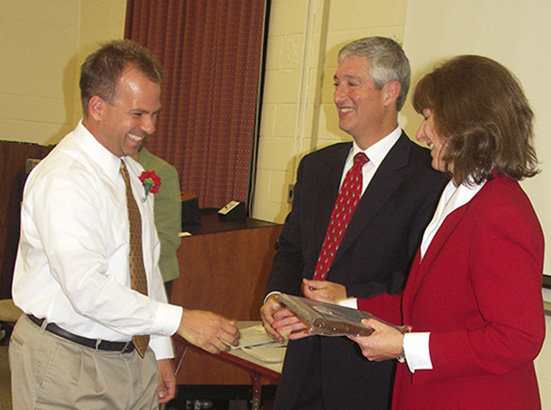 Enterprise file photo — Melissa Hale-Spencer
In 2010, the same year in which a 2018 Guilderland High School graduate says she was a fifth-grader hurt by her teacher Tod Mell, the school board honored Mell as "an amazing teacher, colleague, and leader who makes learning fun for his students through his positive energy and enthusiasm." Mell, at left, receives his award from Richard Weisz, then the school board's president, and Superintendent Marie Wiles.
---
Testimony
Since the victim's family filed a notice of claim last spring against the school district, which is the first step in bringing a civil claim, the victim was interviewed June 22, 2018 by an attorney for the district from The Mills Law Firm, based in Clifton Park.
The transcript of the testimony taken at that examination, which the victim's family showed The Enterprise, paints a picture of a girl who had been frozen and confused and who did not speak to anyone about what was happening.
The victim said in the transcript that Mell had touched her many times and estimated the number at "35 to 40 at least."
The first incident was in September or October, she said. All the incidents took place in the classroom; they did not occur at any particular time of day, she said.
He would put his hand on her waist, then wrap his whole arm around her waist and start touching her all over clothes along "her thighs down the side of the vagina," she said.
He did not say anything, she said, the first time he did it, which continued for about 10 minutes, she said. While touching her, he would "like rub me, kind of like grope," she told the attorney.
She described how she reacted, the first time. "I kind of just stood there. I didn't really know what was going on."
She said that Mell "acted like it wasn't any different and that we were just having a normal conversation." She didn't tell anyone at school; she didn't tell any friends; and she didn't tell her parents, she said.
Only one other child saw what he did, she said. It was the girl from the other classroom, the other person whom Mell treated specially, the victim said.
The lawyer questioned her in detail about just how and where he touched her.
Every time it happened, she said, "I'd be standing right next to him, just like right side-by-side."
He would start by placing his hand on her back, and "would like go around and just always do this every single time."
The lawyer asked, "And rub back and forth in the lower abdomen area, is that correct?"
She answered, "Ah-hum. And it'd be kind of tightly. It was like so I couldn't really like move away."
Did he ever touch her breasts?
"No," she said. "That would have been right above his desk. It was always like below. His desk was — so like I was short enough that no one could really anything it was like —"
The lawyer started to ask a question and the victim added, "— kind of hidden."
The desk was high enough that it obscured the view, so that classmates could not see the touching, is that right, the lawyer asked her. She answered, "Exactly, yes."
Was it always as long as five or 10 minutes, each of the 35 or 40 times he touched her, the lawyer asked.
The victim answered, "Yeah, he would just stare at me and talk to me like it was normal and do that."
She said that he would talk to her, during those times, "about like school or like family or something; he would just talk to me."
Why didn't she go to the principal, the lawyer wanted to know.
She said, "Because I honestly didn't think what he was doing was wrong. I didn't know what he was doing because he was such a nice man. Like he was so nice to me that I never really thought someone who was so respected by people would have done something like that."
All through middle school, she was depressed about what had happened, she said. She thought of telling someone, but never did. "So it kind of just sat on an edge like thinking about it for awhile." Then, in high school, she told the lawyer, she "kind of tried to let it go."
Victim impact statement
The victim's parents had expected that their daughter's victim impact statement would be read aloud in Guilderland Town Court when Mel was sentenced on Jan. 17. Instead, Judge John Bailey declined to read it at the sentencing, saying, "If the victim's not here, I'm not going to read it, because legally I don't think I can." He looked around but no one came forward.
This is the full text of the victim impact statement, which does not include the victim's name or any identifying details:
"Well there's so much I've wanted to say for so long but never could. The only reason I couldn't was because I honestly had no clue what to think of everything and had too big of a heart to say anything. I always had in the back of my head that the things going on weren't ever supposed to happen to a student, but I really did trust you, which is why I was so blinded by what you were doing.
"When I got to middle school, I started thinking more and more about why I was such an amazing kid in your eyes, because all my new teachers just treated me like everyone else. You never treated me like everyone else, you really did treat me like a star student and I wasn't the best student in my elementary school years. I really didn't understand, why I wasn't getting more attention from my other teachers."
"I finally unblocked memories that were too weird for me to think about, and memories that made me think awful thoughts about myself for so long, even still today. What you did to me physically wasn't ever supposed to be allowed in any school. The worst part is, when I thought about telling my parents or friends or anyone, I froze and I thought not about myself but your family.
"Isn't that sad that you did things to me that will cause me to be scarred forever, yet I felt too bad to say anything and possibly have your sons grow up without a dad or think something so negative about someone who gave them life. It's heartbreaking to me. I kept thinking about how it would affect your family, but I thought of what you could still be doing to girls in a school I realized that if I waited any longer it's almost my fault for not saying anything.
"I didn't want any other girl on earth to grow up wondering why this would have happened to her or to feel uncomfortable to even say a word about what's happening to her. The doubts I had about myself were horrible. Not feeling good enough for anything or anyone. They are awful thoughts I wish I never had about myself.
"But lastly, I just want you to realize that I really thought you were a good person and maybe one day you'll change who you are and won't touch a girl like that anymore because all I want is for you to never again make someone think so much less of themselves. It's an awful feeling that I had for way too long and I don't wish it on anybody. So please just think about what I've said, because I want you to understand what I had to go through and what I thought about myself all those years because of you."
The victim's parents told The Enterprise they hoped Mell had read the statement.
Bailey said in court that the purpose of the statement was to "have Mr. Mell understand how this has affected her."
The parents were "shocked" that the victim-impact statement wasn't read aloud in court. They showed The Enterprise a standard letter from the Albany County Department of Probation, asking for a statement "by the means most comfortable for you, whether it be in person, on the phone, or by letter." This letter said that the information in the statement "may be released by the Judge to the Defense Attorney, District Attorney or defendant. It may also be quoted in open Court."
No one ever indicated to them, the parents said, that, if their daughter did not appear in court, the statement would not see the light of day.
No one asked them if they would like it to have been read, they said.
"It may have been our misunderstanding," her father told The Enterprise, "but we would have liked it to be read. I thought it would have an impact, but that never got out there," he said.
Before publishing its Jan. 24 story on Mell's sentencing, The Enterprise, to no avail, sought a copy of the victim impact statement, redacted to protect the victim's identity, from the court, the police, the district attorney's office, and the probation department.
Hurt by reaction
The victim's family did not move out of town, her parents said, because no one knew that she was the one who accused Mell. Her parents only told, they said, "a couple of very close friends, very immediate family."
They wanted to come forward after reading reports in The Enterprise of the 30 or so glowing letters on Tod Mell's character that were sent to Judge Bailey prior to Mell's sentencing, in which many of his family, friends, and former colleagues said that Mell had only pleaded guilty in order to spare his family further trouble.
The victim's mother told The Enterprise, "The impression is everybody kind of thinks it was made up, and he felt bad, and rather than cause more issues for his family, he resigned. B.S. No."
"He knew he was looking down the barrel of a felony and possible conviction, which would have been jail time," the father said.
"I feel that he wanted to deflect court, and what would have come out of that, and he did," the mother said.
The victim's mother also said, about the letters written to the judge by Mell supporters, including teachers and school board members, that she wondered why no teachers had indicated any concern for her daughter. No one wrote anything, she said, along the lines of, "If there really is a child out there suffering, I hope she is getting the treatment she needs." The victim's mother said that the teachers are "supposed to be there for students."
A therapist has told the victim's parents that the victim has post-traumatic stress disorder, her parents said.
Mell taught in Guilderland schools for 14 years, the victim's father said, adding, "So who knows how many lives he's impacted in that way?"
"There's a dark side to him that has to be borne in mind," said her mother.
Both parents agreed they hope that other parents whose children had Mell for a teacher will ask their children if anything similar ever happened with him.
"I hope a lot of these kids think about it," said her father. "They're adults now. They can still come forward."
'Categorically denies'
Mell's attorney, Luibrand, returned a voicemail left at Mell's home, and spoke for Mell. The Enterprise had left a message detailing the victim's accusations and asking for a response.
Luibrand said that Mell "categorically denies" the allegations, which The Enterprise described to him on the phone. He said Mell denies ever inappropriately touching the girl who came forward or any other student.
Luibrand said that the allegations the victim made to The Enterprise are different from her sworn testimony during the examination by the school district's attorney, which is summarized above. "He didn't plead guilty to the conduct you just described at all," said Luibrand.
He went on, "The charge has nothing to do with any kind of improper sexual conduct, and he did not plead guilty to any sort of improper sexual conduct whatsoever."
Luibrand made three main points in denying the victim's story.
One was that the charge to which Mell pleaded guilty did not involve any "improper sexual conduct," and that he did not plead guilty to any improper sexual conduct or indicate that he had "any kind of sexual contact with anyone."
Asked about the police press release from the time of the arrest, which stated that Mell had been arrested on a charge of endangering the welfare of a child, for engaging in "unlawful physical contact with a female student," Luibrand said, "That's not the charge, and it's not the plea."
On Oct. 4, the day Mell turned himself in, to be charged, a complaint was filed in Guilderland Town Court, which said that Mell, between October 2010 and June 2011 had, at Lynnwood Elementary School, "intentionally, knowingly and unlawfully engage[d] in unlawful physical contact with a known juvenile female."
Luibrand said that Mell had pleaded guilty to New York Penal Code 260.10, subdivision 1.
The text of this section and subdivision of the penal code reads, "A person is guilty of endangering the welfare of a child when: 1. He or she knowingly acts in a manner likely to be injurious to the physical, mental or moral welfare of a child less than seventeen years old or  directs or authorizes such child to engage in an occupation involving a substantial risk of danger to his or her life or health."
Asked what the behavior that endangered a child that Mell had pleaded guilty to, Luibrand said, "I'm not going to characterize it at all."
Luibrand also said that the allegation described to him on the phone was different from the victim's sworn testimony in the examination, which he referred to as a 50-H hearing, a precursor to a lawsuit. He said that he was unable to share the content of a 50-H hearing transcript with anyone, because of the ongoing possibility of a civil claim.
The third was that Mell pleaded guilty in order to avoid the possible "consequences to his family if this were to continue."
Luibrand described those possible consequences as "monstrous," and said they include being put on a registry, being unable to get a job, and being unable to see his own children.
There were a lot of kids in the classroom, and a number of adults, the attorney said. "At that time, and for the past eight years, nobody ever said anything improper happened."
Luibrand also said, "The #MeToo movement has made this a very different world for people accused of any kind of sexual-related offense, with either adults or children."
Factors in plea deals  
The victim had been planning to testify before a grand jury, she and her family said, and had already been prepped for her testimony by the Albany County District Attorney's Office when they received word that Mell had accepted a plea.
Felonies are handled in county court while misdemeanor can be handled in town court.
Cecilia Walsh, spokeswoman for the DA's Office, confirmed that the victim had been ready to testify when Mell elected to take the plea offer.
Walsh explained in an email some of the factors that go into decisions to offer plea deals in cases in which victims allege sexual assault.
"In assessing the merits of cases involving special victims, such as children," she wrote, "we weigh many complicated variables including the strength of the proof, the wishes of the victims, the likely effects of the rigors of cross-examination upon them, the likelihood of success at trial and the potential ramifications of an acquittal.
"In cases where the accused holds a position of authority over potentially vulnerable populations," she continued, "their continued access to such individuals must be weighed as well. The efforts made in assessing the weight given to these variables is a crucial part of the work done in all prosecutions involving special victims."
Walsh added, "Based on the facts and circumstances of the facts presented in our prosecution of Mr. Mell, we believe this outcome was the most appropriate for all parties involved. This offender elected to enter a guilty plea for endangering the welfare of a minor and was held accountable for his actions. He also surrendered his teaching certificate and resigned from his position at the school."  
'Somebody you trust'   
Kathryn Merrick, a crime victims case manager with the Albany County Crime Victim and Sexual Violence Center said that, in many cases of rape and sexual assault, there are no witnesses and there is no physical evidence. "In a lot of these cases it comes down to a 'he said/she said' kind of thing," she said.
Sometimes what happens, Merrick said, is that a narrative is perpetuated that the accusation is the result of regret, lies, mental illness, or vindictiveness. This narrative, she said, "is very intentional and purposeful, it is used in attempt to discredit the victim and create reasonable doubt."
It also revictimizes, she said, and compounds the trauma already experienced.
It also discourages others from coming forward in the future, for fear that they will be blamed or not believed.
There is nothing, Merrick said, to gain by making a false accusation. The criminal justice system protects the accused, with the burden of proof on the accuser. It is not set up for the protection of victims, she said.
If the accused has a criminal history, it can't come out at trial. Victims, though, are put on the stand and their lives dissected. "And they have to talk about what happened, in front of perfect strangers," she said.
The person who commits sexual assaults is "rarely somebody jumping out of a bush," Merrick said. "It's somebody you know, somebody you trust. Particularly with a child; that's one of the reasons they don't disclose too often. This may be a person they love and look up to. And they may be confused. An adult they trust is telling them, 'This is OK.'"