Lynnwood teacher pleads guilty to endangering a child
Thursday, October 11, 2018 - 11:06
GUILDERLAND — Tod Mell, a Lynnwood Elementary School math specialist and former classroom teacher, pleaded guilty in Guilderland Town Court on Oct. 4 to endangering the welfare of a child, a misdemeanor.
A student who was in Mell's fifth-grade class years ago, in the same era as the victim, says she got "this vibe" from him at the time. A former longtime substitute teacher at Lynnwood says, "I know this man, and he would be the last person I would think would do anything."
The head of the teachers' union says colleagues are "shocked and devastated." The school district's superintendent says that, once the investigation began, the district received little communication until learning of his guilty plea last week.
Mell, 47, of 1 Dorothy Ln. in Glenville, engaged in unlawful physical contact at Lynnwood Elementary during the 2010-11 school year with a juvenile female, according to the complaint. Mell was a fifth-grade classroom teacher at the time.
The juvenile female who brought the complaint was born in 2000, according to Cecilia Walsh, spokeswoman for the Albany County District Attorney's Office; this means she was 9, 10, or 11 at the time of the incident and is now 17 or 18 years old.
The complaint is dated Oct. 4, the date on which Mell was arrested — he turned himself in accompanied by his attorney — and pleaded guilty, following a five-month investigation.
Mell and his attorney, Michael P. McDermott of O'Connell & Aronowitz, did not return phone calls seeking comment.
The Albany County District Attorney's Office has been investigating Mell since April, when the unlawful physical contact was first reported to the Guilderland Police.
Mell was placed on paid leave on April 27, when the school district was first informed by the Guilderland Police that the District Attorney's Office was investigating an incident of abuse from eight years earlier that had just been reported for the first time.
Mell is scheduled to be sentenced on Dec. 6 by Judge John Bailey in Guilderland Town Court, according to court clerk Jennifer Stephens.
Mell will remain on paid leave, according to Superintendent Marie Wiles, until his sentencing, when, as part of his plea deal, he will resign his position with the school district.
Walsh said that Mell faces a two-year term of probation that will include certain sex-offender conditions, to be agreed upon at his sentencing. He will also surrender his teaching certification at sentencing, Walsh said, and a final order of protection will be issued for the victim
Walsh declined to specify what it is that Mell has pleaded guilty to doing.
According to officials at the New York State Education Department, a misdemeanor conviction for endangering the welfare of a child does not result in automatic revocation of a teaching certificate. Crimes that would result in automatic revocation include conviction of a sex offense for which registration as a sex offender is required or a violent felony offense committed against a child.
Wiles said that, if Mell were to go to a different state, "I would imagine that there is a protocol, for public school, for applying for certification. He could certainly pursue it. I don't know how it would go. I imagine there would be some obstacles."
There are also schools around the country, she said, that do not require certification. University teaching does not require state certification.
Mell was hired in 1995 as a fifth-grade teacher at Lynnwood and was appointed to the position of math specialist at Lynnwood in the 2011-12 school year; his current salary is $91,290, according to Wiles.
Each of Guilderland's five elementary schools has a math specialist, Wiles said. The math specialist, she said, is not assigned to any one classroom, but helps instructors teach math and provides additional help to students who are struggling. The job of math specialist is posted and teachers apply for it, Wiles said.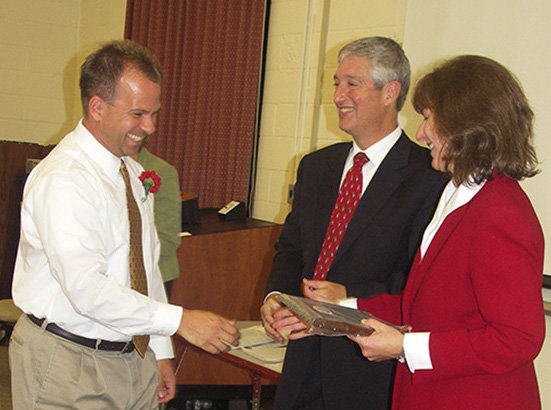 Enterprise file photo — Melissa Hale-Spencer
In October 2010, Tod Mell, left, then a fifth-grade teacher at Lynnwood Elementary School, was one of a dozen Guilderland employees recognized by the district for outstanding work. Mell was lauded as "an amazing teacher, colleague, and leader who makes learning fun for his students through his positive energy and enthusiasm."
---
Former student "creeped out"
Gabriella Fiederlein, 19, a Guilderland graduate, was in Mell's fifth-grade Lynnwood classroom at roughly the same time as his victim. He was a great teacher, and the class had a lot of fun together, Fiederlein said. He was a favorite teacher of hers.
Yet she remembers getting "this vibe" from him when she was in his class. She was only 10, she said, and she "didn't really think anything of it." She added, "I didn't like thinking of him like that, so I just tended to ignore it and move on."
She struggled to explain what she meant. She has never seen him touch anyone or do anything obviously inappropriate. "If I did, of course I would report it," she said.
It was something harder to define.
"I feel like I can read people easily and he was very respectful and such a bright teacher, but it was almost like he was too bright," she said.
She described getting "a faded feeling of 'All right, this is weird'" when his occasional hugs would "be a little long for a hug."
From things her mother had told her to prepare her for puberty, and from things she heard friends saying, she had a basic idea at age 10 of what sex was.
As a fifth-grader, she would ignore her vague feelings of discomfort because, she said, she "didn't like to think anything bad or be negative about things."
When she saw the news recently on social media about Mell's guilty plea on charges of child endangerment, she was disappointed "and also kind of creeped out."
But she was not, she said, "too surprised."
Colleague stunned
Former long-time Lynnwood substitute teacher Christine MacLeod, who left teaching and moved to South Carolina about a decade ago, said she was "absolutely stunned" by Mell's guilty plea. She called him "the last person I would think would do anything."
MacLeod said she knows "the way he teaches, and the way he interacts with the kids."
She wonders if Mell's guilty plea stems not from actual guilt but from the desire to avoid the publicity of a trial and the possibility of prison and remain with his wife and children. Family is more important to him than anything else, MacLeod said.
She imagines him thinking, "What if it went to trial, and one person didn't believe me?"
MacLeod says that the risk of going to prison would be enough to "shatter" him and cause him to plead guilty even when he had done nothing wrong, to avoid being separated from his family.
"I can't even imagine. He must be so destroyed," she said.
Superintendent's perspective
This is the second time in a year-and-a-half that a man who worked at Lynnwood Elementary School has been arrested on charges related to inappropriate contact with a juvenile.
James Hockenbury, who worked in Lynnwood's cafeteria, pleaded guilty in May 2017 to first-degree criminal sexual act, a felony, for an incident with a 3-year-old boy he was babysitting. The crime itself had no relation to Lynnwood. Judge Peter Lynch set aside the plea deal, which would have had Hockenbury serve 10 years, and instead sentenced him to 15 years.
Superintendent Wiles said that the district is already doing everything possible, including background checks and fingerprinting, to make sure that it is hiring the best people.
"We follow every rule, every protocol, every best practice there is to hire the best people, make certain their past is appropriate to be working with children and in a school setting. I just don't know what else we could do," she said, adding that the district would consider adding another layer of protection if anyone can suggest one.
Wiles said that Mell has been with the district for a number of years and was a very well-regarded educator. He has played a positive role in moving the building forward in terms of its achievement, she said.
She and Lin Severance, assistant superintendent of human resources for the district, met with Mell after Wiles heard about the investigation last spring from Deputy Chief Curtis Cox of the Guilderland Police. They told Mell that they would need to place him on leave "while this unfolds," she said. He is receiving full salary and benefits, she said.
Her initial reaction to learning of the investigation was, Wiles said, surprise. She was asked how Mell seemed when she met with him, and said he also seemed surprised.
A letter was sent home to parents of Lynnwood students in April saying only that Mell was on a temporary leave of absence and that retired math specialist Veronica Liegeot would be filling in.
Wiles said that she was told by the school district's lawyer about the details related to Mell's sentencing and that she had not been privy to those discussions.
The entire investigation has been handled by the Albany County District Attorney's Office, she said, "with very little — almost no — communication with the district."
Wiles believes that this incident should not implicate other male teachers. "We have outstanding elementary teachers, both male and female, who do amazing work with our students every single day," she said. "I don't believe it should cast any kind of a shadow at all."
She is "immensely proud" of the men and women who come to the district's schools every day to do their best on behalf of students, she said, adding, "It's an honorable, noble profession."
The district does not have any specific written policy on touching. "People need to use good judgment, and ultimately that's where we have to rest," WIles said.
The district does have a sexual-harassment policy, she said, but, when it comes to physical contact between individuals, "Part of it — all of it — is using your good judgment, making responsible decisions," Wiles said.
Principal calls Mell​ "a wonderful educator"
Alicia Rizzo has been principal of Lynnwood Elementary since 2010, the year of the incident involving Mell.
In October 2010, Mell was one of a dozen district employees, including eight teachers, lauded for their outstanding work at the 33rd Annual Employee Recognition Ceremony. She told a story of being assailed on a golf course, before she started work as principal, by a parent asking, "'Can my kid get into Mr. Mell's class?'"
The following year, 2011-12, Mell moved into the position of math specialist. There was no relation between the incident and the job change, Rizzo said.
"This incident wasn't even reported until April of this year," she said. No one knew about it at the time, she said.
The position of math specialist was one he "applied for, was qualified for, and was given," she said.
Rizzo said that what she knows, after having worked with Mell for eight years, "is that he is a wonderful educator." She continued, "He worked a lot with the staff, helping them to improve their instructional practices in mathematics, and he worked with our team to think about our math instruction, to make adjustments to improve outcomes in terms of academic achievement in math."
Asked whether his guilty plea changes her view, she said simply, "I was surprised to hear about this."
Not many children have asked questions in school, upon seeing Mell's photo in media reports, Rizzo said. A few older students have, she said, and she instructs teachers to tell them that they need to talk about it with their parents at home.
Union president's view
Guilderland Teachers' Association President Tara Molloy-Grocki, herself an elementary teacher, said that Mell's colleagues "are all just shocked and devastated to learn what he pleaded guilty to."
Molloy-Grocki said that the union has not been privy to much information about the case.
"Right now we're just kind of dealing with the shock. We've been pretty much out of it. We're just getting whatever the district office shares with me," she said.
Molloy-Grocki added she has known Mell professionally for a long time, and that he had been hired around the same time that she was.
"He was very well respected among his students, parents, teachers, and colleagues," she said.
Victims' advocate warns of "grooming"
It's "completely typical" for victims of inappropriate physical contact or other kinds of sexual assault to take months or years before deciding to come forward, said Karen Ziegler, director of the Albany County Crime Victim and Sexual Violence Center.
She spoke to The Enterprise in general terms, without any specific knowledge of Mell's case.
Victims of sexual assault in general may not come forward, Ziegler said, until they feel safe enough to do so. She speculated: Maybe their home environment is not stable; maybe they've heard people disparage and discredit victims who allege sexual assault, and fear they won't be believed, either; maybe they worry that the assault was their own fault; maybe the perpetrator is someone they can't avoid seeing on a regular basis.
With children in particular, Ziegler said, a process of "grooming" may be involved. Someone might say, "Oh you're special, you're pretty," or give the child a little gift, or offer special treatment like allowing them to cut ahead of others into the front of a line.  
The child may feel bonded to the adult, Ziegler said, especially if the child does not receive a lot of positive attention elsewhere. "We all need positive attention," she acknowledged.
"Incremental touching and incremental invading of personal space" — a touch of the elbow, the shoulder, the hair — can lead eventually to assault. By the time an assault happens, she said, a child's boundaries have been eroded.
Studies on false reporting vary, but find that between 3 to 7 percent of reports of sexual assault are false, Ziegler said, noting that this percentage of false reports is the same as with other crimes.
"When someone reports a robbery, we don't start with, 'They must be lying,'" she said. "It's only with sexual assault that we actively look for reasons to not believe."
Claims of sexual assault should be investigated, just as any other crime is investigated, she believes.
Eighty percent of assaults are perpetrated not by strangers but by trusted adults, such as a parent, a teacher, a coach, or a priest, Ziegler said. Adults need to protect kids by learning to recognize grooming, she said. They should ask children what in their environment makes them uncomfortable, whether any adult hugs them too tightly or plays with their hair.  
Would questioning children about the adults around them encourage them to make false accusations?
Ziegler says no, and likens it to talking about suicide. "If someone is thinking about suicide, saying the words, 'Are you thinking about suicide?' does not plant the idea in someone's head. It lets the person know that maybe you're an OK person to talk with, because you're seeing something, seeing that they're in pain."
Anyone who has ever gone through a sexual-assault exam, Ziegler says, would agree that it is not an experience to seek out. Often, she said, the exam and the investigation and the interrogation are "just as traumatizing, if not even more so, than the original assault."  
Victims put themselves through forensic rape exams, are questioned by police and by the district attorney's lawyers, are "tried and often crucified" in the media, vilified by their communities, and sent hateful messages on social media, Ziegler said.
Sexual assault occurs at a far greater frequency than we'd like to believe, Ziegler said, ruining women's lives and ruining children's lives.
Victims who report it, she said, are "amazingly brave and courageous."