Locals can follow Slack as she maps the seafloor under the Thwaites Glacier
Tuesday, January 21, 2020 - 09:38
— Photo by the National Aeronautics and Space Administration 
The Thwaites Glacier, named for glacial geologist for Fredrik Thwaites, is about the size of Florida. Scientists are watching it closely as it crumbles into the sea.
GUILDERLAND — This week, Sarah Slack, who grew up in Guilderland and now teaches in Brooklyn, is undertaking a two-month journey to the bottom of the world.
She'll be posting regular online journal entries and, according to her mother — Judy Slack of Altamont — she hopes that some Guilderland students as well as her own students and grown-up locals will be following her adventures.
"I have partnered with Dr. Frank Nitsche from Lamont-Doherty Earth Observatory to travel with his research team on an expedition to the Amundsen Sea off the southwest coast of Antarctica," Slack wrote in a postcard to potential followers.
She went on, "For six weeks, we will be mapping the seafloor under the edge of the Thwaites Glacier in an attempt to better understand how and why the glacier is melting."
Scientists are closely watching the glacier, which is about the size of Florida, as it crumbles into the sea. Thwaites's losses are already responsible for about 4 percent of global sea-level rise every year, according to the National Aeronautics and Space Administration. If the entire glacier crumbles, the seas could rise by a few feet; if the glaciers around it also dissolve, the seas might rise by more than a dozen feet, which would be catastrophic for coastal cities.
Slack's journey is paid for by PolarTREC, an organization that gives educators hands-on field-research experiences and is funded through awards from the National Science Foundation and administered by the Arctic Research Consortium of the United States.
Judy Slack said Sarah was one of several hundred teachers who applied for the program and one of a dozen who was chosen. Sarah Slack is an eighth-grade STEM (science, technology, engineering, and math) teacher at The Montauk School in Brooklyn.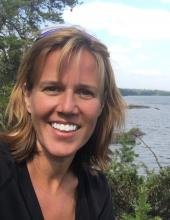 Sarah Slack
---
According to Thwaites Offshore Research, known as THOR, oceanographic studies show that the main force dissolving the glacier is warm water in the deep ocean beneath the floating ice shelf that extends seaward from the glacier.
"An important factor affecting the flow of warm water towards the glacier and the stability of the ice shelf is the topography of the seafloor in the area, which is poorly known," according to THOR, so the project will focus on the seafloor offshore from Thwaites Glacier and the records of glacial and ocean change contained in the sediments on it.
Slack will spend her time in West Antarctica aboard the icebreaker Nathaniel B. Palmer. The research ship is named for a 19th-Century ship captain and designer, a seal hunter and explorer. Slack left Wednesday for Punta Arenas, Chile where she'll start her journey.
Slack has already started posting online journal entries, beginning on Dec. 14 when she reported weaning herself off of Diet Coke and training her dog Ted not to eat off the counter at his temporary home.
On Dec. 30, she posted "Preparing for an Expedition," writing about how she and four family members navigated the Oregon Trail — in a 1980s video game. Slack is 44.
In real life, her four family members, besides herself, are: Her parents, Judy and Joseph Slack, of Altamont; her brother, Tom Slack, of North Carolina, who started as a firefighter "when he was just a kid," his mother said, and then pursued emergency work; and her sister, Julia Moore, who is the secretary for the Agency of Natural Resources in Vermont.
Sarah Slack graduated from Guilderland High School in 1993, got a bachelor's degree from Kalamazoo in Michigan, and went on for a master's degree in plant biology from the University of Minnesota. 
She worked as the main educator on Pete Seeger's sloop, the Clearwater, which plied the Hudson River, raising consciousness about environmental issues.
Sarah Slack then worked for the Audubon Society before settling on teaching for a career, something her mother said was always meant to be. Judy Slack herself was a teacher's aid at Lynnwood Elementary School before retiring and becoming a member of the Guilderland School Board.
"My husband and I both always thought she should be a teacher," said Judy Slack. "But you can't make those decisions for your kids." Judy Slack contrasted this with Sarah's older sister whom, she said, knew she wanted to be an engineer since she was in second grade.
"She's good at writing grants," said Judy Slack of her daughter Sarah.
Sarah got a grant last year to study wolves in the American West, her mother said, and she's also hosted a scientist to come into her Brooklyn classroom every week. She is a member of the city's Middle School Science Leadership Team, working to support other teachers as New York City transitions to the Next Generation Science Standards. Sarah Slack has also earned a Master Teacher Fellowship with Math for America. And, her mother said, Sarah has a penchant for backpacking.
"She's never had a family or kids, so she's free to explore," said Judy Slack.
As an undergraduate, Sarah Slack took courses, in Spanish, in Ecuador and worried her mother when she planned to climb a volcano. She's been on a safari in Africa. And now she'll be in the cold of Antarctica.
As a mother, Judy Slack said, she worries. "What if she's hurt and I can't get to her?" she asks. Then she pauses for a moment of reflection and adds, "I'm 75; I really should be able to let go."
On her current adventure, Mrs. Slack said, her daughter "is hoping to give her kids a sense of adventure and exploration."
A satellite will pass over the Nathaniel B. Palmer once a day "so they can get news," Judy Slack said. That will also allow students to communicate with Sarah Slack, responding to her posts online at www.polartrec.com.
Guilderland science teachers and enrichment teachers have been given the online address in case any of their students want to correspond with Sarah Slack as they follow her journey, said Judy Slack.
In her Jan. 14 post, Sarah Slack asked for advice on what to pack, sharing her long list that ranges from the silly — 180 Trader Joe's peanut butter cups — to the serious: a PocketLab Weather Sensor, "capable of collecting up to 30,000 measurements before data has to be downloaded, it will allow both me and my students to monitor air temperature, light intensity, and other stats and compare the data when I return," Slack wrote.
Her last post, on Jan. 17, was a challenge: "I just completed this 10-question quiz from NASA. I scored 9 out of 10. I challenge you to both get a better score than me and guess which question I got wrong. https://climate.nasa.gov/quizzes/frozen-poles/9/10/"
So the teacher got an "A" on the quiz about "Frozen Poles" as she heads off to study one of them closely.