Guilderland students draw together by drawing themselves
Tuesday, November 17, 2020 - 21:44
GUILDERLAND — When students returned to Lynnwood Elementary School this fall, they were greeted with a wall-length bulletin board that depicted their teachers and school staff members as tiny paper figures.
Now over 300 little people are filling that wall, representing every student in the school.
The self portraits are as bright and varied as the students who created them.
The project was the brainchild of art educator Krista Gillis. She has taught art for 16 years but never experienced anything like the last school year when Lynnwood, like schools across the state, shut down to prevent the spread of the coronavirus.
"It's important to remember what adults experienced was stressful for kids too," Gillis told The Enterprise. "A lot of them watched parents losing their jobs. A lot watched family members being ill." Some had people they love die.
And, if that weren't enough, after the death of George Floyd, a black man, under the knee of a white Minneapolis police officer in May, protests erupted locally and around the world.
"We had everything blow up with Black Lives Matter at the end of the school year …," said Gillis. "To deal with that at a remote level was very difficult."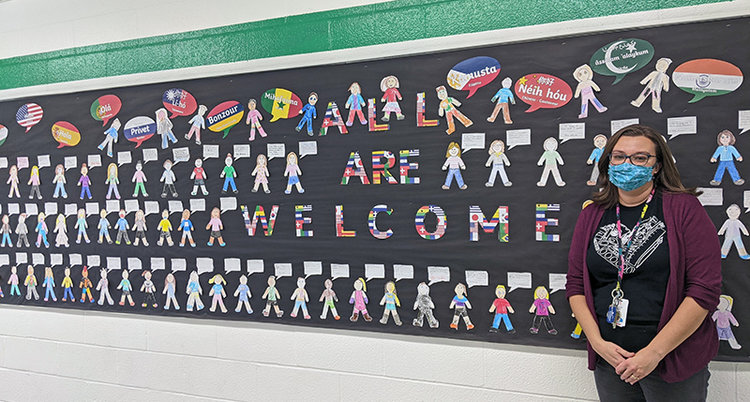 — Photo from Krista Gillis
"All are welcome": Krista Gillis stands by the over 300 little people created by her students at Lynnwood Elementary School.
---
Gillis noted that Lynnwood has a diverse population of students and that, at the start of the new school year, "It was really important to bring a message of inclusion."
Gillis's idea for the bulletin board came from the New York Times bestselling picture book, "All Are Welcome." The author, Alexandra Penfold, was inspired by an illustration created by Suzanne Kaufmann for her daughter's school and the story was created around the illustration, said Gillis.
The book, in rhymed couplets, tells the story of a school where all are welcome. Colorful illustrations show kids in baseball hats, kids in yarmulkes, kids in patkas, and kids in hijabs all happily playing and learning together.
One page with students seated in pairs at their desks says:
In our classroom safe and sound
Fears are lost and hope is found.
Raise your hand, we'll go around.
All are welcome here.
Another page pictures kids eating in a school cafeteria and says:
Time for lunch — what a spread!
A dozen different kinds of bread.
Pass it around till everyone's fed.
All are welcome here.
The book repeats that phrase again and again: All are welcome here.
"No matter who they are, a school is a place of belonging," said Gillis of the book that inspired her project.
"It really resonated for me after not seeing students for the last six-and-a-half months. So many had been through so many levels of trauma … They belong here and we love them," said Gillis of Lynnwood Elementary.
The school's principal, Alicia Rizzo, was "100-percent supportive," said Gillis. "She recorded herself reading the story."
Then, after hearing the story, each child, one art class at a time, created a miniature self portrait. The children were given cut-out paper figures, said Gillis, "so they could make a little person that looked like them."
Each figure has a word bubble that begins "I am special because ..." The young artists filled in the blanks after those words.
"A lot of our students are immigrants. They speak other languages," said Gillis. "A lot shared the language they speak at home or they shared something from their cultural heritage or one of their talents."
The bulletin board also has bigger word bubbles with greetings written in languages from all over the world. "The bubbles include the 18 languages that are spoken by our Lynnwood students so that each child feels represented and can share their language with their classmates," said Gillis
The individual word bubbles are as varied as the children who created them.
Third-grader Mallory, pictured with long blonde hair, wrote that she was special because "I love love love unicorns."
Fourth-grader Tyson, wearing a jersey with #17 emblazoned on the front and pants that say Buffalo Bills, wrote, "I am the smallest kid on my football team. But I'm one of the best."
Lily wrote that she can curl her tongue three times and Ayla, wearing a hockey jersey, wrote that she is special because she has five scars.
The project, which took several weeks to complete, will stay up all year, said Gillis. While younger students remain safe in their classrooms all day, older students walk by the display every day.
A typical reaction, said Gillis, is, "Oh, my god, where am I?" She added, "It's like a little game of 'I Spy'."
Gillis, an artist herself, believes that art is an important form of self expression. She likes working in watercolors and is currently working on a series on seashells.
"We have a seashell-collecting obsession," said Gillis of herself, her husband, and their two daughters, ages 8 and 3. The family vacations on Sanibel Island, which Gillis noted is called "the seashell capital of the world."
Her painting of whelks is Escher-like in the way the geometric forms seem to dramatically turn back on themselves.
Art gives students "a natural bridge … to make connections," said Gillis.
"Art is steeped in history, culture, science, and mathematics — because of that there are so many natural connections that students can make from their lessons in school," said Gillis. "It is always wonderful to hear them recognize this connection and say things like, 'Oh, learned about that in social studies!'"
Importantly, Gillis said, art gives students the opportunity to explore their own personalities and experiences. She concluded, "It's a great way to express themselves and share with others who they are."