After Raise the Age, Albany County facility is upgraded for new 'adolescent offenders'
Thursday, November 1, 2018 - 14:01
The Enterprise — Michael Koff
The Capital District Juvenile Secure Detention Facility, located in Colonie, is receiving some upgrades in anticipation of taking older offenders, aged 16 and 17 years, following the implementation of Raise the Age legislation.
ALBANY COUNTY — On Oct. 1, the first phase of the state law known as "Raise the Age" took effect, meaning 16-year-olds can no longer be arrested or tried as adults. A year from now, the law will extend to 17-year-olds as well.
Albany County is in the midst of upgrading a facility in Colonie not far from the county jail to accommodate the new class of youthful offenders.
"It's a two-pronged approach," said Senior Investigator Shawn Noonan, the commanding officer of Professionals Standards for the Albany County Sheriff's Office.
The project will upgrade security measures — "There could be serious crimes involved," said Noonan — while also making the facility "less institutionalized," he said.  This is to decrease recidivism and divert adolescents from being incarcerated.
The Capital District Juvenile Secure Detention Facility, which primarily serves Albany, Schenectady, Saratoga, and Rensselaer counties, is one of only eight secure facilities in the state, which are the only ones qualified to take in detained 16-year-olds and eventually 17-year-olds.
New York used to be just one of two states that prosecuted 16- and 17-year-olds as adults. Only North Carolina remains. In five states — Georgia, Michigan, Missouri, Texas, Wisconsin — 17-year-olds are automatically prosecuted as adults.
Thirteen states — Alaska, Delaware, Florida, Hawaii, Idaho, Maine, Maryland, Michigan, Pennsylvania, Rhode Island, South Carolina, Tennessee, and West Virginia  — have no minimum age for prosecuting a child as an adult.
New York's new law requires that, as of last month, 16-year-olds be placed in settings appropriate for their age, rather than in jail, so that they can get services and treatments to avoid reoffending. Those charged with non-violent crimes are to be diverted into community-based programs just like offenders who are 15 and younger.
Sixteen-year-olds arrested on serious charges are to go to a youth part of criminal court and be placed not in jails but rather in secure detention facilities for adolescents.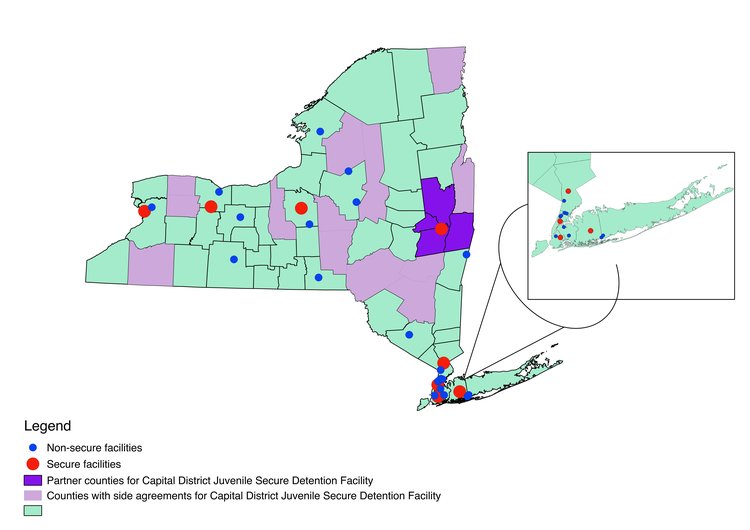 The Enterprise — H. Rose Schneider
A map of New York shows eight secure juvenile detention facilities in red, which are able to hold adolescent offenders. Another two dozen non-secure facilities are marked in blue. Counties shaded in purple are in a partnership to share Albany County's facility; those shaded in lavender have side agreements to send adolescent offenders to Albany County's facility.
---
Court process
Once an adolescent is arrested, according to the new law, parents must be notified, and the youth must be questioned in an appropriate setting for an appropriate amount of time with parental involvement.
A 16-year-old now has several different paths that he or she can follow, according to Noonan. He has been helping with several Raise the Age transitions, including upgrading the county's juvenile facility to house adolescent offenders, as well as dealing with changes in  policy for arresting and charging them.
If a 16-year-old is charged with a penal misdemeanor after Oct. 1, he will be sent to Family Court, where he would be processed as a juvenile delinquent and will not have a permanent criminal record. If he is pulled over for a vehicle or traffic misdemeanor, or a violation, he will go to the local court.
But if that 16-year-old is charged with a felony, he is sent to the newly created Youth Court. In Albany County, the Youth Court will be in the same building as Family Court and will be overseen by Family Court Judge Richard Rivera, said Noonan.
Sixteen-year-olds charged with non-violent felonies will be heard in Family Court unless the district attorney files a motion within 30 days showing "extraordinary circumstances" as to why the case should remain in the Youth Court. A violent-felony case could also be transferred to Family Court if the charges do not include displaying a deadly weapon, causing significant physical injury, or engaging in unlawful sexual content.
There then would be a hearing and a judge must decide within five days whether to prevent the transfer to Family Court. Vehicle and Traffic Law cases, as well as Class A felonies other than drug offenses cannot be transferred to Family Court.
The 16- and 17-year-olds whose cases remain in Youth Court will be known as adolescent offenders; their counterparts aged 13 to 15, known as juvenile offenders, will be tried in the Youth Court as well. According to the Raise the Age law, adult sentencing will apply, but the judge must take the adolescent offender's age into account when sentencing, and he or she is eligible for youthful-offender treatment.
In the court system, public defenders will be trained to represent someone in the Youth Court, said Susan Bryant, the acting director for the New York State Defenders' Association. Public defenders are also participating in local conversations on county plans for implementation of Raise the Age, which include addressing social services, probation, and transportation.
There is still concern about minors being detained as juveniles, she said.
"It's certainly a step hopefully towards continued reform," she said. "I'm not sure if this is the best structure for it, but we will see how it goes."
One debate is over whether all cases should begin in Family Court, said Bryant. She noted a judge may treat a 16- or 17-year-old more like an adult since they appear older.
Judicial education is needed, Bryant said, although the Youth Court judges being trained to work with adolescent offenders may also be serving in Family Court.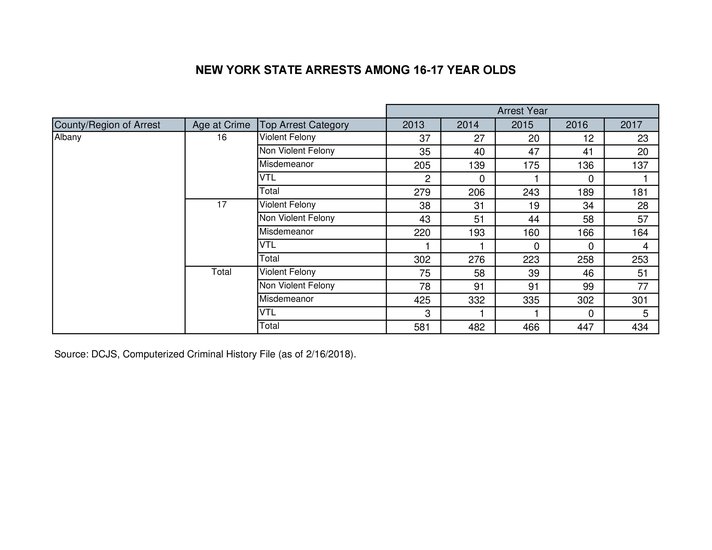 — Chart from New York State Division of Criminal Justice Services
In 2017 in Albany County, 434 youths, aged 16 or 17, were arrested, 51 for violent felonies. While a majority of these young people sentenced for felonies were given probation, 10 were sent to prison and eight to jail; another five charged with misdemeanors were sent to jail.
---
The facilities
New York has two-dozen detention centers for juveniles, younger than 16, scattered across the state with the highest concentration downstate. Under the new law, New York has eight secure facilities for adolescent offenders who are awaiting trial and for those convicted and sentenced to less than a year.
Four secure facilities are upstate — one each outside of Buffalo, Rochester, Syracuse, and Albany — and four are downstate — in Westchester County, Brooklyn, the Bronx, and on Long Island in Nassau County. There are none in the North Country.
"You're getting all these other counties using these as distant detention facilities," said David Condliffe, executive director of the advocacy group Center for Community Alternatives and a member of the state's Raise the Age taskforce. He surmised that adolescent offenders could potentially be transported from upstate as far away as Westchester. "Imagine you're 16 years and you find yourself hundreds of miles from home … It adds trauma to trauma," he added.
Condliffe said incarceration has decreased in places like New York City, due to a focus on alternatives to incarceration, while incarceration has increased in rural parts of the state, an assertion backed up by data from the Vera Institute.
Sixteen- and eventually 17-year-olds who face trial in Youth Court must now be held for trial in youth facilities if a judge determines there is a need for pre-trial detention. They can no longer be held in county jails as adults, but instead must be held in separate wings of secure youth facilities, or  "specialized secure juvenile detention facilities for older youth."
Adolescent offenders will be detained in county-operated facilities located in Buffalo and Rush, a suburb of Rochester, as well as in Onondaga, Albany, Westchester, and Nassau counties, according to Monica Mahaffey, a spokeswoman for the Office of Children and Family Services.  They may be held at such facilities not only during pre-trial detention but also if their sentence is one year or less following conviction.
"OCFS and the State Commission on Correction certify and regulate the detention centers. Counties operate them," Mahaffey wrote in an email to The Enterprise. "Every county is not required to operate a facility, but every county must have a facility available for its use."
She noted that these facilities are not to be located at county jails, but can be at juvenile secure detention facilities if the offenders are separate from the younger juvenile delinquents and juvenile offenders.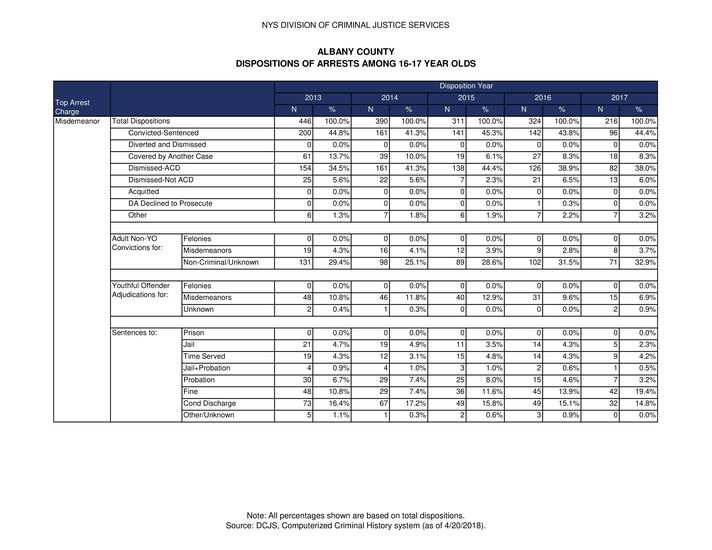 — Chart from New York State Division of Criminal Justice Services
From January to June of this year, 4,770 youths, aged 16 or 17, were arrested in New York State; 676 of these arrests were on violent felony charges.
---
Concerns and solutions
Alex Wilson, associate counsel for the New York State Sheriff's Association, said that lately the association members have frequently discussed the issue of so few secure facilities in the state, especially upstate. He said that, beyond transportation, there are concerns about having enough beds, or places for the 16-year-olds.
"It certainly presents a problem," said Bryant. Currently, she said, no 16-year-old has been sent to a secure facility.
Bryant said a number of counties are considering alternatives to using one of the eight secure facilities. Tompkins County, in central New York on the edge of the Southern Tier, is considering creating a specialized secure facility to be shared among counties in the Southern Tier, she said, giving an example.
On Oct. 16, the Tompkins County Legislature authorized the county to enter into an agreement to form a local development corporation to create a new specialized secure detention facility. In April, the Tompkins County joined 10 other counties in a coalition to explore issues Raise the Age issues, including housing adolescent offenders.
According to Lisa Holmes, the deputy administrator for Tompkins County, these counties include Alleghany, Chemung, Cortland, Livingston, Cattaraugus, Schuyler, Wayne, Steuben, Tioga, and Yates counties, as well as Tompkins County.
"The problem is the law requires them to be in these specialized facilities but the cost of every county having one just doesn't necessarily make any sense," Bryant said. "But from the defense perspective we want our clients to be as close to home as possible, as close to a lawyer as possible so that they can have regular communication and aren't being transported across the state for a court appearance."
Wilson noted that there has been a lot of discussion on treating 16-year-olds and eventually 17-year-olds as juveniles rather than adults upon their arrest. He said that their detention will have to take place in special rooms separate from where adult offenders are detained upon their initial arrest up until they are arraigned in court.
But Wilson said that the Raise the Age legislation is written with the presumption that most young offenders will not be detained; he believes most are or will be released on their own recognisance and that probation officers and ankle monitors will be more-often used than jail time.
The goal of the legislation and the presumption is that, when someone is brought into the Youth Court, they will be released, Bryant agreed.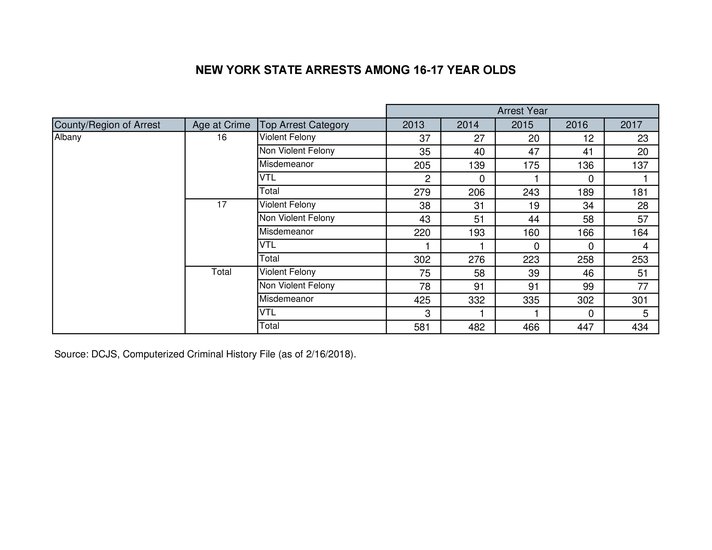 — Chart from New York State Division of Criminal Justice Services
In 2017 in Albany County, 434 youths, aged 16 or 17, were arrested, 51 for violent felonies. While a majority of these young people sentenced for felonies were given probation, 10 were sent to prison and eight to jail; another five charged with misdemeanors were sent to jail.
---
Albany County
Albany County's juvenile facility is in fact used by Albany, Schenectady, Saratoga, and Rensselaer counties, although Albany County owns the building, said Mike McLaughlin, the director of policy and research for Albany County.
Other counties beyond the Capital Region may have "side agreements" to use the facility, but offenders from one of the four partnered counties get priority. If another county places a youth in the facility, for example, and a member county needs a bed, the other county must move its youth from the facility, he said.
McLaughlin said that the agreement among the four counties to share the facility has been amended to include placing adolescent offenders as well as juvenile offenders.
Albany County currently has agreements with 30 of New York's 62 counties to host juvenile offenders and delinquents at the Colonie facility, McLaughlin wrote in an email.
Of these agreements, 13 include the juvenile delinquent and juvenile offender population as well as adolescent offenders, not including the four counties sharing the facility; five other counties are in the process of expanding their agreements to include adolescent offenders, he said. The 13 counties include three in western New York, three in central New York, and three in the North Country.
Greene County, which borders the southern end of Albany County, has one of those side agreements. A rural county like Greene has only a few options for its adolescent offenders but isn't likely to have many to place. Shawn Groden, the Greene County administrator, said that, in 2017, only four Greene County 16- or 17-year-olds were charged with felonies. Greene County will likely turn to a few of the "big five" counties that have facilities equipped to hold adolescent offenders, he said.
The facility in Albany County is one of Greene County's options for female adolescent offenders; male offenders may be sent to a facility in Westchester County, Groden said. Berkshire Farm's facility in Canaan, in Columbia County, is another option.
These options are laid out in a plan that has been submitted to the state, said Groden, but Greene County's plan has not yet been approved.
According to Mahaffey, with the Office of Children and Family Services, more than two-thirds of the counties in New York have submitted plans, which she said continue to come in daily and are being finalized by the state and the counties.
Noonan, with the Albany County Sheriff's Office, noted that, with only a handful of equipped facilities across the state, many counties will be trying to access them. He expects to see increasing numbers of offenders in the Albany County facility from neighboring counties as well as more distant counties.
Unlike Albany County's jail, which is administered through the sheriff's office, the youth facility in Albany County is an extension of the Albany County Executive's office.
The sheriff's office, though, has been assisting in the transition and facility updates due to its experience with the jail, said McLaughlin. Located near the county jail in Colonie, the youth facility is administered by staff from Berkshire Farm Center and Services for Youth, a not-for-profit child welfare agency based in Canaan, in Columbia County.
McLaughlin said that the project is currently in the planning stages; officials are trying to determine what the facility will need to house the new class of adolescent offenders, such as determining the number of beds.
"You're trying to find balance," said McLaughlin, explaining that the county cannot have too few beds or suffer as some facilities have from having too many empty beds after overbuilding. Once the county determines the number of beds needed, it will look into financing, McLaughlin said.
The upgrades for items like wiring and door locks are generally mundane, he said.
"We are working as quickly as possible," said McLaughlin, noting that it's too early to determine a budget or timeline for the project.
Juvenile detention has been reduced by over half since 2010 due to diversion and prevention programs, said Mahaffey. "Raise the Age provides an opportunity for the same strategies to be applied to 16- and 17-year-olds," she wrote in an email to The Enterprise.
Detention for adolescent offenders is a county responsibility, said Mahaffey, but the state will reimburse the full cost of transporting the offenders, she said. The state has said counties will be reimbursed for costs associated with Raise the Age, though the costs must be included in plans submitted and reviewed by the state.
Albany County's facility needed state certification from both the Office of Children and Family Services and the Commission of Correction to verify that it can house adolescent offenders. While upgrades were due on Oct. 1, the facility has been approved by the state on the condition the capital project is complete, Noonan said. The upgrades are beginning now, he said.
By certifying Albany County's facility now, the state understands it is still being remodeled to have more secure features such as at entryways, but, until updates are completed, more staff will add better security, Noonan said.
"It's been a joint effort by state and county and local agencies," he said.
The new wing of the Albany County facility is certified for 11 beds for adolescent offenders: eight for boys and three for girls. Noonan expects the number of adolescent offenders to increase next year when 17-year-olds are included in the category.
Once the project is complete, the facility will have 39 beds, said Noonan, with the adolescent offenders housed separately from the younger juveniles as the state requires.
According to director Rick Riccio, the facility is currently approved for 12 beds for juvenile delinquents and juvenile offenders as well as the 11 beds for adolescent offenders. The facility takes in youth as young as 12 years old, but generally the residents' average age is 14 to 15 years old, he said.
The facility estimates it will take in about four 16-year-olds between Oct. 1, 2018, and Jan. 1, 2019.
Riccio said that a currently unused wing will be used to house adolescent offenders, and that some minor renovations will have to take place to complete the state certification. He gave of examples of increasing the number of cameras and changing the doors so that they swing out to prevent an adolescent from barricading himself or herself into the room.
The rooms each have a bed, desk, and stool, he said. New recreation areas have been made as well, he said.
The facility has also added a third classroom, said Riccio. The classes provided by the South Colonie School District will eventually include courses for general-education development tests and vocational tracks for 17-year-olds, he said.
The new classes added for the adolescent offenders will have to be separate from the other youth classes, said Noonan. Vocational courses, he said, would likely be web or computer-based.
Riccio said plenty of questions remain, and the next step will be to see how the current phase will play out.
"But I think we're ready," he said.