A red convertible starts Clemenses' 70-year journey
Thursday, August 9, 2018 - 14:24
GUILDERLAND — Joe and Joan Clemens fell in love after World War II, married in 1948, and will celebrate their 70th wedding anniversary at a vow renewal ceremony on Aug. 15 at The Grand Rehabilitation and Nursing at Guilderland where they live.
"Although both Joe and Joan are confined to a wheelchair and Joan has dementia, they remain truly devoted to one another," said said Melvin Hitt, the home's administrator in a release from The Grand. "When she sees Joe … she just lights up! They hold hands as they stroll down the hall in their wheelchairs. We have even made arrangements for them to be in a room together."
Mr. Clemens is 93 and Mrs. Clemens is 90. They met at Snyder's Lake, a popular hangout spot outside of Troy.
"She was there with a girlfriend," recalled Rick Clemens, 65, their son. "My father, who had been fighting the Japanese in the Pacific with the Marines, was with a couple of buddies in a beautiful red convertible. She thought he owned the convertible, which he didn't, but there was an instant connection and they started dating."
They married soon after and the couple lived in a Troy apartment before purchasing their first and only home at 3 Caroline Street in Latham. Daughter Cynthia, 67, a retired Judge Advocate General's Corps judge who lives in San Diego, was born in 1951 and Rick, a retired insurance executive, was born in 1953.
Mr. Clemens worked odd construction jobs before starting a 33-year career with Niagara Mohawk Power Company in its gas department. Mrs. Clemens worked 30 hours per week at Montgomery Ward in nearby Menands, while also raising their two children.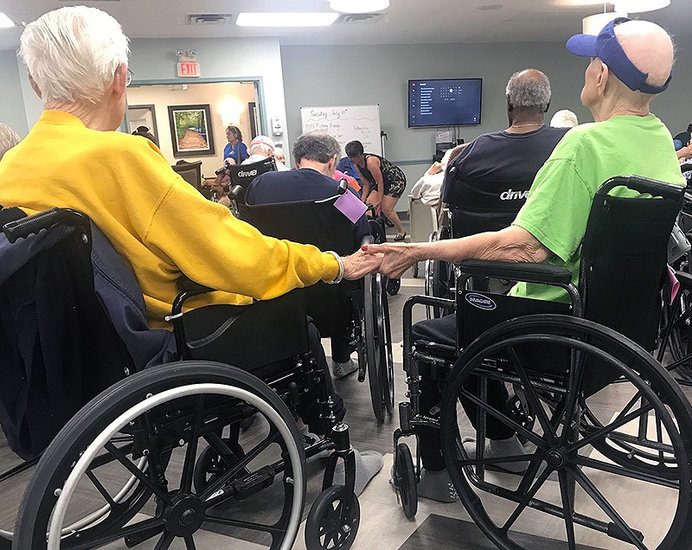 Joe and Joan Clemens today.
---
"If you look in the dictionary under the word 'love' you'll see a picture of those two," said Rick Clemens, noting that the couple have renewed their vows every five years following their 50th wedding anniversary. "They certainly take the marriage vows — 'for better, for worse, for richer, for poorer, in sickness and in health' — to heart.
"My mother developed dementia when she was 75. A lot of husbands would have put their wives in a home right away, but not dad," Rick Clemens. "He was her sole caretaker, even when things started getting bad. And he continues to be with her every step of the way."
The couple will begin their celebratory day on Aug. 15 by attending an 11 a.m. mass at Latham's Our Lady of Assumption Church with their two children before returning to the nursing home for a 3:30 p.m. courtyard vow renewal ceremony joined by family, staff, and community residents.