Local businesses brace for virus's impacts, look for help — not a handout
Wednesday, March 18, 2020 - 17:51
ALBANY COUNTY — The rules and regulations meant to stop the spread of coronavirus hit local businesses so hard and fast this week, the whiplash has yet to set in. 
With new general- and business-related coronavirus guidance coming from both the state and federal governments on Monday, the area's employers found themselves at once scrambling to adapt to the new normal while also having to adopt a wait-and-see approach with the regulations.
In an attempt to blunt the spread of COVID-19, New York State along with its tri-state neighbors New Jersey and Connecticut announced that, effective Monday at 8 p.m., crowd capacity for social gatherings would be limited to fewer than 50 people; bars and restaurants would be shutting down on-site service and moving to an all take-out and delivery model; and movie theaters, gyms, and casinos would be temporarily closing as well. 
On Wednesday, four governors — Pennsylvania's joined the group — announced that indoor portions of shopping malls, amusement parks, and bowling alleys will close Thursday by 8 p.m.
Also on Monday, the White House released guidelines already in place in New York, with the added suggestion to avoid social gatherings of more than 10 people.
Governor Andrew Cuomo on Wednesday announced he will issue an executive order directing non-essential businesses to implement work-from-home policies effective Friday. 
The effects of the new regulations were felt immediately by local businesses. As one local retailer made the decision to close her doors for the next week, another found herself trying to reschedule a 150-guest wedding. Others took the new rules in stride — asserting a vigilance to above-and-beyond in-store hygiene and sanitization in addition to doing their part to help those affected by the virus.
The shelves of local stores, while empty in some departments like sanitizers and toilet paper, have been far from what Great Britain experienced post-World War II.
"As has been reported in the national news ad infinitum," said Mona Golub,  vice president of public relations and consumer services for Price Chopper Supermarkets and Market 32 Grocery Stores, there has been a handful of non-food items that continue to be erratic in supply — hand sanitizer, disinfectant wipes, isopropyl alcohol, and toilet paper, for example — but the food supply, the 20,000 to 30,000 other items in the store, is not in jeopardy.
The situation is unprecedented, said Danielle Walsh, executive director of the Guilderland Chamber of Commerce; one of the best things to do is stay informed, she said. 
Walsh said that she's been hearing two major concerns from her membership: How are they going to support their employees, and ensure their workers remain on the job, paid, and safe. And second, how can they, as small businesses, ensure they remain successful and continue to generate revenue in such an uncertain time. 
Mark Eagan, the president and chief executive officer of the Capital Region Chamber of Commerce, said that it's hard for any sector of the economy to not be impacted in some way by what's happening.
Eagan's chamber has about 2,900 members that employ about 160,000 workers. "There are a lot of bright minds," he said, that have been tapped for ideas, tips, or best practices "to navigate these uncharted waters." 
But it's also a bit of a wait-and-see situation, he said, watching to see what state and federal opportunities become available to local and small businesses.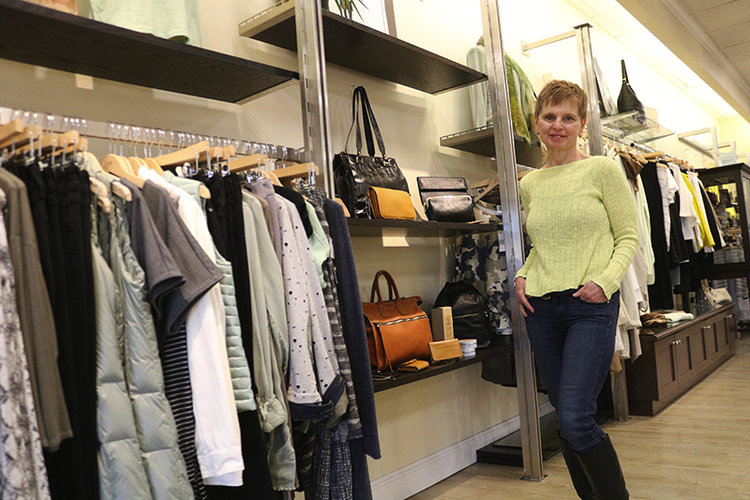 The Enterprise — Michael Koff
Sandra Dollard, owner of Evoke Style in Stuyvesant Plaza, made the decision to close her shop for one week, starting Tuesday, March 16. As much as businesses try to make customers feel safe in the emails they send out explaining the precautions they've taken, Dollard said, people are not in the mood to shop right now.  "We want them to know that we know how they are feeling," Dollard said. "So for me to be there chatting about product — and things of that nature — it doesn't seem really appropriate."
---
Government help
On Tuesday, the governor announced an agreement with the state legislature for a permanent comprehensive paid sick leave policy.
If COVID-19 is looked at as a natural disaster, Eagan said, then the problem is viewed as a temporary situation, which means the government comes in and provides temporary solutions — like accelerated unemployment or loans to help small businesses. 
As for the type of help local businesses need from the government, Eagan said, in past situations there have been adjustments made to how payroll taxes are paid: So, if businesses have a longer period to pay those taxes or there is a reduction in that rate, that could help; or if businesses are having cash-flow issues, making low-interest loans available from the Small Business Administration to help ensure that businesses are able to meet their expenses, is another way to help.
The federal $8.3 billion Coronavirus Preparedness and Response Supplemental Appropriations Act, which was signed into law on March 6, included $20 million for Small Business Administration disaster loans.
 The Small Business Administration Disaster Loan Program "generally offers low-interest disaster loans at a fixed rate that have loan maturities of up to 30 years," according to the Congressional Research Service, a nonpartisan research agency within the Library of Congress. 
There are five ways in which the loan can be put into effect — two types of presidential declarations and three types of Small Business Administration declarations. New York State is not currently declared a state affected by the COVID-19 disaster, according to the Small Business Administration. 
On March 15, the Small Business Administration, acting under its own authority, declared Connecticut (and three adjacent New York counties) a coronavirus disaster-designated area; the declaration was made following a request received from the state's governor, Ned Lamont.
A state's governor must make a request to the SBA Administrator for an Economic Disaster Loans, according to Matt Coleman, the Atlantic region's communications director for the SBA, which Governor Cuomo's office did on Wednesday.
Making a difficult decision
Sandra Dollard, owner of Evoke Style in Stuyvesant Plaza, made the decision to close her shop for one week, starting Tuesday, March 16. Her decision to close was made in part because there wasn't any traffic coming into the store, she said, but she also had thought everyone needed a bit of a respite. 
As much as businesses try to make customers feel safe in the emails they send out explaining the precautions they've taken, Dollard said, people are not in the mood to shop right now.
 "We want them to know that we know how they are feeling," Dollard said. "So for me to be there chatting about product — and things of that nature — it doesn't seem really appropriate."
In the meantime, she will spend her now-free time volunteering and creating a series of how-to videos to keep clients engaged — how to clean out your closet, how to pack your cashmere, things that people can do while they are confined to their homes, Dollard said.
In addition, she said that she will also be reaching out directly to clients who she knows may not have family, just to check on them. 
Then in a week's time, she will after reassess the situation and make a decision about reopening. Right now, she is optimistic, but that optimism can become dimmed in light of new guidelines advising people to avoid social gatherings of more than 10 people.  
Evoke has one full-time employee who will have to be laid off, Dollard said; that worker has already applied for unemployment and won't have to wait to receive those benefits; her other employees either have other full-time jobs or are working at Evoke "very part-time," she said.
She had seen a real drop in business only in the past week, Dollard said.
January and February numbers were a little down, but she said that could be attributed to the "unsettled weather," which had some of her clientele hedging on purchasing more winter-wear.
Dollard added that taking a hit from the coronavirus at this time of the year, was the worst-case scenario — she'd just finished paying off holiday bills as the spring selection is coming in, which is the start of her busy season.
Big picture: The first thing that happened was the stock market started to tank, then trips started to get cancelled because of coronavirus. Evoke's demographic is women over 35 years old, Dollard said; they come into her store for event-, travel-, and the work-related clothing that is sold in her shop. 
"None of those things are happening right now," Dollard said of the reasons women by the types of clothing available for sale in her store. 
"So we just got off our slow season, [we] just finished paying off our biggest bill, but [we] still have big bills left — and now you don't have the business that you were kind of counting on," she said.
But when she does reopen, faced with the issues of customers having gone elsewhere in that time, Dollard said that shouldn't be much of an issue because Evoke has a core clientele: "Ladies who are fantastic," she said, the type of women whom Dollard will keep in contact with over the next week — or longer if that's the case.
Dollard said that she hopes that the government is able to provide small businesses with the tools they need to get through — well, whatever this turns out to be. Her own bank, Ballston Spa National Bank, has reached out to her, which she said is great. 
But Dollard said she and other small businesses need the government to step in with long-term, low-interest loans like the Economic Injury Disaster Loan currently being offered by the Small Business Administration — not five-year lines of credit with high interest rates. 
The problem is that New York State has yet to receive its COVID-19 disaster-designation. 
Dollard is not looking for a handout — or asking to be bailed out by the taxpayer like entire industries amid this current crisis or in crises past. "I'm not looking for anybody to give me money because I had to close — I'm just looking for some way to keep myself going," she said.
It's important to shop locally, Dollard said, because it's important to have our roads paved.
The tax dollars collected from local small businesses in Albany County stay in Albany County and are shared with its municipalities; it's why the county is among the lowest taxed in the state — Albany County shares a large portion of its sales-tax revenue with its cities, towns, and villages, which in turn don't have to raise revenue through property-tax hikes.  
One problem, two headaches
Laurie Beckmann, owner of the Appel Inn wedding venue and Enchanting Escapes travel agency, both in Guilderland, is dealing with coronavirus-based problems both foreign and domestic.
She's had to cancel an Italian vacation booked for May, "a justified cancellation," Beckmann said, since the couple had been in their 70s and 80s; the other cancellation was a spring-break vacation where one of the family's children had asthma. 
"My cancellations have not been clients in a panic," Beckmann said; many clients are taking a wait-and-see approach, especially ones booked to travel in May.
Because airlines, cruise lines, and resorts are going above and beyond with their cancellation policies, she said, her clients have the luxury of taking the wait-and-see approach. "It's a very first" for the industries, she said.
Travel advisors don't get paid until a client has traveled, Beckmann said, so not only are advisors working on commission, there is a lot of unpaid, upfront work and no income until there has been a vacation. Postponing, while prefered to cancellation, still means there are a lot of travel advisors out there who are not getting paid.
Most travel advisors don't charge a fee, Beckmann said, but some have taken to charging a service fee to ensure they get some kind of pay for their work.
Beckmann said she charges a service fee only if she has to put together a complicated, individual itinerary — if she's working with a resort, cruise line, or tour group, she doesn't charge a fee. 
"For the travel industry, it's really horrific what's going on," Beckmann said; advisors could do all their normal unpaid, upfront work and, because of restrictions or travelers' fears, not get paid because of the coronavirus. 
She estimated that she plans between 100 and 150 trips annually — 75 percent of which are honeymoons, piggybacking off of her Appel Inn being a wedding venue. That business has two weddings booked in the next eight weeks, on back-to-back days, April 24 and 25, which are now facing uncertainty. 
The April 25 wedding will have to be moved, Beckmann said, making May 11 the first day the couple can be wed at the Appel Inn.
The April 24 wedding is under 50 guests — the federal guidance against gatherings of more than 10 people was issued after Beckmann had been interviewed on Monday. 
But this is the first time anyone has had to deal with something like this, Beckmann said, a government-imposed cancellation based on a crowd-size prohibition, so it's all new territory.
When weddings have moved dates in the past, she said, it's been at the request of the couple, and they had to work with the dates available. In this situation, no one is looking to penalize the April 25 couple for the move, Beckmann said; it's about finding available dates that all vendors involved have free so that they can provide a service to a wedding that was moved through no fault of the couple.
The vendors involved in the April 25 wedding, Beckmann said, include the  caterer, photographer, disc jockey, florist, and cake-maker. Fortunately the ceremony is on-site, so there's no added difficulty in trying to reschedule the church-portion of the ceremony.
The complication with either the April 24 or 25 wedding, Beckmann said, is balancing venue, caterer, photographer, and disc jockey, and making all those vendors line up for the make-up wedding dates. But moving a wedding date in general, and caterers in particular, will cause huge upheaval, Beckmann said, because there are already weddings and events booked for the spring and summer. 
"It's not like you can just take a date and say, 'OK, you can have this date.' You have to find a date where we all have an opening, which doesn't always coincide," she said.
Local restaurants adapt
Online, in an effort to support local businesses, members of the Altamont Community Facebook Group crowdsourced a list of area restaurants offering curbside pickup. 
In Voorheesville, Grace Thompson, the owner of Gracie's Kitchen, said that her restaurant's first day of state-mandated take-out had been a success.
Customers who came in were very gracious and committed to helping small businesses, Thompson said. Many regulars came on Tuesday but there were also some new patrons who said they came in because they knew this was an especially tough time for local restaurants.
One element was lost with Gracie's moving to a takeout-only menu, Thompson said: It's a small, local diner where folks come in to socialize.
"It's where they come to say hi to their buddies and get something to eat, and enjoy the company — but the company is a large part of it," she said; that will have an impact on people who are now being forced to isolate themselves. 
Takeout had been about 20 percent of Gracie's business, Thompson said, adding, "Transitioning that to 100 percent is going to be a challenge." The restaurant is ramping up its delivery with GrubHub in addition to using its own staff members who are willing to do deliveries instead of dine-in service, Thompson said.
Gracie's has three full-time employees and five part-timers, Thompson said. Staff members will have their hours cut, she said, "but I want to do my best to keep everyone in as much work as possible." She came into this week "playing-it-by-ear," Thompson said, putting staffers on the schedule as much as possible, as close to the number of hours they had been working before all the regulations we placed on the industry.
"That's a frightening thought for me as a small-business owner," Thompson said. "We all need to make a living," and hopefully enough business will be generated to keep staffing at its current levels, she said. 
Business was doing great until last Saturday, she said, when the governor announced the state of emergency — the next morning, she saw a significant impact, and then all last week, the restaurant saw about a 50-percent drop in its usual business.
"With the mandate, I'd like to get us back to 50 percent of where we were two weeks ago," she said with a laugh.
Thompson thinks there will be a transition period under the new rules, and there will be a stronger demand next week as people start to realize what is open and closed.
Previously, Thompson said, Gracie's served dinners only on Friday nights, but now she will be offering takeout all week long because she believes that is where the demand will be.
And as a competitive-barbecue champion, Thompson will expand the menu to include a brisket or a smoked chicken dinner, she said.
She also said the restaurant has had great success on Friday nights with German dinners, which continues this week with sauerbraten, schnitzel, and potato pancakes. "Only they're going to go out the door instead of being enjoyed here," Thompson said; Gracie's will also be doing fish frys every Friday throughout Lent. 
In addition to its dinner-menu expansion, the restaurant will also be expanding its hours of operation. Thompson said Gracie's will now be open every day from 7 a.m. through 6:30 p.m.; previously, it had closed at 2 p.m. 
Upbeat, forging ahead, and helping others
Drue Sanders, owner of Drue Sanders Custom Jewelers in Guilderland, and Jonathan Phillips, president of Phillips Hardware, have taken the new rules in stride and adapted their businesses to meet the regulations, and, as is the case with Phillips, he's also working to ensure others have what they need to face the virus. 
Sanders said that, in her Western Avenue shop, she has a lot of anti-bacterial wipes, so whenever anyone comes into the shop, employees will wipe down every surface touched by that person — countertops, pens, the door. Staff even put customers' jewelry into an alcohol-based solution to kill anything on that.
Staff is constantly washing their hands — and, as of Monday, everyone was healthy, Sanders said. She offers her staff sick leave — she's been in business for 45 years; many of her employees have been with her for 25 years. 
There are usually five people working in the shop at any one time, she said.
"Yes, definitely," Sanders answered when asked if there had been a decline in customers since the COVID-19 outbreak. "People are afraid," she said. "And the media doesn't really help; it seems like everyone is feeding off of fear right now." 
If proper precautions are taken — wash your hands and be diligent — people should be OK, Sanders said, adding, "If you touch something, wash your hands again." It's important to realize that life does go on — and people shouldn't be paralyzed by fear; be careful, but don't be paralyzed, she said.
As someone who has access to some supplies others will need — like personal protective equipment or safe gloves, for example — Phillips said that he wants to try to ensure that some of those supplies get to the people who need them most: senior-living facilities and first-responders in the towns of Guilderland and Bethlehem.
"The one that I can solve," Phillips said, "safety goggles." He cleared off his shelves of the stock he had and put them aside for local emergency medical services workers; he said there is a shortage of goggles for EMS workers. 
Phillips also said he would reach out to local retailers to ascertain what supplies they had and would ask them to make whatever personal protective equipment they had for sale available first to seniors and first-responders before it is sold on the retail market.
True Value has an inventory system that allows store owners like him to go into a queue and order supplies as needed — but that system was zeroed out recently, Phillips said. Now supplies are being allocated; for example, if 400 bottles of hand sanitizer come in, they get allocated to different regions across the country. 
Phillips said that this allocation problem is true for every business in the area; from Phillips Hardware to Wal-Mart, there will be very few of the key commodities that come into the area. His fear is that there will be a limited amount of needed supplies available locally in the coming weeks. 
While he's trying to make sure he's helping as many people as he can, Phillips also wants customers to know he's also open for business — the state is shutting down restaurants, bars, and movie theaters, but his business, he said, like a supermarket, offers goods and services that are necessities to area residents. This has changed because of the governor's Wednesday executive order.
Phillips said that his company had to sell off stores to pay for the construction of a half-built shop near his Guilderland store. And he said the company came out of a bad winter in which it was able to control its expenses, so an early spring — without the coronavirus — probably would have put the company on safe ground. So now, the company is looking for ways to expand its opportunities.
To compete with Amazon while also helping those who may be forced inside by the coronavirus, Phillips is offering free delivery to customers within three miles of his shop.
Over three miles, it's difficult to determine how strict he wants to be in a time like this, but he said he thinks he'll be flexible, based on who he is delivering to and who needs delivery. And, then, with customers who are farther away, because Phillips runs a small business, he is looking at charging some kind of fee for dropoff.
"Most importantly … [is] we get through the virus, next is how do you revive your company," Phillips concluded.