BKW teachers, students delighted with improvements as third phase of $15.8M capital project begins
Wednesday, March 4, 2020 - 16:42
HILLTOWNS — Those familiar with the hallways and classrooms of the Berne-Knox-Westerlo elementary and secondary schools will find little they recognize in the renovated sections of the buildings, which are undergoing drastic changes as part of a $15.8 million capital project approved by voters in November 2017. The project's second phase was completed last month and, on Feb. 25, second- and third-graders entered their brand new classrooms for the first time.
 "They were so excited," Mundell told the board of education during its regular meeting on Feb. 25. "By Thursday afternoon, the Promethean monitors were installed and operational … It was really humbling to watch those second- and third-graders go in there. And I'm talking about the adult teachers with all the excitement on their faces. And to see those rooms equipped the way they are with the support of this community and this board of education, and the expertise of this staff is really, really cool."
The equipment he's referencing is new and improved furniture for students and teachers alike — including flexible-seating chairs that are ergonomically designed to accommodate a number of sitting styles so that kids can remain comfortable and engaged during lesson —and technology like Promethean boards, which replace traditional blackboards, that allows students to interact with the work displayed by the teacher through individual Chromebooks, among other things.
New furniture shapes learning
"I love this place," William Dergosits, a third-grade teacher at BKW, told The Enterprise during a tour of the new facilities. "Oh my gosh. And the kids love being in here."
His classroom was bright with a flush of natural light allowed by new windows that reflected off neon green chairs and sunshine-yellow walls. 
Showing off the students' chairs, Dergosits was excited about the potential they held for the students, who are no longer constrained by the strictly utilitarian seating options every adult in the room likely grew up with.
"We have flexible seating," Dergosits said. "These are adjustable, they wobble. You can change the height depending on who's sitting there."
The room also has stability balls — think exercise balls on wheels — that students are free to use when they feel they need more movement during a lesson.
"And these chairs are also kind of cool," Dergosits said, returning to the chairs at each of the desks, "because you can sit in them traditionally, or they have notches in the back so you can sit in them backwards.
"Some kids we find that, when they're leaning forward, they're obviously more engaged in the lesson," Dergosits said, "and we let the kids choose what they need and when they need it throughout the day … They've been a real big hit."
The desks, too, are innovative in that rather than having the storage compartment built into the structure of the desk, they have room underneath that accommodates detachable bins so that students can better access the space.
"We do enrichment in third grade," Dergosits said, describing a system where kids travel from room to room to engage with different topics like coding and theater. "They can bring their bucket right with them and all their stuff, all their pencils and school supplies, it's been really, really cool."
"And it's clear so you can see what's in it," added Lauren Griggs, a special-education teacher who co-teaches in Dergosits's classroom, "and that helps kiddos who need help with organization to see exactly what's in there. In a traditional desk they're like crawling inside; they have to pull stuff out. With this, you can put it on your desk and take out things you don't need. It helps a lot with kids who struggle with organization."
"This has been like — I mean 15 years in the old room to this one has been like, 'Oh man, this is awesome,'" Dergosits said.
The desks and chairs speak to the larger design philosophy that the capital project is based on, one that emphasizes social engagement as a means of developing skill sets.
"The number-one rule in our classroom is collaboration," Dergosits said. "You can't do it by yourself; you've got to do it with other kids. And these new learning environments are forcing collaboration around the room. There is space to work on their own, but we want them working together, solving problems, working together to develop solutions."
That's where the new tech comes in handy.
"With our new [Promethean] boards we can put up to 39 devices on that screen, and we can pull Jenna's [Chromebook] screen up on the board," Dergosits said, using a student's name by way of example, "and show it to every kid. I can manipulate it; Jenna can see it on her screen; the kids see what we're tweaking, changing. I can bounce from screen to screen.
"We just were playing with it yesterday," Dergosits continued, inadvertently highlighting the novelty element of the technology that puts teachers and students on equal footing as they learn how to use it, "where the kids can come up and make constructive criticisms … to a student's work from the board. We can model what's appropriate interaction for the kids. The difference between a rude and mean moment to a constructive criticism is a big thing … The tech sharing is huge."
"I know that, if I'm excited to try these new things," Griggs said, "the kids are excited."
In a second-grade room, the desks were of a different variety. The "wedge desks" — shaped like triangles with flattened edges and wheels at the bottom — allow students to configure themselves in groups more readily.
"We like them because you can split them up," said teacher Michelle Van Patten, "like some kids need their own space. And then everything is very flexible and collaborative. "
Van Patten was seated at a low half-circle desk, where students might congregate when they want to work one-on-one or in groups with her. 
Mundell said that teachers were given freedom to select the furniture they thought would best suited for their classroom and that most teachers graciously asked for less than their individualized budgets allowed.
In both rooms were traditional dry-erase boards — which Mundell cited as a deliberate choice to mingle high and low technology options — that could slide aside to reveal cubbies where the students stored their backpacks and other belongings that they wouldn't need as readily as those stored in their desks.
"It's a two-for-one use of the space," said Mundell, who described old rooms where backpacks overflowed haphazardly and created clutter.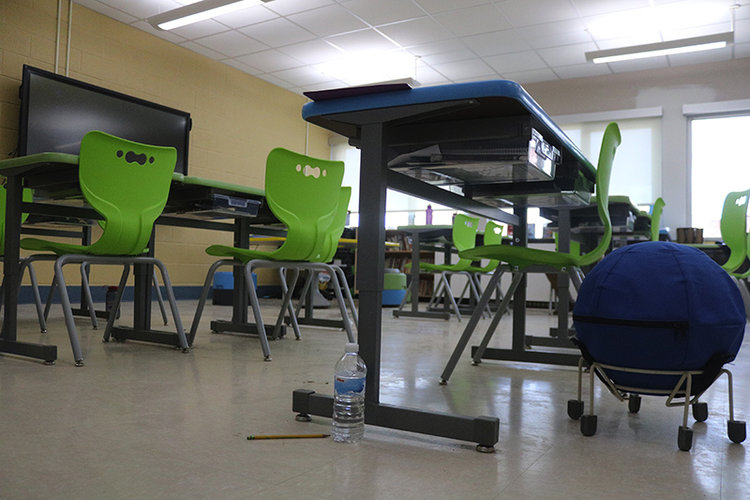 The Enterprise — Michael Koff
The stability chair, in the lower right corner, and the flexible chairs at the desks allow students to customize their seating to keep them comfortable and engaged during class.
---
Counseling center
Mundell also showed off the counseling department, which was recently centralized to ensure ease of use for students with mental-health needs.
He explained that, previously, the psychologist and the guidance counselors were in different parts of the building.
"So, when we had kids with anxiety or whatever their episode is, they didn't know where to go," Mundell said. "If they went down to the guidance counselor, they might be out to a conference or out for lunch, and then they'd look for a social worker who might not be in their office and we didn't have a clerical person who could say, 'Let me get in touch with the social worker for you.'
"Now we have everything located in one space," Mundell said.
The project also puts the main office at the front and center of the building, rather than around back, which could be confusing for visitors.
"When I interviewed for this position," Mundell said, "I parked [in the front lot]. I wasn't sure which building to go into, and I tried all these doors that were locked. I was afraid I was going to be late. I didn't realize you had to go down the side and around the back. So now, part of the objective here, was to give passersby a better idea."
Project status
Mundell announced at the board of education's regular meeting on Feb. 25 that, if the project were to stop now, it would come in under budget.
"That extra money ensures that we can cover any additional costs that might come up," Mundell told The Enterprise during the tour. 
The third phase of the project has already begun, which will renovate the fourth-grade classrooms. As the elementary-school upgrades are completed in phases, students attend classes in other parts of the building while sixth-grade students were moved to the middle school next door.
The third phase is expected to be complete by April 10, Mundell said, describing the whole project now as halfway finished. 
When the project is finished, Mundell hopes that the schools, which serves as the largest economic force in the rural Hilltowns, will help revitalize the area.
"Nobody is moving to the Hilltowns," Mundell said. "Capital Region BOCES," he said of the Board of Cooperative Educational Services, "other than Long Island and Westechester, is the only BOCES in the entire state that is growing in population, but that population is growing in places like Albany and South Colonie. In the Hilltowns, we're going through a population decline. That's so all the way to Cortland."
"The community depends on the school for its livelihood," Mundell said. "But the only way that's going to be sustainable is for us to have students who go out to make it and then come back. And what does [the school] look like when they come back to live here?" ​