Fraterrigo's lettering celebrates shops, weddings, and babies 
Thursday, February 20, 2020 - 15:29
GUILDERLAND — Raechel Fraterrigo has never taken out paid advertising for her lettering business.
All 4 Lettering has taken off in the last three-and-a-half years, moving from a hobby to a full-time business, solely through word-of-mouth and the power of social media, she says. 
Fraterrigo, 33, recently painted many of the storefront windows in the village of Altamont, beginning with flower-and-gift shop Bella Fleur and its companion liquor store, Remedies. Colorful flower wreaths now encircle both shop names. 
Shop owner Diana Greene said Friday that she loves what Fraterrigo has done and has gotten many positive comments from customers about the way it makes the store stand out. 
Fraterrigo was then asked by Leanne Royer, this year's organizer of the village's annual Victorian Holiday celebration, to paint the windows of the closed Subway shop, to draw people in, since nine vendors were set up to sell their wares inside. 
Next, Village Pizza hired Fraterrigo to paint Italian-food and Christmas-themed drawings on its windows, including tomatoes, peppers, olives, and holiday lights. 
She is now working with Bella Fleur to do new windows with each season. She and Greene are thinking about Valentine's Day, she said. 
Her business within the village took off as soon as she posted a photo of the Bella Fleur windows on a Facebook page called The Altamont Community, she said.
But before that, Instagram has had the effect of bringing her portfolio to people who want something — anything — hand-drawn or personalized. 
She has 1,000 followers on Instagram, Fraterrigo says, and about 600 or 700 on Facebook. 
Over the past year, she said, she has done eight 12-foot menu chalkboards for various eateries and tea shops. 
Actually, the first one was 15 1/2 feet long, she said. "The half matters," she added with a laugh. 
At first, Fraterrigo spent 10 hours creating a 12-foot chalkboard menu. "Now I've got it down to seven hours," she said. 
She also created artwork for 30 weddings this year, a huge increase, she said, over the first year, when she did just two. For a wedding, she typically creates a chalkboard sandwich-board that welcomes guests, and often a hand-written seating chart. 
She is married to David Fraterrigo, and they have three children, ranging in age from 4 to 12, the oldest from his previous marriage.
Her husband's father, Phillip Fraterrigo, is an ophthalmologist, as are two of David Fraterrigo's siblings. David works as the office manager of the family practice. The couple met when Rachael also worked there, as a surgical coordinator. 
Her mother-in-law, Barbara Fraterrigo, is a long-time member of the elected boards governing Guilderland's school district and public library. 
Raechel Fraterrigo had always loved art, but never really thought of it as a job possibility. Her parents are both from the Philippines, and, she said, "Filipinas tend to follow a path where you're either a nurse or in the hospitality industry." 
She, too, was born in the Philippines; her family immigrated to this country when she was 3. She grew up in Rockland County and came to the Capital District for college at the University at Albany, where she studied communications and business. 
Fraterrigo got her start in art when she left her job at the ophthalmology office to be a stay-at-home mom after her son was born, nearly six years ago. 
She had worked, she said, since she was 16, and had never left a job without another one lined up. She felt at loose ends without a job, she said. 
She had seen a posting on Facebook Marketplace, from someone who was looking for an artist who could make a birthday board — a decorative board for babies' birthdays, with notes about their favorite books, the words they can say, and what they especially enjoy doing. 
"I was like, 'I could totally do that birthday board.'" So she did, and that was the start of a career in which, as she put it, she never says no, even to new challenges she's hasn't taken on before.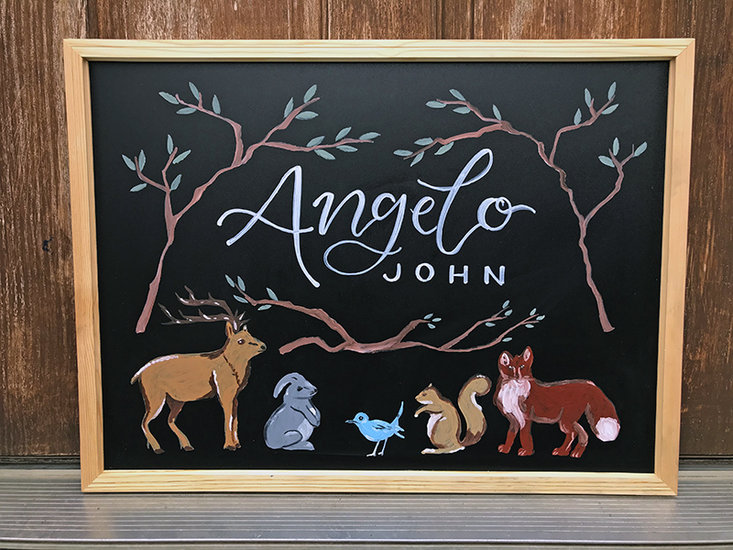 — Photo from Raechel Fraterrigo
Original wall art for a baby's room was based on a pattern on a baby blanket his mother had shown artist Raechel Fraterrigo.
---
How she does it 
The medium she uses varies with the job. When she is painting on a wall of, say, a restaurant, she first has the owners paint the wall with black chalkboard paint and then, once it has dried, she draws the menu free-hand on it, using erasable chalk markers.
She stands on a stepladder to paint the chalkboard menus. The owners then frame the menu out with pieces of wood so that it looks like a chalkboard, she said. 
She starts each menu by lightly writing the name of the restaurant and the main headings, to make sure of their placement. She then writes everything else as she goes. She doesn't make a draft version on paper first.
"Typically, I don't have to erase," she said. Generally, she said, menus are high enough on the wall that they remain safe from accidental damage. 
For rented items at weddings like the signboards placed at the entrance to the venue, she also uses chalk markers. Once dried, these can be touched with a dry hand and the lettering won't come off. 
For items the couple has bought, she uses permanent lettering, using oil-based markers and acrylic paint, as she also does for wall art for babies' rooms. 
She uses erasable colors for the shop windows, which she paints from the inside. Symmetrical shapes like wreaths are easy to draw backwards, from the inside. When she has to do something that is not the same backwards and forwards, like many letters, she goes outside and first paints it lightly there, then goes back indoors and fills it in. 
At the holiday season, she said, she gets requests for all sorts of personalized products. If she posts a photo of a Christmas ornament, people will get in touch through social media and ask her to make the same thing, with their names. She does that and then meets her customers at a public place to deliver the items. 
For decorated mugs and ornaments, she uses an Apple pencil and the free application Procreate to draw the letters. She then uses a Cricut cutter machine to produce the letters in vinyl. She always uses hand-drawn letters and never any premade fonts or stencils, Fraterrigo said. 
One local woman asked her to personalize a wooden wall rack for her children's taekwondo belts, by adding their names at the top. Fraterrigo does "anything that can be personalized; the possibilities are endless," she said. 
Fraterrigo is happy that her children can see her working, at home. As a child, her father owned his own business, as an exterminator, and sometimes took her with him. "I always loved seeing the beauty of work," she said. 
When she is doing her art at the dining-room table, her kids will say, "Mommy's working," she said, adding, "They know Mommy works hard." 
Whenever her children go to Altamont Elementary School, which the middle child now attends, they take pride, she said, in telling people their mom created the mural near the entrance. 
The lettering that she drew there reads: "Be your best self."