Mother fights to treat her family's rare disorder
Tuesday, February 18, 2020 - 18:44
HILLTOWNS — Earlier this month, Hilltown native and Berne-Knox-Westerlo '99 grad Chantelle Nobis went to Washington, D.C. to fight for funding that will help develop treatments — and maybe a cure — for a group of rare nervous-system disorders that afflict both her daughter and husband. Nobis and her family now live near Rome, New York. 
Neurofibromatosis refers to a cluster of disorders — neurofibromatosis type 1, type 2, and schwannomatosis — that are genetically distinct but which all cause tumors to grow along the nervous system. The tumors tend to be noncancerous but require constant attention and can disrupt the body by pressing on nerves and organs. Blindness and hearing loss are common side effects.
Nobis's husband, Peter, a mechanic, developed NF2 through a random genetic mutation and has suffered paralysis on the right side of his face; a tumor on the main nerve connecting his inner ear and brain, which was removed with radiosurgery; and currently has tumors on the back of his brain that are being watched, Nobis said. 
NF2 develops in about one person out of every 25,000.
Their daughter, Amelia, now 8 years old, was diagnosed with NF2 when she was 4. Hers is a more aggressive variation of NF2 than what her father has.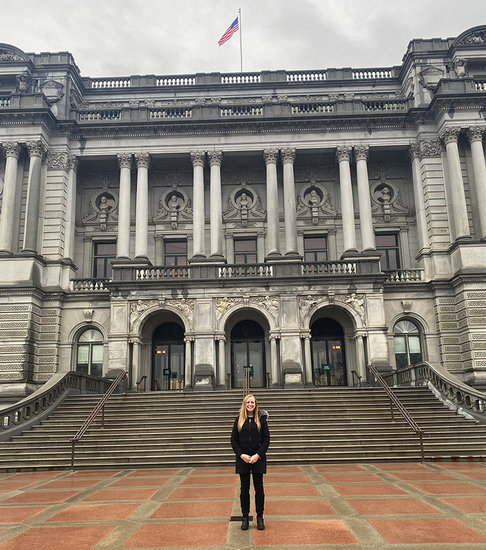 — Photo from Chantelle Nobis
Chantelle Nobis stands at the steps of the Library of Congress in Washington, D.C. She was there to advocate for federal funding through the Department of Defense's Congressionally Directed Medical Research Programs. 
---
Amelia developed a cancerous brain tumor, which has been successfully removed, as well as several tumors along her spine, and nerve dysfunction that will soon be analyzed in a Boston hospital as doctors consider the future of her treatment.
"She doesn't understand the disorder entirely as it can be very complicated," Nobis told The Enterprise of her daughter, "but she does understand that having NF means more doctor appointments and MRI scans and trips to Boston for her."
Nobis said that the crush of medical scares and procedures so early in her daughter's life stoked medical phobias in Amelia, who is athletic and wants to be a baker when she grows up.
Amelia has a "heart of gold" and is very close with her sister Hayden, 6, and her brother, Blake, 4, Nobis said. Neither Hayden nor Blake have been diagnosed with the disorder, which is genetic. 
The prognosis of NF2 varies among patients, but those diagnosed tend to live shorter lives than those without the disorder. For now, treatment of the disease centers around the monitoring and removal of tumors.
In the hopes of securing a better future for her family and others, Nobis has teamed up with organizations dedicated to funding research, like NF2 BioSolutions for which she's the New York Ambassador, and the NF Network Advocacy Program. It was through the latter group that Nobis went to the Capitol on Feb. 10 and 11 with over 90 other advocates to stump for funding.
"I have made it my mission to join others in our fight against NF and to find a cure for my family," Nobis said. 
The group requested funding from Congress that would come through the Department of Defense's Congressionally Directed Medical Research Programs in 2021, if successful.
"We touched upon population of state numbers compared to NF numbers and how NF and military people can benefit from corresponding topics like bone abnormalities, pain medicine, and cancers they are both prone to," Nobis said of the group's presentation.
Since the trip to D.C., Nobis has been writing "several letters" to the congressional representatives she met to follow up on the request for funding. On top of teaching full time and raising three kids under the age of eight, Nobis said that "quiet is rare and far between."
"I can't even describe the feeling," Nobis said of collaborating with others who have been impacted by the disease and fighting for a shared cause. "My eyes watered. The passion of everyone fighting for the same cause and we all have different stories — some were even there that had lost a child to NF."