Picard family distressed over quick sale of farm
Tuesday, February 4, 2020 - 14:09
NEW SCOTLAND — Herman William "Buddy" Picard III was raised with a love of the land at the base of the Helderbergs. He was also raised with a sense of his family's heritage, stretching back to Germany.
He showed The Enterprise family portraits going back five generations. One of his grandfather, Herman I, in a bowtie, and his grandmother, Meta Picard, in a flowered Victorian dress, shows his father, Herman II, between them in a sailor-themed outfit. The couple married in 1905 and their son was born in 1906, he said.
He also has pictures of what used to be called Picard's Farm going back to the early 20th Century. A very long framed photograph shows lawyers in suits and neckties standing in a row for the "First Annual Clambake of the Albany County Bar Association," on Sept. 16, 1933 at "Picard's Farm."
The lawyers — all men, no women — are standing in what became known as Picard's Grove, with the Helderberg escarpment behind them. Another photograph shows rows of long empty tables lined up in the grove, awaiting guests. Herman Picard's parents worked as farmers and caterers at the grove.
A third shows the farmhouse, much as it is today but with a dirt road in front, and a now-gone carriage house to the left, which Picard says was home to horses and carriages. Herman's grandparents lived on one side of the house and his parents and their children — David, Jeanne, and Herman — on the other side. David died last year.
A snapshot taken on the farm shows Jeanne Picard, holding a doll, flanked by her brothers, Herman, the youngest, and David, the oldest. Another picture, taken perhaps in the 1940s, shows his grandfather, Herman Picard I, smiling as he serves clams to women wearing dresses or skirted suits.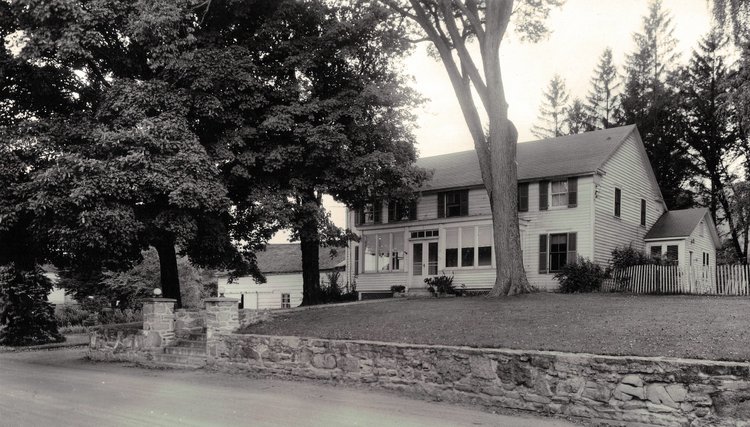 — Photo from Herman Picard III
The farmhouse, which Herman Picard III says was built in 1822, used to sit on a dirt road with a carriage house to the left.
---
— Photo from Herman Picard III
Rows of empty tables await visitors to Picard's Grove with the Helderbergs as a backdrop.
---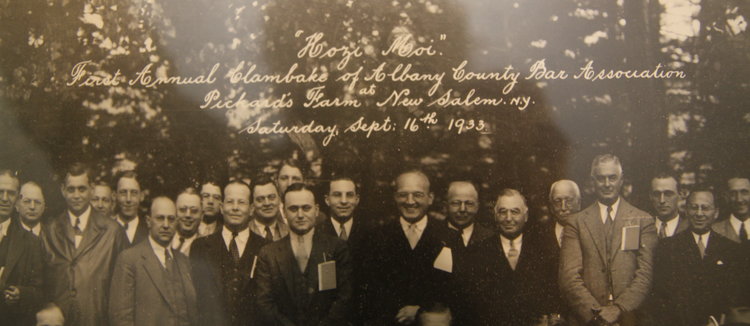 — Photo from Herman Picard III
Lawyers line up in 1933, in this detail of a much larger photograph, during their outing at Picard's Farm.
---
Herman never knew his grandfather; he died in 1946, the year Herman III was born, he said.
When he came of age, Herman Picard served in the 198th Light Infantry Brigade in the Vietnam War. "We roamed around, eating sea grass, sleeping on the ground for a year. Your bones ached," he said.
He came home a disabled veteran and said it took him 20 years to buy the cap he now wears, naming him as a Vietnam veteran in the 198th Light Brigade.
"Vietnam vets were frowned upon," he said, describing himself then as "withdrawn."
He came home and worked at the grove, he said.
He and his wife, Suzanne Picard, now live in a log house on Picard Road not far from the farm where he was raised.
"I've been thinking about this for probably 60 years," he said of the place where he grew up. "I can remember the field up there had apple trees. The baby deer lived there; it was their safe domain."
He went on, "The baby deer were not afraid of me, I think because I was a small person. They recognized no danger and let you walk right up to them."
"We have deer here all the time," Suzanne Picard said. The nearly 90-acre Picard farm is set to be sold for $500,000 to a developer, Michael Biernacki, to pay for Jeanne Picard Fish's care (see related story).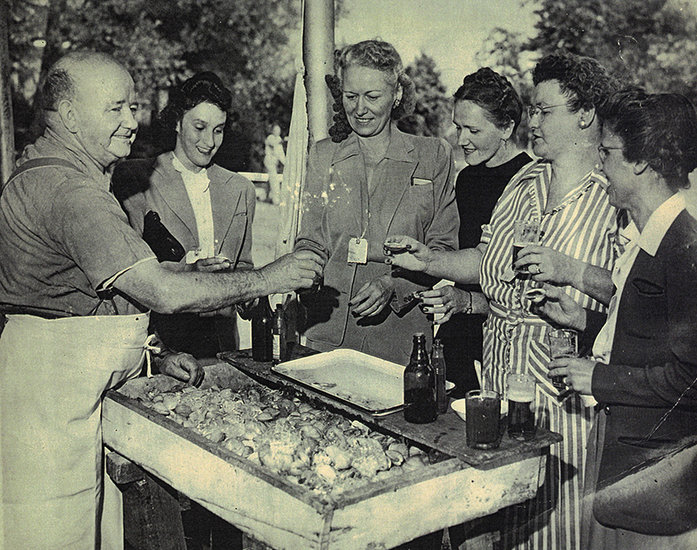 — Photo from Herman Picard III
Herman Picard III serves clams at Picard's Grove, probably in the 1940s.
---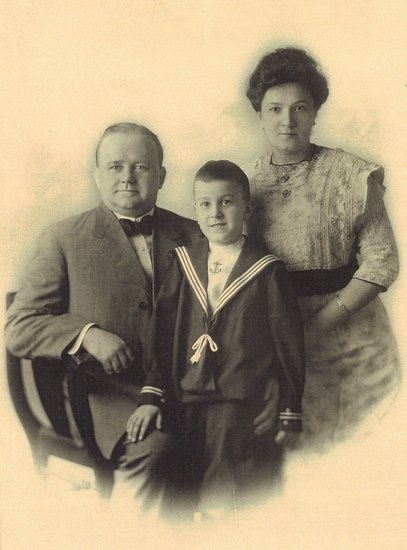 — Photo from Herman Picard III
Herman Picard I poses with his wife, Meta, and their son, Herman II.
---
If the land is sold to a developer, Suzanne Picard worries what will happen to the wildlife. A development would destroy the animals' homes, she said.
"We're trying to avoid the sale of this land to a developer, any developer. It's such a beautiful piece of land. I think it's been in the family for 100 years," she said.
The matter ended up in court, Suzanne Picard said, because Fish had had no will and had not designated power of attorney.
"It's not in our hands," Mrs. Picard said. "The judge put it in a lawyer's hands … It has to be liquidated to pay for her care."
Mrs. Picard wishes she and her husband could buy the Picard farm. "We don't have that kind of money," she said.
She also said, "Every one of the family, from here to Florida, doesn't want it out of the Picard name." Different plans are "in the works," she said. "The attorney has been offered more than what Biernacki has offered and he won't accept it … We all think it's fishy … He says he knows Biernacki has cash and that's what he's looking for … $500,000 for 80-plus acres, that is a steal."
She said of Biernacki, "He could put up one house and recoup his money … I'd rather leave it as a farm."
Both of the Picards wonder why a sale isn't being held to raise money for Fish from the contents of the buildings. Mr. Picard says the farmhouse was built in 1822 and is filled with antiques. Giving one example, he described his mother's desk as a "secretary" and his father's desk as a "roll-top."
"All of the bedrooms have beds, dressers, hope chests," said Mrs. Picard. "The china cabinets are filled with crystal and china."
The farmhouse and the barn, which was also built in the early 1800s, Mr. Picard said, are post-and-beam construction, made of sturdy "hand-hewn wood." The barn, Mr. Picard conceded, "could use a new coat of paint," but he said it has a new metal roof.
Mr. Picard does not like the idea of losing the history that would disappear if the house and barn were torn down. "This sort of thing doesn't come around very often," he said. "If you don't know where you've been, you don't know where you're going."
The house has 12 rooms, plus a basement office, and a laundry; it also has an elevator, which Mr. Picard's father had put in "because he was in a wheelchair," Mr. Picard said.
Mr. Picard said of the lawyer whom the court appointed as guardian of Fish's property, Joseph L. Kay, "He feels because wallpaper is coming down in the house or there's a crack in the wall that it has no value."
The property also has two large outbuildings and a half-dozen small ones. One of the large buildings behind the main house is a dance hall. "My grandfather put it up and my sister redid it," Mr. Picard said.
The other big building behind the farmhouse was for the large gatherings the Picards hosted, and it seated over 700 people, the Picards said.
Both of those buildings have expensive restaurant equipment in good condition that the Picards say could be sold to benefit Fish rather than, as the sale contract has it, going to Biernacki.
Mrs. Picard also said, "I was told by the attorney the court date is set for the end of February. He is basically telling us we have a month — that's it. We'll all be crying in our drinks."
Mrs. Picard went on about items still in the house that the family treasures: "We've been trying to get pictures and trophies." The trophies had been won by her husband's father, who used to race horses.
She also said, "If anyone wants to make another offer, they need to show up at the hearing. So I've put the word out to cousins, nephews, whatever."
In addition to being troubled about what is happening to the property, the Picards are also distressed about what has happened to Fish. "I'm becoming the patsy of the whole affair," said Mr. Picard, who was appointed guardian of her person. "I feel I've been manipulated. The entire financial deal is a joke."
Fish's husband died in 2005, Mr. Picard said. "She couldn't keep it up after that," he said. Fish had already sold land to Biernacki, he said, on which Biernacki built houses.
"The last time I talked to my sister we agreed the vultures are just waiting to pounce," Mr. Picard said.
When Fish was hospitalized in November, the Picards said, she was diagnosed with dementia. "She was moved from the hospital on Nov. 27 and they never informed any of the family," said Mrs. Picard.
Mr. Picard said he had visited his sister in the hospital on the morning of Nov. 27, 2019. "No one said anything about it," he said of her move.
They found out afterward that Fish had been moved to a nursing home in Valatie. They said she has been put in a small basement room, which she shares with another resident. Four people share a single bathroom at the facility, the Picards said.
"It looks like a bunk in a prison," Mr. Picard said of his sister's bed. "She is a basement in a locked-up facility," his wife said.
Court papers list Tracy Murphy, a lawyer with the Albany County Department of Social Services, as the original petitioner. Murphy responded to Enterprise questions in an email by writing, "I cannot comment on Guardianship matters handled by our office." She suggested contacting Kay for answers; he did not respond.
The Picards have visited Atria - Guilderland and are trying to get Fish a bed there, they said. Atria is closer to home, less expensive, and nicer, they said. "It's absolutely beautiful," said Mrs. Picard.
Describing his sister's condition, Mr. Picard said, "She's in and out of it. She knows me, but she talks and doesn't make much sense."
Mrs. Picard concluded of the quick property sale, "If Jeanne were able, she would highly protest this."