Indie film grows from a girl's life and a father's grief 
Friday, January 31, 2020 - 23:14
GUILDERLAND — Dmitry Gelfand, whose teenage daughter Alyssa Gelfand died in a car crash on Hurst Road in Guilderland Center in May 2017, is wrapping up post-production on an independent feature film inspired by his daughter's life and sudden death. The film, "My True Fairytale," was shot in Los Angeles.
Gelfand, who makes his films under the name D. Mitry, will release the trailer for the film on Sunday, after the Super Bowl, on YouTube and on the film's website, www.mytruefairytale.com.
Alyssa Gelfand was 17 when she crashed her car while driving two friends on a Sunday evening. She was in her junior year at Guilderland High School. Her two passengers were treated at the hospital and released, while she died there two days after the crash.
Later that year, the town carved away a sudden dropoff in the road that had made it a favorite of thrill-seeking teens, since traveling over it at a high speed was known to give a sense of flying. Gelfand had smashed into a tree very near the site of a crash about two decades earlier that claimed the lives of two teens.
Promotional materials for the movie describe the storyline: "Angie Goodwin runs away after a horrific car crash, to make her dream of becoming a superhero become true …"
The film opens, Gelfand said, with a voiceover of Angie saying, "Ever since I was a little girl, I had this dream. One day I become a superhero in my very own fairytale. I can fly, be invisible, and in the end, save the world. Funny thing is, sometimes you have to be careful what you wish for, because one day, it may come true."
— From the Facebook page of "My True Fairytale," used with permission. Gelfand created this brief montage of actual clips of his daughter and her friends — in black-and-white — and actors from the film as a cautionary message about teen-driver deaths, urging young people to "please drive safely," that he posted to social media. He emphasized, though, that this is not the focus of the film; the focus is love, he said.
— From the Facebook page of "My True Fairytale," used with permission. In this behind-the-scenes clip, Dmitry Gelfand watches a monitor showing a scene being filmed, above, in which two friends of his daughter's character dance together along the length of a butterfly house toward her. Meanwhile Angie, the character inspired by Alyssa Gelfand, films them.
"The film tells you"
Speaking from his home in Los Angeles this week, Gelfand, who wrote and directed the film, described the process of post-production as "like making a whole new movie." He said some people think that after a movie is shot, that's the end.
In fact, he said, "That's when everything begins."
Post-production includes editing, adding color, music, sound, and visual effects, and then "conforming everything together." Conforming, he said, involves taking the locked version of the film edit and reconnecting the footage used to its full-resolution parent.
The film's score is written during post-production, he said.
Gelfand has scored all of his own films before, but he wanted to work with a composer on this one, he said.
"We were really lucky to find a lot of people whom the story spoke to," he said. "These are true artists in every sense of the word."
They include, he said, the film's:
— Director of photography, Pablo Diez, who has 16 theatrically released films;
— Colorist LightBender, a company that has worked on "Star Trek into Darkness," "Prometheus," and "The Amazing Spider-Man";
— Composer Pancho Burgos-Goizueta, who has done work for "High School Musical 3" and "Teen Wolf" and who wrote the score for "God's Not Dead: A Light in Darkness";
— Production designer Markos Keyto, who has worked with directors including Franco Zeffirelli and Pedro Almodóvar; and
— Editor Antonio Gómez-Pan, who has won numerous awards for his work.
— Producer Citlalli A. Ruiz, who Gelfand said "is a huge reason why this film got made."
Cast members include Golden Globe winner Joanna Cassidy of "Blade Runner" and Oscar nominee Bruce Davison of "X-Men" as well as Emma Kennedy, who plays Angie, and Darri Ingolfsson of the series "Dexter," who plays the character based on Dmitry Gelfand.
Gelfand had been unable at first to make the film in Los Angeles and so had planned to shoot it instead in Seattle. But that production fell through, which later turned out to be for the best, "a miracle," he said. He toyed with the idea of filming in northern California or Texas before finding a home for the film in L.A., where he lives.
He and his crew are at work now on the credits, and the film will be completely finished within a week.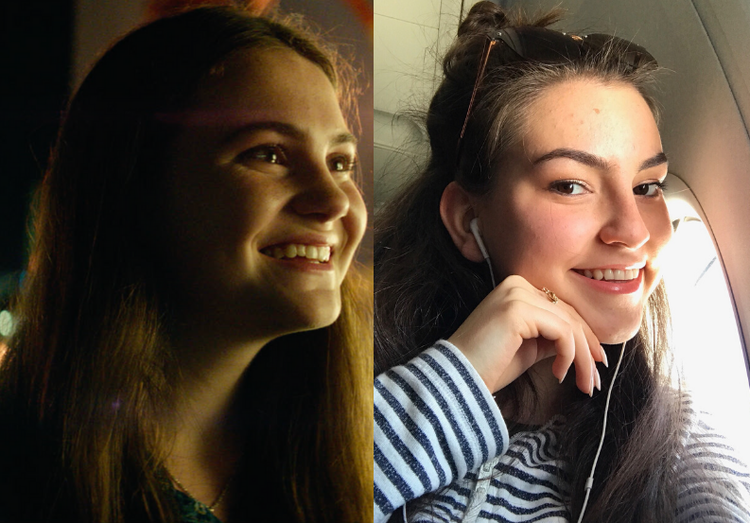 — From the Facebook page of "My True Fairytale," used with permission
Art imitates life: Actor Emma Kennedy, left, plays Andie Goodwin, a character based on Alyssa Gelfand, right, of Guilderland in "My True Fairytale," a film written and directed by Gelfand's father. Alyssa Gelfand died in 2017 after the car she was driving on Hurst Road crashed into a tree. Two friends with Gelfand in the car survived the accident.
---
Changes
Gelfand has directed and produced a number of shorts, but this was his first full-length film.
FIlmmaking is extremely, extremely challenging, he said, "and I cannot stress enough that you really need to love what you're doing, to complete a movie from A to Z."
The process involves "a lot of low lows and a lot of high highs," and the descent from the highs to the lows can be steep and quick, he said. A director needs to be able to solve problems and to listen well, he added.
The film changes as it is made, Gelfand said. "What you write in a script is going to be a little bit different from what you shoot. And what you shoot is going to be a little bit different from what you get in the editing, and what you get as a final product is going to be different from the edit."
But is this the film he wanted to make, he asks rhetorically. "Yes," is his emphatic answer. Was it the script that he wrote? "No, it's a little bit different."
The central idea, though, is the same, he said.
He compared the feeling that he wants the audience to have upon leaving the theater to that of "Cinema Paradiso" (directed by Giuseppe Tornatore, Italy, 1988) or "American Beauty" (Sam Mendes, 1999).
"I wanted people to feel, watching this film," he said simply. "I think the idea that I started with originally comes through. And that is the idea of love. Love conquers all, love conquers racism, love conquers depression, love conquers death."
The hardest decision he had to make, Gelfand said, was to cut an entire storyline, which meant cutting four characters. That storyline had centered, he said, on the boyfriend of Angie, the young woman inspired by his daughter.
It was one of a number of storylines that, by the end of the film, come together and illuminate one another, Gelfand said.
The storyline had made sense on paper, he explained. "But when we shot it and when we saw it, it weighed the film down a little bit."
Gelfand said, "The film sort of tells you how it wants to be shot.
"I have to be always very faithful to the project, and put my personal feelings aside as a human being, as a father, as a screenwriter, and become a director, and I think the primary purpose of a director is translating text to the screen," he continued.
"My goal has always been to make this film seen by as many people as possible, because I think this film will help to heal a lot of those who have faced the tragedy of losing somebody suddenly," Gelfand said.
Hopes
"It's like making a movie in itself," said Gelfand of the process of making the trailer.
The trailer was made by Movie Trailer House, a company that specializes in making trailers. Most studio films use trailer companies, he said, because the art of making a trailer is very different from that of making a film.
The entire process needs to be done again, he said, including sound, color, all new music, visual effects, and conforming.
"It's like a two-minute movie," Gelfand said.
The goal, with the trailer, is to "get people interested, get them excited to see the film," he said.
He and his team are "super super happy" with what they have created, he said, "but there's always room for improvement."
Gelfand hopes to see the film make it into some of the world's most competitive film festivals, such as Cannes, Venice, Toronto, Berlin, and Sundance. "These festivals receive probably eight- or nine-thousand films a year," he said, "and accept maybe 40, 50, or 60."
He declined to say how much the movie cost to make, but he said it was "low-budget by Hollywood standards." In Hollywood, he said, that could mean it cost $30 million, or $300. The cost was in between those figures, he quipped.
One of the things he is going to make sure of, Gelfand said, is that any deal about the film will include having "a proper screening" in the Capital Region, a screening "where all of Alyssa's friends and their families can come and see it."