Guilderland appoints three Dems to new posts
Thursday, January 10, 2019 - 13:36
GUILDERLAND — With the Democrat-dominated town board unchanged, Guilderland's re-organizational meeting on Jan. 3 saw just a few new people being appointed to various boards — all of them Democrats.
Gustavo Santos moves from the zoning board of appeals, where he has been a member since 2016, to the planning board. Attorney Elizabeth Lott takes Santos's seat on the zoning board. And retired state worker Margaretann Paczkowski joins the conservation advisory council.
Santos
"I like the idea of buildings, of looking at development in our community," said Santos, "and it was certainly a good avenue to know what's going on and what's going to benefit our town. And also to learn and contribute, to make the town a better place."
Santos is a longtime employee of the state's Department of Transportation. He has been a member of the Guilderland Democratic Committee for "maybe two or three years," he says.
He added, "I love to diversity my knowledge of the town, and I think the planning board will be a good way to really learn and contribute."
Santos came from Honduras with his family as a child 42 years ago, when he was 10.
As to the idea of a pause in development because of the number of multifamily projects proposed, or approved, or built, Santos said, "I don't want to say anything yet, since I'm new to the board and I don't have a lot of specifics in terms of that."
Lott
Lott, who grew up in Guilderland and attended Guilderland schools, is an attorney with the Workers' Compensation Board.
She is also a member of the Guilderland Democratic Committee.
As a longtime resident and as an attorney, Lott said, she looks forward to helping ensure that everyone in town is obeying the law.
She added, "And I also feel that, if there's ever a leadership opportunity here at the town, this is the time of my life and my career when I have extra time, so I'm happy to take part."
Lott was one of the 14 attorneys who applied in March 2018 to replace judge Richard Sherwood, who was arrested by the New York State Attorney General on larceny charges for stealing millions from family trusts in his work as a private attorney.
She served for two years recently as president of the Legal Project, after having been part of the group's founding 23 years ago, when she was a law student at the Benjamin N. Cardozo School of Law in New York City. The Legal Project provides free legal advice to people who cannot pay but who do not meet the standards of poverty.
"I'm all about giving back to the community," Lott said. "You've got to give back."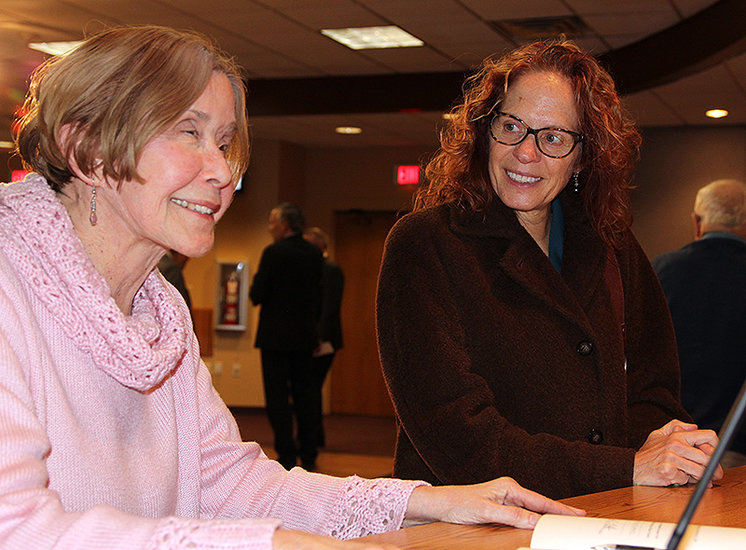 The Enterprise — Elizabeth Floyd Mair 
After signing their oaths, Margaretann Paczkowski, left, talks with Clerk Jean Cataldo as Elizabeth Lott looks on. Paczkowski joins the conservation advisory council, while Lott takes the seat on the zoning board of appeals vacated by Gustavo Santos. Both are new to town government. 
---
---
Paczkowski
Margaretann Paczkowski has just retired from a career with the state, most recently as a financial analyst with the Department of Health.
She is a member of the Public Employee Federation, and for years has been a member of the union's political action committee, she says, and a member of the union's nominating committee and budget advisory committee
Paczkowski is a Democratic Committee member and works at the town hall at the polls as a Democratic inspector.
She holds a degree in public accounting from the University at Albany and a master of business administration from Rensselaer Polytechnic Institute.
Paczkowski is very active in the Albany Diocesan chapter of the Christ Child Society, she says, which provides layettes for needy mothers and gives comfort bags to women and children in domestic-violence shelters. The chapter also holds a big drive for school supplies and backpacks.
She is active, too, in St. Madeleine Sophie's food pantry and in St. Gabriel's Women's Club, where she is recording secretary.
Paczkowski has lived in Guilderland for 38 years. The position on the conservation advisory council is the only thing she is adding.
She was already doing all of these activities while still working, she said. "I like the town, the people," she says.
"I'm looking forward to being on this committee," she says. "It's different from what I'm used to. It's outdoors." She concluded, "Anything I can do for the town —"