'He was too kind of a person to die that way'
Wednesday, December 29, 2021 - 16:57
GUILDERLAND — Kentish Bennett, 41, died just before Christmas.
Jason Seminary, 43, was arrested on Dec. 26 for second-degree manslaughter.
The manslaughter charge stems from a domestic incident involving a physical argument, which took place at about 1:45 p.m. on Dec. 23 at 3771 Western Turnpike, Guilderland Assistant Chief Curtis Cox said.
Bennett was taken to Albany Medical Center where he died of his injuries.
Seminary — who was stopped by Rotterdam Police because Guilderland Police were looking for him — is now in Albany County's jail without bail.
Bennett had lived at 3771 Western Turnpike with John L. Seminary, Jason's father, for many years. "The relationship was between the father of my client and Kentish," said Michael A. Feit, the lawyer retained by Jason Seminary.
The death was devastating for Anika Jordan-Alexis, the mother of Bennett's two children. She described herself bawling as she dropped to the floor in shock and grief.
"He was too talented. He was too lovely. He was too kind of a person to die that way," she said.
She also told The Enterprise that she had been worried something like this might happen.
Theirs was an unexpected romance. He was from Jamaica. She was from Trinidad and Tobago. They met coincidentally in 2002, she said.
She tells with joy and gusto the story of their meeting.
"I was coming off a train and he was on the same train and I was walking up the stairs and, you know, he saw me, a tall dark-skinned girl."
"Why are you looking at me?" she asked him.
"Because I find you attractive," he replied. "You are so beautiful."
"That was the ice-breaker," Jordan-Alexis told The Enterprise this week.
He told her he had never had a girlfriend and she asked if he was gay. He laughed and said he didn't use labels. She was modeling at the time and he was starting out as a songwriter and actor, she said.
"The friendship blossomed into more," said Jordan-Alexis.
Their daughter, Arissa Jordan-Bennett, was born in 2003. Their son, Averie Jordan, was born in 2008.
For his music, which included rap, reggae, and rhythm and blues, Bennett used the name K.Swiff. Bennett's drag name was Kayla Shennett.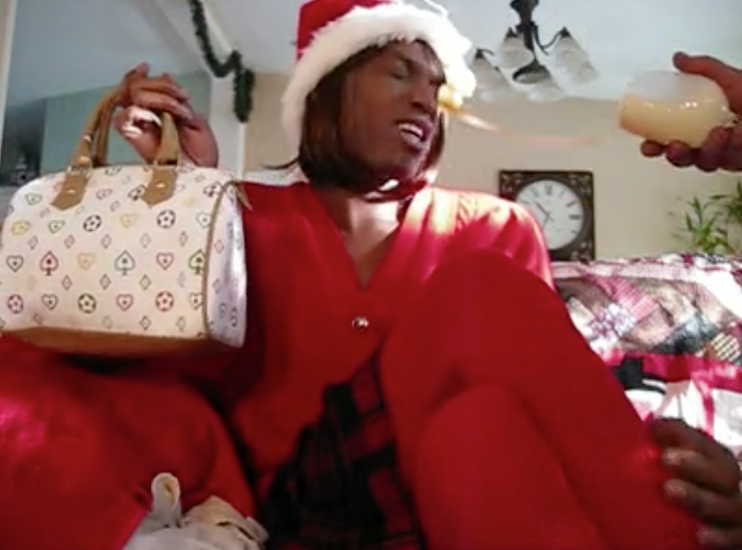 — Still frame from "I hate this family"
Christmas comedy: "Have some eggnog on me," says the brother, hand at upper right, as he tosses eggnog in his sister's face. Kentish Bennett played the parts of mother, father, sister, and brother in his series of shows called "I hate this family."
---
He created a series of video shows in 2010 called "I hate this family" in which Bennett plays with finesse all four members of the family. In the opening show, depicting the first day of a new school year, the family gathers at the table in their kitchen for breakfast. The teenage daughter primps as she puts on make-up; the teenage son grumbles about not having time to finish eating; the big-bellied father attempts to instill order as the mother hands out love with cups of coffee.
Also in 2010, Bennett performed at a fundraiser to benefit Haiti and he performed at African-American Day at the Empire State Plaza.
Bennett was multi-talented, Jordan-Alexis said; he used to do her hair and he also designed clothes and home decor.
"He tried out for America's Got Talent and he didn't make it," said Jordan-Alexis. "He said they weren't ready for him. So he decided to try his own thing and it was going good but … he wasn't getting the financial support to push the production."
Bennett was bisexual, Jordan-Alexis said. "I was never the person to control him. I told him: Be free with who you want but, if you're with me, I'm greedy — I want you all to myself."
She would tell him, "Be true to yourself … Be true to who you are. But I don't want to be in the middle because you know where I stand. If you're with me, I want you all. And that's it."
"He was so talented," she said, "but I gave him his freedom to choose and to be who he is …. Even though we had our lives, he could always call me."
Jordan-Alexis doesn't know how Bennett got together with John L. Seminary in Guilderland, whom she calls Jack. She believes Seminary was abusive towards Bennett. Bennett was cut off from his children, she said.
She said Bennett would get up early in the mornings to go to the barn to feed the animals and talk to her then "so nobody would know," she said. "The stuff he confided in me is really disturbing."
Bennett was frequently beaten, she claimed, and would have "black and blue eyes." Cox said on Tuesday he didn't know if reports of prior abuse against Bennett had been filed with the Guilderland Police.
Cox also said he could not "confirm or deny" if Seminary's father, listed as John L. Seminary on county rolls, living at 3771 Western Turnpike, is being investigated in Bennett's death.
When Bennett tried to leave before, Jordan-Alexis said, he was arrested for drunken driving. Bennett ended up back with Seminary, she said, until he got his driver's license back.
The Enterprise reported on the Oct. 13, 2013 arrest of Bennett for first-offense driving while intoxicated. According to the arrest report, Bennett lived then at 3771 Western Turnpike in Guilderland, the same address listed on voter and assessment rolls for John L. Seminary. The rural property, with a long driveway, has a home with out buildings, and is next to a large equine facility.
"That's how he started working his way back up," said Jordan-Alexis of Bennett. "He bought a home so his children could come up there and live with him. That was our goal next year."
(The Enterprise had also reported on an earlier arrest for Jason L. Seminary. In the spring of 2009, Seminary, then 31 and an unemployed contractor, was arrested with a nightclub entertainer for five felonies: robbery, burglary, assault, grand larceny, and conspiracy, accused of breaking into a Knox home.
"Once inside, Seminary attacked the homeowner by wrapping a belt around his neck and then knocked him to the floor, where he punched him about the head and face," said the Albany County Sheriff's Office at the time. "There was a second male occupant in the home, whom he ordered to the floor, saying that he had a gun and would use it if he got up from the floor. Seminary ordered the second male to turn over his wallet, which Seminary ultimately stole.")
The day before Bennett died, Jordan-Alexis talked to him, she said, and their son talked to Bennett for hours on that Wednesday, Dec. 22.
Bennett was packing up because he was going to move on Friday, Dec. 24, she said. 
As of Monday, when she talked to The Enterprise, Jordan-Alexis had told their daughter about her father's death but had not yet found a way to tell their son.
"I'm still trying to wrap my head around this whole thing and how we are going to tell him," she said.
"He finally got his own place …," she said of Bennett. "He showed my son the room pictures and stuff. It was devastating … That's because he had hopes of coming up to live with his dad."
Bennett's entire family is devastated by his death, said Jordan-Alexis. This includes his father, Clement Bennett, who lives in New Jersey, and his four sisters who also live in the United States: Shelly Ann Tucker in Troy, Nevine Bennett-Bedford in Georgia, Deanne Bennett in New Jersey, and Ann-Marie Crosby in Colorado.
It also includes his mother, Blanche Bennett, in Jamaica and his three brothers, also in Jamaica: Elden Bennett, Anthony Bennett, and Patrick Bennett.
His ashes will be returned to Jamaica, said Jordan-Alexis. "He was the life of his family," she said.
She described Bennett as a gentle person. "You will never find somebody saying he was aggressive to them. I was the aggressor in our relationship."
She went on, describing Bennett's personality: "He was outgoing … When he was there, everybody had to be happy. You couldn't be sulking when he was around because he would have made sure that you had a smile on your face, no matter how sad he was on the inside."
She also said, "He was an inspiration to people in the community … to be free."
Jordan-Alexis concluded, "He didn't deserve this … We lost a good one. We lost a talented one. We lost out on this one. That's what I keep saying: We lost that undiscovered one because … the world wasn't ready for him."