Kelly, who killed friend in DWI crash, given 3 to 9 years for manslaughter
Wednesday, November 20, 2019 - 13:15
ALBANY COUNTY — Harley A. Kelly, of Middleburgh, who was 19 when she killed her best friend in a car crash, was sentenced to between 3 and 9 years in prison by Judge William A. Carter following a manslaughter conviction. 
Kelly is eligible for conditional discharge after one year, and her sentence for manslaughter will run concurrently with her sentence for driving while intoxicated, a misdemeanor.   
Flanked on either side by television cameras, the parents of Kelly's dead friend, Emily Tuck-Fydenkevez, read angry, grieving statements Wednesday morning in the Albany County Courthouse, demanding the maximum sentence.
Family and friends of Kelly sat on one side of the gallery, listening to the statements while supporters of the Tuck-Fydenkevez family sat on the other side. Heads were bowed and tears were shed on both sides.
Before the sentencing, Kelly's lawyer, Tom O'Hern, intimated to the court that, immediately following the accident, Kelly had cut her wrists with a blade, which required "several weeks" of hospitalization.
"Emily was my best friend in the whole world," Kelly told Judge Carter, speaking softly, with her back to the court. "We both made a decision to get in the car that night." 
Kelly said both she and Tuck-Fydenkevez were drunk but that, because Tuck-Fydenkevez "had so much going for her," Kelly took the wheel to keep her friend out of trouble in case they were pulled over.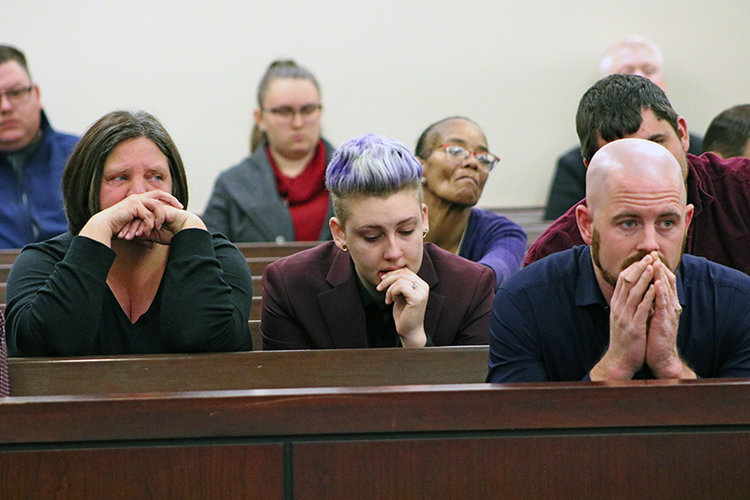 Enterprise File Photo -- Michael Koff
Harley Kelly's friends and family listen to victim impact statements given by Emily Tuck-Fydenkevez's family prior to the sentencing.
---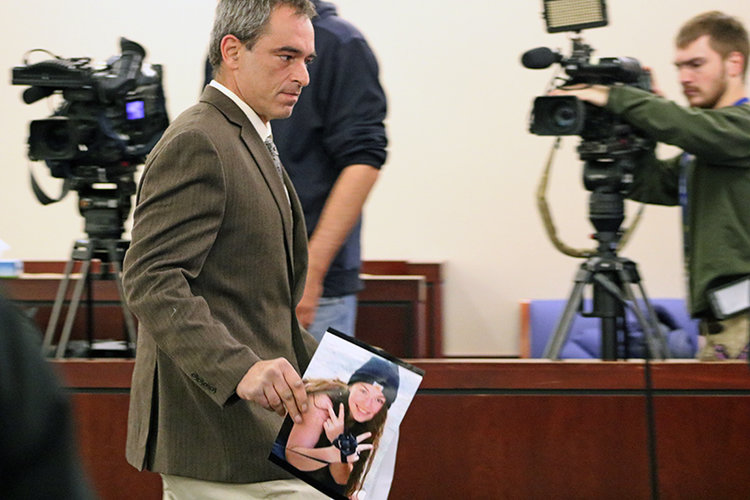 The Enterprise -- Michael Koff
Gregory Tuck, father of Emily Tuck-Fydenkevez, carries a photo of his daughter to the stand.
---
In the early-morning hours of June 9, 2019, Kelly was driving through Rensselaerville with Tuck-Fydenkevez, 19, in the passenger seat. According to a police report, they were coming away from a house party in Coeymans when Kelly failed to stop at the intersection of Pond Hill Road and County Route 10 and drove the car into a pile of rocks at a high speed. Tuck-Fydenkevez died at the scene while Kelly suffered non-life-threatening injuries.
Police found that Kelly, who admitted to drinking at the party, had a blood alcohol level of .16, which is twice the legal limit, along with cannabis in her system. The legal drinking age in New York State is 21 and the use of recreational marijuana is illegal.
Kelly was initially charged with driving while intoxicated, a misdemeanor, along with vehicle and traffic violations. On Aug. 6, Kelly was arraigned in Rensselaerville Town Court before Judge Muriel Frasher and charged with second-degree vehicular manslaughter and second-degree manslaughter, both felonies, in addition to the existing DWI and traffic charges.
Kelly pleaded guilty to second-degree manslaughter and DWI before Judge Carter on Sept. 23 in Albany County Court.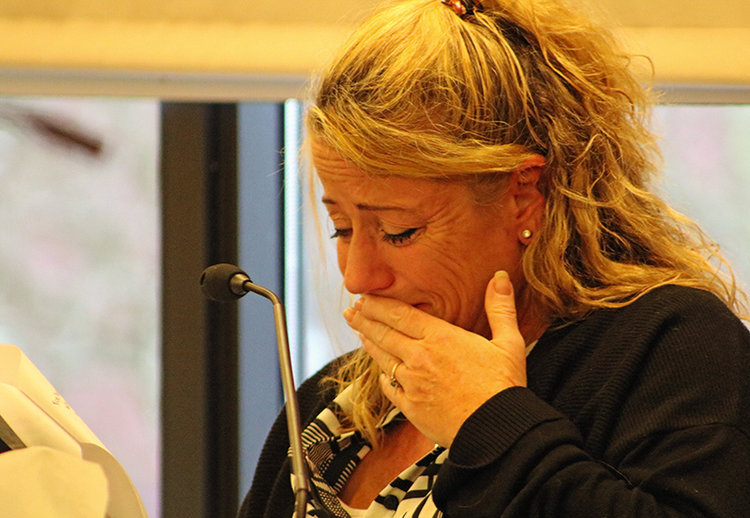 The Enterprise -- Michael Koff
Susan Fydenkevez, mother of Emily Tuck-Fydenkevez, cries as she reads her victim impact statement. "To me, Emily was murdered by Harley Kelly," she said.
---
"To me, Emily was murdered by Harley Kelly," said Tuck-Fydenkevez's mother, Susan Fydenkevez, to the court before the sentencing. "There is absolutely no justice in anything less than the maximum sentence."
Ms. Fydenkevez portrayed Kelly as a disturbed girl who drank heavily "nearly every weekend" and often drove while intoxicated, and whose final foray, to the house party in Coeymans, was to meet a boy she met online.
"I fully believe Harley Kelly is not a first-time offender," Ms. Fydenkevez said, with tearful anger in her voice. "Rather, this is the only time she's been caught." 
Ms. Fydenkevez said she spoke with "mutual friends" of the two girls, who allegedly told her that they had numerously pleaded with Kelly not to drive while drunk.
"Huge fail, Harley Kelly," she taunted. "Huge fail."
Ms. Fydenkevez also expressed disgust toward the Kelly family, whom she said requested that Harley Kelly's sentencing be delayed until after Thanksgiving, while Tuck-Fydenkevez's family "will never have another birthday, never have another holiday with Emily."   
Tuck-Fydenkevez's father, Gregory Tuck, approached the stand with a photo that appeared to be of his daughter, which he thrust angrily in the direction of Kelly and her lawyer as he passed their table.
"Harley Kelly," he said at the stand, "your actions have changed the fabric of the future."
Looking Kelly in the eyes all the while, Tuck described his daughter as an academically talented and creative individual who changed the world around her "without even trying."
"I don't know how she got to be so perfect," he said.
Between idolizing his daughter and criticizing Kelly as "immature and selfish," Tuck offered insight through his own experiences drinking and driving.
"I was 19 years old when I got in an alcohol-related crash," he said, explaining that a friend of his was a passenger, paralleling the night Tuck-Fydenkevez died. "I got a small fine and didn't learn a thing. Thank God I didn't kill anyone.
 "The sentence [Kelly's] getting for killing a human being … is pretty light,"  Tuck said. "I hope you learn something."
"You both made a decision to get in that car," Judge Carter said to Kelly before he issued her sentence. "But you were the driver. You made the worse choice."
Referencing a video that was allegedly made during the fatal drive, Carter said, "I don't know how you explain that away." 
The video was not described in any way.
"You're going to have your sentence," Carter said. "But you're going to think about this every day of your life. I hope you follow Mr. Tuck's advice and do something with your life to make up for this."
After the sentence was issued, Kelly was put into handcuffs and taken out of the courtroom by officers.
"Jesus Christ," murmured a woman from the gallery.