Democrats sweep clean in Guilderland
Wednesday, November 3, 2021 - 09:20
GUILDERLAND — "It's a big-tent party," said Guilderland's unchallenged Democratic supervisor, Peter Barber, addressing the crowd that had gathered at the Italian American Community Center on Election Night.
Behind him on the stage, in front of a giant American flag, were two women who had been foes in the Democratic primary but then successfully campaigned as running mates.
Christine Napierski was the top vote-getter in a six-way race for two town board seats with 26 percent of the votes, according to unofficial results from the county board of elections. Her running mate, Amanda Beedle, got 23 percent of the vote. Absentee votes have yet to be counted.
Republican Brian Sheridan, a pediatrician making his first run for office, came in a surprisingly close third with 21 percent of the vote — surprising because not quite half of Guilderland's roughly 23,000 registered voters are enrolled as Democrats while about a quarter are enrolled as Republicans; more than a quarter are not enrolled or belong to small parties.
Sheridan garnered more Republican votes than Beedle did Democratic votes. The Conservative Party votes Beedle then gave her the seat.
Sheridan's Republican running mate, Amanda Knasel, got 19 percent of the vote. The Republicans, unlike the Democrats, had no small-party lines.
Napierski had pushed the Democratic Party to use a primary rather than a caucus to select candidates after the Democratic Committee had passed her over, choosing another candidate for town justice after she had been appointed to the post.
Napierski ran in June's Democratic primary — the town's first — with Kevin McDonald. The major issue was development. McDonald and other Westmere residents had sued to stop Pyramid's plans to build a 222-unit apartment complex near his residential neighborhood as well as building a nearby Costco.
In the primary, they were opposed by Beedle who, as planning board member, had voted to approve the projects, and by incumbent Councilman Paul Pastore, who had voted to appeal the court decision that had temporarily halted the projects. Barber had argued in court in favor of Pyramid's plan, and the lower court's decision was overturned.
McDonald actively campaigned for the November election on the Working Families line and got 7 percent of the vote. Pastore, who did not actively campaign, retained the Conservative line and received 4 percent of the vote.
The incumbent town clerk, Lynne Buchanan, was unchallenged and received 71 percent of the votes on the Democratic line and 28 percent on the Conservative line.
Incumbent town Justice Denise Randall was also unchallenged and received 65 percent of the vote on the Democratic line, 25 percent on the Conservative line, and 8 percent on the Working Families line.
"I'm just happy that in Guilderland people rejected the anti-science, anti-climate change, authoritarian Republican view," Napierski told The Enterprise on Election Night.
"We were willing to work together," said Beedle, saying that appealed to voters. "They want constructive conversations."
She also said about McDonald's failed attempt, "There was a primary for a reason … Splitting votes is very dangerous in an election."
McDonald and his wife and supporters waited to hear results on Tuesday night at Athos, the Greek restaurant in Guilderland where he and Napierski had waited for primary results in June. Among his supporters was town board member Laurel Bohl, a Democrat who was herself elected on a platform opposed to massive development.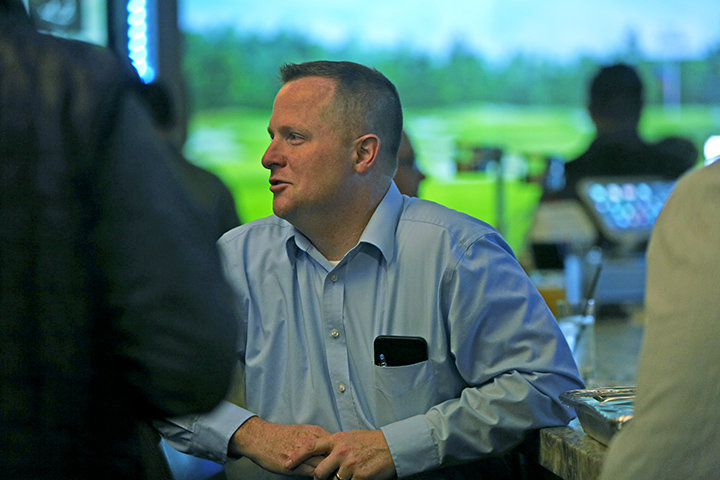 The Enterprise — Michael Koff
Republican Brian Sheridan waits at The Bunker in Guilderland for election results on Tuesday night.
---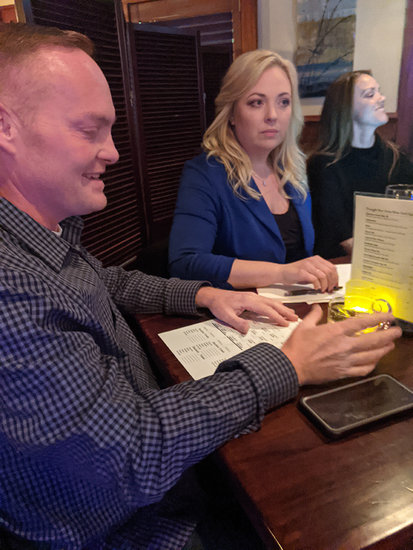 The Enterprise — Melissa Hale-Spencer
Kevin McDonald and his wife await results on Election Night.
---
"A good night"
The crowd at the Italian-American center on Election Night numbered about 300 and included Democrats from across Albany County as well as media, with a line of television cameras facing the flag-draped stage.
Attendees sipped wine and ate from platters of cheeses and vegetables as they talked in small groups and awaited results.
At about 10:15 p.m., Jacob Crawford, the county's Democratic chairman, who also chairs Guilderland's committee, took to the stage.
"It's been a good night for Democrats in the city of Albany," said Crawford as a line of Common Council victors stood behind him fronted by Mayor Kathy Sheehan, who won with 62 percent of the vote in a three-way race.
The city workforce never stopped working throughout the pandemic, said Sheehan who will now serve a third term. "We are on a trajectory to move our city forward," she went on.
Sheehan concluded, "That's what Democrats do. We fight for working families. We fight for our communities."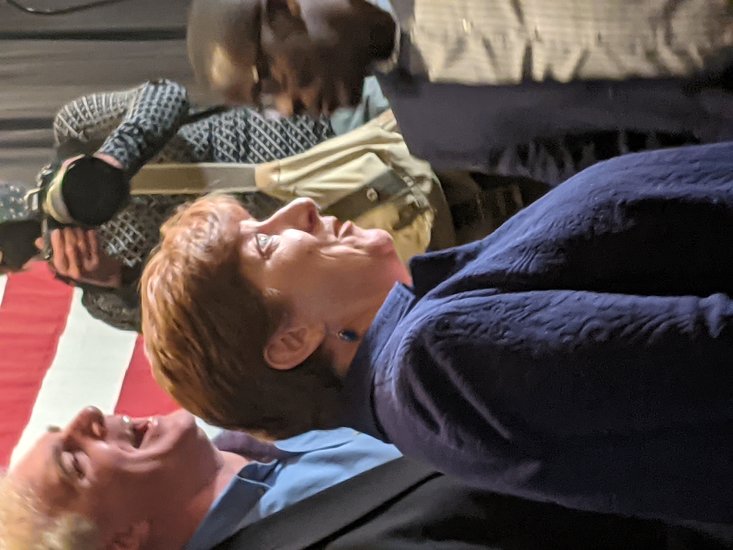 Next up, at about 10:45 p.m., were incumbent county Clerk Bruce Hidley, who garnered 64 percent of the vote for a third four-year term, and William Little who was unopposed for a 10-year term as county court judge.
"I love my job. I love representing you as Albany County clerk," Hidley told the crowd.
Little, an African American, called the Democrats "a party of inclusiveness" and told a story about being a young associate and seeing a Supreme Court judge "that looked like me for the first time."
"It did something special to me …," said Little. "It made me realize one day, I could have my own courtroom." He said, to applause, that he hoped his election would inspire kids to see themselves in him.
Not all the Democrats in the county won. While the Hilltown losses were not acknowledged from the stage at the Election Night gathering, a Colonie contingent was the penultimate act.
"I wish this had gone a different way," said Kelly Mateja who lost the Colonie supervisor's race to Republican Peter Crummey with 43 percent of the vote to his 57 percent.
Mateja said she was overwhelmed with appreciation for the work of her team and wished success for Crummey.
The final act was by the Guilderland players as Barber lauded the people — Napierski and Beedle — who, he said, grew together as they campaigned together.