Bonded through a moment of life or death
Thursday, October 31, 2019 - 16:12
GUILDERLAND — Alex Stevens, 24, of Hoosick Falls, who works as a Guilderland emergency medical technician, has become close friends with the man he saved one night as he traveled the Northway while off-duty and happened to see the wreckage of a motorcycle crash on the other side of the divided expressway.
"He's a really nice guy, about my age," said Stevens of the man he saved. 
That man, Kevin Sarsick, 23, happens to be a firefighter and an EMT himself. 
He echoed Stevens's sentiment, saying that the two were now "absolutely" friends, a bond that began when Sarsick reached out to express his gratitude. Sarsick took Stevens out to dinner; they talked for hours and have stayed in touch since.
Stevens was among a group of individuals honored by the American Red Cross as "Real Heroes" at an award ceremony Tuesday night in Troy. 
This award is also eerily similar to one Stevens's father, Glennn Stevens, received many years ago, also from the Red Cross, also for saving a motorcycle crash victim.
Alex Stevens was 18 when he got his first EMS card, in Alaska, where his family had moved following his father's retirement. But he grew up, he said, riding along with his dad in an ambulance since he was 13. His father spent 20 years as a police paramedic in Guilderland and retired as a sergeant in 2010. 
Another Real Heroes award with Guilderland connections was a Good Samaritan Award given to Liz Filippone, a fitness instructor who was leading a class at a local gym when a participant collapsed. Filippone gave the man CPR and also used a defibrillator to shock his heart several times, while waiting the 10 minutes or so until an ambulance arrived.
Three other participants in the class, Jean D'Angelo, Grace Furdon-Reinhardt, and Lily Habich, who also received awards, helped by calling 9-1-1 and getting the automatic defibrillator machine. Filippone and Habich both live in Guilderland.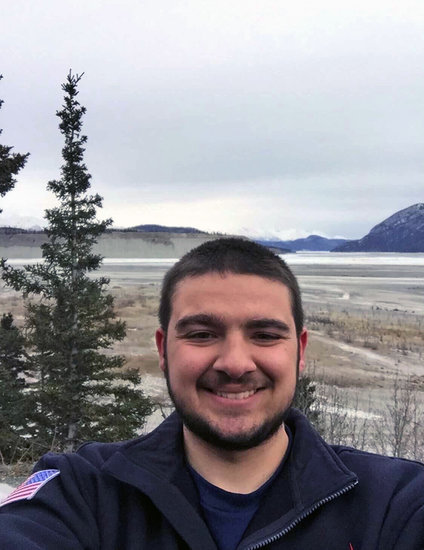 — Photo from Facebook
Alex Stevens poses for a photo on the Copper River in Alaska, where he lived for a few years and worked as an emergency medical technician before taking a job with the town of Guilderland's ambulance service.
---
Northway crash 
Alex Stevens, who was living in South Glens Falls at the time, was driving to meet a couple of friends from the Guilderland Fire Department for dinner one night in September 2018, he said, "scanning the roadway like you do." Around Exit 9, he "saw wreckage strewn over the road, and didn't see any red lights yet." 
Since there were no flashing lights, he knew that no first responders were on the scene yet.
He put on his lights and his flashers, so his car would be visible, and pulled over to the left shoulder and parked. 
After grabbing the take-home medical bag he keeps in his car, he crossed the median on foot to reach the accident in the left lane of the northbound side. 
Traffic was not moving in either northbound lane, Stevens said, because "wreckage was all over and there was no way to get around it." 
Other drivers had gotten out of their cars and gathered nearby. 
Stevens reached the unconscious man in the middle of the road and began assessing his injuries.
The man was unconscious and was "agonally and poorly breathing," he said. 
The man was "very traumatically injured in the accident," Stevens said, with open fractures to his right leg and angulated fractures to his right arm. 
By asking the bystanders for help, Stevens was able to insert a tube down his nose to keep his tongue out of his throat and assist him in breathing.
"I had just normal everyday people who were there, handing me stuff," he said. 
Stevens would explain to them what he needed from the medical bag, and they would find it and bring it to him, he said. 
He splinted the man's arm and packaged him for traveling, Stevens said. 
Stevens had assessed that he would not bleed out from his leg, and that there wasn't much he could do to treat the leg. 
When the Clifton Park-Halfmoon ambulance arrived, Stevens worked with the staff to help splint the man's leg and get him ready for transport. 
It was a member of that ambulance crew who nominated Stevens for the Red Cross Medical Award, said American Red Cross Eastern NY spokeswoman Kimmy Venter. The nomination said that the scene was "really chaotic" and that the first responders had commended Stevens's "professionalism and compassion."
Echoes 
The award that Alex Stevens received this week echoes one that his father was given many years earlier. 
Glenn Stevens told The Enterprise this week that he was 16 and riding around the village of Lake George with a buddy on motorcyles when they happened upon a motorcycle accident. Glenn Stevens, who was by that age a member of Junior Ski Patrol and Junior Rescue, had already had a "significant amount of training" for his age, he said, and was able to open an airway, get the crash victim breathing again, and stabilize him until the ambulance arrived. 
 Glenn Stevens said of his son's award, "It's great. His dedication to service is certainly commendable, especially being a young man and starting his career the way he is." 
Alex Stevens also works part-time with several other crews and volunteers for still others. He is studying to become a paramedic. 
He was surprised and happy to learn of his award, Alex Stevens said. 
"I got an email," he recalled, "and I was like, 'Wow, that's kind of cool!'"