Mother supports bills to allow heightened charge for unlicensed drivers
Thursday, October 25, 2018 - 14:36
It's been a year since Roger Sawyer of Guilderland died on his bicycle, hit by a sport-utility vehicle as he headed to work before dawn. A group of about 35 family members and friends gathered Friday night at the place where he died, to lend each other strength, hold candles, and release lanterns that traveled up into the night sky and disappeared.
"It's lit up here like a Christmas tree," said Patricia Sawyer, Roger's mother, of the intersection in front of Crossgates Commons, where she said that bright lights stay on all night. "But he didn't see him," she said, referring to the driver who hit her son, who, according to the Albany County District Attorney's Office, was driving without a license and was speeding.
Albany Police say that Roger Sawyer was crossing against the light, and, since "pedestrian error" rather than driver fault caused the accident, no criminal charges were brought. Albany Police also say the driver wasn't speeding and that he had a permit to drive but did not have an adult with him, as required.
The driver was Devon Stroman, who was then 26, of Troy. Stroman could not be reached for this story.
Patricia Sawyer wishes that the driver could have gotten a heightened charge, the way a drunk driver who kills someone might. She supports an Assembly bill, first introduced in 2005, that would make it possible to bring a charge of vehicular manslaughter — a class E felony — against a driver whose negligence results in a death.
The bill has languished every year in the Codes Committee, according to its prime sponsor, Assemblyman Andrew Raia of Long Island.
Under current law, a driver who kills someone may be charged with criminally negligent homicide, also a class E felony, but case law has only allowed these charges to stand when a driver can be shown to have violated at least two traffic laws and knowingly created a grave risk of death to the victim. Raia's bill calls the current standard is "too high."
Raia told The Enterprise that the bill has bipartisan support, but that it doesn't matter, because, "The Assembly majority likes to coddle criminals."
Another bill, A3759, introduced in January 2017, would include within second-degree vehicular homicide, which is a Class E felony, causing serious injury while knowingly driving with a revoked or suspended license or without a license; this bill is sponsored by Assemblywoman Aravella Simotas of Queens and is currently in the Codes Committee.
The memo for that bill states, "In recent months, more attention has been paid to the fact that drivers with suspended licenses in New York State are still getting behind the wheel — and killing people. Ten percent of all crashes in New York are caused by drivers with suspended or revoked licenses, and 75 percent of those drivers still get behind the wheel. Often, these drivers are suspended for reasons related to traffic safety."
It continues, "While we cannot turn back the clock on past accidents due to driving with a suspended license, we can make it more difficult for people to engage in this activity in the future. We must redouble our efforts to make our streets safer, including bringing chronically reckless drivers to justice."
The criminal investigation into the accident closed without any charges, said Officer Steve Smith of the Albany Police Department this week. According to Smith, investigators found that "there was no fault of the vehicle." Instead, Smith said, investigators found that "unfortunately there was pedestrian error," and that the bicyclist had crossed while traffic was still moving westward.
Cecilia Walsh, spokeswoman for the Albany County District Attorney's Office, said that the driver had been unlicensed and also speeding; Smith of the Albany Police Department, however, said, "We don't have anything to indicate the driver was speeding."
Smith said Stroman had a permit, but not a license, and that he was required to have an adult licensed driver with him, but that he did not.
Patricia Sawyer told The Enterprise that, when she and her family went to the district attorney's office on March 8 to hear what the police investigation had found, she was told that the driver had braked just before hitting Roger at 61 miles-per-hour.
Smith said that officers tried, within the last couple of months, to issue a ticket for unlicensed operator, a violation, but were unsuccessful, because Stroman did not appear in court.
Attorney Daniel Dagostino of Martin, Harding & Mazzotti, who represents the Sawyer family, said that, while the criminal case is closed, the civil matter is pending. No lawsuit has been filed as yet, he said.
Dagostino said that he and his clients are aware of the police report but are "not in complete agreement" with its conclusions.
"They're a great family, and what happened is a real travesty," he said, adding that, because the case is still ongoing, he could not discuss the details.
Dagostino said he hoped Patricia Sawyer's voice would be heard, in regard to the bills she supports. "Any positive that can come out of this, Patty is going to make sure that it does, so that it doesn't happen to another family."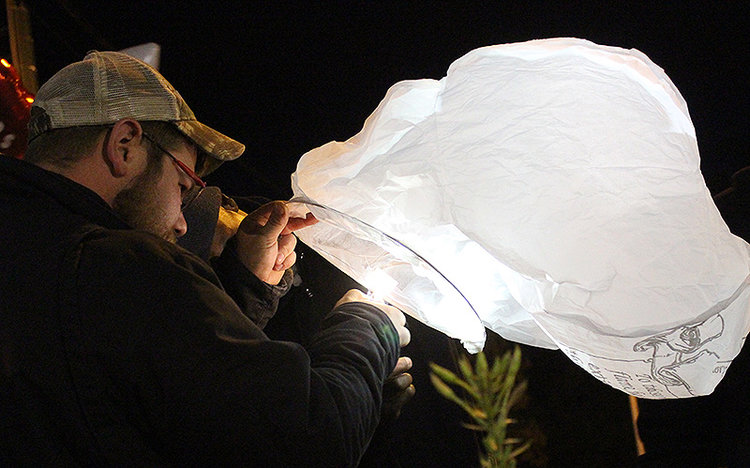 The Enterprise — Michael Koff
Josh Sawyer, the youngest of Roger Sawyer's three brothers, prepares to release a lantern near the site where Roger Sawyer died a year ago, struck by a sport-utility vehicle on Washington Avenue Extension.
---
What happened that day
At about 5:30 a.m. on Oct. 19, 2017, Roger Sawyer was on his way to work. He had left the home he shared with his parents on Johnston Road.
Every day, he rode his bicycle along back roads, taking Springsteen Road to Washington Avenue Extension, across, and then through the plaza's parking lot to Lincoln Avenue and over to Central Avenue, where he would catch the bus to Marcella's Appliance Center in Schenectady. He worked as an appliance installer.
A detective told Patricia Sawyer that her son likely saw the sport-utility vehicle, a Dodge Suburban, coming fast from the east along Washington Avenue Extension and turned left onto Washington Avenue Extension to avoid it, but that the SUV was already almost upon him, she said.
The police accident report shows that Sawyer crossed over the eastbound lanes and then turned left along the guardrail of the westbound lane, where he was hit.
Before dawn, it's very dark along Springsteen Road and Lincoln Avenue, but not at the crosswalk on Washington Avenue Extension, his mother said, an irony that clearly angers her. "He couldn't see him," she said of the driver, her fingers curving into air quotes.
Her son was dragged about 100 feet, Patricia Sawyer said she heard from police.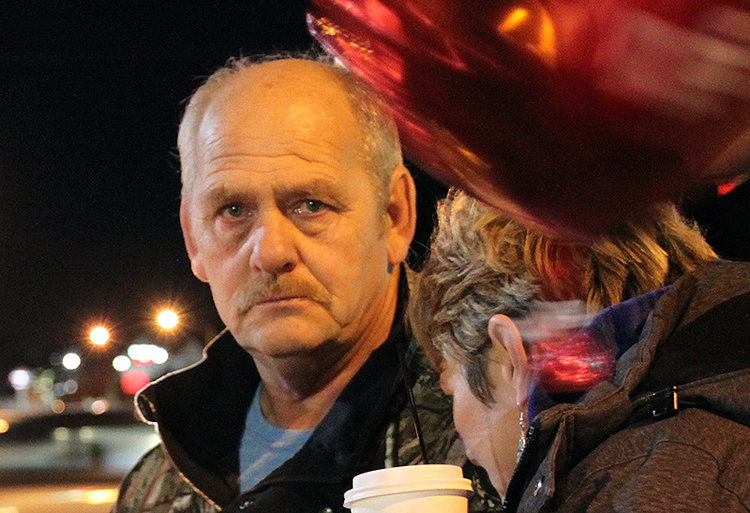 The Enterprise — Elizabeth Floyd Mair
Clarence Sawyer Jr. stands just off the road at the intersection where his son died a year earlier, on Oct. 19, 2017. His wife, Patricia, rests her head on his shoulder. About 35 family members and friends gathered at a vigil Friday night to remember Roger Sawyer, who was 30, a star high-school wrestler, and a beloved son, brother, and uncle.  
---
A family's frustration
Since her son's death, Patricia Sawyer has learned that drivers who are unlicensed and also speeding don't face the possibility of a charge of vehicular manslaughter, as they would if they were intoxicated and hit and killed someone.
Stroman, who wasn't drunk, should be treated as harshly as someone who was, Patricia Sawyer believes.
"He's not on anything, so his mind should be clearer" than that of a drunk driver, she said.
"We might as well tell the public, 'It's OK to drive without a license and kill, and get away with it," she said, adding, "A vehicle is a weapon just like a gun. It depends on the person behind it."
Ghost bike stolen
After the accident, a white "ghost bicycle" appeared on Washington Avenue Extension, where her son was killed, Patricia Sawyer said. Ghost bikes are placed anonymously by groups of cyclists, meant to remind drivers to share the road.
Then, one day a couple of months ago, the bike was gone, she said. Roger's older brother, Clarence Sawyer III, who goes by the nickname Skippy, called his mother to ask where it was. She told him she had seen it that same day, when she drove along Washington Avenue Extension, and he went off to look around the area for it, thinking that perhaps it was lying in a ditch.
Skippy Sawyer looked everywhere, and then saw a man with a pickup truck full of junk, pulled over on the busy highway and getting the ghost bike out of the back, preparing to return it to the side of the road, he said. The man told Skippy Sawyer said that someone else had stolen the bike and he was bringing it back. Skippy didn't believe that story, and witnesses later confirmed to him that the man with the truck had stolen it, he said.
Roger Sawyer's name had been laminated and attached to the bike, but it had been cut off, Patricia Sawyer said.
The family is just happy to have the bike back in its place, she said. At the vigil, Roger Sawyer's family and friends gathered around it to remember him.
Time doesn't heal
A year hasn't made the pain any less, Patricia Sawyer said. During her off-hours from work as a school-bus driver, she sits in a recliner at home every day watching TV, "lost in another world," she said.
Before, she was always busy, cooking or crocheting, but she has no energy for those things now. "Missing him is tearing me up," she said.
Skippy had worked alongside Roger at Marcella's Appliance Center; he left after Roger died because, he says, "I could not stand not seeing my brother." Skippy Sawyer still works as an installer, at a different company.
His commute takes him along Washington Avenue Extension every morning, he said, and he cries. He wakes up crying. He has dreams about his brother, "him coming up and telling me he's good."
He feels "horrible" when he wakes up, and curls up closer to his daughter, Autumn, who is almost 2. "We've got a nice, tight family," Skippy Sawyer said. "I just wish he was here."
Patricia's husband, Clarence Sawyer Jr., nicknamed Skip, is filled with regrets, he said. He thinks about it every day.
On rainy mornings, Roger would wake him up and ask him for a ride to the bus stop. Even though the weather was nice that day, he often says to his wife, "Why didn't he wake me up?"
Skip Sawyer comes often to the place where his son died, to care for it. He takes a weed wacker to the edges of the scruffy brush bordering the road and picks up the refuse with a rake. He collects "all the papers and stuff."
He says, "Sometimes I feel responsible. I didn't give him a ride to work that day."