Berne medical practice to use video feed and proxies to visit homebound patients
Monday, October 1, 2018 - 16:28
The Enterprise — H. Rose Schneider
Robin Brion, a volunteer at Helderberg Ambulance, takes the blood pressure of Thomas Doolin, a physician's assistant at CapitalCare Family Medicine in Berne. Brion is training to be a "vitalist," meaning he will conduct a home medical exam but have the results and a video feed of the patient transmitted to a practitioner like Doolin.
BERNE — A new program at a medical practice in Berne will use a video feed and members of Helderberg Ambulance Squad to perform home visits.
Dr. Kristen Mack of CapitalCare Family Medicine is heading the Vitalist Health Program, which is set to begin in mid-October. Mack will be communicating from her office on Helderberg Trail with patients at their homes using a live video feed.
"We saw a need to get to our patients," said Mack, explaining that both weather and rural roads can make it difficult for patients to get to the doctor's office. Elderly and frail patients can have a particularly hard time, she said.
Mack, a doctor of osteopathic medicine, is the sole physician at her practice. She said she already conducts home visits, but has had trouble leaving her office to do so. She said that she has brought this up with members of the community, starting a discussion about a year ago with Helderberg Ambulance about another way to reach isolated patients.
"Their response has been phenomenal," said Mack.
She and the ambulance squad developed a procedure, and her office applied for an "innovation project" grant through the Alliance for Better Health, a state-funded performance-provider system, and were given the grant on June 29. The project received funds because it is a new idea being proposed, said Mack.
"We have such a strong community here," she said.
A "vitalist" can be any community member that has been trained, but Mack said that volunteers from Helderberg Ambulance are ideal because they are such an integral part of the community patients may already know them as emergency responders.
The vitalists will communicate with either Mack, physician's assistant Thomas Doolin, or nurse practitioner Jill Martin.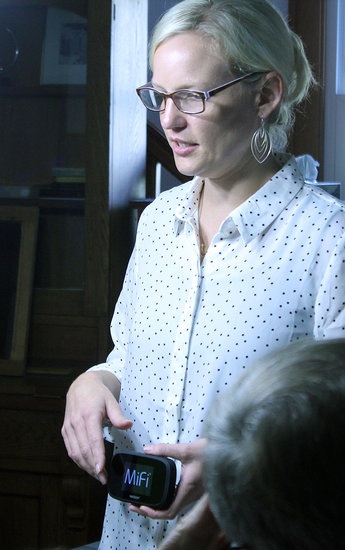 The Enterprise — H. Rose Schneider
Dr. Kristin Mack shows a group of emergency medical technicians how to operate a "MiFi" device in their training to become "vitalists" who visit patients and take vital signs while a doctor speaks with the patient over a video feed. The "MiFi" ensures vitalists always have internet access.
---
Mack said that the members of the ambulance squad came forward with the intention of volunteering, but the practice is paying them as new staff members. She hopes that this will draw more people to participate as well. The work will be like that of a part-time job, with the vitalists either being on call for "emergent care" or going to a scheduled visit.
Training began Friday afternoon and will continue in the coming week for nine members of Helderberg Ambulance squad to learn how to be vitalists and take vital signs — like blood pressure and temperature — and perform a medical exam at a patient's home while Mack communicates with the patient over a video feed. Mack's staff as well as Dr. Gary Kolanchick, who had been Berne's doctor before retiring, will help train them.
The video feed will be compliant with the Health Insurance Portability and Accountability Act, or HIPAA, that accounts for patient privacy.
On Friday afternoon, about half of the trainees gathered to learn about their new profession and practice with the digital equipment that would let themselves and a doctor know a patient's vitals. One item was a stethoscope that sends the sounds of a heartbeat or lungs to both an iPad and the to doctor remotely.
A device known as "MiFi" will provide internet access to the vitalists, but Mack said that she is screening the first round of patients to find out if they have a working landline and internet. Patients do not have to have any qualifying factors, but Mack said that they are seeking out those who are "high-risk" initially, such as those who have had frequent hospital visits.
Mack was initially unsure about how far-reaching this initiative could be. She asked the trainees if they would be willing to travel to nursing homes in Delmar or Clarksville.
"We go that far to go shopping," remarked Rosemary Gebe. Ray Schimmer later added that the volunteer ambulance squad will travel as far as Troy, Amsterdam, and Schoharie County.
The trainees were drawn to the program with the hope such precautionary treatment of vulnerable patients might avoid their having to visit the patients in their other role as EMTs — bringing them to a hospital, which would cost the patents more money and more stress than a doctor's visit.