Knox dairy farmer who couldn't break even sells his cows
Thursday, September 27, 2018 - 11:17
KNOX — When Paul Keppler wakes up in the morning, for the first time in years, it's quiet. But it's not peaceful; it's unsettling. Because, on a farm, a quiet morning means something's wrong.
"If you go to a farm, there's always something going on," he explained.
Now, he said, there are no fans running in the barns, no vacuums pumping milk, and no cows lowing. In early September, after being unable to break even for months, Keppler and his family sent their cattle — 62 dairy cows and about 40 young stock, or calves — to an auction out west. Two large barns now sit empty on his property.
"Can't really do much for them; they're set up for a dairy operation," said Keppler, who is 54.
The decision to end an operation that he's been a part for nearly his whole life left him heartbroken.
"If you do something you enjoy then, to get rid of it, it hurts," he said.
His dilemma is not unique.
Ten percent of dairy farms across the country shut down just last year, according to the national Farm Bureau. And, according to Steve Ammerman, spokesman for the New York Farm Bureau, New York State alone lost around 1,000 dairy farms since 2012.
"We've lost almost 20 percent of dairy farms in New York in the last five years," he said.
Recently, President Donald Trump's trade wars have hurt United States dairy farmers.
"We think tariffs ultimately only hurt farmers and can potentially damage the market," Ammerman said.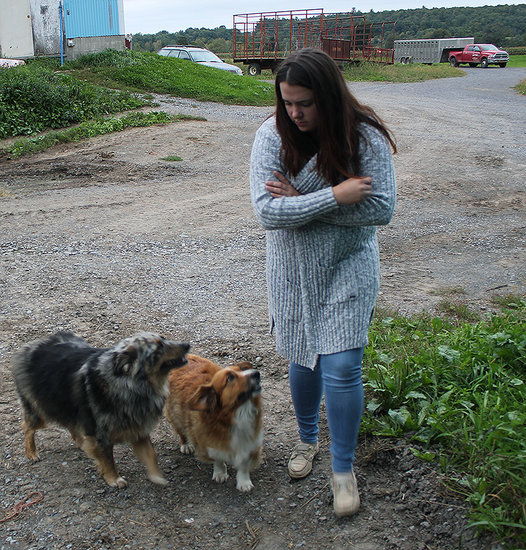 The Enterprise — H. Rose Schneider
Cheyenne Keppler stands with her two dogs, Moose and Jackson, at her family's farm in Knox on Monday. Behind her, the last of the Keppler cattle are being loaded into another farm's truck.
---
The Farm Service Agency, under the United States Department of Agriculture, is now administering payments to farmers under a trade mitigation program in what is described as temporary aid that "will allow President Trump time to strike long-term trade deals to benefit our entire economy," according to a press release from the USDA.
The signup period for this market facilitation program runs until January, and offers payments to those "significantly impacted by the actions of foreign governments." Payments are based on half the total production of a farm, with dairy farmers receiving 12 cents per 100-weight, which Ammerman said is not a considerable amount.
"It is some relief for farmers," said Ammerman. "We don't know how much in reality it will really help."
Under this program package, the USDA is also helping find new markets for farmers, and intends to purchase and distribute commodities for food. Last month, the department announced it would be purchasing $50 million worth of milk.
"They want trade; they don't want aid," said Ammerman, of farmers.
The aid came too late for the Kepplers.
Paul Keppler's daughter, Cheyenne, observed the irony of a farming celebration on the same day as her family worked to close down their dairy operation. The Tommell Farm, a thriving beef farm nearby, was hosting the Cornell Cooperative Extension's "Family Farm Day." She fumed on Facebook as she saw photos of politicians posing for pictures at the event while she and her family "cried as we loaded up our last round of cows, shut the milk pump off for the last time and watched the cattle trailers pull away."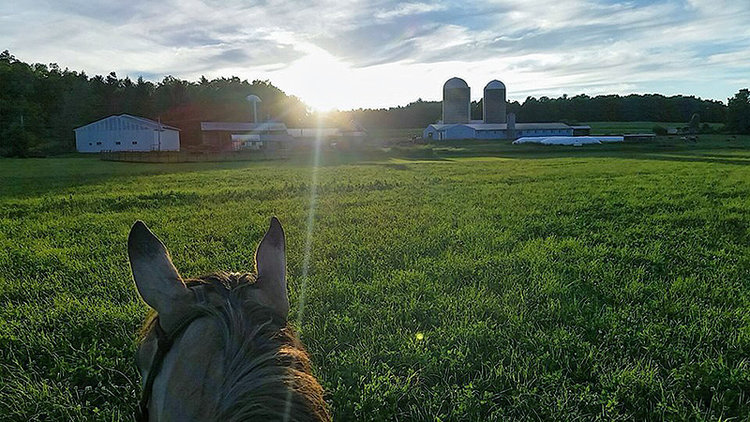 — Photo from Cheyenne Keppler
"It's too quiet": The view of Knox Valley Farm from the back of Cheyenne Keppler's horse shows two grain silos and turquoise-colored milking parlors. While her horses have stayed, her father sold his dairy cows earlier this month, leaving the farm eerily silent.
---
---
In an earlier post, she put up photos of her family's black-and-white Holsteins and reminisced about fresh milk in the mornings and spreading manure on a hot day. But her frustrations poured out as well:
"You who vowed to buy local products — and then went to Walmart to get your dairy and produce. You who asked what can we do to help. You talked a big game. We waited. We tried for years to come out on top. We waited for you to save us. You failed us. You failed every small farmer across the country. Now we watch every last cow get loaded into a trailer," she wrote.
Cheyenne Keppler, who is 22, said that, when she was younger, she had never thought much of what the future held for her family and the farm. She assumed she or her older sister — who, like her, now works for New York State — might have had a boyfriend who would want to work the farm, or maybe her father would just keep working into his eighties.
"That's not realistic but, when you're 12 or 13, you don't look past 15 or 18," she told The Enterprise on Monday. "We just thought it was going to be a dairy farm forever."
Paul Keppler's parents — Inez and Paul Sr. — bought the farm and about 80 dairy cows and young stock in 1966 when he was still a young child. Keppler grew up on the farm before taking it over with his brother, Patrick, in 1985. The two have done much of the work themselves, with some part-time help from local youth in the summer.
Paul Keppler said that he is thankful for his brother's help as well as for help from two volunteers — Carter Warner and Jeremy Springer — who worked on the farm for no pay.
"Whenever I needed help, they showed up," he said.
Keppler has spoken to other farmers — his friends and neighbors — both before and after he made his decision to sell his cows. This group of farmers all inherited their farms, or at least had a parent who was a farmer.
But there are now very few dairy farms left in the Hilltowns, said Keppler, recalling a time when drivers on the Knox-Gallupville road could easily see eight or nine farms; now there is only one. Keppler can't fault the younger generation for not getting involved.
"A young couple, a young person who wants to get involved in farming right now could never afford to get in farming," he said.
"I enjoy farming, I enjoy cows, I enjoy the open space … ," Paul Keppler said. "I don't see a neighbor for miles; there ain't neighbors for miles. I do what I want back here; it's just freedom, I guess, freedom."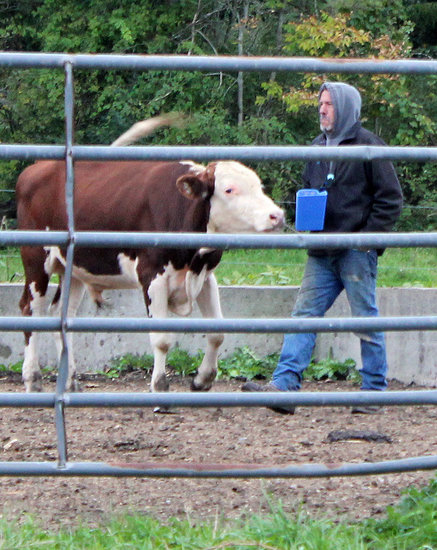 The Enterprise — H. Rose Schneider
Paul Keppler stands near a young bull at his farm in Knox on Monday. He sold his dairy cows earlier this month after milk prices dropped to the point he couldn't make a profit, and has decided to sell hay and corn instead.
---
---
The economics of farming
Keppler and his brother have also been growing hay, and this year began growing corn as well. The dairy cows provided their main source of income, and they are gambling on whether what had once been a supplementary income can sustain the farm alone, now that the expenses of running the dairy farm are gone.
"It's going to be one day at a time … ," Keppler said. "Don't got no backup plan …. First time in my life I don't got a steady paycheck."
Keppler's farm was part of the farmer-owned dairy cooperative through Cabot Cheese in Vermont. The milk produced at his farm was delivered to Cabot, where it would be processed. A month later, he'd get a check back with what he earned, and often it was less than what he spent on his cows and his farm.
"It's been under for years now," Keppler said. "We've just been holding on and holding on and hoping for better days."
Keppler said that he was paid about $15 per 100 pounds of milk (roughly 11 gallons of milk) before he decided to close the farm. It's the same price that his parents were paid during the 1960s and 1970s, he said. The difference being, of course, the cost of everything else, he said, including feed for the cows ($1,200 a month), diesel for the tractor ($3 a gallon), and the tractor itself ($50,000 to $70,000).
"When you work 14 hours [a day] and get paid nothing — I get tired," he said.
When Keppler took over in the 1980s, milk was around $17 to $18 per 100-weight, he said. Even a few years ago, there was a spike in prices that saw milk going from $14 to $24 and $25 per 100-weight.
Keppler attributes the most recent price drop to the surplus of milk in the country. He blames most of this on factory farms, which he defines as those having 500 to 5,000 cows.
Keppler also noted that production has gotten "too good," saying that an average cow has gone from being able to produce 15,000 pounds of milk per year to being able to produce 28,000 pounds of milk. His daughter added that so many more people are no longer drinking milk.
Keppler said that he was fed up with local politicians who didn't offer concrete answers. He had grudgingly applied for any program offering assistance to the farm but didn't qualify, Keppler said.
"A farmer don't want handouts," he said.
He thinks a quota system could work, but that it wouldn't provide relief until a few years after it was enacted.
"Big farmers don't want that … ," said Keppler. "Family farms would love that, because it would hurt the big farms and help the small farms."
Glut explained
Where did this glut, and subsequent price cuts, come from?
Ammerman said that there had been a push four or five years ago for farmers to increase their production as milk prices increased.
Yogurt proved to be an incredible drive, especially Greek, or strained, yogurt which is produced with more milk. Farmers restructured their businesses, often buying more animals.
Ammerman said that yogurt and cheese remain in high demand, but demand for fluid milk has decreased.
The problem, was, said Ammerman, when demand was no longer as high, farmers still had the same amount of milk to sell.
"You don't just turn off the cows' production," he said.
Farmers aren't likely to be selling some of their cows or cutting back on production in any way, said Ammerman, despite the glut of dairy. The "double-edged sword" is that farmers now need to produce that extra milk to make the most of the low prices received for them.
"Our farmers set our policy," said Ammerman. But, unlike Keppler, most farmers don't want a quota system or a supply-management put in place, he said.
Solutions?
What solutions, then, are out there for farmers?
Ammerman said that the Farm Bureau has been looking at the federal Farm Bill for answers: changes to the Dairy Margin Protection Program — a safety-net program for small and medium-sized farms — a new crop insurance program, and asking the United States Department of Agriculture to look into a milk-pricing system that would better inform farmers about the market for dairy.
Ammerman said that the bureau is also advocating to reduce regulations for dairy farms to increase production, and to have the state help with marketing local milk.
But at the state level, there is less that can be done, said Ammerman.
"It is a hard situation because ultimately it comes down to supply and demand," he said.
So what can be done at the state level?
According to Richard Ball, the New York State Agriculture Commissioner, his department has been active at the federal level in lobbying for policies to help dairy farmers, stressing as the importance of trade.
The department will also participate in the Tri-National Agricultural Accord, in which agricultural officials from Canada, Mexico, and the United States meet to discuss trade and development issues in agriculture.
At the state level, said Ball, the department has reconvened the Milk Marketer Advisory Council, which is made up of members from the Farm Bureau, the Secretary of State's office, Cornell University, dairy producers and processors, and dairy farmers.
According to Ball, what the state can do to alleviate the situation is to help increase the productivity of dairy farms by modernizing. He said the state has, over the last two years, invested over $50 million in farms to increase their capacity.
The department has partnered with Empire State Development to market local milk and other dairy products with its "New York Grown and Certified" program.
"We happen to be a few hours away from the biggest market," Ball said of New York City.
Ball also said that the state has combined its anti-hunger efforts with boosting dairy profits by providing incentives in school cafeterias to have at least 30 percent of their menus be made from New York State products.
Ball said that, rather than "supply management," which is what a quota system is, the industry is going toward "managing supply." He said farmers didn't want government to dictate how many cows they could have, and that the government can either try to throttle milk production or encourage market growth.
Ultimately, said Ball, it comes down to either selling more product or trying to have a viable production.
World view
Ammerman said that a major factor in a surplus on the domestic market is the constraints on exporting milk overseas. Low demand overseas stems from a number of factors, he said, ranging from Russia closing off dairy imports and creating a glut in Europe, to increased production in places like New Zealand.
But the main issue now lies in volatile trade deals with countries like Canada, Mexico, and China. Milk had been increasing in price, reaching $18 per 100-weight, said Ammerman. Then, when Trump's trade wars began in June, prices fell by 10 percent, he said, and cost the state $125 million.
President Trump's tariffs against China total $200 billion, with China retaliating with its own tariffs on $60 billion worth of U.S. goods. Retaliatory tariffs from China and Mexico are estimated to cost dairy farmers as much as $16 billion.
While the president came to a tentative agreement with Mexico — a huge purchaser of New York milk — a month ago on the North American Free Trade Agreement, he has threatened to remove Canada from the agreement altogether — although Congress has said this can't be done on the current U.S. legal path.
The dairy market could be a key component of NAFTA talks with Canada. Canada's dairy market operates under its own supply-management system, but also targets U.S. dairy imports through tariffs to make it cheaper for Canadians to purchase items like ultra-filtered milk domestically.
The most positive outcome, according to Ammerman, would be Canada opening up trade for U.S. dairy imports, particularly a new product known as ultrafiltered milk, which has a higher concentration of protein and can be used as a muscle-building sports drink or for creating dairy products like cheese, said Ammerman.
It is produced in western New York, he said, and the product is valued more highly than standard milk due to its increased protein content. In April 2017, said Ammerman, Canada's quota system took effect and reclassified ultrafiltered milk.
Knox Valley Farm
On Monday night, Keppler was trying to load a 2,000-pound bull he had been loaned into a trailer to return the bull to its Westerlo farm. That and another smaller bull would make up the last of the cattle on the farm. Two young beef cattle had been brought into a barn to be raised not for a profit but for meat.
A skinny barn cat ran across the deserted milking room, and the Kepplers' two dogs — who had been traveling in tandem — split up, one following Cheyenne Keppler as she went to turn off a hose for water for her horses, and the other following her father as he drove a small bulldozer.
She remarked that they really were farm dogs — they were used to riding in the bucket of the machine.
Paul Keppler's attempts to coax the bull into the trailer failed. He said he had been trying repeatedly for months now, but the bull wouldn't budge, and he wasn't going to force it.
That evening, Cheyenne Keppler walked inside the milk parlor for the first time since the cows had been moved off the farm.
"It's too quiet," she said.
The Keppler's Knox Valley Farm is over 150 acres tucked between the hills in Knox at the foot of a dead-end road. Fields of corn surround the turquoise barns, which stood out against a darkening sky. Paul Keppler remarked correctly on Monday night that he expected a cold rain the next day.
The day most of the dairy cows were taken away, Cheyenne Keppler said she rode her four-wheeler to the top of a hill and watched as they were loaded into trucks. She assumes the cows were split up and sold in small groups — no one could buy 62 cows at once these days, she said.
She wondered if they would have the same treatment they had gotten at her father's farm, with pastures to roam in and the healthiest grain to eat. She regrets that the next generation of her family won't have what she and her sister had.
"You never think that this is going to happen, and then one day, it does," she said.
She said that there had always been times where her father would tell the family that the farm might be in trouble, as even the weather could change the outcome of its profits. The milk checks kept coming in with lower and lower amounts.
One day, the man who was hired to milk the cows at night stopped showing up. After realizing the cows were going to be sold, her uncle, Patrick Keppler, found a job at the factory Hannay Reels in Westerlo. Her father found out that an auction was coming up — and everything came together.
She worries now not so much for the farm, but for her family. Her father, she said, is "stubborn as a bull," and would never want to work for someone else.
She has memories of her father working through Christmas and Thanksgiving on the farm. Finally, she said, he'll be able to spend all the holidays with them, though she wished it were for other reasons.
"He never thought that this was going to happen to the industry," she said.
But he was adamant that no one should feel sorry for him.
"I'm not down and out … ," he said. "I've made the choice … Now whether it was the right choice or not, time will tell."