County proposes law requiring fire sprinklers in new homes
Thursday, September 27, 2018 - 13:24
ALBANY COUNTY — Last week, volunteer Guilderland firefighters doused flames in what looked like a living room set up in the back of a truck as a handful of county legislators looked on.
The legislature is considering a law that would require new one- and two-family homes and townhouses to have sprinkler systems. The bill is opposed by the Business Council of New York State and the New York Association of Realtors who say it will stunt residential growth and will reduce county revenues.
At last week's demonstration, Jerry DeLuca, executive director of the New York State Association of Fire Chiefs, made the point that sprinklers save lives.
He touched a road flare to a curtain in the makeshift living room and, within 50 seconds, large flames erupted. The "room" was quickly engulfed in fire as smoke plumes billowed from the truck.
At two minutes, 11 seconds, a crew of three Guilderland firefighters shot water into the inferno; a charred ruin remained.
The next part of the demonstration involved a similar living room set up in a second truck in which a sprinkler was activated by the heat of the fire in one minute, 11 seconds, quelling the flames, which kept them from spreading. The couch looked soggy, the walls looked singed, but the room was intact.
"It helps get the residents out safely," said DeLuca of the sprinkler.
Literature distributed by the association said that installing sprinklers cost about the same amount as installing new carpeting, that sprinklers are not activated by smoke or burning food but only when the room temperature is hotter than 150 degrees Fahrenheit, and that 90 percent of the time a single sprinkler is enough to control a fire.
The association also presented a list of "fire facts," stating that annually in New York State, home fires kill 100 people and injure 1,000; that residents are 80 percent less likely to die if sprinklers are present; that new homes burn eight times faster than older ones because of open floor plans, lightweight construction methods, and synthetic furniture and carpeting; and that a fire can produce toxic smoke and reach deadly temperatures in less than three minutes.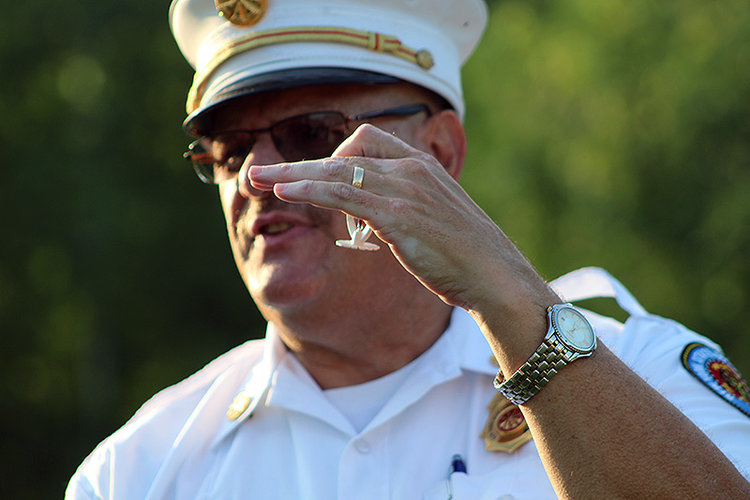 The Enterprise — Michael Koff
Jerry DeLuca, executive director of the New York State Association of Fire Chiefs, shows county legislators a sprinkler head. "It helps get the residents out safely," said DeLuca.
---
The bill
The bill, known as Local Law I for 2018, was introduced by 16 legislators on April 9, with a hearing in May. The bill says that rural and suburban areas face "a crisis in the recruitment and retention of volunteer firefighters," and that cities that  pay firefighters are "confronted with tax caps and budget restrictions." It also notes that 36 percent of property Albany County is tax exempt, limiting funds.
The bill makes the point the fire-chiefs association did about new homes burning faster and cites an National Fire Protection Association report that says homes equipped with sprinklers have an 83-percent reduction in deaths and 69-percent reduction in property damage.
The bill also cites environmental benefits, stating that a home fire sprinkler uses only about eight gallons of water per minute while a fire hose often uses 150 gallons per minute.
"By the time the fire department arrives and has to extinguish a much larger fire, they will use hundreds if not thousands of gallons of water. This water also creates significant runoff," the bill says.
It goes on to quote a report, "The Environmental Impact of Automatic Fire Sprinklers," that says sprinklers reduce greenhouse gases by 98 percent, reduce fire damage by up to 97 percent, reduce water used to fight a fire by up to 90 percent, and reduce water pollution and debris in landfills.
The International Codes Council requires all new one- and two-family homes and townhouses be equipped with residential fire sprinklers, but New York State removed the residential-sprinkler provision when it adopted the state's Uniform Fire Prevention and Building Code.
The bill would allow exceptions where water discharge would be hazardous and it also would allow homeowners to apply for hardship waivers "to request construction trade-offs in exchange for installation of the residential fire sprinklers."
Contractors constructing a home without sprinklers would face a civil penalty of $250 per day until the home was brought into compliance. The bill, if passed by the legislature and signed into law by the county executive, would go into effect on Jan. 1, 2019.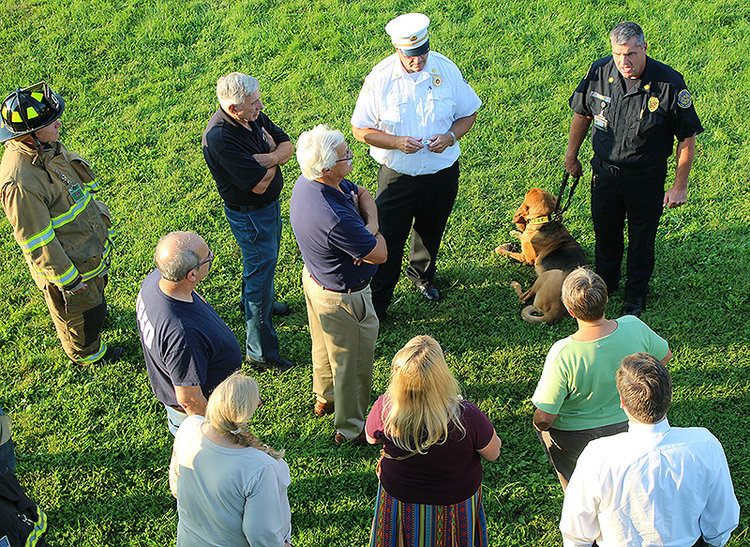 The Enterprise — Michael Koff
Albany County Fire Coordinator Gerald Paris, holding the leash of his bloodhound, Baxter, talks to county legislators about sprinklers. Jerry DeLuca, executive director of the New York State Association of Fire Chiefs, is to his right.
---
The opposition
Michael Kelly, the director of governmental affairs for the New York State Association of Realtors, said, "We don't oppose fire sprinklers per se. If individual homeowners or buyers want to install them, that's great ...We think it should be a personal choice."
Kelly noted that his organization supported state legislation requiring homebuilders to provide information to buyers on the benefits and costs of sprinkler systems, which has since been signed into law.
"We're opposed to government mandating sprinklers," Kelly stressed. "A government entity shouldn't tell you what to do in a private matter."
Kelly went on to say that individuals should make their own choices.
He estimated the cost for a sprinkler system each new home at between $10,000 and $15,000 and said the cost could be significantly higher for homes being built without public water. Homes using wells for water need to add additional water tanks with pumps to have sprinklers. "You need a second water system," he said.
Further, Kelly said that county growth would be stunted by a sprinkler law. "We've talked to Realtor members and homebuilders who said, if costs go up $10,000 to $15,000, buyers will go elsewhere," said Kelly. "It will definitely dampen the real-estate market in Albany County."
He also said, "Everyone is talking about fire safety. This bill is only for new construction. If it was for existing homes, this issue would be dead on arrival."
Because the law would apply only to new homes, Kelly said, most people think it wouldn't affect them. But he argued that it would.
County government, he said, depends on millions of dollars each year that comes in from mortgage recording and real-estate transfer taxes. "It pays for transportation like the CDTA," he said, giving an example.
"You will see a loss of local taxes," Kelly concluded, saying that, with the state's 2-percent levy limit, municipalities "would have to find money somewhere else."