Voorheesville students flying high with their own podcast
Friday, August 31, 2018 - 11:35
VOORHEESVILLE — Do you know what a fad is?
Jack Fitzgerald, Owen Lewis, Brittain Lounsbury, Anya Olsen, Aase Smith, Holden Stein, and Dominic Tillou — members of the new Voorheesville Elementary School podcast club, Blackbirds on the Wing — know what it is.
It's the first question put to every guest on the Blackbirds new podcast, in an episode titled, "The Nature of Fads."
The club was started last school year by Brendan Fitzgerald, Jack's dad, and Steven Stein, Holden's dad, with the intention of teaching students how to craft a story, speak in public, and think critically.
Few in the group had ever heard a podcast let alone created one; however, guided by Fitzgerald and Stein, the club has produced 71 minutes of polished and professional-sounding content.  
"When birds are learning to fly, it's also known as, 'On the wing,'" said Fitzgerald, offering a metaphor and inspiration for the club and podcast's name.
The Blackbirds arrived at a topic for the first episode of their podcast "through trial and error, and discussion," said Aase Smith. "We found out which topics we could speak fluidly about and what topics we were rusty on."
Over the course of two hours, club members discussed a range of topics including coding, history, fashion, pop culture, and fads.
"The final two topics were pop culture and fads," said Owen Lewis, "and, after a vote, fads was voted the winner."
The idea, at first, was to dive deep into a single fad, Fitzgerald said, fidget spinners, a toy with three rounded blades that is held between the thumb and index finger, and spun. "The group," he said, speaking to and about the kids, "you thought it was not too grand."
The club members researched current popular fads as well as historical ones to "get their core questions," Owen said.
Aase said everyone had worked together, as a team, to come up with the questions that would be asked on the podcast.
To prepare, club members interviewed each other, which, they said, gave them an idea of what to expect as well as making them a little more comfortable with the process.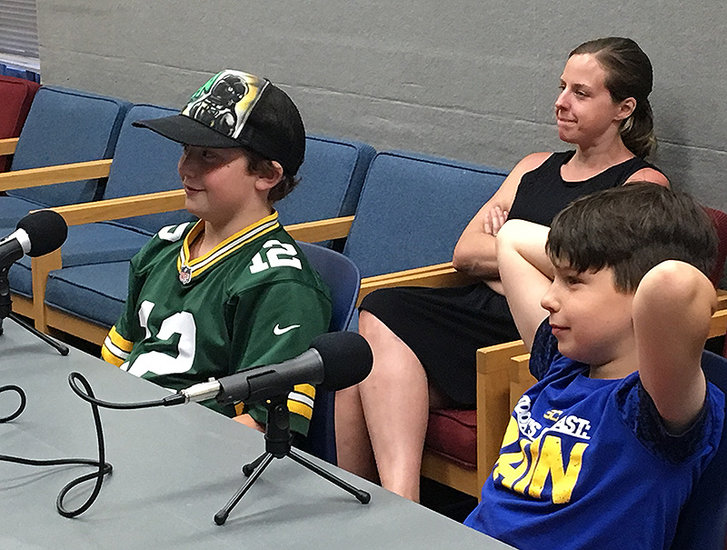 — Photo from Wendy Vogel
Podcastin' ain't easy: Owen Lewis, left, and a relaxed Holden Stein, listen during a meeting of the podcast club, Blackbirds on the Wing. 
---
So, what is a fad?
For the hosts of "Blackbirds on the Wing," the question was tailored to the interviewee.
For example, Owen said, they asked Jeff Vivenzio, principal of Voorheesville Elementary School, how fads affected education.
"The policy that most schools have, is really to make sure … it [the fad] doesn't cause a disruption to your learning and instruction," Vivenzio told his interviewers. "So if we're talking about fidget spinners — if kids are using fidget spinners in the classroom and it's causing a disruption, and it's taking away from your learning, obviously, that's not something that's allowable in class. And that would be the same for any particular fad or anything in general" that causes a distraction.
Of psychiatric nurse practitioner, Jodi Burch, they asked, "Are fads affecting humans in any way?"
"I mean, they definitely affect kids," Burch told her interviewers. "Kids, sometimes, who have lower levels of self-esteem, who aren't as confident, tend to follow more of the fads instead of being more independent ... So they tend to be followers definitely and go with whatever is popular no matter if they like it or not, I guess."
Michael Guerette, a third-grade teacher at Voorheesville Elementary, gave his interviewers a more traditional view of fads.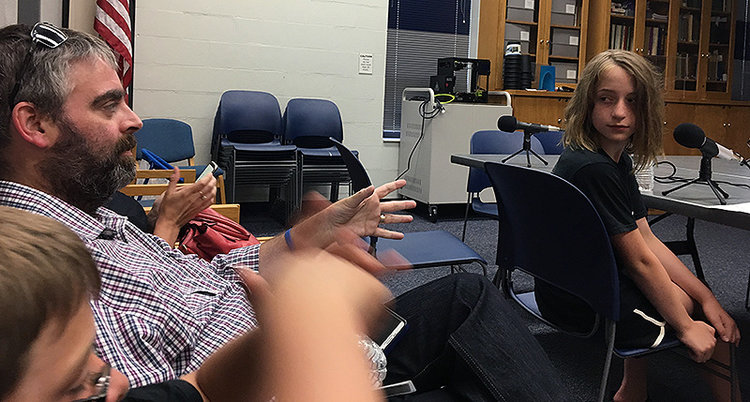 — Photo from Wendy Vogel
Getting instruction: Aase Smith, at right, listens to Brendan Fitzgerald during a recording session. In the foreground is Brendan's son, Jack.
---
"Something in our society — a behavior, a trend, a toy … that becomes really popular, immensely popular, in a quick amount of time; but over time, it tends to fade away," Guerette said.
The club hasn't decided on the subject of its next podcast yet, but members did have topics they'd like to discuss.  
Owen said he'd like to talk about evolution, pop culture, or celebrity gossip.
Anya Olsen wanted to tackle the topic of school bullying.
"History or the science of the human brain," said Aase. "Did you know, a brain is not fully developed until you are 25?"