Songwriting is therapy for Sydney Worthley
Thursday, August 9, 2018 - 09:55
VOORHEESVILLE – Sydney Worthley is just 15 years old — a rock star in the making with a wonderful habit of telling the truth.
When asked what was the largest crowd that she had played for, she answered — honestly.
"Kind of strange, but I think the biggest audience I've ever played in front of was my fourth-grade talent show, when I was 9," she said. It took place in the performing arts center at Voorheesville's high school; about 900 people were in attendance, Sydney estimated.
Her manager, Andrew Gabriel, interjected to say that her performance at Mountain Jam, a music festival in Greene County, was of comparable size.
Last year, Sydney released her debut, "Strong." She wrote all of the album's songs.     
She will be a junior at Voorheesville's high school this fall, where she plays on the varsity softball team, and is a member of the choir and band.
Sydney was invited to perform at the Hope Rocks Festival, on Aug. 18 and 19, in Saugerties, a two-day event where filmmakers and artists of all stripes come together to display their talents "in an environment focused on bringing hope to those who are suffering the effects of addiction, depression, and social isolation," according to the festival  organizers.
She was honored by the invitation, Sydney said. "I have dealt with depression in my life; I will continue to struggle with it, but I would like to help others through it."
After the deaths of both of her grandmothers, writing became a coping mechanism, Sydney said.
"I kind of locked myself in my room," she said, and put pen to paper.
"I had already decided to pursue music before my grandmothers passed away, but I started writing after they passed," Sydney said. "Songwriting was major therapy for me; it definitely helped me through that time. And it still helps me through difficult times today, no matter what I go through."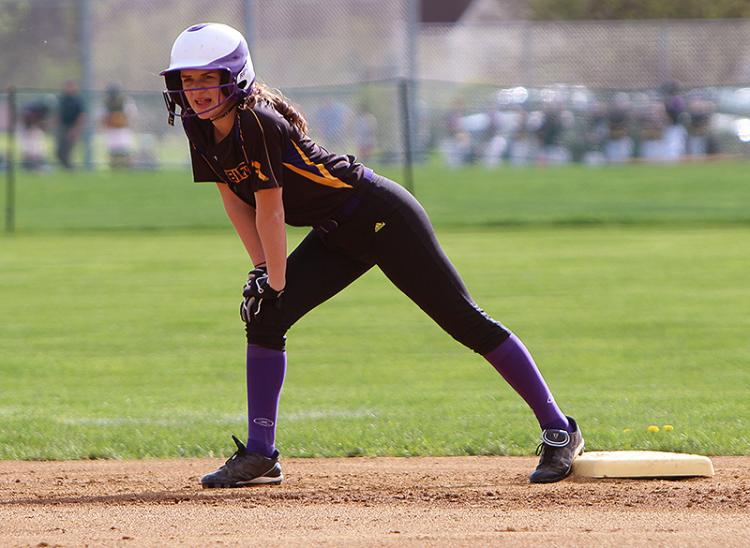 Enterprise file photo – Michael Koff
A well-rounded artist: In addition to her musical pursuits, Sydney Worthley is also a member of the Voorheesville girls' softball team.
---
Sydney received her first guitar on her ninth birthday; she had her first lesson the same day. "I begged my parents until they finally caved," she said.
Sydney couldn't pinpoint exactly why, at 9 years old, she wanted a guitar, but said she had been influenced by the television she watched.
Her parents encouraged her, she said, but they weren't pushy.
"They have never forced [anything] on me," Sydney said. "They've offered this openness of: 'Hey, you can do whatever you'd like and we'll support you the whole way through; just do it right.'"
Country and pop music were her first influences, she said; recently, Sydney began listening to more alternative music, citing as examples Alice Merton and Portugal. The Man. "That's kind of the biggest hint that I can give you for the next album," she added.