Biden as a bellwether: Despite rebound COVID case, vaccination, drugs prevent hospitalization
Wednesday, August 3, 2022 - 18:02
ALBANY COUNTY — This week, President Joe Biden went back into isolation, working from the White House, after he once again tested positive, on Saturday morning, for COVID-19.
At 79, Biden is part of the age group that is most likely to be fully vaccinated and boosted, as he is, but is also most likely to die from the virus or its complications.
Close to 92 percent of United States residents 65 and older are fully vaccinated compared to about 82 percent of 50- to 64-year-olds, 69 percent of 18- to 49-year-olds, about 60 percent of 12- to 17-year-olds, and only about 30 percent of 5- to 11-year-olds, according to the Centers for Disease Control and Prevention.
The age group of children from six months to 4 years old just became eligible for vaccination on June 18, but less than 7 percent of those children have received shots, according to a July 26 Kaiser Family Foundation survey.
"More than four in ten parents of children in this age group say they will 'definitely not' get their child vaccinated for COVID-19," the Kaiser Family Foundation reported. "Republican or Republican leaning parents (64%) and parents who are themselves unvaccinated (64%) are particularly likely to say they will 'definitely not' vaccinate their youngest children."
Reasons for not vaccinating their young children include parents' concerns over side effects, worries about the overall safety of the vaccines, and barriers to getting vaccination as well as lack of concern over COVID-19.
In Albany County, 58.4 percent of the residents who have died from the virus, or 336, have been 75 or older.
This week, the governor's office reported three COVID-related deaths — one each on July 27, July 28, and Aug. 2 in Albany County, which would bring the county's toll to 576. As of Tuesday, the county reported 575 deaths on its website.
Four percent of those deaths, or 23, have been of people between the ages of 25 and 49 while 37.2 percent, or 214, have been of people between the ages of 50 and 74. 
Currently, the county reported on Tuesday, 35 residents are hospitalized with the virus and more than half of them, or 18 residents, are age 75 or older.
Antiviral drugs
President Biden had taken Paxlovid to quell the worst COVID symptoms but nevertheless suffered a rebound infection.
In June, the CDC had posted a study finding that reports of hospitalizations or emergency-room encounters occurred infrequently among patients taking Paxlovid, representing less than 1 percent of Paxlovid-treated patients over the study period.
The report concluded, "When administered as an early-stage treatment, Paxlovid might prevent COVID-19–related hospitalization among persons with mild-to-moderate COVID-19 who are at risk for progression to severe disease."
In July, New York State launched a free helpline — 888-TREAT-NY — that could lead to telemedicine consultations for prescription of Paxlovid or another ant-viral medication, Molnupiravir.
All New Yorkers outside of New York City, regardless of income or health insurance coverage, who test COVID-19 positive, are eligible to be evaluated for treatment by calling 888-873-2869 or completing an evaluation at the NYS COVID-19 ExpressCare Therapeutics Access website, which includes a telemed visit.
The hotline is available 24-hours per day, seven days a week and operated by Health + Hospitals staff who have the clinical training to prescribe treatment and referrals if needed.
The telemedicine visit will include a clinical assessment by medical providers who will identify the appropriate COVID-19 treatment plan, which may include a prescription for Paxlovid or Molnupiravir.
These oral antiviral medications have both been proven to decrease hospitalization for those that are at risk for severe disease, the governor's office said in a release announcing the program. When given soon after positive COVID-19 diagnosis these antivirals also help fight infection and shorten recovery time.  
New York State is assigned a weekly allotment of both Paxlovid and Molnupiravir — both of which require a prescription — from the federal Department of Health and Human Services.
Under the agreement, insured patients will be charged a copay amount based on their plan and the state's health department will cover the costs of the service for those without health care coverage.
More information about COVID treatment options is available online at the state's website: health.ny.gov/CovidTreatment.
Vaccination
Vaccination still remains the best defense against hospitalization.
In Albany County, a quarter of the population still has not completed a vaccination series; 74.9 percent or 229,887 of 307,117 residents have completed a series, according to the state's dashboard. At the same time, as of Tuesday, 61.6 percent have received a booster shot.
A graph from the state's health department makes clear that, as hospitalizations continue to rise in a much smaller echo of the surge caused by the original Omicron in January, 12.4 per 100,000 of unvaccinated people are hospitalized with the virus while just 1.8 per 100,000 of vaccinated residents are hospitalized.
At the peak of the January Omicron surge, 55.7 per 100,000 unvaccinated people were hospitalized with the virus while 5.9 per 100,000 of vaccinated people were hospitalized.
The health department also notes that about 2 million laboratory-confirmed breakthrough cases of COVID-19 among fully-vaccinated people in New York State corresponds to 15 percent of the population of fully-vaccinated people 5 years old or older.
Also, the 63,723 hospitalizations with COVID-19 among fully-vaccinated people in New York State corresponds to less than half of 1 percent of the population of fully-vaccinated people 5 years old or older.
Dr. Ashish Jha, the White House COVID coordinator, spoke remotely at a July 20 conference hosted by Governor Kathy Hochul.
Addressing people over 50 who have not been vaccinated or boosted in the last six months, Jha said, "You need to go out and get one now."
This can prevent severe infections and hospitalization, he said. Jha also said a new generation of vaccines is expected in the fall.
"Getting vaccinated now will not make you ineligible for that," Jha said.
Hochul noted that a second booster is approved only for people 50 and older and for children 12 and older with weakened immune systems.
"We are pushing the federal government to expand this," she said.
The new shots for the fall, from Pfizer-BioNTech and Moderna, are the reason why the federal government is putting off lowering the age for booster shots.
Albany County is still 'medium'
For a month now, Albany County has been labeled by the Centers for Disease Control and Prevention as having a medium community level of COVID-19.
Most upstate counties have a low level as does most of New England while the New York City area remains high.
Nationwide, the CDC labels 46 percent of the counties as high, 36 percent as medium, and 19 percent as low.
The predominant strain nationwide remains the Omicron subvariant BA.5, which in our area accounts for nearly 86 percent of the new cases.
Albany County has 13.7 COVID cases per 100,000 of population as a seven day average, as of Aug. 1, according to the state's dashboard. But this number is likely low since many people don't report positive test results and many others don't test at all.
There is no longer a required county or state or national tracking system.
Meanwhile, statewide, there are 31.1 cases per 100,000 of population.
At the Jan. 10 peak of the Omicron surge, Albany County had 243 cases per 100,000 as a seven-day average. The post-holiday surge the year before peaked in January 2021 with 89 cases per 100,000 in Albany County.
The original spring surge in 2020, which was brought under control by shutting down schools and non-essential businesses, peaked in Albany County with 19 cases per 100,000 population as a seven-day average.
Utility bill credits
This week, Hochul announced that the majority of $567 million dedicated to help low-income electric and gas utility customers pay off past utility bills will be reflected on customers' August bills.
More than 327,000 low-income New York households will directly benefit from the program, the governor's office said in a release.
Businesses closed and many jobs were lost because of the pandemic, the release said, so the number of customers that have unpaid utility bills and the total dollar amount of unpaid utility bills has risen considerably since March 2020.
Under the bill-credit program, the Public Service Commission leveraged $250 million from the 2023 enacted state budget to require utilities to provide a one-time credit to customers enrolled in the Energy Affordability Program that will eliminate unpaid utility bills that have accrued through May 1, 2022.
The program also authorizes the same relief for any eligible low-income customers that enroll in Energy Affordability Program by Dec. 31, 2022.
"No New Yorker should have their lights and air conditioning shut off as a result of financial problems caused by the pandemic," said Hochul in the release.
This one-time, low-income utility bill credit, which will be applied to affected customers' bills by the utilities, requires no action by existing low-income customers enrolled in the Energy Affordability Program to receive the benefit.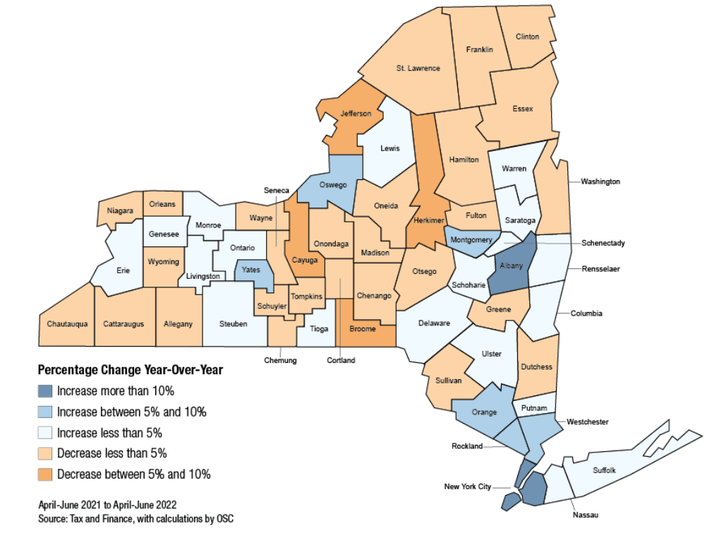 State comptroller: Sales-tax
collections still increasing
While local sales-tax collections are up over 12 percent statewide for the second quarter, in June the increase dipped below a double-digit increase for the first time since March 2021, according to a report from the state comptroller's office.
Albany County is one of a handful of counties statewide — and the only upstate county — to have its year-over-year sales-tax collection increase more than 10 percent.
In April, Albany County's sales tax was up 25.5 percent, to $29.2 million, over April 2021. In May, it was up 17.3 percent from the previous May to $27 million.
In June, Albany County's sales-tax collection totaled $37.4 million, up 4.9 percent from June 2021 while the Capital Region overall saw a 10-percent decrease in sales-tax collection over the previous year.
Statewide, year over year, in the second quarter of 2022, April collections grew by 15.7 percent, May collections grew by 16.7 percent, and June collections grew by 6.5 percent.
"Local sales tax collections continue to show positive results, but the lower growth in June bears watching," Comptroller Thomas DiNapoli said in a statement, releasing the report. "The slowdown reflects, in part, the temporary reduction in local sales taxes on gasoline in 24 counties, along with a possible return to more typical growth rates after the dips and rebounds caused by the COVID pandemic.
The second-quarter growth over last year continued to be strong in New York City, while growth in the rest of the state slowed. The city's collections increased by 24.9 percent, from a relatively weak $1.9 billion in April-June 2021 to $2.4 billion.
In contrast, year-over-year growth in total collections for the counties and cities in the rest of the state slowed to 2.6 percent over the same period last year, going from $2.7 billion to $2.8 billion. Only a handful of counties saw more than 5-percent year-over-year growth in second quarter sales tax collections and 31 counties had declines.
DiNapoli said local officials should continue to closely monitor changing economic conditions as well as other factors that may impact sales tax collections and maintain vigilance when it comes to their finances. If sales tax collections are entering a period of slower year-over-year growth, he said, then local officials need to be prepared to make adjustments, especially as the cost of goods and services continues to rise.