Turf fever leads school board to urge larger capital project
Wednesday, July 28, 2021 - 13:10
The Enterprise — Melissa Hale-Spencer
Three Guilderland football players — part of a team that for the first time took the Class AA championship this year — were among those advocating for a synthetic turf field. Devon McClaine (#10) said his grades dropped because commuting to Schenectady High to practice on its turf field meant he didn't get home until 9 p.m., leaving less time for homework. Marcus McClaine (#3) said of playing on Guilderland's grass field, "You're running and slipping in the mud, twisting ankles."
GUILDERLAND — At the start of Tuesday's school board meeting here, a score of turf-field supporters — players, parents, coaches, and booster club leaders — told the board why they supported a $2.5 million plan to build a synthetic playing field. Toward the end of the three-hour meeting, the majority of board members present advocated building on the support for the turf field and adding to the proposed $17.4 million capital project.
The original capital plan, presented July 1, had been modified to include roughly $770,000 from federal pandemic allocations. This would reduce the annual tax increase from the original $64 for the median $299,000 house in Guilderland to $52.
"I think we should ask for more in the capital project …," said school board member Rebecca Butterfield.
Seema Rivera, the board's president, agreed, noting federal funds are available for one-time costs and that there is a lot of support for the turf field. She likened it to returning home from buying a TV and wishing a bigger one had been purchased.
Nathan Sabourin, the newest board member, estimated it would cost $5.5 million more to upgrade bathrooms and install more air-conditioning. He noted the "groundswell of support" for the turf field and said, "You have any number of booster groups that will carry that torch for us."
Blanca Gonzalez-Parker said she didn't want to tell the public there were some really important things left out of the proposal "and hit you up again."
However, both Gloria Towle-Hilt, the board's vice president, and Judy Slack expressed reservations about going over the initially proposed $17.4 million. 
Guilderland is still in the midst of completing improvements from a $31 million bond that voters passed in 2019, following the defeat of a bond issue in 2018. The cost of the 2018 proposal was reduced by 28 percent, from $42.7 million to $30.6 million.
A committee was formed to assess facility needs by looking at improvements that were included in the 2018 referendum but not included in the 2019 plan that passed. A subcommittee also met to consider installing a turf playing field at the high school.
Slack noted the 2018 bond defeat and said that, besides the turf-field supporters, "We have to remember there are other people."
Towle-Hilt, a retired middle-school teacher, said she and others in the community live on fixed incomes. "They're looking at that bottom line," she said.
Sabourin countered that that group of people would be against whatever the project is.
 He called a project that came in between $15 million and $25 million the "sweet spot" and said, "Even with this added money, you're still in that sweet spot."
Gonzalez-Parker said that she had voted against the 2018 proposal and, as she learned more, she said she would have voted in favor of it. She stressed the need to inform the public.
Superintendent Marie Wiles concluded the discussion, saying, "We'll look at our federal funding. It won't cover everything … We'll see how far it can go."
For every $500,000 in federal funds applied to the project, the median homeowner would pay about a dollar less in taxes annually.
The school board is now slated to vote on the proposal on Aug. 10 and it would go to public vote on Oct. 7. If the proposition passes, construction is expected to take place between October 2022 and August 2024.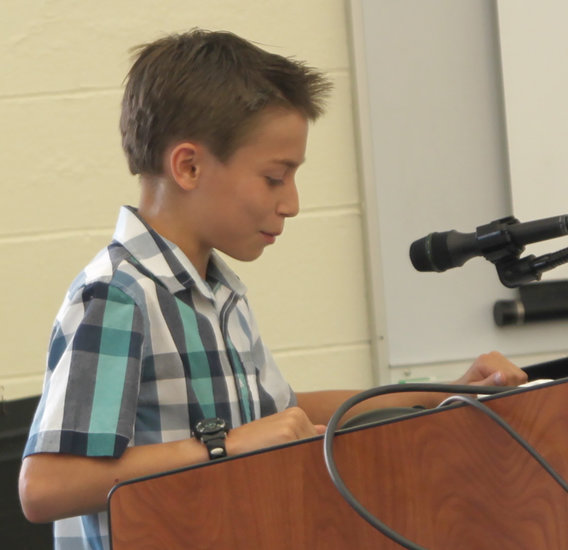 The Enterprise — Melissa Hale-Spencer
Henry King, who had four sisters playing field hockey as he spoke, was the youngest advocate to address the Guilderland School Board about the advantages of a synthetic turf field. "Games are completely different on turf; they are faster," he said, urging the board, "Help us win."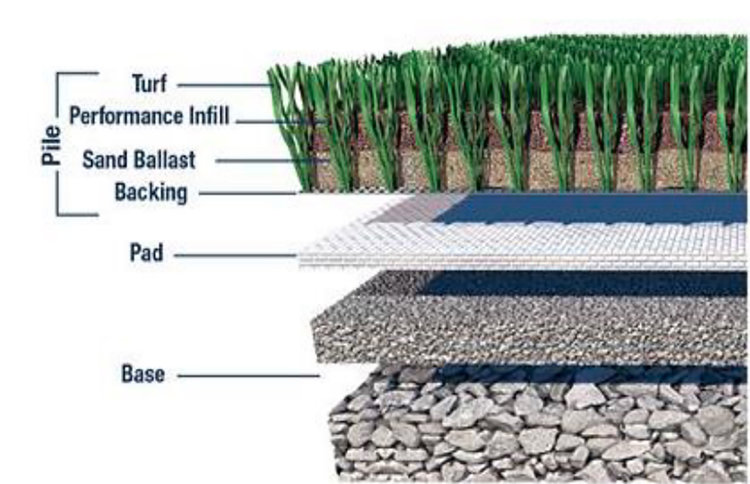 — From Guilderland School Board presentation on July 27, 2021
A synthetic turf field has many layers.
---
"Three big buckets"
Wiles said there are "three big buckets" or categories of work for the capital project: infrastructure improvements, outdoor space, and technology enhancements.
The infrastructure work eliminated from the defeated 2018 bond issue totals roughly $9.4 million. This includes classroom storage and workspace cabinetry; security cameras; heating, ventilation, and air-conditioning equipment, including boilers; roofing and paving; and locker replacement.
Newly identified infrastructure needs include a new waterline for Guilderland High School, new windows, slab settlement and tunnel work, and a sewage ejector pump for Altamont Elementary School.
Outdoor spaces in the $17.4 million proposal would total about $4.9 million and would include five playground upgrades, seven outdoor classroom pavilions, and the new track and synthetic turf field.
Wiles said wooden playgrounds would be replaced and that the elementary school principals could bear witness to "nightmares of bee stings and splinters." The new playgrounds, she said, would be age appropriate and would expand opportunities for students with disabilities.
An elementary teacher came up with the idea for the pavilions, Wiles said, as, during the pandemic, "We really took advantage of our outdoor space in ways we've never seen."
The cost for technology replacement and data security would total about $3.2 million and would include replacement classroom projection systems and virtualization.
Wiles said the district is pursuing the capital project to improve students' learning environment, to provide the tools needed to engage in  modern teaching, and to expand opportunities for students.
During the July 1 presentation, school board members expressed interest in air-conditioning. On Tuesday, Clifford Nooney, the district's director of physical plant management, said that 65 percent of all spaces in the district already have air-conditioning — either mechanical or through window units.
The high school has 63 percent of its space air-conditioned. The middle school has 57 percent of its space air-conditioned but, Nooney said, by the end of the current project, almost 100 percent of the middle school will be air-conditioned.
The district's five elementary schools range from Guilderland Elementary with 81 percent air-conditioned to Westmere Elementary with 69 percent air-conditioned. Altamont has 80 percent, Lynnwood has 71 percent, and Pine Bush Elementary has 73 percent air-conditioned.
Nooney said that, with or without air-conditioning, air is exchanged about four times per hour throughout all of the schools.
The Enterprise asked Nooney after the meeting if the district were considering environmentally friendly ways of air-conditioning like geothermal or ductless mini-split systems.
"Not for this project; we're using standard air-conditioning," said Nooney. "We have discussed geothermal; it's a costly investment." He added, "It's on my wish list."
The district currently has 16 bathrooms labeled gender neutral and by the end of this summer will have 121, Nooney said, answering another board concern.
"We continually upgrade bathrooms," he also said.
Federal funds
Guilderland is getting $4.4 million from Coronavirus Response and Relief Supplemental Appropriations Act, to cover expenses from March 13, 2020, at the start of the pandemic, to Sept. 30, 2022. From the American Rescue Plan, Guilderland is being allocated $2.8 million to cover the period from March 13, 2020 to Sept. 30, 2023.
"We need to submit a plan largely before we have our students back in school to see what our needs actually are," said Wiles.
She outlined the district's priorities in allocating the federal funds as meeting the needs of all children, anticipating the needs of students and staff after the pandemic, and paying attention to recommendations from the 1,107 people who participated in the district's online ThoughtExchange.
The district submitted its application, as required, on July 15 for the $4.4 million. On the same date, Guilderland also submitted its plan for spending $631,686 from the Governor's Emergency Education Relief program.
Of that, $483,000 will be spent on salaries for counselors, a behavioral specialist, and summer curriculum work. Another $60,000 will be spent on purchased services for social work, psychologists, and art and music therapy. Finally, $88,686 will be spent on internet hotspots and screening tools for social and emotional problems.
The bulk of the federal Coronavirus Response funds, $1.8 million, will be spent on salaries to reduce class size, teach remotely, provide remedial and special-education help, provide before- and after-school programs as well as summer programs, and provide attendance support and a floating nurse.
Another $820,000 will be spent on support staff such as elementary teaching assistants as well as help for special-education students and for students learning English as a new language.
Another $360,000 will purchase services for internet back-up, professional development, and communications.
Equipment for outdoor wireless access, Chromebooks, interactive panels, technology upgrades, and refrigeration for increased free school lunches will cost $418,000.
Improvements to heating, ventilation, and air-conditioning will cost $349,430 and repairs and upgrades to learning spaces including outdoor pavilions will cost $420,000.
"This is a plan," Wiles stressed." It is subject to change. We may need to finetune."
The application for the $2.8 million in American Rescue Plan funds is due at the end of next month, Wiles said.
While the plan is still being developed, she said, at least 20 percent will be used to support non-recurring costs to address learning loss. Other areas being considered are funding to offset costs of improvements to indoor and outdoor learning spaces, technology, and materials and supplies to support student learning and social-emotional learning.
Wiles concluded that was "a skating tour of several million dollars."
Sabourin suggested that every other district would be looking for the same services.
"I think it will be a challenge," said Wiles of hiring in the midst of such competition. "Hiring just in the regular cycle is a bit of a challenge now."
She also said that already-employed staff may be hired for extra hours for before- and after-school programs.
Turf fever
The proposed playing field project would replace the high school's current eight-lane track as well as the football field that it runs around with synthetic turf. The project would include drainage, power, and a safety control netting system. A synthetic field has a stone base topped with a synthetic pad, sand ballast, infill, and finally turf.
The project's cost would about double if the synthetic turf were installed at a new venue that did not already have bathrooms, concession stands, bleachers and other infrastructure in place, said David Austin, the district's director of Physical Education and Athletics.
Austin made many of the same points as the turf supporters who spoke in person or who sent in comments to be read at the board meeting.
"I don't think it's a luxury," said Austin of a synthetic turf field. "We're at a disadvantage."
He said that, before the year is out, 10 of the 15 Suburban Council schools will have turf fields, which puts Guilderland players at a disadvantage.
One parent, Jennifer Goldman, called it "very frustrating, disappointing, and quite honestly embarrassing" that parents have to subsidize renting time on turf fields for Guilderland athletes. 
Austin estimated that about 1,450 students in grades 9 through 12 would benefit from the new field during their physical-education classes. He said about 800 student athletes would benefit each year. This includes students who participate in soccer, field hockey, football, baseball, softball, lacrosse, or track and field. Austin also said the community at large would use the field for summer camps, youth sports, and sectional events.
The turf field would be under warranty for 12 years but would last for 15 years with proper maintenance, Austi said. The rubber fill, he said, can be washed and reused many times.
The cost to replace the turf carpet can range from $750,000 to $950,000, he said. Stressing that the carpet is not considered a hazardous waste, Austin said that disposing of it would cost between $125,000and $150,000.
He also said that having synthetic turf could generate income. Currently, many of the speakers said, money has to be raised for Guilderland athletes to practice and compete on synthetic turf fields when conditions don't allow them to use the grass field at the high school.
Parent Kevin Snyder called buying the synthetic turf a "no-brainer" while parent Pam Walsh said athletes need the same kind of resources and support that students in Advanced Placement courses or students in music competitions get "to achieve their highest potential."
Andy Maycock, an English teacher who directs school plays and musicals, wrote that the upgraded school auditorium was "a bigger boost than we thought." He expects the synthetic turf field, too, would provide "a whole new perspective on what's possible."
Austin concluded, "We're in the parking lots way too often; we're going to other sites way too often; we're losing games way too often."
Other business
In other business, the school board:
— Heard from Wiles that the district plans to enter into contracts with "two community partners" to provide the district's first-ever pre-kindergarten program this fall. "Thank you for your patience and stay tuned," she said;
— Heard from Wiles that Guilderland students who choose to learn remotely for the next school year will be taught through the Capital Region Board of Cooperative Educational Services. "We don't have the capacity … to replicate a K-12 program like we did in Guilderland last year," she said. The BOCES program will ask for a full-year commitment.
Wiles also said the hybrid model will not be an option with some students in the classroom and some students at home. 
Wiles said further that the district needs to hear from the state what the requirements will be for social distancing, mask-wearing, using cafeteria spaces, and transportation before it can devise its plan for the upcoming school year; and
— Agreed to a change in policy limiting public comments at board meetings to three minutes each.