Crawford a shoo-in for Dems' ballot
Monday, July 25, 2022 - 19:58
GUILDERLAND — A resounding chorus of "ayes" carried Jacob Crawford easily to the Democratic nomination to fill the Guilderland Town Board seat vacated by Laurel Bohl earlier this month.
About fifty people filled the meeting hall at the Fort Hunter firehouse Monday evening where committee members voted. Scattered among the crowd were printed red, white, and blue election signs for Crawford.
Asked if the vote was preordained, Crawford told The Enterprise afterwards, "I had five or six days to plan so it was ordained as much as I could in that short time."
Crawford, who currently serves as the Democratic chairman for both the Guilderland town committee as well as the Albany County committee said he will step down from the Guilderland post but plans to pursue the county post in September for another term.
He will run against an as-yet-unchosen Republican in the November election; the victor will fill out the remainder of Bohl's term, which ends in 2023. The current board is made up entirely of Democrats in a town where Democratic enrollment dominates.
On Monday night, Crawford had one challenger, Kevin McDonald, who got just scattered "ayes" for the voice vote. McDonald was nominated by Chuck Klaer, who had served on the town's original comprehensive plan committee and later served on the zoning board.
McDonald's nomination was seconded by Councilwoman Christine Napierski.
She had been McDonald's running mate in Guilderland's first-ever Democratic primary last year. The pair took a stance against rampant development, including objecting to a pair of projects that are now able to go forward after a lawsuit brought by McDonald and his Westmere neighbors was ultimately unsuccessful: a 222-unit apartment complex, The Apex at Guilderland, now to be constructed by a Troy company, and a Costco Wholesale store.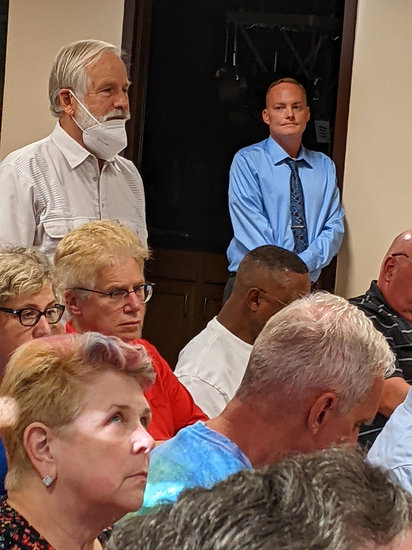 The Enterprise — Melissa Hale-Spencer
Chuck Klaer, at left, nominates Kevin McDonald, at right.
Napierski won the Democratic line in the June 2021 primary, ousting incumbent Paul Pastore who was also at Monday's meeting. She went on to win a town board seat.
Laurel Bohl, who had earlier ridden the control-development tide to victory, in 2019, had last week, in a letter to the Enterprise editor, called for support for McDonald to take her place on the board.
Crawford was nominated by Councilwoman Rosemary Centi who said, "He will work hard for us."
McDonald declined to give a speech.
The longest speech of the night — in a meeting that ran from about quarter past six o'clock to about half-past six — was given by John Haluska, who received no nomination.
Haluska went over his career, from teaching to being a real-estate appraiser, and provided a list of "eyesores" in town that he had advocated to clean up. He called for affordable housing to attract young people and green space as well — stating the two are not opposites.
Haluska held out a newspaper clip of a letter he wrote to the Enterprise editor, calling for Republicans and others to renounce the Jan. 6 insurrection at the nation's capitol. "Silence deems consent," he said, drawing applause.
Crawford had opened the meeting, hearing 39 committee members were present and there were 11 proxies. Dennis Feeney, a county legislator, was then unanimously chosen as the meeting's presiding officer and ran the rest of the meeting.
After the voice vote giving Crawford the nod, he gave a brief speech, stating he'd served on the town's conservation advisory council as well as currently on its zoning board.
He credited Haluska for some of the items on his list and said "infrastructure is huge" and that, using funds from the Biden plan, providing clean water would be major.
Finally, Crawford called for building "a stronger community together."
According to the state's Election Law, July 28 is the last day for filing a nomination through a town caucus as well as the last day to file a certificate of nomination to fill a vacancy.