Artist gets grant to paint near-to-life-size apple tree
Tuesday, June 23, 2020 - 09:50
RENSSELAERVILLE — Artist Susan Story loves an apple tree that sits on Rensselaerville's historic Samuel Jenkins Homestead property, down the street from her home. 
She plans to honor it by painting a near life-size replica that will incorporate all four seasons in one image, which she says is to prompt contemplation around the various events a tree must go through before it produces an apple.
It's an enormous undertaking that will be aided by a $5,000 grant in kind awarded to Story by the Arts Center of the Capital Region.
The project, Story hopes, will connect people to the apple trees and orchards that speckle the Helderbergs, providing sustenance both nutritionally and, at the state level, economically. 
Story is a master pastelist, a title bestowed by the Pastel Society of America, and she's involved with several artists' groups, including the Academic Artists' Association, Audubon Artists, and the Hudson River Valley Artist Association.
"I'm a landscape painter," Story said, "and I focus a lot on trees. I think they're very much like people: They are individual, but they have a lot in common as well. They're very graceful and moving, and so much impacts them, from both man and nature."
She decided to pursue a project around apple trees, she said, because of what she sees as a resurgence of an old trade.
"There is a revival of people growing apples, now," Story said, "and they're making hard cider. It's a great industry for us. It's a natural thing to happen in New York."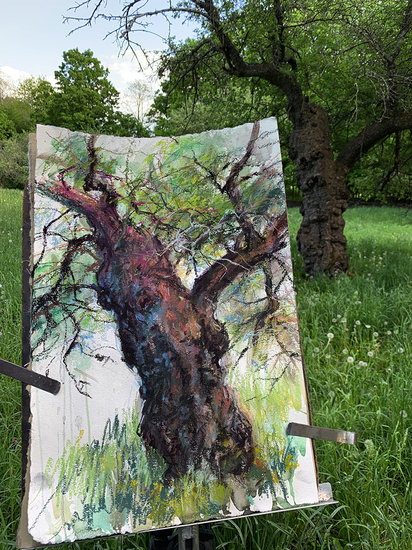 — Susan Story
Standing in before the tree itself, Susan Story, of Rensselaerville, holds up a sketch of the tree, of which she'll create a near-life- size painting.
---
Story furnished statistics from the United States Department of Agriculture, which identified 32 orchards in Albany County in 2017, totaling 247 acres; this is up from the 140 acres logged in 2012 across 11 farms.
According to the New York Apple Association, New York is the second largest producer of apples, producing nearly 30 million bushels annually. The Eastern and Western Hudson Valley comprise two of New York's six apple-growing districts. 
And although the Hilltowns may not be a primary provider, orchards are a thread in the Hilltowns' natural tapestry, which has long been the pride of its residents.
"I think people are starting to really re-evaluate life with everything that's going on," Story said, "and maybe they're going out looking at trees and appreciating things. And a lot of people are moving up here now because they see the value in what we have." 
Her finished work, still in its planning stages, will likely be a 12-by-12-foot assortment of panels linked together by her husband, Douglas Story, who is a cabinetmaker. The scale is massive, though not as large as the subject itself, which Story estimated at about 16 feet by 16 feet.
"That's just going to be too hard to paint and transport," Story said.
In addition to figuring out a way to interlock the panels, the Storys will need to construct scaffolding, which Susan Story will use to paint the higher portions of the tree, along with a support system for the work, which will be displayed at Conkling Hall, in Rensselaerville, sometime in the fall. 
In addition to her own interpretation of the tree, Story will produce an outline of the same tree on a smaller, 8-by-8-foot scale, which visitors can color in on their own at the exhibition.
Story said that, presently, she's working on soliciting donations from home-improvement stores for paint and supplies.
At the same time, she's working out the artistic details, with updates posted along the way on her Facebook page and blog.
"I have started doing sketches of the tree," Story said. "I've got plans; I've been thinking things out and changing them as I go along. I have no idea how long this will take until I start painting."
Because she is incorporating all four seasons into a single artwork, she said,"I'm not going to be able to paint it all at one time."
She went on to explain, "I'm going to start off painting the skeleton of the tree, which is what you see in the winter without snow. And then there'll be progression in the seasons, so I'll be adding some snow, and then you'll have buds, and flowers, and the leaves opening up and the apples starting." 
The result, she said, will be an impressionistic rendition of a tree she finds deeply endearing.
"I just liked the shape of it," Story said of choosing her muse. "It's down the street from where I live. It's got a big trunk with a lot of burls and dead branches … It's a tree that everybody knows of in this town."