A peaceful daytime protest, a night of destruction across the county
Sunday, May 31, 2020 - 23:09
ALBANY COUNTY — County and city leaders made a clear distinction between the peaceful protest that took place Saturday afternoon and evening in Albany and the rioting that took place Saturday night in pockets across the county.
The uproar occurred after the county had been largely shut down for more than two months to prevent the spread of coronavirus. And it was similar to protests held across the country since the death of George Floyd, an African American who died after a Minneapolis police officer kept his knee pressed into his neck for more than eight minutes. The excruciating scene was captured in a widely-circulated video.
"I cannot see a connection between anger over the killing of George Floyd and throwing a brick through the window of a public library," said Albany Mayor Kathy Sheehan at a county press briefing on Sunday morning. "I don't see the connection between frustration with police and smashing out the window of a black-owned business and stealing everything inside. That is not protest. That is not accomplishing anything to move a community forward."
"I understand totally why so many people across the country are so angry and so frustrated and saddened by the disturbing series of events we've seen …," said Albany's African-American police chief, Eric Hawkins, at a city press briefing just before the county's. "I find it absolutely disgraceful what we saw last night in our city. We saw agitators, many whom we believe are not even from the city of Albany who used that occasion to engage in unlawful, unprovoked acts of violence."
Deputy Chief Brian Hogan described events on Saturday, starting with a peaceful demonstration at 1 p.m. as hundreds of people gathered at Townsend Park. Albany Police "safely helped them traverse the city," said Hogan and there was no violence.
After most of the protesters dispersed, about 300 went to the capitol and the governor's mansion to protest and eventually made their way to the police station in Albany's South End. Still, there was no violence and most of the group walked away, said Hogan.
About 25 people stayed behind and, at 5 p.m., wanted to talk to officers, which they did, said Hogan. Then, at 6 p.m., "Folks started coming back, throwing bricks and rocks and bottles at some of our police vehicles, causing some damage, stealing some property out of police vehicles," said Hogan.
Police then formed a line to move people, and a couple of officers were hit with bricks and injured, said Hogan. 
One Albany Police officer was taken to Albany Medical Center after a brick hit his head, Sheehan said. He was wearing a helmet, she said, and is recovering at home.
Albany Police announced on Monday evening that James Vail, 21, a white man who lives in Delmar was charged with first-degree riot, third-degree criminal mischief, second-degree assault, and first-degree attempted assault in the incident. At about 7 p.m. on Saturday, the press release said, "Vail threw a brick at the head of a uniformed Albany police officer at the police station on Arch Street … Vail is also responsible for throwing a brick at the window of a marked Albany police car parked at the police station and causing the window to shatter."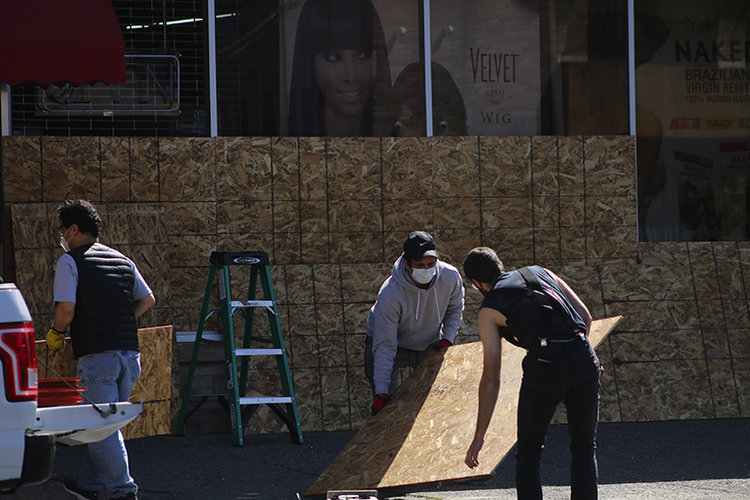 The Enterprise — Michael Koff
Crews were at work in Albany on Sunday morning, boarding up windows that were smashed on Saturday night.
---
Rocks, bottles, and incendiary items were thrown, Hogan said, continuing his narrative of events on May 30, and police moved the crowd off of Park Street onto Pearl Street.
"Our police did not don their riot gear until the vandalism started to occur in the parking lot …," said Sheehan. "We were not expecting a riot. We were expecting a peaceful protest." 
Sheehan had issued an emergency curfew on Saturday night to keep people off Albany Streets. She extended the curfew to Sunday night as well.
Sheehan said she put the curfew in place because she wanted people to know it wasn't safe to be on the streets. "It was not safe in this city and I've never said that before about the city of Albany. Never," said Sheehan on Sunday morning. "I can't guarantee it will be safe tonight so we're extending the curfew to keep people safe."
The events on Saturday led to just two arrests, for property crimes, said Hogan. A 15-year-old and an 18-year-old were also shot on Saturday night, said Sheehan, which she described as "other calls coming in" at the city briefing.
Later, at the county briefing, she elaborated, "Once the social media got out about what was happening at South Station, all the resources being deployed … I was getting pinged: 'They're going to go to Crossgates Mall at midnight.' It really became a much, much broader emergency. We're still trying to sort that out."
Sheehan praised the way Albany Police handled the outbreak. "This is what a police department is supposed to be doing," she said.
Unrest continued in Albany on Sunday and Monday.
On Sunday morning, three Albany teens were charged with burglary after removing plywood from the entrance of a cell-phone store on Central Avenue, according to a press release from Albany Police. In a separate incident, Nahshon Joseph, 26, of Albany, was charged with criminal mischief after throwing a brick through the front window of a clothing store on South Pearl Street, the release said.
On Monday night, as a crowd gathered on Clinton Avenue and Henry Johnston Boulevard, Steve Smith, spokesman for the Albany Police Department, put out a bulletin, urging people to stay home and posted a series of tweets and a video as events unfolded.
At 4 p.m. Smith tweeted a picture of protesters standing against the barricade in front of police headquarters, talking to Hawkins in shirtsleeves. "Chief Hawkins and other officers have taken the opportunity to talk to talk to them about the importance of police-community relationships here in Albany," Smith tweeted. 
At 11 p.m., Smith posted a video, tweeting, "Protesters have started throwing items and fireworks at officers at police headquarters." The video shows police in riot gear behind the barricade with smoke in the background. A man can be heard shouting in the 16-second video but no protesters are visible.
Like a war zone
Albany County Executive Daniel McCoy, a former firefighter and a member of the National Guard who served in Iraq, likened Albany city streets on Saturday night to a war zone. He said he watched "over 30 windows get smashed in front of me."
Likening it to "being in battle," McCoy said, "I was as close as I felt to being in a war zone in downtown Albany — gunfire going, fireworks. It was pretty crazy. I said, 'Man, I feel like I'm back in Iraq.'"
In the wee hours of Sunday morning, McCoy was at the county's probation building, which was burning.
"Unfortunately, our fire department couldn't get to it because of what was going on," said McCoy. "The scene wasn't secure. It kept taking off and I had a conscious decision: Try to put it out with an extinguisher or let it go."
Letting the fire go would have taken the entire block, he said, since the buildings are connected. "It took four extinguishers to get it out," said McCoy, "but we got it out and, thank God, no one got hurt."
"And then I called and told him to go home," said Mayor Sheehan.
Other county buildings that McCoy described as "hit pretty bad" include the health department, the board of elections, and the justice center. Albany County Sheriff Craig Apple said the county courthouse and mental-health department were also hit.
"We're self-insured to a degree," McCoy said. "The first quarter-of-a-million dollars is on us … This is going to cost us hundreds of thousands if not over a million dollars."
County and city workers as well as volunteers immediately set about boarding up smashed windows and cleaning up rubble, McCoy said.
The destruction was not confined to the city. "It also happened at Crossgates Mall, Colonie Center, and a lot of businesses along Wolf Road," McCoy said.
Apple said 60 of his deputies were stationed in Albany on Saturday night and 22 others were stationed throughout the county, protecting the malls, as they worked with Colonie, Guilderland, and Bethlehem police.
The first responders, many of whom were unable to wear masks in the midst of the melee, will now have to be tested for COVID-19, said McCoy, who is also worried about the spread of the disease among the residents who congregated.
"I never thought you'd see Molotov cocktails thrown at police … I never thought I'd see that happen here," said Apple.
Apple also said he felt bad for the businesses that had to shut because of the coronavirus and had a chance to reopen.
"As you drive down Central Avenue, they're all boarded up …," he said. "There's a man sitting about half a mile from us on his chair, staring at his business — crying. My heart breaks for them and, yes, my heart breaks for the family of Mr. Floyd."
Apple described a truck driver who had his whole load burned and a bus driver driver on South Pearl Street who was pinned in her bus, having a panic attack.
Prosecution vowed
"Our job is to protect and save life and property and that's what we did last night as best we could," said Apple. He said that "small groups of antagonists all over the city" caused the destruction.
McCoy vowed that the agitators would be prosecuted. "We have surveillance cameras all over our buildings," he said.
He spoke directly to the perpetrators, "You weren't protesting. You were rioting. You were being terrorists …. I don't want to hear you crying and saying you're just part of it. You're throwing bricks and destroying people's lives. That's not cool."
Like Hawkins and Apple, McCoy believes that many of the perpetrators were outsiders, not from Albany.
Apple said he left the city of Albany at 3:05 a.m. and, once he got home, he sat in his driveway fielding calls from "people that were so pissed off at what went on in this county that they were calling and telling on a friend that he's boasting about it … We'll be following up."
He also said, "I'm especially grateful to the man that threw rocks at Colonie Center and posted a video of it."
During the Saturday morning briefing, Apple said, "As I'm sitting here, I'm getting some of the comments on Facebook about what's going on tonight. It's a small group but unfortunately … people start to attract to it from outside the area. We saw young kids last night that were not from downtown Albany."
Building bridges
Of the way George Floyd died, Apple said, "It was nefarious. It was criminal. It was negligent … I don't want the public to paint police officers with a broad brush. We're not like that here."
Apple talked about the way his department builds bridges, for example, attending neighborhood association events. "This set us back years," he said.
Hawkins said it is not just Albany Police, but police across the country who have problems earning the trust of black and brown communities. "It's so ingrained in our society, it's not changed overnight …," he said. "They have to let us methodically work our way through some of these issues where we're building trust."
In the year and a half since he became Albany's police chief, Hawkins said, "We've expanded our community policing program." He said there are plans to encourage more women and minority candidates to join the department.
"We're making positive movements every single day to build bridges in this community," said Hawkins.
Hawkins said he had asked his officers, before Saturday, to review videos of what had happened in Minnesota to become acquainted with the issues.
Hawkins was out of town as events were unfolding on Saturday but said he was in "constant contact" with his staff. "As soon as things took a turn, he immediately returned to the city …," said Sheehan. "He led."
Sheehan also said, "We already know the coronavirus … is having a disproportionate impact on our communities of color, on our poor communities. And which communities were hurt the most last night? Small businesses, many of them minority-owned, smashed, damaged … We're supposed to reopen on Wednesday," Sheehan said of the June 3 target date for starting Phase 2 of reopening in the Capital Region.
"These businesses were not only damaged, they were looted, everything lost … These are businesses that serve communities we already know are underserved."
Finally, Sheehan said, "There are clearly those who seek to take advantage of peaceful gatherings to incite violence. We saw that yesterday. We saw that in Rochester and Buffalo and Syracuse and cities across the country."
Suburbs
Guilderland Deputy Chief Curtis Cox said on Tuesday, "The town has been pretty comfortable. We hope to keep it that way."
Cox said that on Saturday there had been "a credible threat of violence proceeding to Crossgates Mall." Guilderland's police chief, Daniel McNally, had conferred with other agencies "to develop a plan to protect our town," Cox said.
The threat was "thwarted by having a presence and peacefully moving that along," he said. Cox said he didn't want to discuss strategy or tactics and, asked how many officers were involved, would say only "a good complement."
The town continues to communicate with Capital District agencies, Cox said on Tuesday, stating, "The plans are fluid."
"The most important thing is to protect our citizens and businesses and visitors," Cox said. "We're out there."
According to United States Census data, Guilderland is about 84 percent white, 3 percent black, 4 percent Hispanic, and 9 percent Asian.
Asked if he or his officers had felt animosity since the killing of George Floyd, Cox said, "We're very concerned about what's happening … We've certainly had good relations with all the residents."
He cited the National Night Out held annually by police in Guilderland's Tawasentha Park, which draws large crowds in a carnival-like atmosphere. "It's a positive thing to bring the community together," said Cox.
He concluded of good community relations, "I like to think that would continue."