Harold Miller
Wednesday, May 25, 2022 - 17:48
Harold "Hal" Miller died on May 4, 2022, following by just a few months the death of his husband, Ed Davidson.
"Hal had Parkinson's for a number of years," his friend, John Williams, wrote in a tribute, "but his health took a dramatic downturn in recent weeks.
"Hal was born in upstate New York, in Berne, one of a number of small towns called the Hilltowns.  He was one of nine children raised on a large dairy farm.
"Hal was working for the United States National Parks Service in Washington, D.C. where he met Ed Davidson. They both took early retirement and began their love affair with Mexico. They co-authored what, in its day, was the best known, most complete and trustworthy "Gay Guide to Mexico." They lived in San Miguel de Allende for many years before moving to Oaxaca where he and Ed resided for the last 20 years.
"However, I think Hal was most proud of the genealogical and historical research he did on the Hilltowns of his growing up. Over many, many years, Hal painstakingly produced genealogies of nearly all families in the Hilltowns. In doing so, he also unearthed some local history that was not so well received by the Hilltown natives, such as their involvement with slavery and the importance of German immigrants in their history.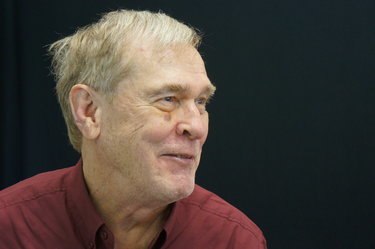 "Hal's work produced a number of books and he had essays published by the New York Historical Society, which recognized the importance and uniqueness of his research about the Hilltowns. Hal was still working on this project at the time of his death.
"Hal and Ed became the Oaxaca Lending Library's first known gay couple to get legally married, which they did when LGBTQ marriage became legal in Massachusetts. All of Hal's family, including his mother, attended the marriage. Hal's mother commented, 'Thank God. Now all of my children are married.'
"Hal was a founding member of the LGBTQ Wednesday Breakfast, which has been in existence for over 10 years.
"Hal is survived by his eight sisters and brothers; various nephews and nieces including his special nephew, Garth, his and Ed's Oaxaca 'son,' Gregorio, two nurses who have been with Hal and Ed for 12 years, Victor and Josè Manuel, as well as Hal's many, many friends.
"He sure will be missed."
****
Harold Miller is survived by eight brothers and sisters, Ralph Miller and his wife, Jeannette, of Berne, Carolyn Wright of Summerfield, Florida, Marilyn Nardolillo of Berne, Huberta Miller of Lady Lake, Florida, Charles Miller and his wife, Sandra, of Berne, Sharon Vincent and her husband, Michael, of Berne, Donald Miller and his wife, Theresa, of East Berne, and Allen Miller and his wife, Marie, of Berne. Hal is also survived by many nieces, nephews, aunts, uncles, cousins, and hundreds of Facebook families who will miss the knowledge of his genealogy and love of Berne history.
His husband, Ed Davidson, died on Nov. 10, 2021. His parents, Frances and Hubert Miller, also died before him, as did his brothers-in-law, Robert Wright, Peter Nardolillo, and Gerald Miller; his nephew, Gerald Miller, and other extended family members.
Burial for Harold and Ed will be in the Woodlawn Cemetery at a later date.