Denny J. Empie
Tuesday, April 16, 2019 - 17:14
GUILDERLAND — Denny J. Empie, a star Guilderland High School athlete, went on to be a teacher and coach. He was a devoted son to his mother who lived to be over 100, and a born-again Christian who started the Jesus Soda Survey.
On Thursday, April 11, 2019, he "went home to be with Jesus, his personal Lord and Savior," said a tribute written by his pastor, Geoffrey Ekstein. He was 72.
"He was a coach at heart," said Rev. Ekstein; he had the same passion for his vocation — teaching and coaching — that he did for his avocation — bringing people to Christ.
"As a coach, he had the desire to equip players to be successful. He did it with passion and commitment. That's what he did in the church, too — cheering you on and equipping you for the game," said Rev. Ekstein.
Mr. Empie was born Dec. 5, 1946 in Albany, son of the late Luther and Violet Empie. His parents owned and ran Empie's Market, a long-time community gathering place in Guilderland Center. The Empie family lived over the store.
"Dad was the grocer, the butcher, the postmaster," said Bryant Empie, the middle of the three Empie sons. "Mom worked at the post office from eight to 10 and from two to four." He noted that his mother had filled in while his father served in World War II and again after his death in 1969.
The store itself opened at 7 a.m. and closed at 6 p.m., six days a week — the store was closed on Sunday, said Bryant Empie. The living space over the store had two bedrooms. "Reg and I slept in one room and Mom and Dad in the other," he said, "and then Denny came along." The three brothers were each five years apart, he said, and had different interests.
Bryant did clean fish with Denny that Denny had caught in Duane Lake where the family had a camp. "Denny liked to go fishing," he said. "Mom did the cooking."
Denny's biggest interest was in sports, at which he excelled. He was a rarity in high school, lettering in three sports — football, basketball, and baseball.
"He was perhaps Guilderland Central's best athlete ever," said David Beyer, whom Bryant Empie described as Denny's best friend.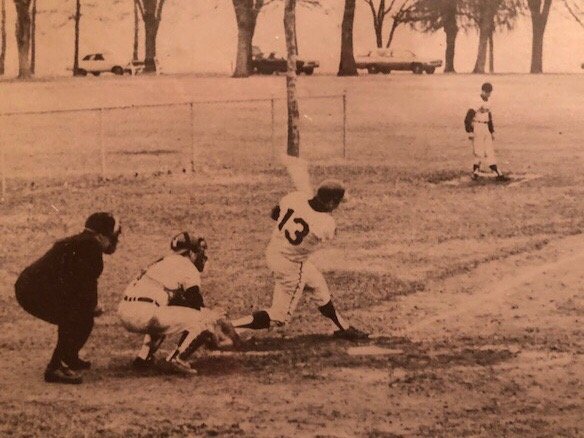 — Photo from David Beyer
Denny Empie at bat for the University at Bridgeport team in April 1969. He is wearing number 13 because he thought his teammates might not want to.
---
The two met when they worked as lifeguards at Guilderland's Tawasentha Park. "I was always interested in sports but on the periphery since I was not that talented," said Mr. Beyer. "Denny was the quarterback in 1963 when Guilderland won its first Suburban Council championship."
Mr. Empie was also a standout on the varsity basketball team.
But his best sport was baseball. Mr. Empie was a starter on Guilderland's varsity baseball team as a freshman, said Mr. Beyer. "I don't know another freshman who started," he said.
Mr. Empie was his team's catcher, both in high school and college for the University of Bridgeport in Connecticut. "He was stubborn," said Mr. Buyer. He played in the summer Cape Cod Baseball League, which has been a springboard for many future Major League Baseball players.
"He was approached to try out for third base," said Mr. Beyer. "He wouldn't do it. He said, 'I'm a catcher.'"
"In his senior year of high school, he was a New York State All-Star in baseball," said Mr. Beyer. But, despite all of his athletic success, his friend said, "He was extremely modest, almost to the point of being bashful."
Mr. Beyer went on, "He wore number 13 … A lot of people fear the number 13. It's called triskaidekaphobia … Even though he was a star, he took that number because he didn't want it to go to another player who might not want it. He was sensitive that way.
"You wouldn't think a venerated sports hero would be so modest and so sensitive to other people. One time I asked him who was the best pitcher he ever caught. He said Joe Coleman," naming a Major League pitcher. "They had had a New York State versus New York City All-Star tournament and he'd caught for Coleman." Stressing his friend's humbleness, Mr. Beyer went on, "If it were me, I'd tell everybody, but not Denny."
Mr. Empie taught physical education in the Scotia-Glenville School District. He became the school's varsity baseball coach in 1972 after teaching for two years. He went on to coach other teams as well. "He coached boys' and girls' basketball and later was very much involved in coaching girls' soccer. And he coached baseball for Siena College," Mr. Beyer said.
Rev. Ekstein had been a Bethlehem Central High School student but, decades later, could not remember the girls, his classmates, who had played soccer for the school. "I forgot their names but Denny, who was coaching back then, still remembered them all," he said.
"He liked teaching," Bryant Empie said of his brother. "Although sports were obviously a large part of his life, when he became a phys.-ed. teacher, Denny always considered himself a 'teacher' and, as such, felt that his career calling was to help educate students and positively influence young people's lives," said Mr. Beyer. Denny Empie retired from Scotia-Glenville in 2002.
"As an adult, he excelled at tennis and golf," said Mr. Beyer. Bryant Empie noted that their mother had outlived their father by almost half a century. "She had gentlemen friends and some of them liked to golf," he said. "Denny went golfing with Mom after all the men died," he said.
"He and Bryant doted on their mother," said Mr. Beyer. "She lived to 102, and passed on just four years ago. They devoted their later years to caring for her ...
"He was stoic. He had a caring, sensitive side that most people didn't see. He never wanted to put anyone else out of their way," said Mr. Beyer, giving an example:
"I'm driving up for the service," said Mr. Beyer, who lives in Richmond, Virginia. "If Denny knew I was driving 1,000 miles round-trip, he'd insist I not do that." He concluded, "He doesn't have a choice."
The Empie family had attended the Helderberg Reformed Church in Guilderland Center, Bryant Empie said, but his brother later in life became a member of the Bethlehem Community Church.
"In June of 2003, Denny surrendered his life to Jesus Christ and was born again into the Kingdom of God. In obedience to Jesus' call to go and make disciples, Denny faithfully committed his time and his resources to starting the Jesus Soda Survey," wrote Rev. Ekstein in his tribute. "This evangelism outreach has dozens of volunteers attending hundreds of events sharing the Gospel with thousands of people."
The pastor described how Mr. Empie came up with the idea for the survey. "Denny used to be very much into antique furniture and went to swap meets and fairs and flea markets," he said. "After he came to Christ, he felt a calling to share Jesus with those who didn't know Him."
So he set up a table at a flea market and he had a survey with one simple question: What does it take to get to heaven?
"For answering that question, he'd give you a soda," said Rev. Ekstein. "It opened the door to what the Bible says."
So what is the answer?
"It's not about the work you do or about being a good person," said the pastor. "The answer is: Putting your faith in Jesus Christ … It's a simple answer but a profound answer."
About eight years ago, a member of the Bethlehem Community Church went by Mr. Empie's table at a swap meet, Rev. Ekstein said, and thought it was a great idea. "Denny started coming to church with us."
The Jesus Soda Survey grew. "We jumped in and supported it … We did 30 events last year," said Rev. Ekstein. He stressed, "We're not trying to build our church. This is an outreach of the global church."
"Each year, Denny came up with a different design for T-shirts," which the volunteers wore, said Rev. Ekstein. "My favorite has three or four question marks across the back. It says, 'Jesus is the answer.'
"When I wear it, people will say, 'What's the question?' I say, 'It doesn't matter what the question is; Jesus is always the answer."
Rev. Ekstein described Denny Empie as "a quiet, humble man who liked to serve others."
When Rev. Ekstein visited him in the hospital, he would say, "You've spent enough time with me. There are other people."
"I would tell him, 'Denny, this is where I'm supposed to be.'" Rev. Ekstein went on, "Denny gave love to others. He just had this humbleness … Walking through to the end of his life with him was one of the hardest things I've ever done as a pastor — and one of the most fulfilling."
****
Denny J. Empie is survived by his brother Reg Empie and his wife, Mary Lu; by his brother, Bryant Empie; by his niece, Lisa Empie, and his nephew, Eric Empie, as well as an extended church family.   
A celebration of his life will be held on Saturday, April 20, at 11 a.m. at his church, Bethlehem Community Church at 201 Elm Ave. in Delmar. A fellowship luncheon will follow. For members, past and present, of the Soda Survey crews, please feel free to wear your T-shirts.
Memorial contributions may be made to Bethlehem Community Church, 201 Elm Ave., Delmar, NY 12054 to help support the continuation of the Jesus Soda Survey Ministry.
— Melissa Hale-Spencer