Local politicians approve of new redistricting plan
Thursday, March 3, 2022 - 15:01
ALBANY COUNTY — Although New York's redistricting process inevitably inflamed partisan tensions, the changes to districts that fall over The Enterprise's coverage area were well-received by the politicians who represent them, regardless of political affiliation.
Assemblyman Chris Tague, a Republican representing District 102, which currently includes Westerlo and Rensselaerville and other rural areas outside Albany County, voted against the overall plan because he felt that unfair changes were made to districts other than his. But he feels his redrawn district results in the upside to what is often a contentious process — ensuring that populations are represented by the right people. 
"The purpose of redistricting is to make sure that your area is represented by someone that is familiar with and experienced in issues that are relevant to your area," Tague, who's from the town of Schoharie, told The Enterprise this week. "For instance, to take an assemblyman out of the Hudson Valley, in a suburban area, and ask them to represent a [rural] county like Schoharie or Greene, or the Hilltowns of Albany County, it'll take them two years to get familiar with the differences in issues and values of the people that live there."
Although Tague lost some towns, like Saugerties, from his current district, he gained Knox and Berne, making him the sole representative of the tight-knit Hilltown community in the State Assembly. Previously, he shared that responsibility with Democrat Angelo Santabarbara, who could not be reached for comment. 
With the redrawn district, Tague will continue to represent all of rural Coeymans and will add part of suburban Bethlehem.
Approximate voter breakdowns of each district can be gleaned from the New York State Board of Elections list of voters per party who voted for governor in 2018, which had a turnout of 48 percent.
Tague's district had primarily right-leaning voters (belonging to the Republican, Conservative, and Reform parties) who represent around 61 percent of the voters who cast a ballot for governor there, compared to 33 percent left-leaning voters (belonging to the Democratic, Working Families, Green, and Women's Equality parties). The remaining 6 percent belong to the Independence Party or were unaffiliated.
Besides Tague, all the state representatives within the Enterprise coverage area — Senator Michelle Hinchey, representing District 46; Assemblywoman Patricia Fahy, representing District 109; and Assemblyman Santabarbara, representing District 111 — are Democrats, and voted in favor of the plan.
Hinchey told The Enterprise she was content with the changes made to her district.
As mentioned, Santabarbara, whose current district stretches from the Hilltowns and over Canajoharie, in Montgomery County, terminating a bit east of Little Falls, is losing the Hilltowns, as well as the western portion of his district, leaving him with a district that includes the city of Schenectady over to and including Duanesburg, and up a little past the city of Amsterdam. Santabarbara could not be reached for comment.
His new district's 2018 gubernatorial ballots cast by party were around 41-percent left-leaning and 52-percent right-leaning; the rest were Independence voters or unaffiliated. 
Fahy's district, which now includes all of suburban Guilderland, New Scotland, and Bethlehem and the western part of the city of Albany will continue to cover all of New Scotland but only the southern part of Guilderland, below Route 20, and none of Bethlehem.
The northern section of Guilderland, above Route 20, will become part of District 110, which is currently represented by Assemblyman Phil Steck.
Fahy's new district will be made up primarily of Democrats because District 111 will cover all of Albany. Only 29 percent of voters who voted for governor there belonged to a right-leaning party.
Elissa Kane, Fahy's chief of staff, said at Tuesday morning's State of the Town forum in Guilderland that Fahy is "delighted" to remain a representative of Guilderland.
Senator Hinchey's current district, 46, will no longer cover any of Albany County. The new 46th district will run from Troy to Saratoga Springs, and Hinchey's area will be renamed District 48.
The current district, drawn by the Republican-dominated Senate in 2012, has become more Democratic since its inception: Thirty-five percent of voters are enrolled as Democrats, 28 percent as Republicans, 27 percent are unaffiliated, and the rest are enrolled in small parties.
Hinchey's current district stretches 140 miles, encompassing all of rural Greene and Montgomery counties and parts of Albany, Schenectady, and Ulster counties. The district includes all or part of these Albany County towns: Guilderland, New Scotland, Coeymans, and the Hilltowns of Berne, Knox, Rensselaerville, and Westerlo.
The new District 48 covers all of Greene and Ulster counties and parts of Columbia, Dutchess, and Albany counties. In Albany County, the Hilltowns of Berne, Knox, Westerlo, and Rensselaerville as well as Guilderland are included. 
The rest of Albany County is in District 45, the new designation for what is currently District 44, represented by Democrat Neil Breslin.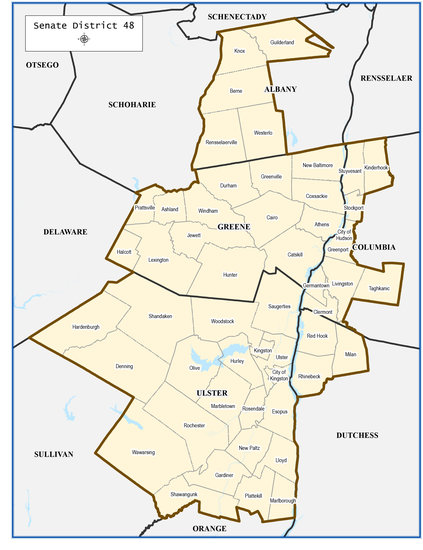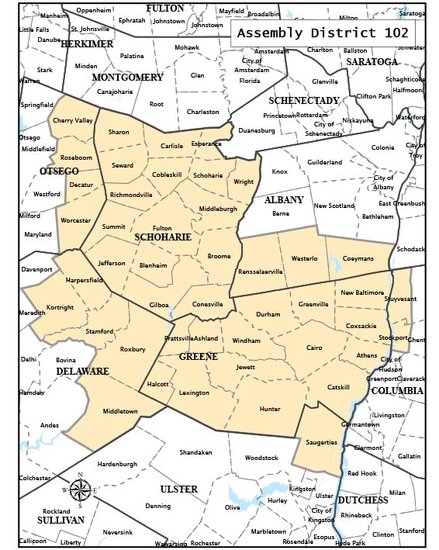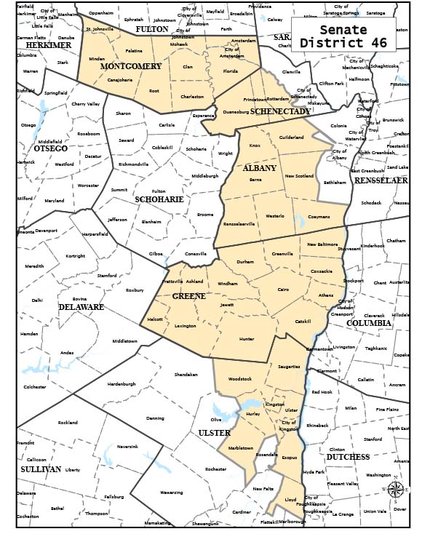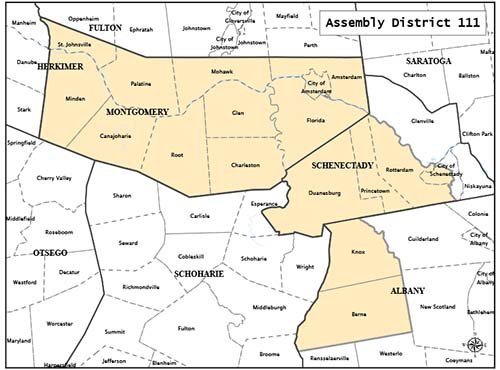 Background
Redistricting is done every 10 years to conform political districts to new census data — in this case, data that was collected for the 2020 census.
The new maps were signed on Feb. 3 by Governor Kathy Hochul and will take effect with the November 2022 elections.
According to federal law, election districts have to be nearly equal in population and cannot be drawn to create racial demographic disparities.
New York State's constitution outlaws partisan gerrymandering and says legislative districts are to be geographically contiguous and compact.
Because there's room for debate over how to best draw district lines, the process often becomes political, favoring the party in power — in this case, the Democrats.
In an attempt to divest the redistricting process of that politicization, the voters of New York State authorized the establishment the Independent Redistricting Commission in 2014, a 10-member group whose appointments are made by the State Senate majority leader, the Senate minority leader, the speaker of the State Assembly, and the Assembly minority leader, who each make two appointments. The last two members are appointed by the first eight appointments to the commission, and can't have been enrolled in a political party in the last five years, according to the commission's website. 
In the end, though, the commission was unable to agree on a single plan to propose to the state legislature, and so drew up two plans, one made by the Democrats on the commission, and the other by the Republicans. The state Assembly and Senate approved the Democrat-made plan along party lines earlier this month.