Luke Walsh's family is his A-team, sponsoring the Hilltown Dance, inviting others to come
Wednesday, January 15, 2020 - 16:32
KNOX — The music was loud, with a pounding rhythm, and the air was electric with excitement last Friday night. Karyn Greenblatt watched as Betsy Walsh scrolled through her cellphone, looking for a song Karyn wanted to hear.
Emma Farman, wearing a bright blue dress, struck a pose reminiscent of a ballet dancer. Candace Nadler, who was born on Valentine's Day and is now 25, smiled as she said this was her first time at the Hilltown Dance. How had she learned of it? "My mom," she said.
Jamal Burgess, a tall man with gentle features, stood off to the side, near a bookcase, tapping his foot in time with the music as he paged through a Star Wars book. "I have the whole series," he said.
Near the center of the room, Luke Walsh sat in a plastic chair, grinning widely as he enthusiastically rocked forward and back, swaying with the beat, and dancing with his hands.
"Do you know Taylor Swift?" he asked. "She wrote a cool song — 'End Game.' We play that at the end of every dance," he said.
The basement room at the Knox Town Hall comes alive on the second Friday of every month, from 7 to 9 p.m., as grown-ups with disabilities gather together for the Hilltown Dance.
Betsy Walsh, Luke's mother, came up with the idea. Their family moved to Knox three years ago and were looking for social activities for Luke similar to what they'd had in the Philadelphia area. When they found nothing, they started the Hilltown Dance.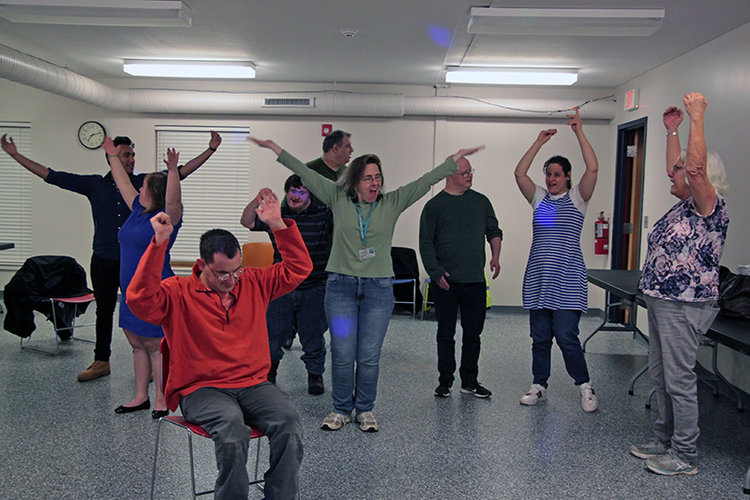 The Enterprise — Melissa Hale-Spencer
YMCA: Dancers, with Luke Walsh in the foreground, and his mother, Betsy Walsh, at far right, make the iconic "Y" for the Village People's song.
---
The fifth dance was held on Jan. 10, and the Walshes are hoping word will spread and more people will come. Last Friday, Sharon Bova and Ahbab Miah brought a group from the Center for Disability Services.
Kindness was evident as well as enthusiasm on the dance floor Friday night. When one young woman turned down a dance offer to dance with another man instead, that second man invited the first to join them — and the three happily danced in a line, their arms around one another.
"We average 10 to 15 people," said Glenn Walsh, Luke's father. "We put up lights to make it a party atmosphere. We provide light snacks, nothing fancy," he said.
The first time, he said, "We weren't sure if anybody would show up."
Glenn told The Enterprise before Friday's dance that Luke was autistic. "He can't dance," Glenn said. "He enjoys the company and the music. He likes to listen and watch everybody. It's an interesting group."
However, early on at last Friday's dance, Luke set aside his crutches and got out of his chair to dance — first with his mother as she held his hands. He also danced while sitting, moving his arms wide, his hands high, to join the others in making the "Y" for "YMCA" as the Village People sang:
"Young man, there's no need to feel down
I said, young man, pick yourself off the ground …
It's fun to stay at the YMCA
It's fun to stay at the YMCA … ."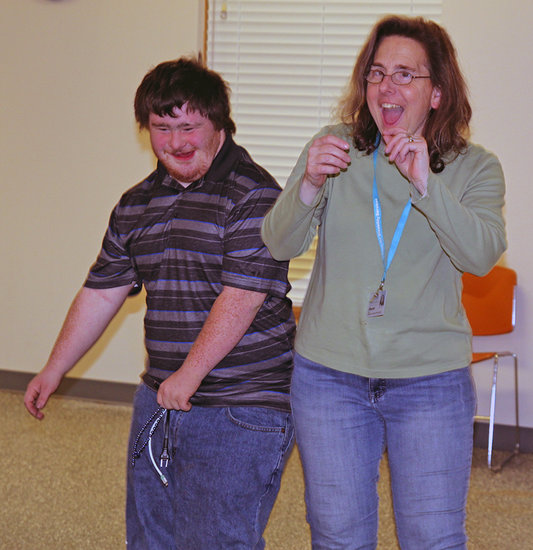 The Enterprise — Melissa Hale-Spencer
In the groove: Sharon Bova, right, a professional with the Center for Disability Services, dances with a client at the Hilltown Dance.
---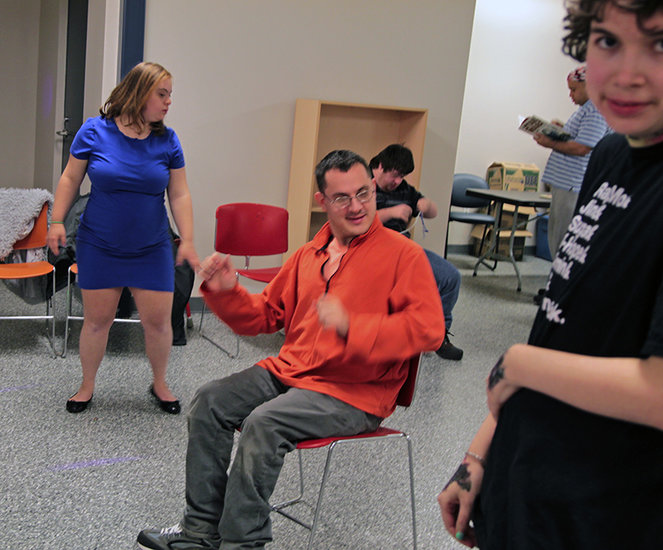 The Enterprise — Melissa Hale-Spencer
Each to his own: Emma Farman, left, Luke Walsh, center, and Candace Nadler, right, have fun at the Hilltown Dance. Behind Candace, in the background, Jamal Burgess looks through a Star Wars book.
---
Glenn and Betsy Walsh both grew up in Huntingdon Valley in the greater Philadelphia area. As kids, he said, "We lived on the same street. We were in Huntingdon Valley our whole lives.
"We moved up here to be with our daughter … She's going to take care of Luke when Betsy and I are gone. It will be an easier transition if he's here now."
Glenn Walsh describes his daughter as "a sweet girl" who just recently became a lawyer and, like her husband, is serving in the Judge Advocate General's Corps, known as JAG.
Also, Glenn said, his wife Betsy had always had the dream of living in the Catskills, so Knox is close.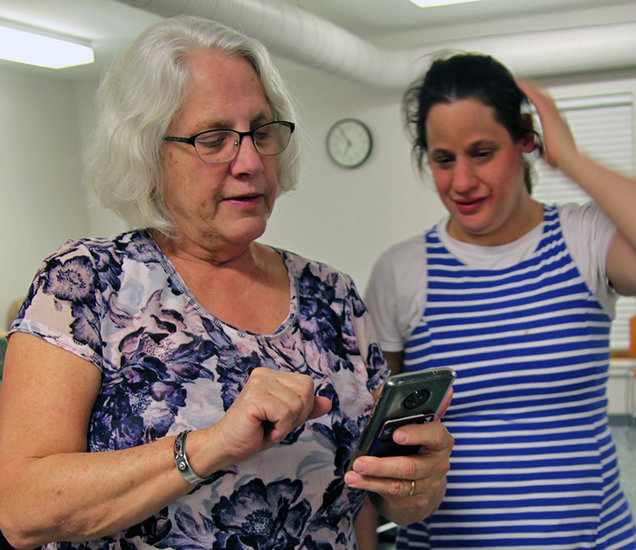 The Enterprise — Melissa Hale-Spencer
Searching: Betsy Walsh helps Karyn Greenblatt find a favorite song.
---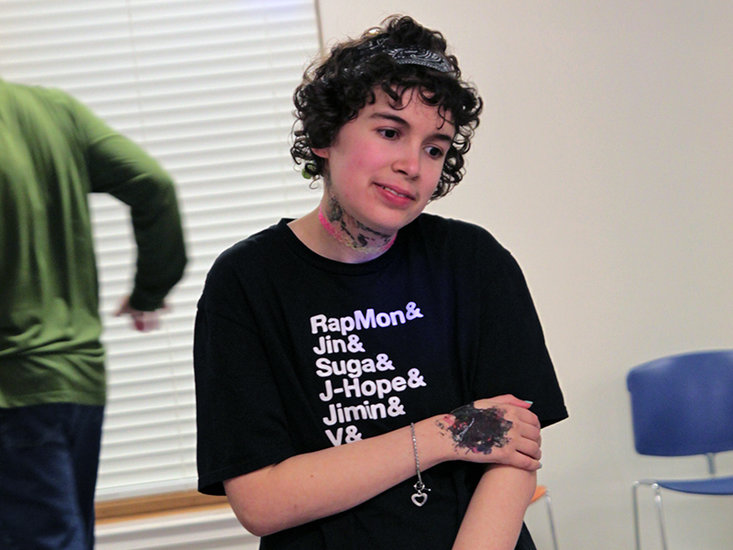 The Enterprise — Melissa Hale-Spencer
Candace Nadler enjoys a contemplative moment on the dance floor.
---
Glenn is retired now from his work as a philosophy professor. He most recently taught at Temple University in Philadelphia and, before that, he taught world religions and introductory philosophy at Holy Family University. Betsy Walsh is an organist and currently plays at Cobleskill Methodist Church.
Since moving to Knox, Glenn Walsh has been active in the community, joining the volunteer fire department and becoming a board member of the Hilltowns Players. He had been in a lot of community-theater productions in Pennsylvania, he said, including playing parts in some indie films. 
Glenn has been in three of the Hilltowns Players' productions, most recently the Christmas musical "Junior Claus."
"When I was a little kid, my mom would drive me to high school alumni shows. She died when I was young," he said. "It's all I remember of her. When I wait to go on [stage], I think, this must be the feeling she had.'"
He relishes that connection to his mother.
Glenn Walsh is also seeking connections for his son.
"It's really hard for parents of adult children with disabilities," he said. "When they're in school, there's a lot of programs and support. After they turn 21," he said of the age when school services end, "it's so difficult."
Luke is 26 and his father is 69.
Glenn went on, "It's important they have something to do every day just like everyone else … We've spent the last three years trying to get his week filled in. It's been a painful process."
The Walshes work with a Self Direction liaison, through the state's Office for People With Developmental Disabilities, which provides services directly and through a network of about 650 not-for-profit agencies as well as state-run services.
"Two days, he goes out in the community for Dayhab; two other days, we've hired aids that spend one-on-one time. They take him out in the community," said Glenn Walsh of Luke's weekly schedule. "One day, he works at Blaze Pizza in Schenectady, folding pizza boxes. He accomplishes something and he gets paid."
Glenn concluded of setting up the weekly schedule. "That's taken three years."
He went on, "It's just constant. Things change; it's always fluid."
Glenn also said of finding activities for Luke, "My wife does that more than I do. She's the angel of the family. She's far more patient than I am."
At last Friday's dance, Betsy Walsh was active on the outskirts and in the center of the dance hall, finding songs and leading dances as Glenn sat quietly at a table near the bookshelf, studying a hefty volume by Kahlil Gibran, the Lebanese-American  poet and philosopher.
Luke was in the center of it all, waiting for "End Game" to play at the close of the dance, when Taylor Swift would sing:
I wanna be your endgame
I wanna be your first string
I wanna be your A-Team … .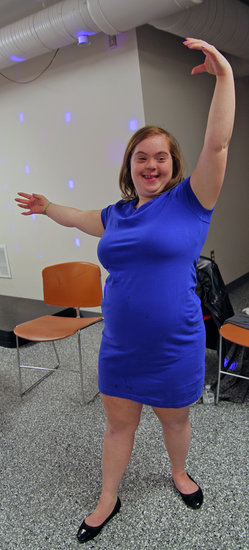 The Enterprise — Melissa Hale-Spencer
Striking a pose: Emma Farman looks like a ballerina.
---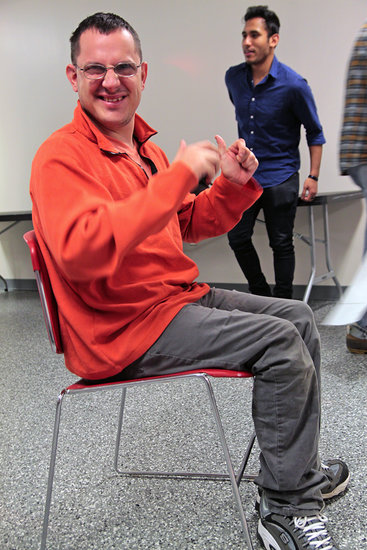 The Enterprise — Melissa Hale-Spencer
Center stage: Luke Walsh moves to the music at Friday's Hilltown Dance.
---