A plan to help those hurt by the War on Pot
Thursday, December 27, 2018 - 12:54
The headline screamed: "MEXICAN FAMILY GO INSANE. Five Said to Have Been Stricken by Eating Marihuana." But the caption does not come from The Onion, the satirical news site; but, rather, a 1927 edition of The New York Times.
A mother and her four children had, according to real doctors, been driven insane by eating marijuana. Even more tragic, The Times reported, actual doctors of medicine said there was no hope of saving the lives of the children and, if that weren't enough, the mother would be insane for the rest of her life.
Such is the sordid and sensational history of marijuana in America.
At one point in our history, in Virginia, it was the law that every farmer was required to grow it, and in some states it was used as legal tender.
By the 1930s, a one-man propaganda war succeeded in recasting the once over-the-counter "cure-all" into a "killer weed," which caused its black and brown users to perform unspeakable acts of violence and deviancy.
"This narrative, reinforced over decades of marijuana prohibition, is reflected in racial disparities in marijuana arrests," according to Vincent Southerland, executive director of the Center on Race, Inequality, and the Law at New York University Law School, and Johanna Steinberg, director of impact litigation for the Bronx Defenders, a public defender not-for-profit.
In New York, in 2017, this "narrative" led to over 23,000 arrests for marijuana possession, of which 80 percent were black or Latino.
In the broader narrative of the War on Drugs, to choose one example, at just the federal level, in 1980, there were about 4,900 in federal prison for drug offenses; by 1993, it was about 48,550 — a nearly 10-fold increase.
The overall federal prison population went from 23,779, in 1980, to 80,815, in 1993. "The increase in drug offenders accounted for nearly three-quarters of the total growth in Federal inmates," between 1980 and 1993, according to the the Bureau of Justice Statistics.   
A 1989 report by the National Council on Crime and Delinquency, a social research not-for-profit, examined the impact of the War on Drugs on the state prison population. Between 1970 and 1986, according to the report, drug crimes — both sale and possession — made up about 10 percent of state prison admissions.
In 1986, the Anti-Drug Abuse Act was passed.
The new "discriminatory" law, according to the American Civil Liberties Union, "devastated African American and low-income communities."
After the law's passage, according to the report from the National Council on Crime and Delinquency, in most states, drug crimes represented 20 to 35 percent of prison sentences.
The total state prison population went from 176,403, in 1970; to 502,251, in the 1986, the year the Anti-Drug Abuse Act was passed; to 1.3 million, in 2012.
As of 2016, there were about 52,000 prisoners in New York State's correctional facilities; about half were black, a quarter were white, and a quarter were Hispanic.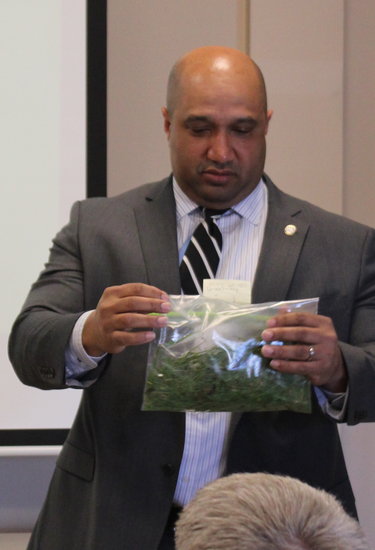 Enterprise file photo — H. Rose Schneider
Real grass: At a community forum earlier this year, Albany County District Attorney David Soares holds a bag of "Voorheesville grass" — lawn clippings meant to represent the amount of marijuana that could lead to a ticket or arrest by police. In November, he said his office would stop prosecuting crimes solely involving possession of fewer than two ounces of cannabis.
---
"Marihuana Marshall Plan"
With New York poised to become the 11th state in the country to legalize marijuana for recreational use, the question turns now to: How will the people whose lives and communities that have been impacted explicitly and disproportionately by a prohibition be able to participate in its very lucrative repeal?
In testimony to the New York State Assembly, Albany County District Attorney David Soares said that to help the communities most affected by the War on Pot, "Something just as radical as the Marshall Plan is needed now. Let's call it a 'Marihuana Marshall Plan,'" a reference to massive aid program that rebuilt Western Europe in the aftermath of World War II.
Soares's Marihuana Marshall Plan, broadly speaking, attempts to create economic opportunity and investment, and seeks to redress the past offenses imposed disproportionately on minority communities.
"The first part of the plan is easiest but most needed," Soares told Assembly members at the Oct. 10 public hearing on allowing adult use of marijuana, "to redress the stigma of criminal convictions among our black and Latino populations, who have borne the brunt of the War on Pot.
"We must work to seal, expunge, and reclassify convictions," Soares said. "In doing so, we can move from stigma to opportunity."
In November, Soares announced that his office would no longer prosecute cases that involve only possession of less than two ounces of marijuana. He also said that his office would begin accepting applications for its Clean Slate marijuana-conviction expungement program, which covers only simple possession offenses with no special aggravating factors.
Dr. Alice Green, executive director of the Center for Law and Justice in Albany, said Soares's decision not to prosecute "sounds nice," but people are still going to be arrested, and "a lot of times, the damage has already been done when you arrest."
"Arrest is a big issue," Green said. A lot of harm can be done; it can be very costly, and it can make a person's work and home life very complicated, she said.  
Lauren Manning, assistant director for the Center for Law and Justice, said: "One of the things for you to think about, because a lot of people who are not black and brown or poor say, 'Oh, it's just a small marijuana charge; it's not a big deal,' but they don't think about the trauma of that initial police interaction. For many of our clients, it's usually a violent interaction."
On expungement and record-sealing, Green said of Soares, "I'm glad he's thinking about that because a lot of these [potential legalization] laws need to be retroactive in order to deal with the harm that has been done to our communities."
But, Green said, the process of appealing a conviction can be difficult. Most people don't know how to appeal, she said, or are not even aware they can appeal or that help may be available.
"So, it's not as great as it sounds," she said. "We have not seen a lot of people rushing to get their records sealed; we've had some in our office … But you know, people need to know more about that; there needs to be more education about it. I think [Soares's] office could do that, and I hope they will."
Green's observation about the lack of people seeking to have their records sealed is consistent with what is actually happening in states with legalization, and expungement and records-sealing programs.  
In California and Oregon, which have done the most to allow people to clear their records, according to the Pew Charitable Trusts, only a very small number of people have tried to have their convictions sealed or expunged.
In the first year that people were eligible to have their records cleared, courts in California received just 1,506 applications, according to Pew; for context, in California, between 2006 and and 2015, there were about 466,000 arrests for marijuana offenses, according to a report from the Drug Policy Alliance, a pro-legalization not-for-profit organization.
In Oregon, according to the Drug Policy Alliance, about 78,000 convictions could be sealed or expunged. However, as of November 2017, only about 1,200 people had applied to the program, which began in 2015.
Opportunity
With the advent of an entire industry, Soares told The Enterprise, New York State is being presented with an opportunity to reshape the lives of people who have been collateral damage in the War on Pot.
It's a chance, in fact, to change the trajectory of two communities, both urban and rural, he said.
"Certainly, in the urban centers," Soares said, there is a lack of healthy economies, which has led to the growth of the illicit economy. Legalization presents an opportunity for jobs whether through the placement of dispensaries, and manufacturing and supply lines, Soares said, or through the deployment of taxes and other revenues to help rebuild those communities with job training and other programs.
In Colorado, the Federal Reserve Bank of Kansas City estimates, the marijuana industry employs 17,821 full-time workers in pot shops, cultivation facilities, infused-product facilities, testing facilities, and transportation. A study from the Drug Policy Alliance says that "preliminary estimates suggest that the legal marijuana industry employs between 165,000 to 230,000 full- and part-time workers across the country."
In rural communities, legalization combats different problems.
"No corner of our country has gone untouched by the opioid crisis," notes the United States Department of Agriculture, "but the impact of this issue on small towns and rural places has been particularly significant."
In his Oct. 10 testimony, Soares said that one benefit of legalization would be the ability to invest greater resources to fight the opioid epidemic.
Soares told The Enterprise, it's no secret that, whether it's been methamphetamine in other states or opioids in New York, these drugs are specifically targeted to economically-depressed locations. "We see overdoses that are happening, quite frankly, with more frequency in communities that are rural, than we're seeing in a lot of major metropolitan areas," Soares said.
A 2017 report from the Centers for Disease Control and Prevention found that, in 2015, the most recent year available for analysis, the rural rate of drug-overdose deaths was 17 per 100,000, while the urban rate was 16.2 per 100,000. In 1999, the drug-overdose death rate in urban areas had been higher, at 6.4 per 100,000, than in rural areas at 4.0 per 100,000.
In November, the CDC announced that, in 2017, there were 70,237 deaths in the United States caused by drug overdose of which 47,600 were opioid-related. In 2016, there were 63,632 drug-overdose deaths, of which 42,249 were opioid-related. In 1999, for comparison, of the 16,849 drug-overdose deaths in the United States, 8,050 were opioid-related, according to the CDC.
The National Rural Health Association says that, while all states have seen an increase in mortality and injury related to opioids, "the largest increases are reported in heavily rural states" like Kentucky and West Virginia. The association blames the discrepancy on "significantly lower" emergency-medical-service response times "due to sparse population concentrations, mountainous terrain, and longer transit times."
Rural residents also lack access to substance-use treatment facilities since about 92 percent are located in urban areas.
According to a 2016 National Institute on Drug Abuse study, states that allowed medical marijuana saw a decrease in opioid-related deaths of about 16 to 31 percent. Another study, from the Journal of the American Medical Association, found that 13 states with medical-marijuana laws had a nearly 25-percent lower opioid-overdose mortality rate compared to states that don't allow medical marijuana.
In July 2016, researchers from the University of Georgia "found that the use of prescription drugs for which marijuana could serve as a clinical alternative fell significantly, once a medical marijuana law was implemented."
The University of Georgia study looked at the 17 states that had a medical-marijuana law in place by 2013 and found that, in those states, in a given year, the average doctor prescribed 1,826 fewer doses of painkillers, 562 fewer doses of anti-anxiety medication, and 265 fewer doses of medication for depression.
The rural community's financial opportunity, under Soares's Marihuana Marshall Plan, "is based upon [its] incredible farming lands," he said, noting there is a lot of economic opportunity in the vast amount of real estate in undeveloped areas.  
In rural Colorado, for example, Trinidad embraced legalization, with eight pot shops opening after residents voted to allow cannabis retailers to do business in the city of 9,000. A million-and-a-half dollars in sales-tax revenue from pot soon filled the void left by the coal, oil, and natural-gas industries.
Adelanto, California is a city of about 32,000 that never recovered from the closure of the George Air Force Base, according to one account, and where about 40 percent of the population live below the poverty line. In 2014, Adelanto was $2.4 million in debt. After the first large-scale grow operation opened, revenues from that operation helped decrease the city's deficit to $500,000.
"I think what needs to happen in the not-too-distant future," Soares told The Enterprise, is that people need to begin to abandon their moral judgements about the marijuana industry and see it for what it is: The largest industry that has come to New York State in a very long time.
Money, money, money — and systemic racism
New Yorkers have to make a decision, Soares said, as to whether they're going to surrender to already-established industries or force their leaders to invest in its underserved communities.
He anticipates the former — which is happening already.
Earlier this month, tobacco giant Altria (formerly known as Philip Morris) bought close to half of Cronos Group, a Canadian marijuana company, for $1.8 billion. In August, the owners of Corona beer and Svedka Vodka invested $4 billion in a different Canadian cannabis company.
"So what I envision is going to happen in New York State — because maybe I'm a bit cynical or maybe I've just seen too many things from my position here — what I anticipate is going to happen is, you're going to see the major industries come into New York," said Soares. "They will throw one fundraiser after another for both parties, and they will offer a very easy way for New York State to get on board."
The district attorney's cynicism is not unfounded; corporate money already dominates New York's medical-marijuana industry. Over the past five years, the marijuana industry in New York State has spent $5 million on lobbying.
In 2014, Governor Andrew M. Cuomo signed into law the Compassionate Care Act, which established New York State's medical-marijuana program.
The program was launched in January 2016. The state's medical-marijuana program has about 85,000 certified patients, according to the state's Department of Health. That number has doubled in the last year.
Just to apply for a license to grow and sell medical marijuana, a company had to pay $10,000; the chosen applicants had to pay the state $200,000, in total.
The primary investor in PharmaCann, one of the five companies originally chosen for a medical-marijuana license (there are now 10), is Wicklow Capital, which is owned by a multi-millionaire. Wicklow Capital is also a partner of MedMen, a California-based marijuana management and consulting firm, which launched the first-ever marijuana-centric private equity investment fund, valued at $100 million.
In January 2017, MedMen bought Bloomfield Industries, one of the state's first five license holders. Columbia Care NY, another of the first five, is run by a former Goldman Sachs investment banker.
In 2016, The Washington Post reported that Vireo Health, the fourth of the original five license holders in New York, had raised $20 million in funding. Also in 2016, in a win for the little guy, workers at the company ratified their inaugural union contract, the first of its kind in the state. In August, Viero announced that it had raised $16 million in its bid to take the company public in Canada, which legalized marijuana in October.
Soares fears that the communities that have been disproportionately affected by past drug policies will not be able to participate in a legal marijuana market — which is happening elsewhere already.
An investigation by Buzzfeed found that, of the country's 3,200 to 3,600 pot shops, less than 1 percent had black owners. A survey by Marijuana Business Daily, an industry news outlet, puts the percentage of black-owned pot shops at about 4.3 percent.
Maryland, for example, a state that is 41-percent minority, handed out 14 medical-marijuana licenses and none went to companies owned by African Americans. The commission that had the responsibility to grant licenses "did not give any extra weight to applicants with minority ownership, citing a letter from the attorney general's office suggesting that such a move would be illegal," The Washington Post reported. However, a later study found that discrimination in Maryland's broader business community warranted giving minorities preference in the application process.  
Some local governments are trying to create equity.
In Oakland, California, for example, the city's equity permit program opened to minorities the once-bolted-shut medical-marijuana market (as well as the recreational-marijuana market when it became legal this year).
Under the program, half of all of cannabis permits are set aside for "equity applicants," who: earn below 80 percent of the city's median income (which is $56,300 for a one-person household, according to the city), and have either a marijuana-related conviction or lived for 10 of the past 20 years in certain areas with a disproportionately high number of marijuana-related arrests.
In addition, the program offers zero-interest small-business loans and conditional permit approval for applicants who haven't secured upfront financing or real estate.
In January, Oakland announced that six of eight dispensary permits were awarded to equity applicants. However, while social equity remains a popular "restorative justice" program in many municipalities, as of late, the Oakland program has been criticized for bureautic blunders, broken promises to now-equity owners, and for not providing owners with the necessary financial support.
In June, Massachusetts introduced the first statewide equity program in the country. In Albany, Assemblywoman Crystal Peoples-Stokes from Buffalo and Senator Liz Krueger from the East Side of Manhattan, both Democrats, are sponsoring a legalization bill that would allocate a quarter of marijuana tax revenues to the state's lottery fund, which helps pay for public education; a quarter to a newly-established drug-treatment public-education fund; and half to a newly-created fund that would invest in communities that have been disproportionately affected by past federal and state drug policies.
Economics and investment
A report from the state estimated the size of the New York's legal marijuana market could be as much as $3.5 billion annually, and could generate tax revenue between $248 million and $678 million, depending on the sales-tax rate.
In Soares's Marihuana Marshall Plan, those tax revenues would be re-invested in the communities that have borne the brunt of the War on Pot.
"An infusion of resources," is what Soares called it, whether economic development, job training, enhanced-education opportunities, or after-school programs. "You can key those dollars back to those communities, based upon the data that we have been generating for the last, perhaps, 60 years," Soares said.
Manning, of the Center for Law and Justice, said she'd like to see an investment in transitional housing for those returning home from jail or prison.
"We're doing nothing to repair the harm that was done," she said.
There are six beds available in transitional housing for the re-entry population in Albany, Manning said. "Other than that, they're sent to the city mission."
In Colorado, local municipalities can levy their own tax on marijuana sales. In August, the city of Denver raised its local marijuana tax from 3.5 percent to 5.5 percent to help fund affordable housing. The move is expected to generate another $15 million in revenue for Denver over the next five years and would preserve or create more than 6,000 affordable housing units.
Colorado reported that, in 2017, there had been $1.5 billion in marijuana sales in the state, for which it collected $247 million in taxes, licenses, and fees.
Colorado collects three types of taxes on marijuana:
— Regular state sales tax (2.9 percent), which is allocated to the Marijuana Tax Cash Fund, used to support programs and services from public health to pesticide control as well as for affordable housing construction grants and loans. In 2017, Colorado collected about $30.5 million;
— Marijuana sales tax (15 percent), of which 15 percent is allocated to local governments; about 72 percent goes to the Marijuana Tax Cash Fund; and about 13 percent is allocated to rural schools. In 2017, the state collected about $131.5 million; and
— Marijuana excise tax (15 percent), allocated to the Public School Capital Construction Assistance Fund, which helps pay for local school construction projects. In 2017, Colorado collected about $72 million.
In fiscal year 2017, the state of Washington collected $319 million in taxes and fees from marijuana on $1.3 billion in sales.
Washington allocated marijuana tax revenue as follows: about $146 million for health-care services; about $97 million to the state's general fund; about $35 million for marijuana public education; about $15 million for community health centers; and about $6 million for municipalities.
Oregon, in fiscal year 2017, collected about $70 million in marijuana tax revenues, and allocated 40 percent for education; 20 percent for addiction and mental-health treatment; 15 percent for state law enforcement; 10 percent for cities; 10 percent for counties; and 5 percent for alcohol and drug abuse prevention, early intervention, and treatment services.
In November, a report released by New York University recommended that tax revenue from marijuana sales in New York State be allocated to the chronically cash-strapped Metropolitan Transportation Authority. "The idea is still very much theoretical, but it has some prominent supporters and is being considered by a high-profile panel tasked with coming up with ways to pay for a subway overhaul," The New York Times reported earlier this month.
But there are risks to taxing vice; chief among them is that it can be an unreliable source of revenue, according to a study from the Pew Charitable Trusts and Rockefeller Institute of Government.
It's called the paradox of "sin taxes."
State governments affix an ever-increasing levy on goods and enterprises (think: gambling, alcohol, and tobacco) that are considered harmful to the consumer. The levies achieve contradictory aims: "Like all taxes, they generate revenue for the taxing entity, but they also aim to deter the behavior being taxed — which can ultimately negate the first goal," according to the Pew report.
Locally, the promise of windfall sin-tax revenues from casino gambling, while substantial, fell short of forecasts, leaving the city of Schenectady with a half-a-million-dollar hole in its budget. In 2014, as part of its application to the state, Rivers Casino projected that it would pay $81 million in gaming taxes in its first year of operation; in reality, it paid about half that.
With sin-tax revenues from the sales of marijuana anticipated to be in the hundreds-of-millions of dollars, one good-government group is cautioning New York not to earmark those funds just yet.   
The Citizens Budget Commission, a nonpartisan, not-for-profit civic organization, points to problems that other states have had with legalization and asks that New York State learn from those experiences.
In Oregon, for example, oversupply has driven down prices and, by extension, the corresponding tax revenue that comes from selling cheaper weed; overproduction has also caused the depletion of resources like water.
In California, tax revenue in the first six months of legalization was $100 million less than the projected $185 billion. "Experts have cited a rocky rollout, high taxation, and the entrenched illicit market as reasons," according to the Citizens Budget Commission.