Who was the man who died on the edge of Bethlehem's town park 38 years ago?
Tuesday, December 17, 2019 - 19:25
BETHLEHEM —​ Because it's Christmastime, Commander Adam Hornick of the Bethlehem Police thought it would be a good time to release information he's been gathering for years on a cold case.
"We picked the holidays because families gather then and people remember their loved ones," said Hornick.
The Bethlehem Police, he said, wanted to wait until they had amassed enough details about the case that, if people called with leads, thinking they knew the man who died in 1981, they would be able to rule out unlikely prospects.
Hornick was just 5 years old in the spring of 1981 when a man's body was found in the woods on the edge of the back of the Elm Avenue Town Park.
On April 3 of that year, a landowner repairing a fence damaged over the winter came across the remains. The dead man was never identified. Police estimated the remains had been there for two or two-and-a-half months.
When Hornick, who is now 43, became a detective sergeant in 2013, one of his duties was to verify files in the department's database.
He was given just two sheets of paper, typewritten, on the unidentified dead man. "We couldn't find the case file," Hornick said, noting some people thought it was lost in a flood. "I started to rebuild it."
Cold cases have always fascinated Hornick. "Our chief supported this 100 percent," he said of Louis Corsi. Many in the Bethlehem department helped Hornick and so did agencies across the state and nation as Hornick rebuilt the case file.
The granddaughter of the man who had discovered the body in the midst of fence repair was interviewed. So were the officers still alive who had worked on the case back in 1981. Bethlehem Police revisited the scene where the body had been discovered. They also looked at open missing-person cases but found no match.
"Chances diminish as time goes on," said Hornick.
In 2020, he said, the Bethlehem Police Department will release details on another, older missing-person case for a body found in 1975.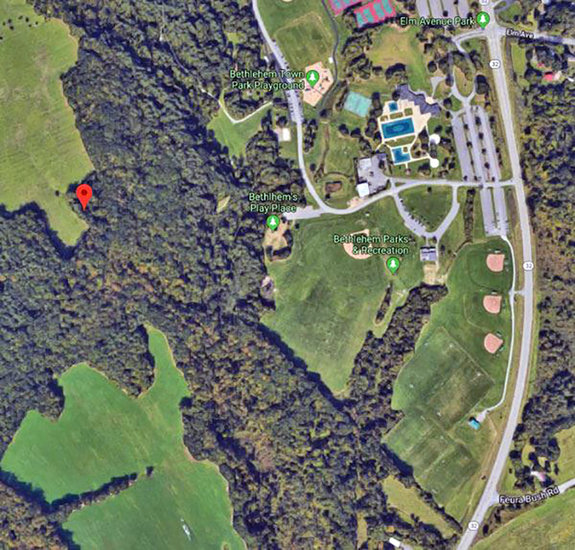 — From Google Maps
In 1981, a man's body, still unidentified, was found where the red teardrop points, in the woods on the edge of the back of the Elm Avenue Town Park.
---
Rebuilding a file
For the 1981 case, Hornick reached out to the State Police, the coroner's office, and the Department of Criminal Justice Services for records. "A lot of detectives helped," he said, noting, "A cold case is not a priority … I started getting bits and pieces and put it together."
He also said, "Even since being commander, I've kept the case."
A big break came because the original two typewritten sheets described the dead man's jaw bones. "We didn't have them," Hornick said.
Consulting the records he had obtained, Hornick learned the jaw bones had been sent to a dentist named Alan Rosell in Ballston Spa. Rosell had retired to Arizona, Hornick said, but he talked to a woman who had worked with Rosell and she checked through boxes in the dentist office's basement.
She read out numbers and one of them matched the coroner's case number that Hornick had obtained.
He recovered the box with the jaw bones in June 2017 and then he worked with a forensic odontologist from the New York Police Department. "He came to our station and compared them to the 1981 paperwork; it was an exact match," said Hornick.
From the jaw bones, Hornick worked with various agencies and experts to come up with a DNA profile.
At first he thought that, since New York State had in 2017 approved use of familial DNA in police work, the next step would be simple. It was not. Hornick learned that the state law allows familial DNA research only for evidence — say, a bloody hammer — left by a suspect at the scene in a crime case.
Hornick considers that a loophole in the law; it's a loophole he'd like to see closed. "We're hoping New York laws can be updated," Hornick said. 
To find a DNA match for the unidentified dead man is not as easy as a living person taking a DNA cheek swab and sending it off to a place that does genealogy research with DNA samples, Hornick explained. "We have DNA extracts for a profile," he said. "It's not like a swab. We have scientific ampules and extracts that make up the sample." 
Details
In 1981, police put the dead man's age as between 30 and 60. Now, police believe he was between 30 and 45.
The expert who looked at the man's teeth said, "If he was a transient, it wasn't for a long time. His teeth were well kept ... The grinding indicates he may have been stressed."
The forensic odontologist said the man's back fillings were done "military style; they got the job done," Hornick reports.
Hornick thinks about who the man might have been based on scant details. Had he fought in Vietnam? Was he down on his luck?
The man was found wearing moccasin-like shoes but no socks, which Hornick termed "weird."
Based on his clothing and demographics, his height was determined to be between 5 feet, 11 inches and 6 feet, 2 inches, and he was thought to have weighed between 210 and 230 pounds.
The Bethlehem Police this week released a detailed description of the clothing the dead man was wearing: a plaid Van Heusen shirt with brown, blue, yellow, and red lines in it; an olive-pea green colored jacket with a zipper front and hood with fur lining; Hager slacks in size 44; white jockey style shorts, size 44-46; a  size 44 black belt with a $10 price tag on it; and moccasin/loafer-style shoes with very little wear on the treads.
The 1981 investigation concluded the man had died around the first or second week of January. He had copies of two local newspapers — whole newspapers, not clips, Hornick said — dated Jan. 1, 1981.
He also had ripped-up notes from a small spiral notebook, which contained the remains of a bus ticket that was not identifiable and phone numbers for the CDTA, for Hotaling Market in Feura Bush, for St. Thomas Church in Delmar, for the United Methodist Church in Slingerlands, and for the Town of Bethlehem Parks and Recreation.
Hornick noted that the churches were places that offered shelter and soup kitchens.
The American Association of Cold Cases did an analysis, and the case has been loaded into the National Missing and Unidentified Persons System (NamUs) at https://www.namus.gov/UnidentifiedPersons/Case#/15545.
The NamUs description, in addition to the same clothing details provided by Bethlehem Police, lists the man as having brown hair and says that leather gloves were found near his body.
NamUs, overseen by the National Institute of Justice, is a nationwide information clearinghouse offering free, secure, online technology to help resolve missing-person cases.
Every year in the United States, according to NamUs, over 600,000 people are reported missing. Most are quickly found but tens of thousands remain missing for more than one year — what many agencies consider "cold cases."
NamUs estimates that 4,400 unidentified bodies are recovered each year, with approximately 1,000 of those bodies remaining unidentified after one year.
The unidentified body found in Bethlehem was buried in April 1981 in Graceland Cemetery in Albany, in a pauper's grave. Hornick has visited the man's grave site. "It's humbling," he said of the experience. "With 21st-Century technology, we should be able to solve the case."
"That's what the job is all about. You use your police skills and the current technology, you work with other entities," he said. All of this is with a single goal in mind: to identify the person who died. "To let the family know what happened to their loved one." Hornick said, "He had to have had a family at one point."
****
Anyone with information on this case is asked to contact the Bethlehem Police Department, at 518-439-9973 or to leave information online at tips@townofbethlehem.org.