The last faces of the men who saved the world
Wednesday, November 25, 2020 - 19:11
To the Editor:
Just as in the popular parlor game, Six Degrees of Kevin Bacon, nearly everyone who has lived a significant amount of time in the Capital District, especially in the city of Albany, whether they know it or not, can chart a connection to Thomas J. Lemme, affectionately known as "Hollywood Tom."
 It might be through the family business, Lemme's Market, that operated on Lark Street for more than 70 years, or people may remember him as the neighborhood boy who joined the Marines in World War II and was wounded on Iwo Jima.
Later, he founded Lemme's Archery in Albany, and is credited as not only being a highly skilled archer, but for the many innovations he brought to the sport. More recently, Tom has been an active member of the Iwo Jima Survivors of New York's Capital Region.
Lemme's Market was a vital part of the community, especially in the early years when people weren't as mobile as they are today. Tom helped out there from an early age, and used to deliver groceries on foot or by bicycle.
Tom was a self-taught musician, and enjoyed playing his mandolin and accordion. I walked in on him one day as he was playing his accordion. He finished up the tune and quickly put the instrument aside, but one day, after a little prodding, he brought it out again and played several pieces for me.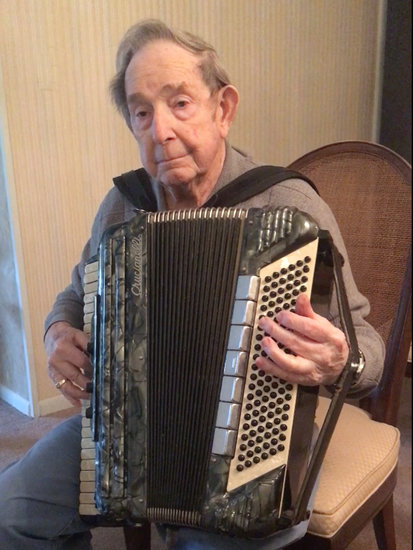 He gave me a mini tutorial on the accordion and explained that he didn't read music, rather played by ear. I asked him if he could play the Marine Hymn and to my surprise, he said he had never tried it. He did a great job, and on Nov. 10, at the 245th Marine Corps Birthday Bash, even though Tom couldn't be there, those in attendance sang the hymn accompanied by the recording of Tom, played over the public-address system.
Tom joined the Marine Corps in 1944. When he showed up at the recruitment center, he had every intention of joining the Navy like his brother had done.
As "luck" would have it, the recruiting officer came out and said, "I need three volunteers for the Marines." No one stepped forward so the officer pointed to three recruits and said, "OK. You, you, and you." Tom was the first "you."
Fast forward to Feb. 19, 1945, and Tom was wading ashore on the beach at Iwo Jima. Reality hit early as Tom turned and saw his platoon leader, Lieutenant James Pope, lying in a few inches of water 10 yards from him, shot through the head.
Tom was an explosives-and-demolition man and, about 10 days into the battle, he was summoned to the front line to blow up a cave. At the time, it was assumed all openings were caves, when in fact many were entrances to tunnels, many miles of which had been dug on the island.
As Tom approached the entrance, he had to pass the mortally wounded Sergeant Brockel, who had been shot by the occupants of the cave moments earlier. Tom prepared the satchel charge, braced himself, and flung it through the opening.
Seconds ticked by and nothing happened. A Japanese soldier had most likely pulled the fuse. Tom then lobbed a grenade into the cave, quickly followed by another satchel charge. Mission accomplished.
On the night of March 3, 1945, Tom was in a foxhole with two other Marines. A fourth Marine, Peter Mangini, crouched outside the foxhole on guard duty while the others slept.
A Japanese soldier infiltrated their lines and threw a grenade that landed outside the foxhole. Mangini was killed. Tom and the others were wounded. Tom was transported to the beach, and then to hospital ship USS Bolivar (APA 34). We only recently found out that the Bolivar was the target of a kamikaze attack while Tom was onboard.
Tom ultimately arrived at an Oregon naval hospital to recover from his wounds. It was there that he had a chance encounter with 17-year-old Shirley Temple, which led to a photo of the two of them, which led to the nickname, "Hollywood Tom."
Several years ago, Tom made contact with Peter Mangini's family, and they came to New York to visit with Tom. Tom gave them some comfort with his fond memories of Peter, and stories of their friendship.
In recent years, Tom has become adept at using a computer and quite proficient with Google. He set out on a mission to find any surviving family of the Marines with whom he served.
To that end, and with a little help from a couple friends, he was very successful, having made contact with 16 people, including the families of Lieutenant Pope and Sergeant Brockel. Tom didn't realize at first what a gift he was giving all these people after 75 years.
But that is exactly what it was and, even though most of them would never meet Tom in person, they began to think of him as family, or at the very least, a wonderful friend.
Over the years, Tom has received mail from all over the world, from people he had never met. In many instances, people had come across the photo of Tom and Shirley Temple on the internet, and were asking Tom to autograph a copy of it for them.
One of those people is William Frake, an animation artist. Bill has become a great friend of Tom, mine, and all the veterans from our breakfast groups. Bill credits Tom as the inspiration behind his decision to redirect his talents and create a series of three books, "A Moment And A Memory," which tell World War II veterans' stories through sketches. Tom is prominently featured in the books.
Tom passed away after a short illness on Sunday evening, Nov. 22, 2020, peacefully, and surrounded by his loving family. Tom was, until recently, in remarkable shape for a soon to be 95 years old, and it was easy to forget his age.
He was always up for an adventure, and he had a memory and a sense of humor sharp enough to make a wheel of cheddar envious. He was a good man, and a loving father, grandfather, great grandfather. He was a fierce patriot and an awesome friend. His absence leaves a huge void in all our lives.
Mark Yingling
Clifton Park
More Letters to the Editor