Richman says Melodies of Christmas allows kids to help kids with cancer
Wednesday, November 21, 2018 - 13:32
Symphonic music, says the new director of the Empire State Youth Orchestra, Carlos Ágreda, has a "very special power to make society better, make human beings better." He adds, "Not only the audience, but also the musicians."
For example, he said, he worked with a special project in Colombia that was similar to "El Sistema," a large network of orchestras in Venezuela, all designed to bring music and art experiences to vulnerable communities. Many young people in these vulnerable communities become involved in drugs, weapons, and crime.
"But when you put one of those kids inside an orchestra, they start thinking differently about what music is, what community is, and even "what the world is," he said.
As Empire State Youth Orchestra prepares for its annual holiday Melodies of Christmas concerts at Proctor's Theatre in Schenectady, the organization's founder, Barry Richman of Guilderland, is excited about the the arrival this season of its new musical director.
"He is absolutely the most wonderful new conductor," Richman said of Ágreda. "He's going places; that's for sure."
Ágreda (pronounced AH-grade-uh) is just 27 and a composer as well as a conductor. He started with ESYO in July. A native of Colombia, he previously had worked with the Royal Liverpool Philharmonic, BBC Philharmonic, Manchester Camerata, Curtis Symphony, and Liverpool Mozart orchestras, among others.
He told The Enterprise he can't remember exactly when he fell in love with music, but he does remember a toy keyboard his father gave him one year at Christmas. On it, he said, he started trying to tap out the melodies he heard playing from the ice-cream truck.
He soon realized music could be written, and not just played by ear. He estimates that he was about 7 years old when he discovered, and became fascinated by, notation, music theory, and solfège, or sol-fa — denoting pitches of a musical scale by syllables.
He focused on piano for years, Ágreda said, until he "decided to play a different role and become a conductor."
He is happy that ESYO has a program similar to El Sistema called CHIME, which he said brings musical education to communities that wouldn't otherwise have it. The program was launched in 2015 in partnership with the Schenectady City School District and now serves more than 100 children at three Schenectady sites, providing instruments, free private and ensemble instruction, practice spaces, transportation, guidance, and mentorship.
Being part of an orchestra, all of whose members work together to create something beautiful, teaches young people to become better people, Ágreda believes. First, it teaches them to listen, he says, starting from "literally listening to notes."
It instills respect for hierarchy, since the orchestra is arranged in a hierarchical way, including leaders of each section. And it teaches them to work with a stand partner who may be a better musician, Ágreda said, or not as good, either of which requires tolerance and an ability to help or be helped.
In terms of audiences, too, Ágreda said, "When you go to a symphony hall, you see how people can be moved by a symphonic performance."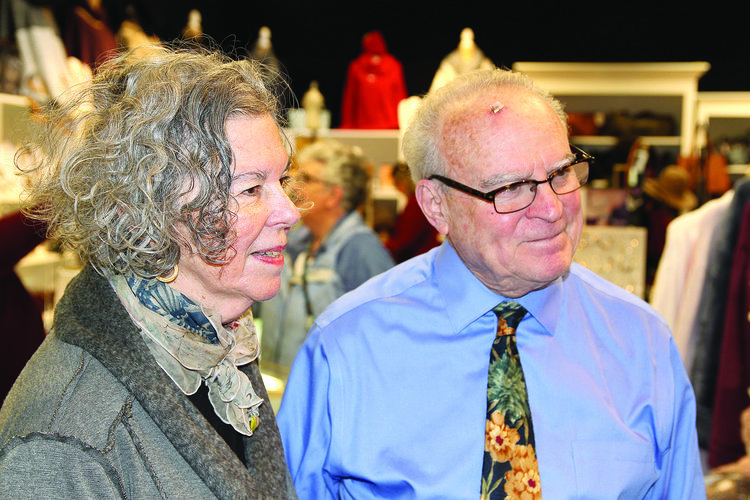 The Enterprise — Elizabeth Floyd Mair 
Barry Richman talks with this wife, Nancy, in the store he has owned and managed for decades in Stuyvesant Plaza, Pearl Grant Richman's. He is also the founder of the Empire State Youth Orchestra. Richman and the original board of directors started ESYO more than 40 years ago, in 1979. 
---
Mozart to salsa
Ágreda likes music in general. "I play Mozart, Beethoven, salsa — You will find me playing salsa in a bar with a band at night, and then the next day singing in a choir," he said.
He recently wrote a salsa song, but he particularly likes to compose symphonic music, partly because this helps him as a conductor, he said.
He originally started composing in order "to understand the orchestra better," Ágreda said. As an example he offered, "If I write melodies for the oboe, I will understand exactly how the oboe works." Composing is "another way that helps me understand the language of each instrument."
He will not have the youth orchestra play any of his compositions, he said. He doesn't think it would be fair of him to program his own works. "There are so many composers who want to have their pieces performed," he said. Every year, his pieces are performed by orchestras conducted by others, he added.
Conducting and composing may complement one another, he said, but he finds that conducting leaves little time for composing symphonic music.
"So I always try when I'm on vacation!" he said brightly.
The Empire State Youth Orchestra is not just one orchestra; it takes students from early in their musical careers and provides different levels of group playing, where they can develop as musicians. Ágreda is the musical director of the entire organization, and the conductor of only the youth orchestra, which is the highest level of the group's orchestra.
Ágreda is enthusiastic about ESYO's focus on music education, which he calls "the easiest way to use that power of transformation."
Guilderland connections reverberate
Tracy Wei, 16, is in her first year with the Empire State Youth Orchestra, where she plays flute and piccolo.
Wei, a junior at Guilderland High School, said that, in the youth orchestra, she is surrounded by other young people who are also passionate about music, and the music is different from what she plays at school. It challenges her to be a better musician, she said, and amplifies her love for music.
She is exposed to a range of music through the ESYO, she said. "Mr. Ágreda definitely chooses a wide variety of pieces for us, ranging from famous composers like Tchaikovsky or Rimsky-Korsakov, but also pieces from lesser known composers like Camargo Guarnieri whose pieces we're playing in the spring."
Ágreda is a very expressive conductor, Wei said, adding, "I find that this reflects in our playing, as we're able to play more expressively." She noted that he "gives us good criticism, but does so kindly."
She has met some of her closest friends through the youth orchestra, Wei said.
Wei is looking forward to the rest of the season, she says, including the Melodies of Christmas performances, where the youth orchestra will perform together with a choir and a ballet.
Wei normally is conducted by Kathleen Ehlinger, who is Guilderland High School's director of bands.
Ehlinger knows what it is like for her students who are also in the ESYO, since she was a member of the original orchestra, in 1979, the year of its founding.
Ehlinger said that her mentors at Guilderland High School, Donald Webster and Roger Kingsland, were among the many public-school music teachers who have helped make EYSO successful over the years, by serving as mentors to the musicians from their schools.
"I am not involved in ESYO at this point," she wrote in an email. "I have many students involved in many of the groups so I guess you can say I have my hand in it like my teachers did. LOL."
As an alumna, Ehlinger was invited a few years ago to play in one of the Melodies of Christmas concerts, which she called "a real gas." The program didn't exist in 1979 when she played with the ESYO.
Richman at 77 described how the ESYO — which he calls his "life's work" — got its start.
After attending the New England Conservatory of Music, he had come back home to work with his father, who ran a successful card shop. "If I couldn't play in the Boston Symphony Orchestra, I wasn't that good," he said. "I didn't want to be a starving musician."
He did, however, in his spare time, go on to spend about 20 years as principal percussionist with the Albany Symphony Orchestra, while expanding and developing Pearl Grant Richman's into a card and gift shop that is now the only still-existing original store in Stuyvesant Plaza.
He and his wife, Nancy, have two daughters who were serious musicians and attended a summer camp in Great Barrington, Massachusetts called the Red Fox Music Camp. At the end of the first week, campers gave a performance, he said, that blew him away.
He turned to his wife and said, "We could do that in Albany, year-round."
Early days of ESYO
Things just happened so fast, Richman said.
He invited the principal players from the Albany Symphony Orchestra to his house, and they became members of the original board. They put out a call for conductors. They got a rehearsal space, at Shaker Junior High School. They held blind auditions, with students standing behind a screen.
Kids came to audition all the way from Great Barrington and Glens Falls. "We even had one kid who came from the Catskills," Richman recalled.
The first conductor was Burton Kaplan, who came up on the train from New York City for every rehearsal and who Richman called "unbelievable." Kaplan rehearsed the students "so hard," Richman said, that the board actually had to turn the lights off on him at least once, to get him to end rehearsal.
The parents would all be waiting outside, and Kaplan would be saying, "Just 20 more minutes."
The orchestra had — and still has — seating auditions before concerts, which keeps kids on their toes, because their preparedness determines their seating order.
Melodies of Christmas came about in about 1981, when Richman was talking with Jim Delmonico of WRGB. Delmonico's granddaughter had cancer, and he had organized an Albany Symphony Orchestra concert as a way to raise funds for children's cancer care at Albany Medical Center.
"It was a raging success," Richman said, "but it didn't raise a lot of money because it cost a fortune to pay the orchestra."
Richman told Delmonico, "I have an idea. I have a youth orchestra."
Editor's note: Elizabeth Floyd Mair's brother, Greg Floyd, hosts Melodies of Christmas.