Author Nava Atlas shares vegan recipes for holiday meals
Primary tabs
Wednesday, November 21, 2018 - 13:16
The Enterprise — H. Rose Schneider
Festive food: Nava Atlas shows onlookers how to prepare a dish made of black rice, corn, cranberries, and pumpkin seeds at the Voorheesville Public Library on Sunday, Nov. 18. Atlas says she likes to cook foods with a nod to the harvesting of corn, beans, and squash for Thanksgiving.
Nava Atlas has recipes for festive holiday meals that vegans can enjoy. She also has a recipe for harmony at such gatherings.
Atlas feels that arguments about veganism are in the same realm as politics — the discussion should be saved for another time and not at the table during the holidays.
While vegetarians don't eat meat, vegans don't eat any animal products — for example, eggs or dairy products.
"The biggest misconception is that people will be missing out on something," says Atlas, of objectors to vegan food. Atlas says that it is quite the opposite and that vegans will make extra effort to prepare their food.
Atlas says, though, that those who are vegan or have other dietary restrictions should be bringing their own food with extra servings for others to try.
"People are curious when it comes to food and they want to try it," she says, adding that this is the best way to promote veganism and vegetarianism, "rather than lectures."
Atlas, who has written vegan and vegetarian cookbooks, presented both her recipes and philosophy at the Voorheesville Public Library on Sunday.
Atlas's dishes range from a kale salad to "vegan cheese." Her book, "Vegan Holiday Kitchen," has even more dishes, including a vegetable pot pie and a chocolate mousse made from cashews.
Atlas, who is from New Paltz, also spoke at the Guilderland Public Library on Saturday on a different topic — how people can publish and write their own books and the different publishing platforms available.
Atlas, 63, grew up in an Eastern-European Jewish household where meals often were based around a meat dish. She said she became a vegetarian while she was still in high school initially because she didn't like the taste of meat. She was told by her family that she would have to cook her own meals if she was going to be vegetarian, but she says this backfired after she learned she really enjoyed cooking.
Atlas later met her husband and started cooking vegetarian meals for him and he shortly became vegetarian as well. He told her she should start writing down the recipes for what she prepared, and eventually Atlas published her first book "Vegetariana: A Rich Harvest of Wit, Lore, and Recipes" in 1984.
"I'm not really trained as a cook, I'm not really trained as a writer … " Atlas explains. "It ended up being a really excellent day job."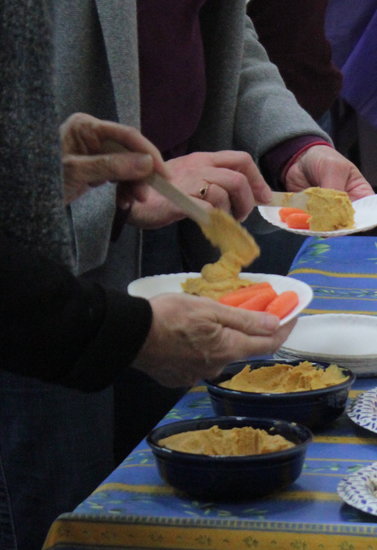 The Enterprise — H. Rose Schneider
More please! Onlookers at an event on vegan cooking at the Voorheesville Library dig in to a smoky cheddar "cheez" spread prepared by the vegan cookbook writer Nava Atlas.
---
Art and animal rights
Atlas's work goes beyond the realm of cookbooks. She also has created interactive books and art exhibits that often delve into social-justice issues. She says her interests are especially in women's rights and animal rights — issues she says may be disparate, but also overlap.
"Animal issues sort of really overlap with issues of patriarchy and culture," she says, adding that she is not surprised to find more female vegans than male vegans.
One art project involved her posting facts about slaughterhouses along a walking path adjacent to a beef cattle range. Another compared old statements against interracial marriage to more modern statements condemning gay marriage. A third project offered facts and statements about animal slaughter in the form of place settings at a table.
Many of her exhibits, either proposed or realized, involve dining and food as a centerpiece, whether it be recipes offered to suffering housewives or anecdotes from her mother offered on a plate with "bagels and locks."
Veganism and social norms
Atlas, who is now vegan, says that her family eventually came around to vegetarianism. Her brothers became vegetarians and one even became a vegan before she did.
Atlas's own decision to be vegan 16 years ago followed her son's when he was 10 years old. She and her husband had raised their two children as vegetarians before their son announced he was going to be vegan.
"We were starting to get more information, starting to realize the connection," says Atlas, of the decision to be vegan. She says that she and her family had found out, in a more connected world, that dairy cows are separated from their calves and have to keep giving birth to calves to produce milk. Atlas says she and her family tried to get dairy products from local farms where they might be treated better, and so they took a trip to a local farm.
"Even seeing it under the best conditions sort of didn't make us feel good," she says.
In the years since then, Atlas says that she is proud to see veganism take off to be what she describes as a "worldwide movement." She says that it is much easier now to be vegan, recalling a trip she and her husband took across the Deep South and how they had a hard time finding vegetarian food until they reached Santa Fe in New Mexico.
Now, on a recent trip to Nashville, Tennessee, Atlas says every supermarket there had a section with vegan food.
"The supermarket isn't trying to be nice; the supermarket is trying to be profitable," she says.
The change is also apparent during the holidays, says Atlas, recalling holiday parties  long ago that she and her husband attended.
"We'd basically be picking at side dishes," she says.
Atlas's family rotates who will host Thanksgiving each year. This year is her turn, and she asks that all dishes brought for dinner be vegan. She says her family doesn't mind.
"Now they realize it could be just as good," she says.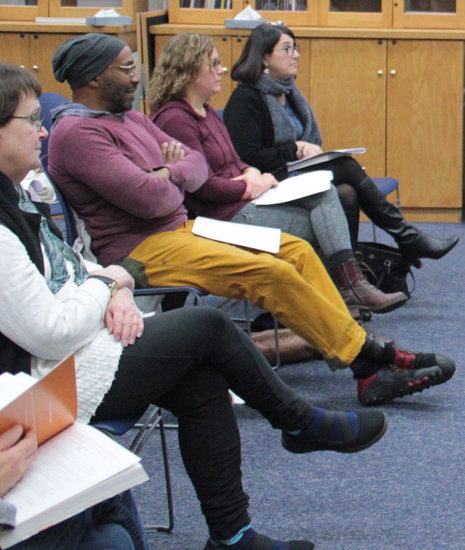 The Enterprise — H. Rose Schneider
Enthused foodies: A crowd of people came to watch Nava Atlas prepare vegan dishes and talk about vegan cooking and holiday etiquette for vegans and vegetarians.
---
Cooking vegan
In 1990, Atlas published "Vegetarian Celebration," because she found that around the holidays people seemed to struggle on what to serve to their vegetarian guests. In 2011, she published "Vegan Holiday Kitchen," which had a similar concept but was updated for vegan cooking.
For dishes on Thanksgiving, Atlas likes to make corn, beans, and squash prominent in a nod to the harvest of such crops during the "first Thanksgiving." One of her favorite dishes to make is stuffed butternut squash.
For her presentation in Voorheesville, Atlas prepared a dish of black rice and corn — the dishes she created on Sunday were all made without an oven or stove, although an electric skillet served to sautée garlic and heat the rice and corn. She also prepared a kale salad, showing how to "massage" the leaves with oil to soften them without cooking.
"It becomes more like sturdy lettuce than cabbage … it completely transforms … ," she says. "And it looks very festive."
Atlas had prepared ahead of time a dairy-free smoky cheddar "cheez" from carrots and cashews that drew a crowd around the table holding the spread of "cheez," crackers, and carrots.
She also talked about managing and preparing big family dinners around the holidays, with tips on preparing ahead of time and splitting the tasks with others.
Talk and Taste
Atlas's presentation kicks off a new program at the Voorheesville library known as "Talk and Taste," said Tracey Pause, the library''s assistant director.
The program, which will be held quarterly, will let participants purchase cookbooks for $5 — the costs have been subsidized by the Friends of the Voorheesville Library. At the next gathering, participants will bring something they prepared based on a recipe from that cookbook, said Pause.
The first "Talk and Taste" is on the evening of Jan. 24, and will feature the book "Smitten Kitchen Everyday," by Deb Perelman.
"We have a really nice foodie group here," said Pause, of the library's community.
Michele Reilly, the head of public services for the library who has been working with Pause to develop the new program, agreed, saying that the library has offered previous "foodie" events such an olive-oil tasting and a holiday cookie exchange.
"There's a call in our community for food-related programs," she said.
While Atlas's presentation is not the same as the "Talk and Taste Program," she is still preparing food and discussing options for "non-traditional" eaters like vegans and vegetarians during the holidays," said Reilly.
Other tips
Atlas's next book will be called "Five Ingredient Vegan," an update to her 2001 cookbook, "Vegetarian Five-Ingredient Gourmet" with again an update to fit a vegan diet. She says she is trying to dispel the notion that vegan cooking is expensive and time-consuming.
"I really try to make things as easy as possible … People don't have time to spend an hour or two in the kitchen, I don't either," she says. Many dishes can be made vegan easily, she says, such as burritos with beans or quinoa, or Italian or Asian cuisine.
"You just think of what your favorite foods are and make them vegan … ," says Atlas. "Think of what you already like and think of a way to make it without meat."
---
"A longtime favorite in our family of broccoli enthusiasts, this soup gets a thick, creamy base from pureed white beans or tofu," says Nava Atlas. "The addition of green peas at the end of cooking time brightens the color and heightens the flavor of the soup."
Vegan Cream of Broccoli Soup
A recipe by Nava Atlas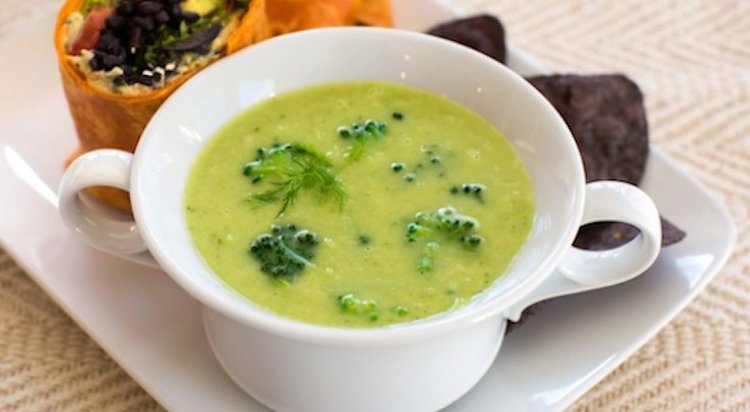 This festive soup takes 30 to 45 minutes to prepare and serves six.
Ingredients:
1 1/2 tablespoons extra-virgin olive oil or 3 tablespoons vegetable broth or water

1 large onion, chopped

2 to 3 cloves garlic, minced (optional)

32-ounce carton low-sodium vegetable broth or 4 cups water mixed with 2 to 3 teaspoons salt-free all-purpose seasoning blend

5 to 6 cups coarsely chopped broccoli florets and peeled stems

2 cups frozen green peas, thawed

One 15- to 16-ounce can great northern beans or cannellini, drained and rinsed, or one 12.3-ounce package firm silken tofu

1 cup unsweetened rice milk or other unsweetened nondairy milk, plus more as needed

To finish the soup:

2 cups finely chopped broccoli florets

1/2 cup chopped fresh dill or parsley, or a combination, plus more for garnish

Juice of 1/2 lemon, or 2 tablespoons bottled lemon juice, or to taste

Salt and freshly ground pepper to taste
Directions:
— Heat the oil, broth, or water in a soup pot and add the onion. Sauté over medium heat until translucent, then add the garlic if desired. Continue to sauté until the onion is golden.
— Add the broth and broccoli. Bring to a simmer, then cover and simmer gently until the broccoli is tender but not overcooked, about 8 to 10 minutes. Add the beans or tofu and half the green peas.
— Continue to cook just until everything is nicely heated through.
— The easiest way to puree this soup is to simply insert an immersion blender into the pot and puree until it's as smooth as you'd like it to be. You can also leave it a bit chunky. If you don't have an immersion blender, transfer the mixture to a regular blender and puree (don't overprocess!), then transfer back to the soup pot. Add enough nondairy milk to give the soup a medium-thick consistency.
— To finish the soup, add the remaining green peas, the finely chopped broccoli florets, the chopped herbs, and the lemon juice. Stir together, then season with salt and pepper. Cook over very low heat for 5 minutes longer, or until the finely chopped broccoli florets are tender-crisp, then serve.
---
Recipe for Black Rice with Corn and Cranberries
By Nava Atlas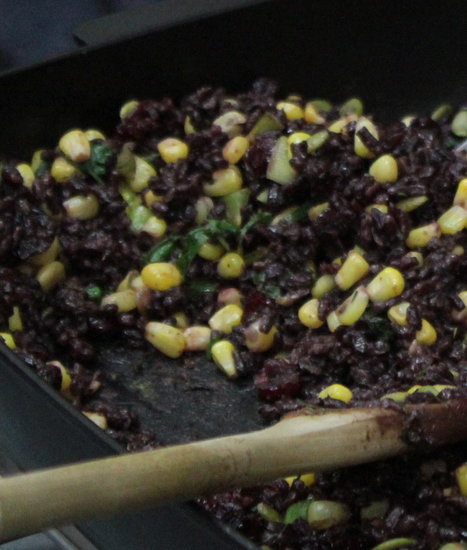 While this recipe, which serves eight, is a festive eyeful, it's too good to save for only special occasions, and too simple not to make for everyday meals. It is gluten-free, soy-free, and nut-free.
Ingredients
1 cup forbidden black rice (see note) or wild rice
3 tablespoons olive oil
3 to 4 cloves garlic, minced
3 to 4 scallions, green and white parts, thinly sliced
2 cups thawed frozen corn kernels
1/4 cup lemon or lime juice, or to taste
1/4 to 1/2 cup chopped cilantro leaves, to taste
2 teaspoons ground cumin
1/2 teaspoon dried oregano
1/4 teaspoon dried thyme
1/2 cup dried cranberries
Salt and freshly ground pepper to taste
1/4 cup toasted pumpkin seeds for topping
Directions
If using forbidden rice, combine in a saucepan with 2 cups water. Bring to a rapid simmer, then lower the heat, cover, and simmer gently until the water is absorbed, about 30 minutes. If you'd like a more tender grain, add 1/2 cup additional water and cook until absorbed. If using wild rice, combine with 3 cups of water and cook as directed above.
Just before the rice is done, heat half of the oil in a large skillet. Add the garlic and sauté over low heat until golden. Add the scallions and corn kernels and sauté just until warmed through.
Transfer the cooked rice to the skillet. Turn the heat up to medium high, then add the lime juice, cilantro, cumin, oregano, thyme cranberries, and remaining oil. Stir together gently, then season to taste with salt and pepper.
To serve, transfer to an attractive serving platter and sprinkle the pumpkin seeds over the top.
Note: Look for black rice in the specialty grains section of natural foods stores and well-stocked supermarket, sometimes labeled as "forbidden rice."