Shots fired at closed restaurant owned by town judge
Monday, November 19, 2018 - 20:53
RENSSELAERVILLE — A town judge, Ronald Bates, owns the restaurant that was shot at on Nov. 18. He rents the property to the restaurateurs.
"I wouldn't publicly say what I think, but there's always suspicions," said Bates, who previously worked for the Albany County Sheriff's Office as an investigator and deputy sheriff. Earlier in November, he won an uncontested election to continue his tenure as town judge, which began in 2015.
Bates said that he had his "theories" regarding the shooting, and had shared these with police, though he declined to say what these were. He said he "would certainly hope" that the act wasn't retaliation against a ruling he made as a judge, noting that there was no vandalism at his own home.
A hole gaped in the glass front door, with shards of glass on the ground in front when investigators on Monday drove to Pop's Place on Route 145 in Preston Hollow.
They had been called at about 11 a.m. by Heath Bartlett, who owns the business with his wife, Amy. Police arrived in about 10 minutes and spent a couple hours at the scene, Bartlett told The Enterprise.
"All I noticed was the broken front door … ," said Bartlett. "My first reaction was someone had broken in."
He said that he soon realized not enough was broken to allow for anyone to enter. The entryway, a mailbox, the Sheetrock wall, and the glass-plated cooler that holds bottled drinks were also hit by 17 bullets, he said.
Bartlett surmises, because his neighbors didn't see anyone after hearing gunfire Sunday night, that whoever fired the gun was in a car, but he said he has no idea of the motivation, who it could be, or the gun used.
Senior Investigator Christopher Kopek said that the sheriff's office is examining the bullets found at the scene to determine what sort of weapon they were fired from, but said that nothing has been determined yet as the incident is still under investigation.
Investigators interviewed the next-door neighbors, said Kopek, who said they had heard shots fired around 9:30 p.m. Sunday night but that they didn't see anyone. Sheriff's investigators are reviewing surveillance footage from video cameras, said Kopek.
Police arrived at the scene around 11:30 a.m. on Monday and were at the scene for an hour or two; the restaurant was closed that day, he said.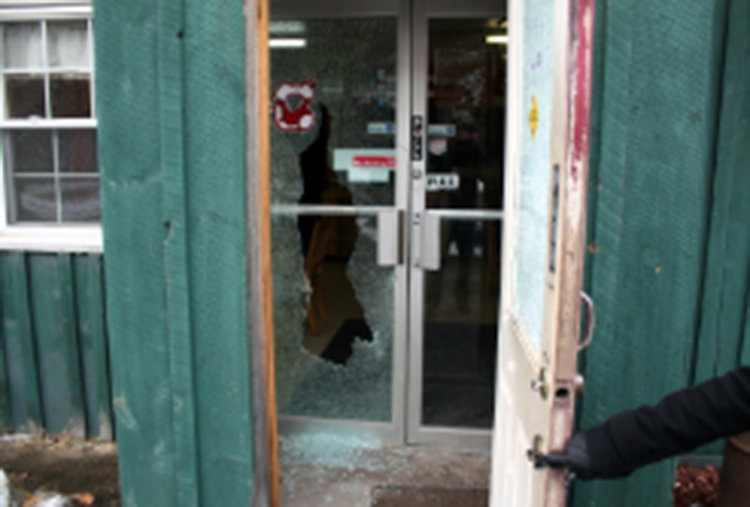 — Photo from the Albany County Sheriff's Office
Bullets shattered a glass door at Pop's Place in Rensselaerville.
---
Pop's Place is located at what had been the West Wind Diner before that business closed in late summer. The restaurant was open Tuesday morning, with a Facebook post from the business's page the night before thanking police and those who helped to clean up the restaurant.
The property at 2839 Route 145 has a full-market value of $113,000, according to Albany County assessment rolls. Bates owns the property with his wife, Wanda. Bates said he started renting the building to Heath and Amy Bartlett around October.
"They're very, very nice … ," said Bates. "We've got their backs."
Kopek said that the incident is an isolated one — there have been no similar incidents nearby or recently — and that the case is unusual, particularly in that area.
"It's actually shocking," said Bates. "There's no other word for it. Nobody expects it to happen in a small town."
When asked if he found the incident unusual, Bates said, "You never know what's going to happen; anything could happen, anywhere."
Police are asking anyone with information to contact the sheriff's office at 518-765-2351 or to use the office's confidential tip line at 518-720-8075.