Mallozzi's to stop running eatery at the town's golf course
Thursday, November 15, 2018 - 13:21
GUILDERLAND — The town is ending its relationship with Mallozzi's, the long-time food-and-beverage vendor at the town-owned Western Turnpike Golf Course.
Guilderland Supervisor Peter Barber told the town board on Nov. 8 that the goal is to have a new vendor in place by the start of the next golf season.
Colin Gallup, the maintenance supervisor for the town's Parks and Recreation Department, told The Enterprise that it was a mutual agreement, and that it was "time to move on."
Mallozzi's did not return repeated calls for comment.
When the town bought the golf course in 2002, Gallup said, the previous owner ran the clubhouse for a year, and then Mallozzi's came in the following year.
Mallozzi's worked through the end of the current golf season, he said. He noted on Nov. 13 that the golf course was temporarily closed that day because of bad weather, and that, depending on weather, the course might be open other days, but that the contract with Mallozzi's is scheduled to end Nov. 15.
Discussions about ending the relationship started this year, Gallup said, noting that a request for proposals went up on the golf course website on Nov. 12. The town board had authorized the request on Nov. 8.
The vendor would, according to a notice on the golf course website, "operate a restaurant and bar at the golf course clubhouse, provide on-course mobile beverage services, and handle food and beverage needs at golf course facilities for members, guests, tournaments, leagues, outings, banquets, weddings and special events."
The clubhouse includes a bar area, ballroom, Garden Room, Lake View Room, boardroom, member room, and kitchen, according to the request. Vendors can propose an outdoor seating area at the front of the clubhouse for mobile food and beverage service with a grill and outdoor fire pit. Near the entrance to the golf course, there is also a covered pavilion that holds up to 750 people.
Proposals have to show information including the vendor's experience in the restaurant and catering business and knowledge of golf-course restaurant and catering operations, financial statements, and a description of the style of proposed restaurant and proposed menu with prices.
The deadline for proposals to be submitted is Dec. 28.
Proposals will be evaluated by a five-person committee consisting of Gallup; Herb Moreland, golf professional: Casey Childs, assistant golf professional; Linda Cure, public relations officer; and Don Csaposs, grant writer.
"We've had some interested parties, nothing official," said Gallup.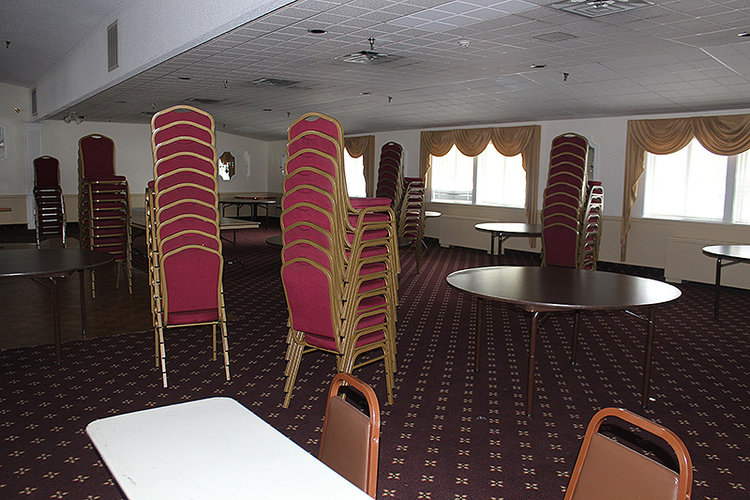 The Enterprise — Michael Koff
Empty tables, piled chairs: Mallozzi's has left its restaurant at Guilderland's golf course. The space awaits a new manager.
---
Other business
In other business, the board:
— Held a public hearing on the 2019 budget for $35 million;
— Held a public hearing to review the planning board's preliminary site plan for a planned unit development of townhouses on Winding Brook Road;
— Approved appropriating $40,000 from the fund balance to increase two lines in the current budget, for equipment purchases and emergency medical technician fees, for the town's purchase of two ambulances from Western Turnpike;
— Approved the 2017-18 water re-levy in the amount of $136,884.88;
— Authorized an installment payment for property taxes, as well as a five-day grace period, for people who receive a senior citizens' exemption. The first payment would be due not later than Jan. 31, and the second not later than April 1;
— Authorized a collector's warrant for the Guilderland Water District for the period from Oct. 1, 2018 through March 31, 2019 in the amount of $565,941.50;
— Voted to retain Wayne L. Miller for appraisal services for $1,200 for a tax certiorari proceeding involving 202 Wormer Road. Assessor Karen Van Wagenen told The Enterprise that this property is a 3,378-square-foot single-family Colonial-style home built in 1988 currently assessed at $420,700, which represents a reduction from $550,200;
— Named the private road at 6232 Johnston Road as Riitano Lane;
— Adopted a determination under the State Environmental Quality Review Act that the proposed funding and construction of improvements at Tawasentha Park will not cause a significant environmental impact and therefore a negative declaration should be issued;
— Scheduled a public hearing for Dec. 4 at 7 p.m. on the application to the change the zoning of properties located at 2115 and 2123 Western Ave. from a Business Non-Retail Professional District to a General Business District;
— Scheduled a public hearing for Dec. 4 at 7:15 p.m. for a law regarding the required assessment of parking-garage conditions;
— Approved the amended Employee Policy Manual for Emergency Medical Technicians; and
— Authorized Barber to enter into an agreement with Creighton Manning Engineering, LLP for design, engineering, and construction-inspection services in connection with building sidewalks on the south side of West Old State Road between Garden View Drive and Regina Drive where Lynnwood Elementary School is located.