'We're at a fork in the road,' says public health leader of climate change
Monday, November 4, 2019 - 22:38
RENSSELAERVILLE — "It's happening to us here and now," the deputy director of the Natural Resources Defense Council's Science Center warned the crowd that gathered Saturday to celebrate 80 years of research at the Huyck Preserve Field Station.
Kim Knowlton, a doctor of Public Health, who is also an assistant professor at Columbia University's Mailman School of Public Health, spent an hour providing an overview of the impacts climate change both are having and will have on public health, offering a unique take on an issue that has seen an increased urgency over the past few years.
The presentation came after a panel discussion among Huyck Preserve researchers and preceded a lunch and group activities in the afternoon.
After a brief overview of the mechanics of climate change, which Knowlton joked was probably unnecessary for the audience of scientists and science-engaged citizens, she launched into the aspects of climate change that pertain to the health sector. 
Heat events, for instance, account f0r 65,000 emergency-room visits, and that number is growing and the symptoms getting more severe, Knowlton said. Heat, she explained, impacts the human body in a number of ways. The heart and lungs struggle with the weight of increased temperature and overheated people are more likely to suffer cardiac arrest. In a cruel twist, the renal system, which aids in the process of sweating, our built-in defense against high temperatures, becomes less efficient. 
On the projection screen, Knowlton displayed a picture of a refrigerator truck during the 1995 Chicago heat wave, which killed more than 700 people in five days. The trucks, she said, held dead bodies because regional health centers didn't have the capacity to keep up with the rate of death during the weather crisis. 
 It was a stark example of her basic point: Though many of us think of hot summer days flocking to pools and beaches or dallying a little longer in the grocery store's refrigerated sections, heat is more than an inconvenience. 
Our respiratory symptoms also struggle with airborne pollutants that accumulate as smog, which Knowlton described as a ground-level ozone. "Not the good ozone," she said.
Though the mention of smog conjures images of densely packed cities replete with smokestacks, like Beijing, where citizens are often depicted wearing pollution masks, Knowlton said that areas in the United States most impacted by smog tend to be suburban areas downwind from high-emission cities.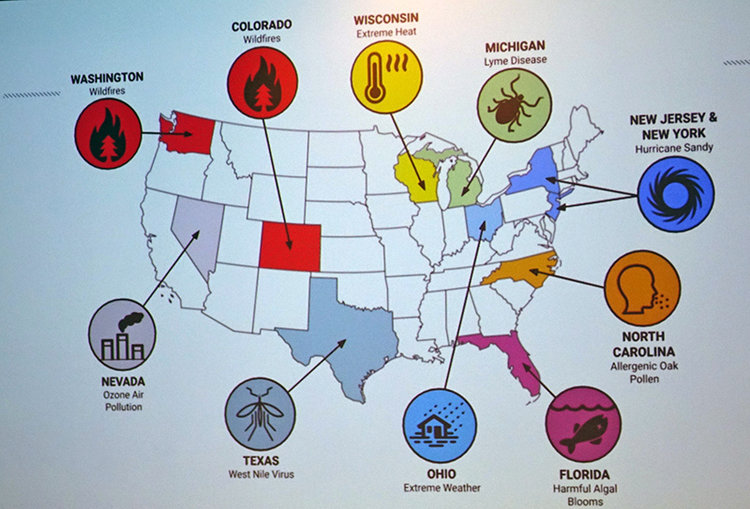 Knowlton explained that, to help people plan for smog exposure, the federal Environmental Protection Agency has a daily forecast of smog levels in the U.S. On Monday, Nov. 4, sixty municipalities are listed has having an "action day" which is a day where the air quality control index reaches a level where citizens, whether they be the general public or sensitive groups like the elderly, are called to take measures to avoid the outdoors because of the high pollution point.
And, as the Kincade fire burns just under 80,000 acres in California, Knowlton said that smoke from forest fires, which are becoming more common as temperatures rise, can travel hundreds of miles. For example, forest fires from Canada have been known to smoke up Baltimore past its allowable levels. Smoke from forest fires contains particles from burned materials as well as a variety of gases that affect hearts and lungs, according to the Center for Disease Control and prevention.
Extreme weather events have also hit closer to home for Knowlton. In Binghamton, where Knowlton grew up, Our Lady of Lourdes Hospital had its first floor flooded after heavy rain raised the levels of the nearby Susquehanna River in 2006, costing more than $20 million in losses.
In all, Knowlton said, the medical costs from environmentally induced illnesses reached $10 billion in 2018 alone. 
"And that's just what's measurable," Knowlton reminded the audience.
Explaining that she was eager to balance what was largely gloomy data, as well as educate those in the audience about what they can do themselves and encourage their community to do to slow down climate change, Knowlton talked about what was being done around the world to mitigate the damage of impending climate changes. 
New York State, she said, signed into law an "ambitious" plan to reduce greenhouse gas emissions by 2050 and make the electricity sector completely carbon-free by 2040. According to the Center for Climate and Energy Solutions, 23 states have set goals for emission reductions, signaling a growing support for action in response to data and scenarios that support the significance of climate change. 
At the local level, Knowlton said, implementing bike lanes and painting rooftops white to increase their albedo are common initiatives that municipalities take to reduce emissions and combat rising temperatures. 
Speculating, Knowlton suggested that encouraging a "buddy system" with air units in places like New York City, where many people can't afford to install and operate an air conditioner, and creating municipal cooling centers would attack climate change for poor areas where its impacts are most pronounced. 
"We're at a fork in the road," Knowlton said, emphasizing how important coming up with and executing solutions is. She said that data shows temperatures will rise 10 to 15 degrees by 2099 if we don't adjust our cultures, lifestyles, and governments around the idea that climate change is a man-made phenomenon. 
"We can solve it," she said. 
After the lecture, the audience was allowed to make comments and asked questions. 
The first person to speak explained that she had recently met a woman who lived in "very northern Canada" where trading ships often passed nearby. Where those ships used to have to barge through ice sheets that formed at that frigid latitude, it was no longer an issue.
Knowlton responded that to combat climate change, we have to accept that there will be losses, both positive and negative, and go against our human nature. 
On one end of the spectrum, she explained, were groups like the shipping companies that benefit in the short term from climate change and will resist pressures to spend more resources to reverse or halt actions that are profitable. On the other end are those who see the damage already being done and feel climate change is too big a problem to tackle. 
"We will lose some communities and people will die," Knowlton said stoically. "We have to accept that without giving up."
Another person spoke up about her new focus on sustainable eating and wondered if Knowlton had any insight into how much reducing meat intake and big farming operations on a global scale would lower greenhouse gas emissions. 
Knowlton explained that she was not an expert on the intersection of food systems and climate change but that, as a health expert, she considers reducing meat is the "lowest hanging fruit" in stymying common health issues like cardiac arrest. 
One man asked if Knowlton was familiar with the National Ecological Observatory Network, which is a data portal where researchers make ecology studies available to the public for free. Knowlton explained that that communication and integration of those studies is one of the most important facets of resisting an altered environment.
"Talking at dinner tables, going to community meetings and asking 'what are we doing' and demanding action" are incumbent upon those who want to take up the fight against climate change, she said.