Albany County Land Bank gets a "Robin Hood-esq' $2M
Friday, November 2, 2018 - 19:25
— Albany County Land Bank Corporation 2017/2018 Annual Report
Real Estate Activity: The small green circles show all of the Albany County Land Bank's real estate activity in 2017 and 2018. The blue squares denote vacant, abandoned, and foreclosed properties acquired by the land bank, and the large orange circles mark properties that the land bank has sold to individuals or developers in that same time period.
ALBANY COUNTY — The Albany County Land Bank has received another $2 million, part of $25.9 million distributed to land banks throughout the state, Attorney General Barbara D. Underwood announced on Friday.
"We're really excited about it," said Adam Zaranko, executive director of the Albany County Land Bank Corporation, noting that the land bank, in two earlier rounds, had received a total of $4.8 million from the attorney general's office.
"It has a Robin Hood-esq feel to it," he said of the funding, which was secured through settlements with the nation's largest banks over misconduct that contributed to the housing crisis.
This latest funding was secured through Martin Act securities fraud settlements announced earlier this year with the Royal Bank of Scotland and UBS, according to a release from the attorney general's office.
"It makes it full circle," said Zaranko. "We use the money to undo the damage that was done."
During the decade of the housing boom and bust, from 2000 to 2010, the number of vacant properties in New York State increased by 27 percent, according to the attorney general's office. Following the collapse of the housing market, the New York State Legislature passed a law in 2011 establishing land banks — not-for-profit organizations that can acquire vacant, abandoned, or foreclosed properties and rebuild, demolish, or redesign them.
This, in turn, is meant to revitalize communities, improving tax revenues, benefitting schools, expanding available housing, reducing crime, and promoting economic development.
"This money is really important for what we do," said Zaranko. "We use it to demolish blighted and abandoned buildings, and to stabilize buildings that can be saved, by strengthening foundations and improving roofs. We also use it for partial and full rehabs and for cleaning up vacant lots and vacant land ... we spruce up properties that are overgrown or where there's been illegal dumping."
Properties can then be sold to private individuals or developers, he said.
There are currently 25 New York land banks, the attorney general's office said, all of which submitted responses to a Request for Applications; all will receive funding for 2019-2020 through this latest round, which will be administered by Enterprise Community Partners Inc.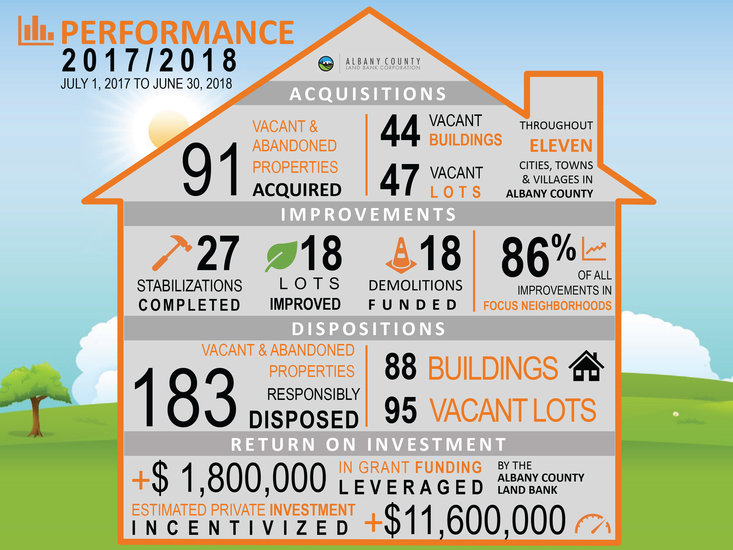 Zaranko is president of the New York Land Bank Association, which he described by saying, "It's a network of the state's 25 land banks, most of which are members. We share information and best practices and lobby for funds. We also educate people about land banks," he said, visiting communities they may be interested in setting up a land bank.
According to the New York Land Bank Association's 2017 New York State Land Bank Report, land banks in New York have:
— Reclaimed 1,989 properties from abandonment and blight;
— Sold 651 properties to individuals or nonprofit organizations; and
— Demolished 482 unstable structures.
The Albany County Land Bank has just released a report, noting that it is among the largest and most active in the state. To date, the report says, over 80 percent of all property sales have been to Albany County residents, and buyers are expected to invest over $11.6 million in property purchased from the land bank in 2017 and 2018.
In that time period, the report says, the land bank has acquired 91 vacant and abandoned properties throughout 11 cities, towns, and villages in the county.
Zaranko concluded of the new funding, "We're really excited to work across Albany county and make a stronger county going into 2019.