Karin Ruth Demis
Wednesday, October 21, 2020 - 14:13
FEURA BUSH — Karin Ruth Demis wove a large family together with as much care as she wove her unique textiles.
"She was always very supportive of everything we did," said her daughter Barbara Lewis. "She was very caring. She loved her big family."
Ms. Demis died on Sunday, Oct. 18, 2020, surrounded by her family, after a courageous battle with amyotrophic lateral sclerosis, ALS, known as Lou Gehrig's Disease. She was 85.
She was born in Philadelphia, Pennsylvania to parents William Albert Lore Ebsworth and Ruth Augusta Ljungquist. Her father was in the cavalry and her mother, too, was an equestrian. Ms. Demis grew to love horses and horseback riding.
"She was really close to her grandfather," said Ms. Lewis. Both of her mother's parents had immigrated from Sweden and lived on and off with their daughter, Ruth Augusta Ljungquist and her family.
Her grandfather had joined the United States Navy at a young age and served on the USS Olympia. The family had a rich Navy military history and was steeped in Swedish heritage, Ms. Lewis said. "We still partake in a lot of Swedish holiday traditions," she said.
Ms. Demis lived in the Philadelphia area until moving to upstate New York in the late 1960s.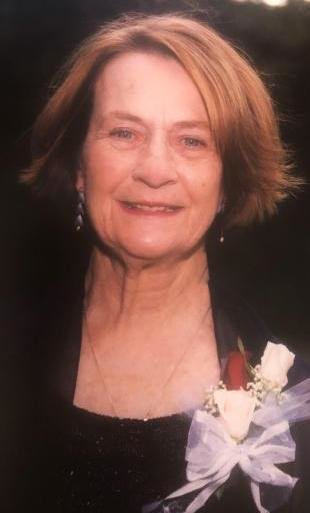 "Our mom had a passion for animals, farming, and gardening," her family wrote in a tribute. "She was an amazing cook and an early 'farm to table' producer for her large family, making cheese, maple syrup, preserves, and much more, all from the farm."
"My brothers milked the cow. We had goats and sheep and hens for eggs," said Ms. Lewis. "She cooked all of our meals from scratch," her daughter went on. "She was a great baker … She made homemade candy at Easter. And she loved to cook for a crowd. If you came over, you stayed for dinner."
Ms. Demis was a longtime member of the Women's Auxiliary of the Albany County Medical Society, as well as an active 4-H and Cub Scout leader when her children were young. She enjoyed the Altamont Fair each year, demonstrating spinning to a wide audience.
"She was always very proud of her children as they exhibited their 4-H animals," her family wrote. "Ever supportive of her children and her grandchildren in all that they did, she attended their sporting events, horse shows, and other activities with pride. She always volunteered for many events and projects."
Ms. Demis was a lifelong sewer and knitter. She taught both her girls and her boys how to sew and cook, said Ms. Lewis. In her middle years, she became passionate about weaving. She would spin wool from sheep she raised and then design her own projects to weave.
She was a longtime member of the Hudson Mohawk Weavers Guild and the Arachne Weavers, and through the weaving community developed many meaningful lifetime friendships. She taught, exhibited, and sold her designs at shows and museums throughout the area and was a mentor to many. 
For over 30 years, she taught at the Heldeberg Workshop in New Scotland, something she looked forward to every summer. She guided and inspired many young weavers and was passionate about sharing the art of weaving with others. 
Weaving, she told The Enterprise in 2011, is a common thread across cultures. "People have been out of skins for a long time," she said, and they've covered themselves with things knotted or tied. Kids do it naturally, she said: "Tell them to play with grass and they'll interweave it."
In her hands-on Heldeberg Workshop courses, Ms. Demis worked in the history of weaving, from traditional American dyes to the large-scale mechanization of the craft during the Industrial Revolution. Beside the longitude of history, she described weaving's latitude across cultures.
"Weaving is fairly solitary," said Ms. Demis, who listened to classical music as she worked.
"She was afraid there would be an end to hand-weaving," Ms. Lewis said, "that it would not be carried on to future generations. From the nursing home, she orchestrated it for my daughter to get a loom."
"Karin was a warm and loving grandmother to her many grandchildren," her family wrote. "She greatly enjoyed spending time with her family, especially during the holidays."
Even in her eighties, Ms. Demis was eager to learn new things. "She embraced technology," said her daughter. Living in a nursing home, she kept in touch with her family through Zoom calls.
"We learned how to be persistent from her," her daughter concluded.
**** 
Karin Ruth Demis is survived by her children, Barbara Lewis (Greg Austin), Robert (Kristen) Demis, Kevin Demis (Dawn Mericle), Geoffrey Demis (Christina Lowes), Elizabeth Demis (James Nalbone), Nancy DeMis (Bruce Turetsky), John (Bernadette) DeMis, William (Mary) DeMis, and Amy DeMis.
She is also survived by her grandchildren, Chelsea Carman (John DeWitt), Brigham Carman (Dawn Wahl), Morgan and Isabella Demis, Emily Nalbone (Brett Holberg), Maggie, James and Lucas Nalbone, Anderson Mericle Demis, Daniel and Emma Turetsky, Shauna Baron, and Stephanie (Thomas) Siciliano.
She is survived, too, by her sister, Sue (Fred) Stabene, and her brother, William (Renate) Ebsworth, and by her many nieces and nephews, and extended family. 
Her parents, William Albert Lore Ebsworth and Ruth Augusta Ljungquist, died before her as did her son, Scott Lewis. 
Relatives and friends are invited and may call on Sunday, Oct. 25, from 1 to 4 p.m. at Applebee Funeral Home at 403 Kenwood Avenue in Delmar, with a private service to follow. A celebration of her life will be held in the spring, or as soon as we can all safely gather.  
Memorial contributions may be made to: Heldeberg Workshop, Post Office Box 323, Voorheesville, NY 12186 or The ALS Association, 1300 Wilson Blvd., Suite 600, Arlington, VA 22209 https://donate.als.org/donate.
— Melissa Hale-Spencer