Hear Stories From the Land at Mohawk Hudson Land Conservancy's fall fundraiser
Thursday, October 3, 2019 - 02:33
The Mohawk Hudson Land Conservancy is holding its fall fundraiser, Stories from the Land, on Thursday, Oct. 3, at the New York State Museum.
The highlight of the evening will be the presentation of engaging conservation stories by Mark King, the conservancy's executive director.
For the past 27 years, the conservancy has continued to preserve lands across Albany, Montgomery, and Schenectady counties for the public to use and enjoy. 
The festivities begin at 5:30 p.m., including dinner catered by Garden Bistro 24, musical entertainment by Spiral Tango with Ray Andrews, beverages from Capital Wine, cider and beer from Indian Ladder Farms Cidery & Brewery, and an opportunity to win raffle prizes.
This year's event honors Jeff Jones and Eleanor Stein for their conservation efforts in the Capital Region, New York State, and beyond.
Jones served three terms on the MHLC Board and is currently a member of the advisory board. He is a long-time activist for peace and for social and environmental justice. He has worked on numerous environmental campaigns and continues to combat climate change by undertaking a leadership role in the clean-energy revolution and by serving on the boards of multiple conservation and environmental organizations.
Stein teaches Law of Climate Change: Domestic & Transnational at Albany Law School and Climate Change in the Courts at the State University of New York. Throughout her career, she has been a strong advocate for conservation, publishing and lecturing extensively on climate-change policy and education, and mediating and consulting on climate change and climate justice.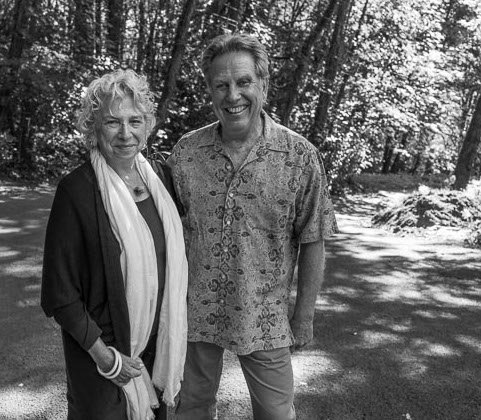 Jeff Jones and Eleanor Stein are being honored by the Mohawk Hudson Land Conservancy.
Twelve raffle baskets include vacation getaways, dining packages, and artwork with values reaching $2,500. Anyone can participate in this raffle, whether or not they are attending the event on Oct. 3; winners will be announced at the event, but need not be present to win. MHLC is selling only 200 tickets for the baskets. More information on raffle prizes and ticket prices/availability is at www.mohawkhudson.org/events.
To RSVP to Stories from the Land, or to purchase raffle tickets, visit www.mohawkhudson.org/events, or call 518-436-6346. All proceeds will support the Mohawk Hudson Land Conservancy.