William A. Fischer
Thursday, September 30, 2021 - 16:37
WESTERLO — William Anthony Fischer, a polymath who wove his technical expertise together with creative sensibilities as a luthier, among other pursuits, died at home on Saturday, Sept. 18, 2021. He was 59. 
Mr. Fischer was honored in memoriam at Conkling Hall, in Rensselaerville, on Sept. 26, when the venue hosted its first open-mic night since the coronavirus pandemic halted activity there. 
His wife, Laurie Fischer, along with their son, Kai, and a backing band, 30 Rack, performed "Wild Horses" by the Rolling Stones and "She Talks to Angels" by The Black Crowes, both of which were part of a short list of songs that was found taped along the body of Mr. Fischer's favorite guitar, where it would have been visible to him while he was playing it. 
That was the guitar Kai performed on at Conkling Hall while his mother sang. Mr. Fischer had "cobbled together" his guitar with parts from other, retired guitars, Mrs. Fischer said; their son has dubbed it a "zombie guitar" for that reason. 
"It's really playable," Mrs. Fischer said. "It's got good action and it doesn't buzz."
All that derives from Mr. Fischer's tremendous gift for design and handiwork, which he put to use in the various day-jobs he held over the years, for companies and organizations like Plug Power, The Bottom Line Theatre and Cabaret, and he built sets for the soap opera Guiding Light.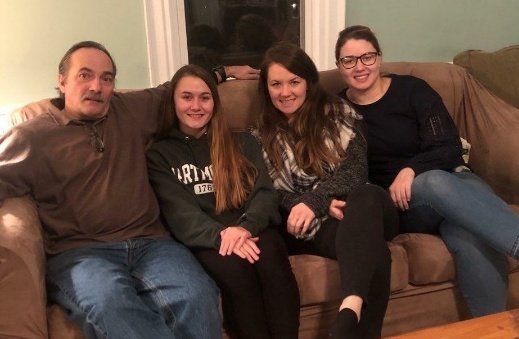 — Photo from Fischer family
From left: Bill Fischer, his daughter Kira Fischer, and his nieces Laura and Olivia Cronin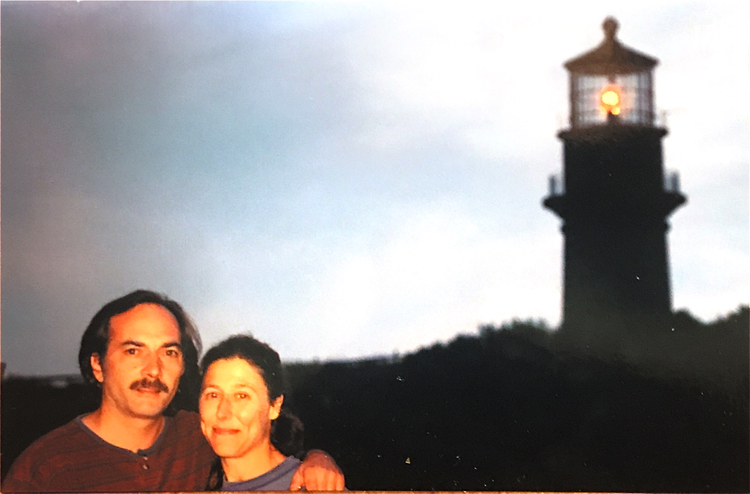 — photo from Fischer family
Bill and Laurie Fischer at Aquinnah Light, on Martha's Vineyard, where they were married.
---
He most recently worked as a field technician for The Tennant Company, fixing floor cleaners, and, since 1990, he had made guitars and repaired audio equipment under his own company, Bill Fischer Custom Guitars.
Like that of many gifted people, Mr. Fischer's intelligence was evident early in life, if not insuppressible. 
"When he was a little boy," Mrs. Fischer said, "his family would bring home … radios and equipment that wasn't working, and he would take it apart. One time, when he was 3, he fixed a fan and practically electrocuted himself."
"He was interested in many different things," his wife said. "His mind was always working. He loved learning and would learn on his own."
Mr. Fischer was born on Sept. 11, 1962, in Brooklyn, to Philip and Dolores (née Puertas) Fischer. He attended a Catholic school until he "begged his mom to go to public school," Mrs. Fischer said.
In a memorial piece, Mr. Fischer's sister, Anne, wrote that she'll miss reminiscing with him about "those damn nuns" that worked at the school.
"He had a great memory of when they participated in a stick ball game with all the kids on the block," she wrote. "I guess they weren't so bad after all." 
His sister also wrote, "Bill was full of curiosities throughout his entire short lifetime. There was no subject he couldn't talk about … Bill was just the coolest dude around. I'm grateful that he was my brother, the best!"
Mr. Fischer graduated from Brooklyn's Franklin K. Lane High School in 1980 and did a stint at St. John's University, in Queens, from 1983-84 before going on to study audio engineering at the Institute of Audio Research, in Manhattan, and then recording engineering at Center for the Media Arts, in Manhattan, often working at the same time. 
"If he had any regret, it's that he did not go through formal study to become an engineer," Mrs. Fischer said.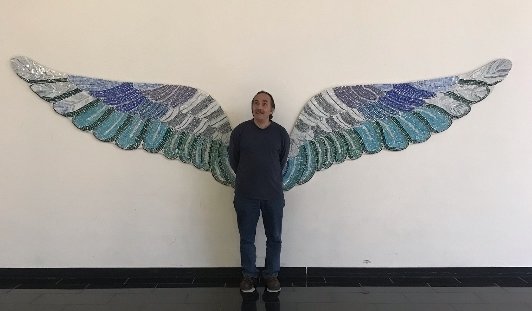 — Kira Fischer
William Anthony Fischer, 9/11/1962 - 9/18/2021, died on the same date as Jimi Hendrix.
By the early '90s, Mr. Fischer had made his way to Princeton, New Jersey, where he worked for Packet Publications on the production side, and where he would meet his future wife, who was working for the same company as a journalist. 
"There was a high-speed [police] chase down Nassau Street, right in front of the university … and I interviewed him to write about it," Mrs. Fischer said. "That was the first time I ever spoke with him. Although I had tasted his cinnamon buns before, in the break room."
"I had these rings on my hand," Mrs. Fischer recalled, of that first conversation, "and they were inlaid with lapis and turquoise. He took my hand and looked at my ring and said, 'I do inlay work like that on guitars.' That impressed me."
A little later on, Mrs. Fischer, who recently moved into a new apartment, asked her future husband if he could help her hang art on the walls. "I think he went out and bought a stud-finder just so that he could come and help me," she said.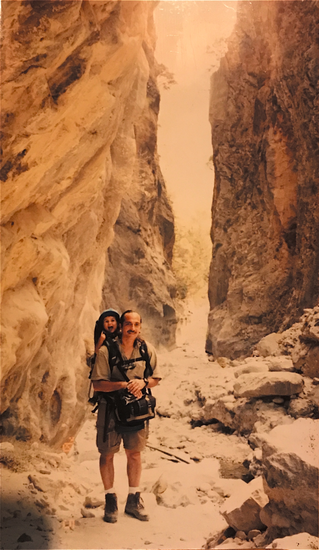 — Photo from the Fischer family
Bill and Kai Fischer pass through the Iron Gates in Crete's Samaria Gorge.
---
Together, the couple went scuba diving in the Great Blue Hole, near Belize; traveled to Crete, where they saw planes flying overhead to Afghanistan shortly after 9/11; and visited Egypt and Hawaii. 
"We did a lot of camping in those places," Mrs. Fischer said.
They married on Oct. 10, 1998, on Martha's Vineyard in a cliffside ceremony. The whole affair was bedeviled by unlucky complications — a canceled flight, a frightened flower girl, a sick groom, touch-and-go rain — but the ceremony itself carried a serene ambience that was as fatebound as anything.
"There was a mist, and there was a light behind the mist," Mrs. Fischer said. "And people were blowing these soap bubbles that didn't pop. At one point — the spot was facing west and it was sunset, the rest of the sky was cloudy —  but there was this ray of light beaming down."
Their son was born about a year later, in September 1999, and their daughter, Kira, was born in 2002. Both carry forth Mr. Fischer's aptitude for visuospatial reasoning.
Kai was a twice-consecutive winner of the Berne-Knox-Westerlo National Geographic Geography Bee and considered gifted in math and science, while Kira is currently studying bioengineering at Northeastern University.
"The apple doesn't fall far from the tree," said Mrs. Fischer.
****
William A. Fischer is survived by his wife, Laurie Lynn Fischer; his daughter, Kira Fischer; his son, Kai Fischer; his sister, Anne Fischer; and his nieces, Laura and Olivia Cronin. 
His parents, Philip and Dolores Fischer, died before him.
Mr. Fischer had his ashes scattered at the Interfaith Peace Temple, in Westerlo. An open-mic night at Conkling Hall, in Rensselaerville, was dedicated to his memory. 
Memorial contributions may be made for his children, Kai and Kira Fischer.
— Noah Zweifel