Gail Sacco, director of the Voorheesville Public Library, to retire
Thursday, September 27, 2018 - 18:03
VOORHEESVILLE — For Gail Sacco, a library is about more than books; it's about literacy — reading, digital, cultural, and civic literacy.
In her 30 years at the helm of the Voorheesville Public Library, she has shaped the institution to be involved in all aspects of the community, and to advance the cause of shared humanity.
"It's time," she said this week. "I've been here for 30 years, and, it's a good time to let someone else take it."
Oct. 27 will be Gail Sacco's last day as director of the library; she is retiring.
"There's a party on Sept. 30," she said. "There will be a bouncy house, I'm told." The retirement celebration will take place on Sunday, from 1 p.m. to 6 p.m., at the New Scotland Town Park pavilion.
Sacco's son, who lives in Brooklyn, married recently, and her daughter lives in Colorado — so traveling is on the agenda, she said. "I'm a skier," Sacco said, so she plans to ski in the middle of the week, when few others are on the slopes.
"I'm looking forward to not having to decide in the middle of winter if the library is going to be open for business or closed for business — and getting up at 5:30 in the morning to figure that out," she said with a smile.
Reading more is, obviously, something she plans on doing.
"I was a reader; I have always been a reader," Sacco said, when asked why she chose to become a librarian.
Growing up in Stamford, Connecticut, Sacco said, she began working at age 14 as a library page.
Then, as an undergraduate at Boston University, Sacco worked at the Massachusetts State Library, in the technical-services department. At the University of Chicago, where she received her master's degree, she worked in tech services, too; one of her jobs, she said, was adding and withdrawing rare books.
Back home in Connecticut, she worked at the Computer Processing Institute, a vocational school, then at the Bristol Public Library as the readers advisor, "which was one of my best job titles," Sacco said. "I mean, I spent $2,000 a month buying books. What could make you happier?"
She and her husband, Joseph, came to the area so that he could receive training as a physician. "He came here for his fellowship and then we stayed," Sacco said.
Once in the Capital Region, Sacco worked at the Delaware Branch of the Albany Public Library. In 1989, she began working at Voorheesville's library.
Voorheesville Public Library is considered one of the five best libraries in the Capital Region, Sacco said, according to her fellow library directors.
Adventures in reading
Reading, for Sacco, has always been a way to have an adventure, a kind of escape.
"I remember reading 'Charlotte's Web' under the dining room table," she said. "Those were the days where you didn't really go away … It wasn't called a staycation, it was: You were home, and the kids were playing on the streets, and you read, and did nothing for a school vacation."
Growing up, she also read the Hardy Boys and Nancy Drew mystery series, and "A Wrinkle in Time." Then, for about 15 years, Sacco said, her first choice was science fiction. "I did my master's thesis on science fiction and young adults," she added.
As she's gotten older, Sacco said, her reading selection has become more balanced between fiction and nonfiction.
"I read a combination of junk and good things," Sacco said. Most recently, she read the latest from Daniel Silva, an author of thriller and espionage novels. And, Sacco added, that she has also recently read "Lincoln in the Bardo," by George Saunders, the winner of the 2017 Man Booker Prize, a prestigious literary award for the best original novel written in the English language and published in the United Kingdom.
She reads three or four books a month, Sacco said, sometimes, if it's a busy time like budget season, she doesn't read any books.
Asked her favorite book, Sacco answered, "It changes with time."
She was then asked if there's a book that she's read more than once.
"Usually I'm halfway through it, and, then I realize that I'm reading it again," Sacco quipped.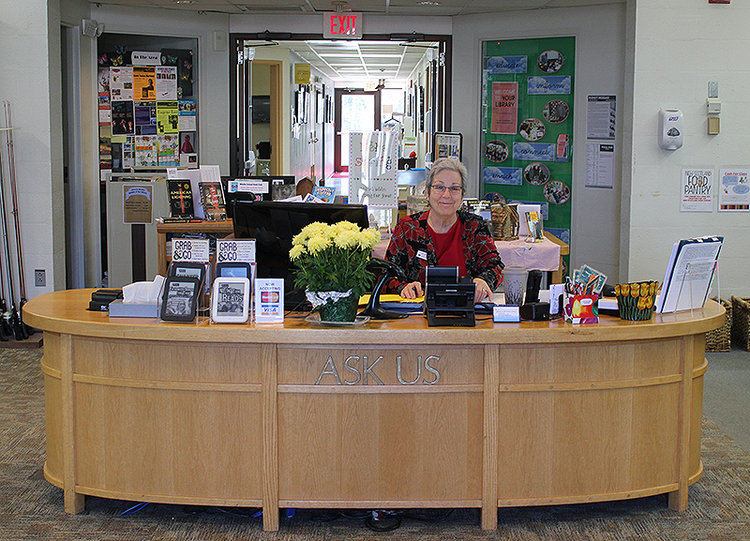 — Photo from Jeanne Bianchine
In her element: Gail Sacco, director of the Voorheesville Public Library, will retire at the end of October. She's been at the library for 30 years. 
---
Today's library
Sacco was asked how the Voorheesville Public Library had adjusted to the changes in library use.
She deftly parried the question and proceeded to illustrate, through a line of questioning, that the library's purpose and use had not changed — it was the users who had changed.
"It's easier for me to go on Amazon and find a book for a few dollars," this reporter told Sacco.
"So you read mostly electronically?" she asked.
"I have gone from actual books, to an e-reader, back to physical books."
"So why don't you come to the library and not spend your money?" Sacco asked. "I can't imagine you're paid millions of dollars for your job."
"Well, it's the convenience."
"We're open 63 hours a week," she said, "Many of us are open from 9:30 in the morning until 9 at night, Monday through Thursday; Friday until six; Saturday and Sunday. So, it's convenient," Sacco said. "It's just, you don't think of it."
There is also the OverDrive Library, she said, a service that lets library members borrow digital books for free.
"On Amazon, it's only two bucks," Sacco said, "but you can get the same book through our ebook system for free."
Literacy, in all forms
She then contextualized the library, its use, and its contents, within the grand sweep of history.
"We're not about books; and the transition from print to electronic is just another transition," she said. "You know, we started with tablets, we went to scrolls, and then they made the Gutenberg Press, and, all of a sudden books became available to everyone … So, this is just another — the next iteration. It doesn't necessarily change."
Libraries, Sacco said, are about literacy — for example, reading, civic, cultural, and digital literacy.
Civic literacy, Sacco said, is about how government works, but it's also being able to have a discussion and understanding how someone approaches an issue. It's not a political discussion, she said; it's a discussion on a topic — voting bias and immigration are recent examples — and an explanation of the different views, conducted in a way that allows everybody to take part in the conversation.
For the past 18 months, Sacco said, as part of cultural literacy, the Voorheesville library has taken up the topic of diversity.
A lawyer, for example, discussed the way African Americans have been treated by the legal system. "We have been picking diverse books for our book discussions," Sacco said. "We have been looking to find diverse viewpoints."
"Americanah," by Chimamanda Ngozi Adichie, a Nigerian author, is a book that, Sacco said, has affected her. "The book is written very consciously, through a pair of black eyes, and it really made me look at my own actions in a different way," she said.
The Voorheesville library offers education programs as well, Sacco said, with computer classes and a three-dimensional printer, a cooking series called "Foodies," and an early-literacy program for children from six months to 2 years old. "So there's a lot of stuff," Sacco said.
"And the other thing that we do is, we curate," Sacco said.
Librarians at the Voorheesville Public Library, Sacco said, are certified as medical-consumer librarians, so they are able to distinguish between websites that may have a high bias and websites that may have a low bias "We can help you curate information if you have questions about your health and make sure that you find things from [unbiased] resources," she said.
Accomplishments
Asked which projects, programs, or initiatives she's most proud of, Sacco said, "The thing that I have liked the best is, having someone come into my office and say, 'I have this really great idea; what do you think?' And being able to get that to happen; to bring it to the board, to get the community resources."
Sacco offered the recent veterans' project, brought to her by Gail Brown, the youth-services librarian, as an example.
Brown had been speaking with a community member who wanted to create a project where middle- and high-school students interviewed veterans, Sacco said, which became an oral history project. That project turned into a multifaceted program, Sacco said, that included collecting toiletries, holiday decorations, and other sundries for active veterans as well as donating leftover Halloween candy to the veterans at the Albany Stratton Veterans Administration Medical Center.
Conversely, Sacco was asked if there were any projects, programs, or initiatives that she wanted, but was unable, to implement.  
"Well, we had a referendum, which was bad timing," she answered.
In 2012, as the much of the country continued to work its way out of the financial collapse of a few years earlier, voters were asked to approve a new $8 million library, which was to be built across from the elementary school. The library referendum was soundly defeated.
Tikkun olam
"We're also a give-back library," Sacco said, a real point of pride for her.
"So I'm Jewish," she said, and within Judaism is the concept of tikkun olam. "It's a concept that the acts of one person can repair the world," Sacco said. "So, this library works to repair the world pretty consistently, in many ways."
There is a year-round collection for the New Scotland Community Food Pantry, she said.
A group called "Teens Care," Sacco said, consistently does projects to help either the community or other organizations. As a recent example, she cited the telemetry bags made by the group — which are pouches that hang around a person's neck and hold a cardiac monitor or other medical devices for around-the-clock monitoring — for patients at Albany Medical Center and Stratton VA.
During Gail Brown's veterans' project, Sacco said, the teens made treats and cards for Fisher House, where veterans live.
"We are constantly linking our programs into ways to give back to our community," Sacco said, offering another example of an upcoming sale supported by the Friends of the Voorheesville Public Library — "a winter boutique, which is a sale of a gently used goods."
What does she view as the library's role in the community?
"On a practical level," Sacco answered, "we offer people an opportunity to learn and grow … The [library] board supports intellectual freedom and people's right to know."
"I think that, if I can speak on behalf of the staff and myself," she said, the library is an institution for the whole community, and one that can be a lifelong resource.
The library's future
Given the state-mandated cap on property taxes, adequate funding seems to be an issue that the library will face for the foreseeable future. Sacco was asked if that could start to affect programs or jobs.
"We're very thrifty — we've always been very thrifty," she answered. "I'm going to be conservative; I'm going to say at least 80 percent of what we get from our community goes back into our community. Not only in terms of providing materials, program, and education, but, also, we try to hire locally as much as possible. We have guidelines for procurement; as much as we can, we try to bring our business back to our locality."
The library's budget has been flat for the past few years, she points out.
"I think, if the library continues to reflect the community's priorities, then the library will continue to be funded adequately," Sacco said.
Asked if she had any final thoughts on her time at the Voorheesville Public Library, Sacco said: "It's been an honor and a privilege. It's a wonderful, wonderful community. It's a community where people pitch in to help each other, and they've been very supportive of the library, as has the board — and I'm appreciative of all of it. They've let us make this into a wonderful library."